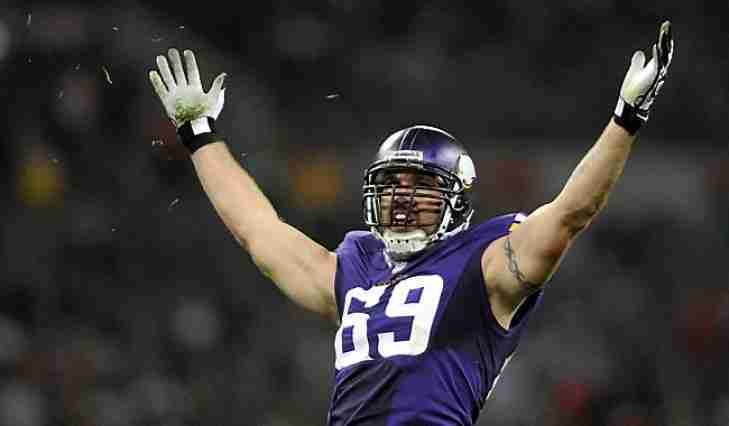 'Tis the season for NFL retirements, and we have an epic one with Jared Allen who retired by literally riding off into the sunset.
Allen was drafted in the fourth round by the Kansas City Chiefs in 2004 out of Idaho State. The Defensive End would quickly become a starter and would become a fan favorite known for his quirk mannerisms and mullet hairstyle. In 2007, which would be his last season with Kansas City, Allen would make his First Team All Pro roster, first Pro Bowl and would lead the NFL in Sacks. He would also win the prestigious NFL Pass Rusher of the Year Award.
Allen would be traded to the Minnesota Vikings and would sign what was then the largest contract in NFL history for a defensive player. In Minnesota, the accolades kept coming. He made three more First Team All Pro Selections (2008, 2009 & 2011), won the NFL Alumni Defensive Alumni Player of the Year in 2009 and was named the NFC Defensive Player of the Year in 2011. In that season, Allen had 22 Sacks, which remains a Minnesota Vikings record.
He would later play with the Chicago Bears and finished off his career last season as a member of the Carolina Panthers where he appeared in last month's Super Bowl.
Jared Allen finished off his career with 643 Tackles, 136 Quarterback Sacks and 6 Interceptions. He will be eligible for the Pro Football Hall of Fame in 2021.
We here at Notinhalloffame.com would like to congratulate Jared Allen for his great career, and the impressive way in which he retired.