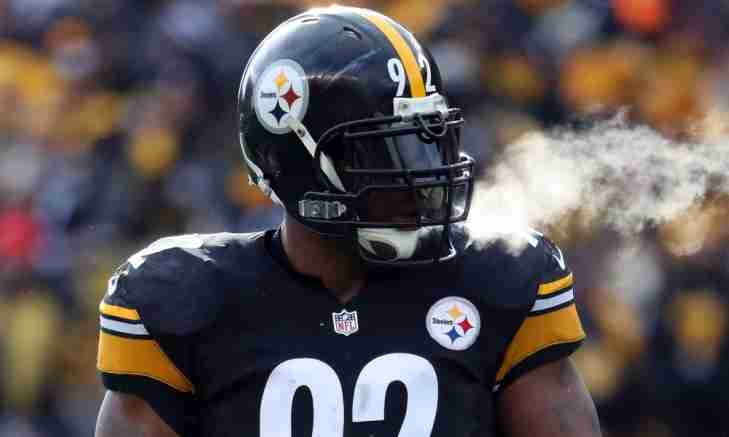 It feels like we have written about this before.
For the second time, Linebacker James Harrison has announced his retirement via an Instagram post from professional football though we think this time it is going to stick.
Undrafted out of Kent State in 2002, James Harrison would sign with the Pittsburgh Steelers. Harrison would struggle in his early professional years, as he was deemed too short to be an effective NFL Linebacker and was deemed by some of his teammates as a bit of a head case. The former Golden Flash would bounce off and on the practice roster and would see brief action on the main roster in Special Teams but he would be cut by the end of the year. He would sign with Baltimore in 2003 was cut again after a brief stint with Rhein in NFL Europe but was cut again. Harrison signed again with the Steelers in 2004 but this time he would stick.
From 2004 to 2006 Harrison (or "Deebo" as he was more commonly known) would play on Special Teams and Outside Linebacker showing much improvement from what they saw in his rookie year. In what had to be considered a surprise by many Harrison took over the starting Right Outside Linebacker position from Joey Porter who had been released due to salary cap issues. Harrison would prove Pittsburgh's new Head Coach Mike Tomlin right as he emerged as one of the most feared defensive players in the National Football League.
In 2007 James Harrison would be chosen for the Pro Bowl, which would be the first of five consecutive. He was also named the Steelers MVP for the year. The next year would be the best season of Harrison's career as he would record a career high 16 Sacks while earning First Team All Pro Honors. The Linebacker would also lead the league in Approximate Value and would be named the Defensive Player of the Year. Capping the season Harrrison would be the defensive force in the Steelers Super Bowl Win over Arizona. During the game he returned an Interception 100 Yards for a Touchdown, which is still the longest pick in Super Bowl History. This would be Harrison's second Super Bowl as he played a minor role in their win three years previous.
In 2010 Harrison would be named a First Team All-Pro for the second time and he would compete (albeit in a losing effort) in his third Super Bowl. He would however like Porter find himself the victim of the salary cap and he would be released by Pittsburgh. "Deebo" would sign with division rival Cincinnati where he would play in 2013. The Bengals would cut him after the season and he would retire as a Steeler…but that retirement was short lived as injuries decimated the Pittsburgh D and Harrison would be called back into duty. Harrison was still an effective player in 2015 and 2016 but in 2017 he saw limited action and would be cut by the team in December only to be picked up by the New England Patriots who would go to (again) to the Super Bowl.
James Harrison retires from the NFL with 193 Games Played with 84.5 career Sacks. He has to be considered an outside candidate for the Pro Football Hall of Fame but the new Pittsburgh Steeler Hall of Honor has his name written all over it despite the fact that his final year in Pittsburgh was not exactly the most teammate and fan friendly.
Harrison will be eligible for the Pro Football Hall of Fame in 2023.
We here at Notinhalloffame.com would like to thank James Harrison for the on-field memories and we wish him the best in his post-playing career.