Classic Movie Reviews
Filthy Gorgeous:
The Bob Guccione Story
2013 Canadian documentary directed by Barry Avrich
by Live Music Head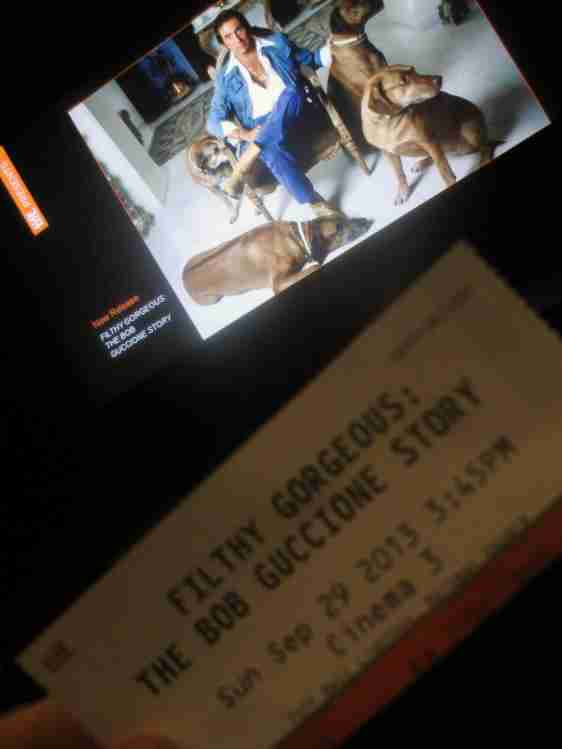 Photo credit: Live Music Head



"The Naked Truth"

Barry Avrich's account of the life of this most unlikely revolutionary of the 1960s counterculture is energetic, iconoclastic and well researched, examining Guccione's long and audacious career, most notably as publisher of the hugely influential pornographic magazine Penthouse

and producer of the porn epic Caligula.

~ Steve Gravestock, tiff. website


As I got settled in my Cinema 3 seat inside tiff. Bell Lightbox with a big bag of popcorn, Whatcha See is Whatcha Get by Detroit-based soul group The Dramatics played during the opening credits of Filthy Gorgeous, the new documentary film about New York-born Italian-American visionary and provocateur Bob Guccione, founder of Penthouse Magazine. Cool! (Hearing the song again caused me to download the 1971 hit from iTunes immediately after the screening). When the song faded, I was then all eyes and ears ready to learn more about the events that led up to Bob Guccione becoming one of the most successful businessmen in the world.

Born in Brooklyn, New York in 1930, Bob Guccione was raised in New Jersey by his accountant father and his stay-at-home mother. When he was a young man, Guccione moved from the U.S, to London, England with the dream of living the life of an artist. A painter, to be specific. But as one would expect, living the life of an artist was a struggle; too much of a financial struggle to support himself, not to mention a wife and child. Guccione admitted that when forced to choose between spending his last dollar on food for his family, or spending it on paint and brushes, he would choose to spend it on the tools needed to put colour on canvas. His wife left him. He continued to struggle. But motivated by lack of money, Guccione found employment at a newspaper where he began entertaining the idea of copying Hugh Hefner, the well-established and successful American publisher of Playboy magazine. Applying his painter's eye, Guccione got behind the camera to shoot the steamy photographs of what would grace the pages of his new magazine. And with these steamy photos, he quickly became the Editor and Chief of Penthouse, Britain's answer to Playboy, a men's magazine to rival Hefner in sales. The first issue was published in England in 1965, and arrived in America four years later. Guccione was now a celebrated porn photographer, and Penthouse was the first skin magazine to publish photos showing a woman's pubic hair.

What's interesting about Penthouse was that it was run by women, particularly Kathy Keeton, Guccione's third wife and savvy business partner. Guccione may have been the successful magazine's founder, but he really wasn't the best businessman. Projecting a sleazy image of a player with his open-shirt and gold-chains, Bob Guccione was still the artist who continued to paint. Keeton was the one with the head for business. Together they created an empire that included other publications like Viva: The International Magazine for Women, a health mag called Longevity, and Omni, for fans of science. It was an empire that brought in enough money for Guccione to become an art collector, decorating the walls of his home with Modigliani, Picasso, Botticelli, Chagall, Dalí, Matisse, Renoir, and Van Gogh.

As expected with such a racy publication, Penthouse was soon caught up in controversies, one being when they published nude photos of Vanessa Williams, Miss America of 1983. The pictorial brought Penthouse it's hottest-seller. Like Hefner and Larry Flynt (publisher of Hustler magazine), Guccione had a passion for freedom which saw him waving the U.S. First Amendment flag in the face of the religious right and the hypocritical televangelists of the day who opposed him: Jimmy Swaggert, the Pentecostal pastor who, having been accused of hanky panky with a prostitute in 1988 gave the infamous "I Have Sinned" speech in front of the Assemblies of God, and Jim Bakker, the disgraced PTL Club host (and husband of the mascara-running emotional co-host, Tammy Faye) who was accused of raping his secretary the same year, and later imprisoned for fraud. And Jerry Falwell, founder of The Moral Majority, who took Guccione to court after learning about the article Penthouse had written about him. But Falwell couldn't prevent being written about in Penthouse any more than he could prevent the parady ad that Hustler had published about him. Just like when he took Flynt to court, Falwell lost. Xaviera Hollander (The Happy Hooker) makes an appearance in the film and her comments made me laugh out loud.

Guccione with his love for all things Italian, and now with enough money to indulge any whim, soon entered the world of film making to finance, produce, direct, and release the 1979 historical pornographic cult film Caligula, based on the rise and fall of the Roman Emperor (37 AD to 41 AD), starring Malcolm McDowell, John Gielgud, Peter O'Toole and Helen Mirren. Despite the incredibly talented cast, Guccione could not find a distributor, so he bought a theatre in NYC where the film was screened for a year. Many people saw the film, including myself, but it was critically-panned. Guccione, wanting to stay true to the history, depicted way-over-the-top violence, and tons and tons and tons and tons and tons and tons of explicit sex between real porn stars. Bans, censored versions, edits and re-edits followed. Guccione also went into the casino business, but failed to secure a gaming licence for the one he built in Atlantic City in 1978. Investment failures like this, combined with the advent of the VCR and internet technology, not to mention the devastation caused by the death of Kathy Keeton in '97, Guccione's extravagant life (that some say he lived just like a Roman Emperor himself), soon began to crumble. The Forbes-anointed richest man in the world of '85 took to the sanctuary of his bedroom, depressed. And there was no one with his best interests at heart steering the Penthouse ship.

Staff at the magazine, like Guccione's administrative assistant, happily worked for the man for some thirty years. Her comments in the film are touching. Guccione was well-loved by her, and seemingly by many other women in his life. He was also loved by his son Bob, Jr (a publisher himself, of Spin, the music magazine) who has much to say in this movie. Looking a little like Tony Curtis and a little like Tom Jones, Bob Guccione comes across in the film as a likable artist; a pop culture and counterculture figure completely worthy of a great documentary.

Director Barry Avrich talks about Guccione and Filthy Gorgeous
on Global TV's Morning Show...

Remembering: The China Syndrome
American thriller directed by James Bridges
Starring Jack Lemmon, Jane Fonda, Michael Douglas
Released 1979
by Lisa McDonald
Live Music Head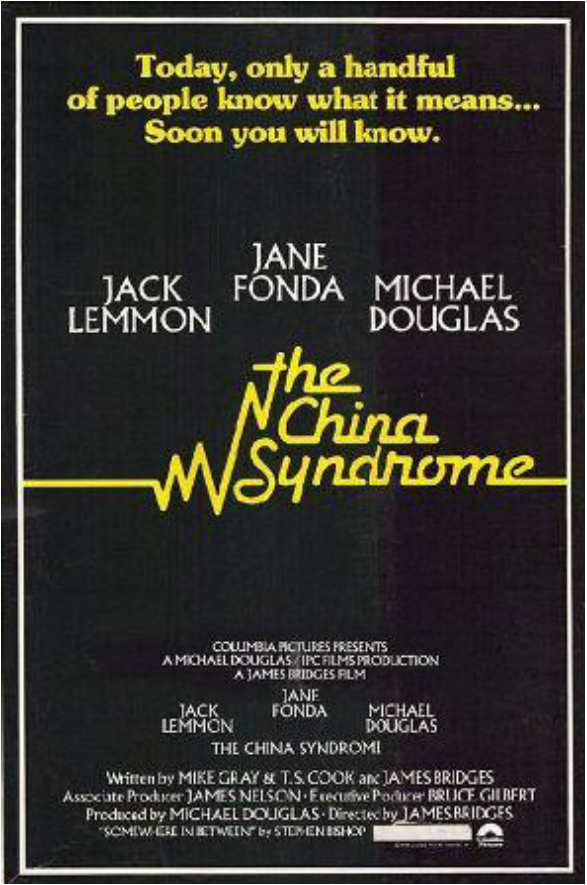 It's about people, people who lie.
And people faced with the agony of telling the truth.

One of the shows I grew up watching was The Streets of San Francisco, a television police drama which I believe was my earliest exposure to the actor known as Michael Douglas. The show ran from 1972 to 1977, but Douglas left the show to become a first-time producer of the highly-regarded motion picture of '75, One Flew Over The Cuckoo's Nest, for which he won an Academy Award. So Michael Douglas was a television star-turned film producer before he ever became a big-screen actor, which is what happened when he took on his second producing job, The China Syndrome.

Douglas not only produced, but co-starred as Richard Adams, the radical cameraman who called the head of KXLA News a "chickenshit asshole" after learning that the film he secretly shot inside a nuclear power facility during a life-threatening accident, would not be shown on the news and was being put in the vault instead, all in the name of politics. China Syndrome, a term used to describe what may happen during a nuclear disaster: reactor components melting down through containment structures straight through the earth, all the way to China, destroying the world as we know it, is also the title of the film that Douglas calls a monster movie. It's a film about greed.

Jane Fonda, already known for her political and anti-war activism, had just completed co-producing and starring in the Academy Award-winning film Coming Home, another movie with a political message and a story about a woman's transformation. But it was the true story of Karen Silkwood, an employee at a nuclear power plant who set out to expose the dangerous lies of the people who ran it (and whose story was later turned into a film starring Meryl Streep) that was the inspiration for Fonda taking on the role of Kimberley Wells, an ambitious reporter of soft news often seen running around in 'a man's world' wearing platform shoes, trying hard to prove her worth.

Fonda saw the opportunity in The China Syndrome for bringing forth not only awareness to the dangers of nuclear power, but for bringing forth women's issues, particularly women's issues that arose from working under men in television broadcasting. The sexism shown in scenes between Wells and her KXLA male superior made this writer want to punch somebody in the face. Interestingly, Jane's character has an Andy Warhol lithograph of Marilyn Monroe hanging in her apartment. Jane Fonda: "A lot of women identify with the tensions that Marilyn Monroe represented between strength, ambition, vulnerability, and malleability. So much pressure was put on women, on their looks, who worked in front of the camera."

The China Syndrome was a chance for Fonda and Douglas to make a statement about their own personal beliefs. At the time of shooting, the nuclear power industry was making plans to open additional facilities, and the shady political maneuvers that likely went along with that are depicted in this film. Coincidentally, only a few weeks after The China Syndrome was released, 3 Mile Island happened.

Michael Douglas, who has gone on to make more than a couple dozen films since the seventies, is not only an advocate of nuclear disarmament, he's a supporter of the Nuclear Age Peace Foundation, and sits on the Board of Directors of the Ploughshares Fund, an anti-war grant making foundation. He also holds the title of Messenger of Peace for the United Nations. Jane Fonda has also starred in a large number of movies since this one, released hugely popular exercise videos, and continues to add to her extensive bio of anti-war and political activism activities, while continuing to speak openly on women's issues and religion.

But ya know, it's my personal opinion that the real star of The China Syndrome is the late-great Jack Lemmon. Lemmon was chosen to play Jack Godell, the nuclear power plant supervisor, not only for his acting ability, but for his anti-nuclear stance as well. And from the moment he enters the story, Jack Lemmon dominates every frame he's in. He completely captivates. Lemmon was Best Actor-nominated for his role in The China Syndrome at the 52nd Annual Academy Awards (in the same company with Al Pacino (...And Justice For All), Roy Scheider (All That Jazz), and Peter Sellers (Being There), with the golden statue ultimately being awarded to Dustin Hoffman for Kramer vs Kramer). It is Lemmon's character that faces the real agony of telling the truth. A deeply caring man who loves his job, Godell puts it all on the line when he discovers that a deeply uncaring and irresponsible man was behind the cover up which caused the accident that Michael Douglas' character had secretly filmed. But none of Godell's superiors would listen to him. Money was their only motivation, not safety, and certainly not holding anyone accountable for the lack thereof.

A standing ovation goes out to Wilford Brimley who plays Ted Spindler, Godell's long-time colleague at the plant who stood up for his friend in the end, with an emotional statement in front of all the media. For you see, when the heads of the nuclear powers-that-be finally succeeded in gaining access to the area of the plant for which Godell, driven to desperate measures had taken control of, shutting them down, they shot him in the back. Their aim was to make the public believe Godell was a delusional gun-toting madman. I'll never forget Godell rushing toward the camera, stumbling into the plant's control panel and falling to the floor. It's one of the most dramatic scenes I've ever seen on film, and one I will never forget. Kudos times ten to Jack Lemmon, may he rest in peace.

On the bonus features of the dvd release, Jane Fonda sums up The China Syndrome perfectly: "There was a message being delivered, but it was encased in a story that even if you didn't buy the message, would hold you. If you feel strongly about something, there's nothing that can make you feel better than being able to embed your passionate feelings into a delivery system that is totally accessible by people who don't agree with you."

The trailer for The China Syndrome...



American romantic comedy directed by John Patrick Shanley
Starring Tom Hanks and Meg Ryan
Released March 9, 1990
by Lisa McDonald
Live Music Head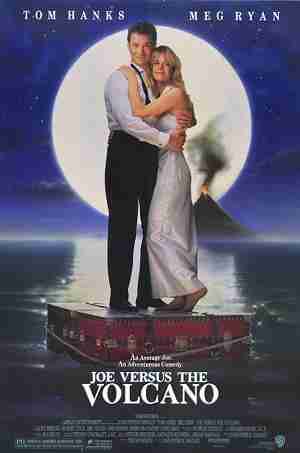 "Once upon a time there was a guy named Joe
who had a very lousy job..."

He worked for American Panascope, home of the rectal probe. And in the factory that manufactures surgical tools, the office of Joe Banks (Tom Hanks) was located under tubes that flickered a gross shade of fluorescent, way down deep in the building's bowels. To think Joe quit being a fire fighter because he never felt good. Now he has a brain cloud. The guy from Unsolved Mysteries told him so. Robert Stack is Ellison, the doctor who said: "It's a black fog of tissue that runs down the centre of your brain, very rare, and spreading at an irregular rate."

Given only six months to live, there was simply nothing left for Joe to do but fly to the South Pacific and jump into a volcano! Lloyd Bridges showed up at Joe's house as Samuel, a friend of the doctor, and offered him an all-expense-paid trip to do so, on an island called Waponi Woo. The Waponis, the people of the island say a fire god lives inside the volcano who hasn't been appeased in a hundred years. In order to appease the fire god, someone has to jump into the volcano of his own free will. If Joe jumps into the volcano, he will not only save the island and its people, but it will allow Samuel to retrieve the precious minerals he needs for his super-conductor business; minerals that can only be found on the fire god's island. Joe has the courage of a man who fights fire, so off he goes armed with his ukulele.

The first class flight takes him to Los Angeles where he will then board a yacht that will take him to Waponi Woo. Meg Ryan who plays DeDe at the beginning of the film, American Panascope's sickly secretary appears at LAX airport to greet Joe as Angelica, her second character in the film. (Ryan plays three characters in all). Angelica is a rich, suicidal painter-poet, the daughter of Samuel whose had the soul sucked out of her while driving around L.A. in her sports car convertible. Angelica's job is to ensure Joe makes his rendezvous with the yacht. At the dock, Ryan then appears as Patricia, half sister of Angelica who says she'll be captaining the yacht, named The Tweedle-Dee, because her father promised to give her the boat in return. And from here the real adventure begins.

When Patricia appears on deck dressed in a bright-yellow rain coat and cap, just as button-cute as Christopher Robin, that familiar on-screen chemistry between Hanks and Ryan can no longer be denied. But directly after their passionate kiss, Tweedle-Dee meets up with a typhoon and capsizes, tossing Patricia overboard. Joe rescues her from the angry sea with the aid of his four trusty Premiere Steamer Trunks. "Almost the whole world's asleep. Everyone you know, everyone you see, everybody you talk to. Only a few people are awake. And they live in a state of constant, total amazement." So here we arrive at my favourite part of the film:

Joe ties the four trunks together to make a raft for two, and with a portable transistor radio blasting old time rock and roll, he dances atop them while Patricia lays there, out cold. He also plays a round of mini golf atop the raft. And plays his ukulele. It soon becomes clear that being doomed to die has transformed Joe into one of the "awake" people. After night falls, he has an epiphany of sorts when the moon rises above the ocean from what looks like the ends of the earth. This is living!

Eventually Joe and Patricia are rescued by The Waponis, and the guardians of the volcano are indeed addicted to orange soda, it's true. Lloyd Bridges said so. And Abe Vigoda plays the Waponi leader. Just like Dorothy and her companions on their way to see the Wizard, Joe and Patricia are pampered in paradise with a feast, before eventually having to go up and meet the Big Woo. Live like a king, die like a man!

But Patricia had to go and fall in love with Joe. Yes, the button-cute captain of her own ship can't believe this has happened either. She's never fallen in love with anyone. She never even slept with him! Joe loves her back, but if he's to save her father's super conductor business, and the sale of orange soda, the fire god must be appeased. Watch this movie, if you haven't already, and find out what happens when Joe versus the Volcano!

Note: That's Eric Burdon of The Animals singing
Sixteen Tons in the opening scene.

The trailer for Joe Versus The Volcano...

Remembering: Joe Versus The Volcano
Remembering: Analyze This
American comedy directed by Harold Ramis
Starring Robert De Niro and Billy Crystal
Released March 5, 1999
by Lisa McDonald
Live Music Head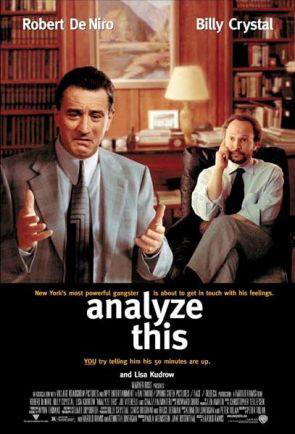 I was having a particularly hard day; an emotional day. One of them hard emotional days that can drive a couple to separate, and stay that way. Fortunately my boyfriend saved us by suggesting a movie rental for chill-out time on the couch. I can't now remember which one of us chose this movie, but it was the perfect choice. For after hours of analyzing him, me, our life, and the world around us, I then got to see Robert De Niro do the same thing with Billy Crystal, and we laughed our f%#@ing asses off!

Since then, I've seen this movie a few times for it's truly one of the funniest movies ever.

Crystal plays Dr. Ben Sobel, a bored psychiatrist who pretends to listen to the whining of his neurotic New York City clientele while fantasizing about telling them just what he really thinks, who then suddenly finds himself immersed in the excitement of treating a mobster, and asking the question... "What's my goal here? To make you a happy, well-adjusted gangster?"

De Niro is mob boss Paul Vitti who, from the moment he makes his grand entrance into the psychiatrist's office, is absolutely brilliant to watch in this comedy directed by Harold Ramis, that same comedian I first got to know from SCTV. Vitti is a Mafia kingpin in crisis, depressed and suffering panic attacks who comes seeking Sobel's professional help, and despite saying no, absolutely not, Sobel ultimately does help, for mobsters don't take no for an answer, don't'cha know? Fear for his life is the main motivation for constantly upsetting his fiancé (Lisa Kudrow), who Sobel leaves at Vitti's every beckon call day or night, but the challenge of treating a gangster is also irresistible, and utterly and unavoidably hilarious! Vitti develops an immediate fondness for his shrink and in a show of endearment pinches Sobel's face as an adult would a child. Crystal has been heard to say that he thinks De Niro got a great deal of satisfaction from pinching his face during filming, despite knowing how much it hurt. Ha!

Eventually finding himself in so deep, Sobel reluctantly agrees to cover for Vitti at an important meeting of the families when Vitti is laid up in bed in an uncontrollable fit of weeping. Yes, Vitti is a gangster who cries, and cries a lot. And for the scenes where he was required to do so, DeNiro apparently had a select bit of music that had to be played on set each and every time, in order to get him there. It's the same music that's in the insurance commercial that Vitti watches from his bed that makes him cry near the end of the film.

For anyone having a hard emotional day like I was, or any couples at risk of breaking up and needing to laugh about it, or for anyone who simply enjoys well-acted and well-written funny stories on film, this just may be the movie for you. Because when Sobel finally finds the courage and confidence to represent Vitti as his fake consigliere at the meeting of the mafia heads, I'm tellin' ya, we laughed our f&%#ing asses off!! Billy Crystal is genius; pure comedic genius. I peed my pants.

The trailer for Analyze This...


Remembering: Norma Rae
American drama directed by Martin Ritt
Starring Sally Field
Beau Bridges and Ron Leibman
Released March 2, 1979
by Lisa McDonald
Live Music Head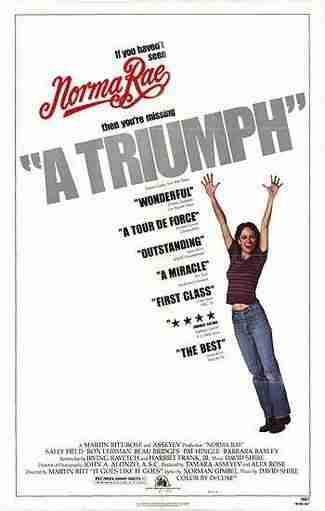 She's been a part of my life ever since The Flying Nun, the sitcom that ran on television in the late nineteen-sixties. And as Sybil, the 1976 made-for-tv movie about a victim of child abuse who suffered multiple personality disorder. And Carrie, the runaway bride in the 1977 action-comedy motion picture Smokey and The Bandit, which also starred Burt Reynolds who nicknamed her Frog because she's cute and he wanted to jump her.

But the earliest impression Sally Field made upon me was as a runaway hippie chick in the 1971 made-for-tv movie, Maybe I'll Come Home In The Spring. Yes, that one left a huge impression on my eight-year-old self. Much later, it was her performance as a courageous widow fighting to keep her family alive during the Great Depression in 1984's Places In The Heart. And as a courageous American wife trying to flee Iran and her abusive Muslim husband in Not Without My Daughter (1991). I have yet to see her as First Lady Mary Todd in Lincoln, the 2012 Academy Award winning film. But as the mother of Julia Roberts in Steel Magnolias (1989) and the mother of Tom Hanks in Forrest Gump (1994), I cannot tell you how many times I've watched Sally Field, and cried and laughed, and laughed and cried. For those are two of the best films ever, warranting countless screenings.

Mere months ago, I was excited to be on the guest list to see Sally Field be interviewed by George Stroumboulopoulos in Toronto's CBC Studios. But her flight got cancelled by Hurricane Sandy. Had she made it, it would certainly have been an emotional experience seeing this fine actress walk into the same room as I.

Having said all that, it gives me great pleasure to re-visit Norma Rae, the film about a small town minimum-wage factory worker who becomes involved in dangerous labor union activities. Sally Field plays the title role, a chick with a big mouth who's not afraid to use it. I like that. I like that she demanded a Kotex machine in the ladies room at the plant. I like courageous women, and obviously Sally Field is one, who's also very good at playin' one. But it's sad that strong, courageous women are so often viewed by men as a threat. I didn't like that abusive scene in the motel with Norma and her secret lover. Who the hell would want a fuck buddy like him? A girl who lives in a town of slim pickin's, that's who. The men in Norma Rae's life are not steeped in manners, or charm, or chivalry. One of the best lines in the film is when her husband (Beau Bridges) gives her a hard time for bringing a bunch of black men into their home for a union meeting, inviting trouble. Norma says: "I ain't never had any trouble with black men. The only trouble I've ever had in my life is with white men." Well, until she meets Reuben Warshowsky, the union organizer played by Ron Leibman who brings her trouble of a very worthwhile kind; trouble otherwise known as an education. Reuben enriches Norma's life, sexual favours not required.

The producers of Norma Rae were inspired to put the story on screen after reading an article in the New York Times about Crystal Lee Jordan, a woman who risked everything fighting for justice, and for leading her co-workers to unionize a cotton mill in North Carolina. Driven by a passion for social justice himself, Martin Ritt dedicated his life to giving voice to the poor and the oppressed. A former victim of the Hollywood blacklist of the 1950s, Ritt was naturally the right person to direct Norma Rae. The movie was shot with real-life unionized employees in a real-life, small town Alabama mill. Authenticity was important to Ritt. And under his mentorship, Field became immersed in her character; immersed in the lifestyle and community of the mill workers, and even worked one of the machines herself. Sally Field became Norma Rae. And her dedication paid off. She took home the Academy Award for Best Actress. (An award, I might add, she won over Bette Midler who was nominated in the same category for her performance as The Rose. The Rose has been an all-time favourite film of mine my whole lifelong and as much as I love Sally Field, I think Midler should have won).

In 2011, Norma Rae was selected by the U.S. Library of Congress for preservation in the National Film Registry as "culturally, historically, or aesthetically significant". Yes Sally, we like you. We really like you!

The trailer for Norma Rae...


Fictitious Athlete Hall of Fame
Fictitious Rock and Roll Hall of Fame