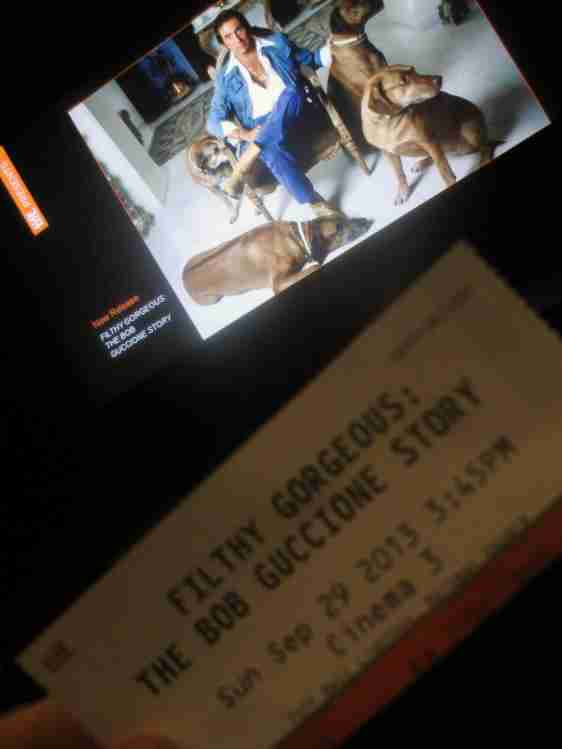 Photo credit: Live Music Head
"The Naked Truth"
Barry Avrich's account of the life of this most unlikely revolutionary of the 1960s counterculture is energetic, iconoclastic and well researched, examining Guccione's long and audacious career, most notably as publisher of the hugely influential pornographic magazine Penthouse
and producer of the porn epic Caligula.
~ Steve Gravestock, tiff. website
As I got settled in my Cinema 3 seat inside tiff. Bell Lightbox with a big bag of popcorn,
Whatcha See is Whatcha Get
by Detroit-based soul group The Dramatics played during the opening credits of
Filthy Gorgeous
, the new documentary film about New York-born Italian-American visionary and provocateur Bob Guccione, founder of Penthouse Magazine. Cool! (Hearing the song again caused me to download the 1971 hit from iTunes immediately after the screening). When the song faded, I was then all eyes and ears ready to learn more about the events that led up to Bob Guccione becoming one of the most successful businessmen in the world.
Born in Brooklyn, New York in 1930, Bob Guccione was raised in New Jersey by his accountant father and his stay-at-home mother. When he was a young man, Guccione moved from the U.S, to London, England with the dream of living the life of an artist. A painter, to be specific. But as one would expect, living the life of an artist was a struggle; too much of a financial struggle to support himself, not to mention a wife and child. Guccione admitted that when forced to choose between spending his last dollar on food for his family, or spending it on paint and brushes, he would choose to spend it on the tools needed to put colour on canvas. His wife left him. He continued to struggle. But motivated by lack of money, Guccione found employment at a newspaper where he began entertaining the idea of copying Hugh Hefner, the well-established and successful American publisher of Playboy magazine. Applying his painter's eye, Guccione got behind the camera to shoot the steamy photographs of what would grace the pages of his new magazine. And with these steamy photos, he quickly became the Editor and Chief of Penthouse, Britain's answer to Playboy, a men's magazine to rival Hefner in sales. The first issue was published in England in 1965, and arrived in America four years later. Guccione was now a celebrated porn photographer, and Penthouse was the first skin magazine to publish photos showing a woman's pubic hair.
What's interesting about Penthouse was that it was run by women, particularly Kathy Keeton, Guccione's third wife and savvy business partner. Guccione may have been the successful magazine's founder, but he really wasn't the best businessman. Projecting a sleazy image of a player with his open-shirt and gold-chains, Bob Guccione was still the artist who continued to paint. Keeton was the one with the head for business. Together they created an empire that included other publications like
Viva: The International Magazine for Women
, a health mag called
Longevity
, and
Omni
, for fans of science. It was an empire that brought in enough money for Guccione to become an art collector, decorating the walls of his home with Modigliani, Picasso, Botticelli, Chagall, Dalí, Matisse, Renoir, and Van Gogh.
As expected with such a racy publication, Penthouse was soon caught up in controversies, one being when they published nude photos of Vanessa Williams, Miss America of 1983. The pictorial brought Penthouse it's hottest-seller. Like Hefner and Larry Flynt (publisher of Hustler magazine), Guccione had a passion for freedom which saw him waving the U.S. First Amendment flag in the face of the religious right and the hypocritical televangelists of the day who opposed him: Jimmy Swaggert, the Pentecostal pastor who, having been accused of hanky panky with a prostitute in 1988 gave the infamous "I Have Sinned" speech in front of the Assemblies of God, and Jim Bakker, the disgraced PTL Club host (and husband of the mascara-running emotional co-host, Tammy Faye) who was accused of raping his secretary the same year, and later imprisoned for fraud. And Jerry Falwell, founder of The Moral Majority, who took Guccione to court after learning about the article Penthouse had written about him. But Falwell couldn't prevent being written about in Penthouse any more than he could prevent the parady ad that Hustler had published about him. Just like when he took Flynt to court, Falwell lost. Xaviera Hollander (The Happy Hooker) makes an appearance in the film and her comments made me laugh out loud.
Guccione with his love for all things Italian, and now with enough money to indulge any whim, soon entered the world of film making to finance, produce, direct, and release the 1979 historical pornographic cult film
Caligula
, based on the rise and fall of the Roman Emperor (37 AD to 41 AD), starring Malcolm McDowell, John Gielgud, Peter O'Toole and Helen Mirren. Despite the incredibly talented cast, Guccione could not find a distributor, so he bought a theatre in NYC where the film was screened for a year. Many people saw the film, including myself, but it was critically-panned. Guccione, wanting to stay true to the history, depicted way-over-the-top violence, and tons and tons and tons and tons and tons and tons of explicit sex between real porn stars. Bans, censored versions, edits and re-edits followed. Guccione also went into the casino business, but failed to secure a gaming licence for the one he built in Atlantic City in 1978. Investment failures like this, combined with the advent of the VCR and internet technology, not to mention the devastation caused by the death of Kathy Keeton in '97, Guccione's extravagant life (that some say he lived just like a Roman Emperor himself), soon began to crumble. The Forbes-anointed richest man in the world of '85 took to the sanctuary of his bedroom, depressed. And there was no one with his best interests at heart steering the Penthouse ship.
Staff at the magazine, like Guccione's administrative assistant, happily worked for the man for some thirty years. Her comments in the film are touching. Guccione was well-loved by her, and seemingly by many other women in his life. He was also loved by his son Bob, Jr (a publisher himself, of
Spin
, the music magazine) who has much to say in this movie. Looking a little like Tony Curtis and a little like Tom Jones, Bob Guccione comes across in the film as a likable artist; a pop culture and counterculture figure completely worthy of a great documentary.
Director Barry Avrich talks about Guccione and Filthy Gorgeouson Global TV's Morning Show...