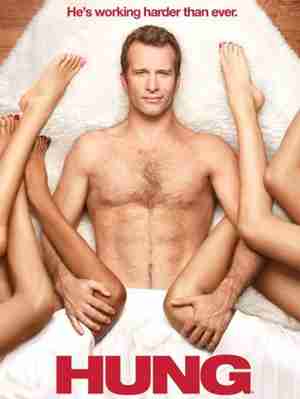 I'd never heard of Ray Drecker (Thomas Jane), the struggling suburban high school basketball and baseball coach and father of two who resorts to using his greatest asset to make money, after losing his wife and his house burned down... until I got Crave TV a couple of months ago. I must admit, it was this promotional poster that got my full-stop attention when I was scrolling through the drama section. And today I finished watching every episode in chronological order of the three-seasons-only-before-HBO-dropped-it comedy series. The situations got increasingly more sexually explicit with each passing episode, and outrageous, especially the desperate antics of wannbe-poet Tanya Skagle (Jane Adams) moonlighting as the pimp. Outrageous, yet believable considering today's economic climate and that the story takes place in the bankrupt city of Detroit.
The trailer for Hung...
Hung's page on HBO...
http://www.hbo.com/hung#/