Interviews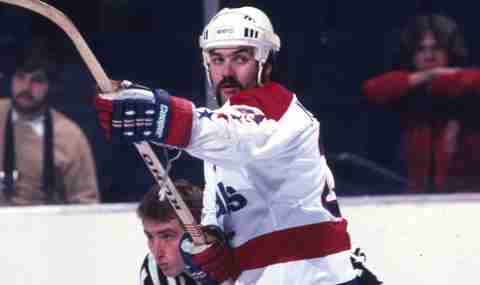 The amount of players who have participated in the National Hockey League who have managed to make the elusive 50 Goal Club is an elusive one. It is one of those magical numbers in sports, akin to a .300 Batting Average in Baseball, 1,500 Rushing Yards in a season in Football, and a 20 Points per Game Average in the National Basketball Association.
Anyone who accomplishes those above feats receive All Star recognition of some kind, especially if you do that more than once, or take it to the next level; a feat that former Hockey superstar, Dennis Maruk accomplished when he had consecutive 50 Goal seasons and became one of the rare players to net 60 Goals in an NHL campaign.
Although this is a man who achieved those numbers and had an NHL career that nearly gave him 900 Points, he did so playing for three teams that no longer exist in their original incarnation. Maruk was a member of the California Golden Seals, the Cleveland Barons and the Minnesota North Stars (twice), and his greatest feats with the Washington Capitals, while although proved to be a good hockey market, still took a back seat to the glamour teams of the 1980's.
Saying that, as a man who grew up watching the National Hockey League intensely in the 1980's and one who studies the evolution of the game from the 1970's, talking to a man who not only rose to prominence in the 1970's, but what was one of the men who made the Washington Capitals relevant, a team that has emerged as one of the healthiest franchises in the National Hockey League in recent years.
Maruk is the holder of multiple records with the Washington Capitals, is the all time leading scorer for one defunct franchise, and was one of my favourite interviews that I have done.
I had the chance to speak with Dennis about his time in Oakland and Cleveland, his records in Washington, and the adversity he had to overcome as a smaller player in the NHL.
One of the first things I wanted to talk to you about, and this may sound a little weird is that I love 1970's Hockey.[i]
"(laughs) Okay."
For whatever reason, I watch a lot of it on YouTube or through other methods. With that in mind, you played for the London Knights in the OHL, a great hockey town, and in the National Hockey League, you went to Oakland to play professionally for the California Golden Seals. I have never talked to anyone who played there and I am really curious what the hockey culture was in Oakland and how you liked playing there?[ii]
It was a real exciting time for me because they drafted me out of junior hockey, the first pick of the second round, 21st overall and they gave me the opportunity to show what I could do.[iii] It was a young team, and not a team that was very strong but it gave me an opportunity to make the team, first of all and I had a pretty good season.[iv] Things worked out pretty good.
There was some older players, but there was a lot of young players, some of which coming up from the minors from Salt Lake City. We lost a lot of close games, but it was really exciting to play in Oakland Coliseum as a nineteen year old to play in California."
So you had some really good fans then?
"Oh yeah, really good. We had quite a few sellouts, and the fans were really good. They (the Seals) had been there for seven years but they never had really strong teams. We had a fellow by the name of Krazy George, I don't know if you remember him?"[v]
Yeah, I know he is.
"He would go around banging a snare drum. He would climb up on the glass and get the crowd riled up. He would do it for football games and other events too. He was very instrumental in getting the fans going in the building. Were the fans educated in the game of hockey? I think they were at times, but it was going to take more time to get them really invested. Then all of the sudden we had to move.
Did you or any of the other players see that coming?
"Not really. The owner at the time, who has since passed away, Mel Swig was looking to build a new arena in San Francisco on the other side of the BART, which is the big train system there.[vi] There was going to be a big shopping mall built there but at that time it was Mayor (George) Moscone and it was voted down 13-2 or something like that. So they decided to move the team."
How was it moving from the exciting place of the Bay Area to Cleveland, Ohio?
"(Laughs) The mistake on the Lake? Is that what they call it?"
(Laughs). Yeah, I have been to both places and there is definitely a difference between the two! Now, granted, in my early 40's I have a different perspective on things, but I can imagine that you being in your very early 20's at the time had to have a very distinct experience. I know that at 22, I would have rather have been in California than Cleveland!
"Well, I think it was a shock at first for all of the players but we all knew that this was our job. Living in California and being able to go to San Francisco and have a lot of fun, not to mention San Jose and Oakland, and enjoying the nice weather, and now we're going to Cleveland, which has had only a minor pro hockey team, we didn't know how that would go.
We were in a beautiful building, the Richfield Coliseum, which was in the middle of nowhere land. It was a big building that seated about 21,000 and we didn't get a lot of response there. I would say 10,000 in the building looked empty anyway. It was a beautiful rink but the people just didn't go there."
So you found the fans in Oakland far more receptive than the people in Cleveland?
"Yes. At that time yes.[vii] The support was not there in Cleveland and again, we were not a strong hockey club and maybe that part to do with it. That could have been it, but I just didn't think it was the right fit. We even went through a situation where we were going to fold. I think we did for half a day. The NHL took over the insurance so that we could play."
That's got to be frustrating as a young hockey player, and not just for you but for the entire team. I can't imagine what it's like to go to work every day and have that uncertainty hanging over your head.
"I think at one point in time that they missed a pay check. We would normally get paid every two weeks and we didn't get paid one time at the end of the month. That was frustrating, not knowing if it was going to last. As players, we didn't know if we were going to put into a draft or be traded or where we were going to be.
There was one time when the team was going to fold and we were at a press conference and we were all sitting at the tables, and I put our pencils in there and said 'three for a nickel' or something. Let's get some money to keep the team in Cleveland! We all knew at that point that this was going to happen until the league took care of the insurance. We had to play that night. Buffalo was in town and we had no idea whether the game was on or not until we finally got a phone call that said insurance was taken care of.
Those things were really frustrating as a player. You didn't know where you were going to wind up, you didn't know if your teammates were going to be with you, and that was exactly what happened. In the second year (in Cleveland) we merged with Minnesota."
I believe that's the only time in NHL history when that happened. You were only in Minnesota for a brief time until you returned in the mid-80's. It's funny how you think of the state of Minnesota, hockey is a sport synonymous with it, but the North Stars did have to relocate eventually. I am curious what your early memories were with the North Stars.
"I was told I was going to be traded in the summer, that they were going to stay with their centre and Lou Nanne (the North Stars GM) was looking for a first round pick for me. It went all summer and then he (Nanne) told me to come to Minnesota and that the people are going to love you.
I of course talked to my lawyer and found that there was a couple of teams were interested in me and that something was going to happen soon. I went to training camp and would only have one or two shifts in the games. After the second game of the season I was traded to Washington.[viii]
Would it be safe to say that this is the team you still identify with today?
"Yes, very much so. Washington, and Minnesota when I was traded back there from '83 to '89 and we had a strong club there. There were some great players there; Dino Ciccarelli, Neal Broten, Craig Hartsburg, Don Beaupre in net, Brad Maxwell, we had a good team. We made the playoffs and we did well in the Norris Division against St. Louis, Chicago, Toronto and we just couldn't get by the Edmonton Oilers.[ix] They (the Oilers) were so powerful and strong in the mid-80's and won all those Stanley Cups. It was very exciting to be in the playoffs and have an opportunity to win a Stanley Cup."
A lot of people are not aware that you hold the single season scoring record for the Washington Capitals, a record that most people probably think is held by Alex Ovechkin. You actually hold that distinction by a wide margin.[x]
"Well, records are made to be broken. I was skiing in Aspen, Colorado when he broke my (single season) goal scoring record of surpassing 60 goals. He had 65 that year and he's a great goal scorer. I've met him a few times and as matter of fact, I'm going to Washington this Saturday to be honoured as one of the top forty players of all time.[xi] That's going to be my night, and that will be really nice.
He (Ovechkin) told me that there would be no way that he would get my Point total. That year I had 76 Assists along with 60 Goals, and of course I said that records are made to be broken, but maybe that one will be there for a long time."[xii]
You also hold the distinction of being the last member of the California Seals and Cleveland Barons to be a member of the NHL.[xiii]
"Right. Longevity. That's great I guess!"
I think so! Actually, you answered a question that before that I was going to ask you, which was what relationship you still have with the Washington Capitals, and obviously it's a pretty good one.
"Yeah, it is pretty good. I go down there periodically and watch a few games. I will be going down there for the Winter Classic, where they play Chicago. They're (the Capitals) are big in my heart, and I had great seasons there. They were extremely helpful in my situation and took care of me and I have a lot of respect for the Capital organization. Of course the teams I cheer for are Washington, Minnesota now Dallas and the Toronto Maple Leafs."
And you just got a major mention in pop culture too! Your name was used on the show, "The Americans".[xiv]
"(Laughs) Yeah, it's kind of funny. My daughter and a lot of people were calling me about that. My daughter lives in Los Angeles and she's got a Screen Actor's Guild card and we made contact with them (the producers) and they said any time you are in New York to come by the set.
I said if you need a former 60 goal scorer for a cameo appearance let me know! It is always an honor when your name comes up, and then you hear it from other people and then there was a mention in the Washington Post about it."
Actually, I could see you having a cameo as a Soviet spy!
"(Laughs) Yeah, with my fu manchu! That would be fun. I spoke with someone there, Joel Fields was his name, and the people there on set wanted me to send some autographed pictures and hey you never know!"
One thing I wanted to ask you is something I find a common thread in the NHL, where the league constantly doubts undersized players. You are 5' 8'', and you were overlooked to a certain level much like Theoren Fluery and Doug Gilmour who became stars, after posting huge numbers in Junior and then doing the same in the NHL. Did this add additional motivation for you to excel in the National Hockey League?
"It goes back to when I was 18, and I thought I was going to get drafted then, but they said I was too small but then my last year in junior I won the Red Tilson Award, which is the Most Valuable Player in junior and I had great numbers.[xv] I had 66 goals or something like that and then when I went to Oakland and they told me that I was going to play in the minors because I was too small and that I needed to get stronger and beef up.[xvi]
It just pushed me harder. There was an exhibition game against Los Angeles where I was matched up mostly against Marcel Dionne and I scored a couple of points and at that time I had no contract and I was told I was not going to be on the team and sent to the minors and (one of the executives) late Munson Campbell and the GM, Bill McCreary told me when we got back to Oakland that we would sign a new contract.
There you go! I always had to prove myself right to the last day and it was because I was a small guy that I had to prove it over and over. Things didn't come easy. You had to work for it, you had to hit, you had to be aggressive at a time in the game when it was very aggressive hockey and to survive I had to do all that kind of stuff. That's how I got respected. Not only could I score goals and make plays, but I could dish it back even at 5' 8''.
I always love asking athletes what they would do if they would wake up one morning and were the commissioner of the league. Asking you that question, what would you do if you had that role?
"(Laughs). As of today the one thing that the game is too wide open. I would go back to the rule where you can have interference. I don't mean clutch and grab but slow a player down as it is too wide open. These guys are powerful and young players and they are so fast.
I would definitely go to three-on-three, come back with centre ice, I don't like that long pass where a guy can go to the blue line and tip it in, you know, and start over again. I think they need to come back over the red line and come back that way. Bring back the center ice where there are more plays in the neutral ice and then go three-on-three when there's a tie. It would pretty exciting to watch. I've done three-on-three before in games. It's fun, there is going to be a goal and it would cut down on shootouts."
Do you like the shootouts?
"I like the shootouts, there's no doubt about it. I was involved in it years ago when I was coaching in the minors. I think as a fan it is entertaining, you have the great players going against top goalies, but I think again they really need to go right into the three-on-three."
Is there anything that you are doing now that I can promote?
"I'm involved with a company called Drenchit. It's a product that cleans equipment and gets rid of the bacteria and fungus. I've started up with that and it is a great company and we have been working with York University and taking care of their equipment. We've started working with different arenas and it's going well. They are on line at www.drenchit.ca."
I checked that out before our interview. It is one of those things that made me think, 'how come nobody thought of that before?'
"It's amazing. It's a vegetable based product that is safe to use. One wash pack and your gear is bacteria and stink free for five weeks. The kit comes with a maintenance spray that can be also used on the skates and helmet and they include a mouth guard spray to keep the bacteria and yeast out of the mouth guards. The kit lasts five months and is great for fundraising for associations. Things are going very well with it.
I also have a hockey school in the summer called "Winning Techniques" just outside of Huntsville (Ontario) for five weeks of the summer; I'm there for the last two weeks of July and first three weeks of August. It is at
www.winningtechniques.com
."
Thank you so much for your time!
---
[i]

Incidentally, I had just watched Slap Shot prior to calling Dennis and saw the 30 for 30 Shorts on John Wensink taunting the entire Minnesota North Stars on December 1, 1977.



[ii]

The California Golden Seals were part of the first wave of expansion in 1967. They joined the NHL along with the Philadelphia Flyers, Los Angeles Kings, Minnesota North Stars, Pittsburgh Penguins and St. Louis Blues.



[iii]

That was in the 1975 NHL Draft.



[iv]

Dennis finished third in Calder Trophy Voting that year, finishing behind Bryan Trottier (who won) and Glenn Resch both with the New York Islanders who were building a team that would dominate the NHL in a couple of years.



[v]

"Krazy" George Henderson would gain fame as a professional male cheerleader. Living in the Bay Area, Krazy George was a staple at Seals games. He alleges that he created the "wave" which remains a popular activity done by fans to this day. This is a piece on him done by local television: https://www.youtube.com/watch?v=ALuYj3ewRMQ



[vi]

BART stands for Bay Area Rapid Transit, a name that became known to sporting fans during the 1989 World Series between the Oakland A's and the San Francisco Giants when an earthquake transpired during the Fall Classic.



[vii]

History proved Dennis right. Eventually, the Bay Area had a proven franchise in the San Jose Sharks, and Cleveland has yet to support a NHL franchise.



[viii]

Maruk would in fact be traded for a first round pick, which was one acquired from Pittsburgh which was 10th overall. That choice would be used on Tom McCarthy who would eventually be a teammate of Dennis in Minnesota.



[ix]

The North Stars made the Conference Finals in 1984 where they lost to Edmonton.



[x]

Maruk had 136 Points in the 1981/82 season. Ovechkin's high is 112, which he accomplished in the 2007/08 season.



[xi]

This is coinciding with the 40th anniversary of the franchise.



[xii]

Here are the other single season records that Maruk has with Washington: Assists (76), Goals Created (53.1), Assists per Game (0.95), Points per Game (1.70), Goals Created per Game (0.66), Total Goals on Ice for (168). It should also not be noted that when Ovechkin broke Maruk's goal record he took 446 Shots on Goal compared to Maruk's 268. As a Capital, Dennis Maruk never had a Shot Percentage less than 16.8. Alex Ovechkin's most efficient season in that category was 14.6.



[xiii]

Even though Maruk was only there for three years, he holds the all time Points record for the Seals/Barons franchise.



[xiv]

The Americans is a show on FX, set in the early 1980's in Washington D.C., where there are Soviet spies who are living in D.C. as a regular family. The father on the show bonds with son over their mutual love of Hockey and the Washington Capitals.



[xv]

The Award is for the MVP in the OHL. This was won by such legends as Frank Mahovolich, Rod Gilbert, Stan Mikita, Glenn Hall, George Armstrong, Doug Gilmour, Yvan Cournoyer, Gilbert Perreaut and Eric Lindros. Not bad company!



[xvi]

Maruk had exactly 66 Goals that year in London and 145 Points.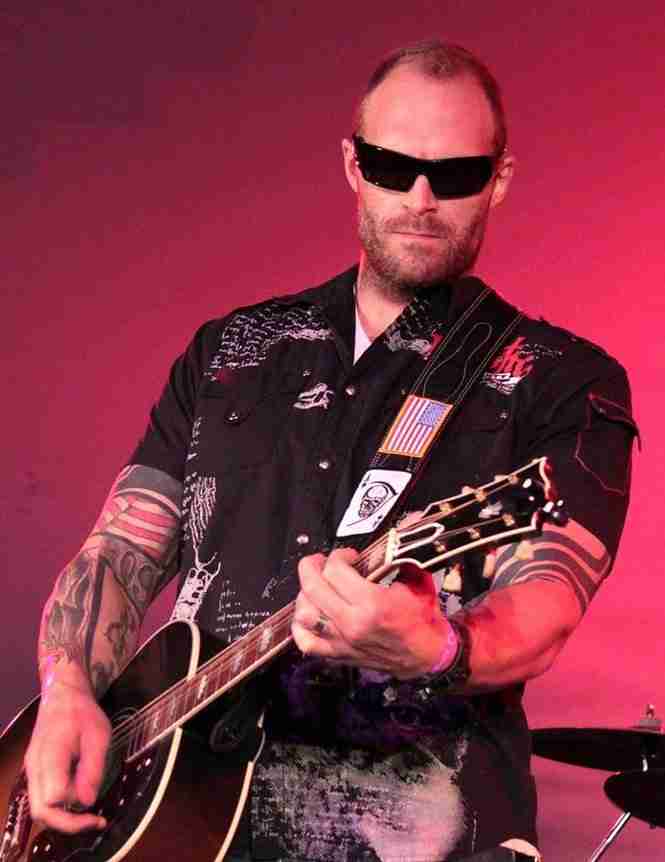 Countless football analysts have always stated that games are won in the trenches; though the battle between Offensive and Defensive Lines never show up in highlight videos or on stat sheets. These are players who always praised for what they do, though never showcased on our screen, at least during the game anyway.
Personally, when I watch a game that I have no rooting interest in, I try to spend at least a quarter only watching what happens at the line. Television, even in this High Definition and Multi-Camera angle era can never do justice to the brute physicality that happens there at every play.
The Offensive Linemen, the men who protect their Quarterback and carve holes for their Running Backs to go through are rarely profiled on television, and when they are singled out it is usually for a holding penalty. They don't get the endorsements nor do they don't get the interviews on the NFL pre shows.
This is not to say that those in the know do not give them what is due. It was not that long ago when former Offensive Lineman Jonathan Ogden signed the richest contract in the National Football League and the Pro Football Hall of Fame in Canton, Ohio has its fair share of representatives from the O-Line in their establishment.
Still, the Offensive Line has never, and will never be a glamour position, though we doubt that the men who play there would want it any other way. I can't imagine that Kyle Turley, the two-time All Pro Offensive Tackle from San Diego State played the game hoping for recognition on ESPN.
Saying that, Turley found his place in National Football League folklore, when during a game against the New York Jets, he ripped the helmet off of Damian Robinson and threw it across the field that had grabbed the facemask of his Quarterback, Aaron Brooks during an offensive play. Turley, was praised by some for defending his QB, though lauded by others for initiating a penalty, cemented his place in NFL history, but anyone who served in the NFL trenches, or any football trench for that matter, understood Turley's actions.
That maybe what Kyle Turley is most known for in the NFL, but we here at Notinhalloffame.com cover a lot more than professional football. After Kyle's career ended on the gridiron, he embarked on a career in music, a field of endeavour that intrigues us even more. With that equation, how is it that we could not hope to talk to a man who was proved to be successful in both sports and music?
Focusing on a blend of Country/Rock (with Heavy Metal infusion) Kyle Turley became one of the few men in history to carve a successful path in both athletics and music, and it was the music of Turley that necessitated our need to reach out to him.
With a blend of legendary Country/Rock superstars Lynyrd Skynyrd and Thrash Metal gods Slayer, Kyle Turley put together a unique blend of Rock and Roll that was inspired from his own experiences from his life, the gridiron, and society in general.
Saying all of that, our interview with Kyle Turley unveiled a man who was not only who excelled in the trenches of the National Football League but one who survived the wars of the music industry. If you have seen, heard or read interviews with Kyle in the past, you already know that he is known for his candid nature. It was the same with us, as we loved our conversation with the multi-faceted former New Orleans Saint, which we hope all of you will enjoy reading.
I have spent a lot of time in the last couple of days prior to this interview listening to your music through YouTube and other sources of online media.[i] Musically, I would like to ask you the same question that I have asked other musicians, and this is one I am sure you get quite a bit. What would be the album or the song that changed your life?
"Slayer, Seasons in the Abyss.[ii] Right off the top of the head for that question."
After hearing that album, was there something in you that told you that you wanted to go into music at some point in your life?
"No. It was just such powerful music that it changed my life instantly as soon as I heard it. It's quite unique and I'm actually going to see them tonight in concert at the Forum."
Nice!
"Yeah man, I'm a metal head at heart. I grew up on old school country and my dad was a truck driver. I grew up in a lot of rural areas and country was huge. I grew up with a really good mix of everything. I moved to Southern California when I was 10 and I got into heavy metal, punk rock and other stuff."
Is it wrong to say that I hear a lot of Johnny Cash in your music?
"No, Johnny is definitely one of my favorites. If I have three albums to take with me on a deserted island it would be Slayer, Johnny Cash and Bob Marley. That's my perfect blend of music right there."
Very eclectic taste, I love it! I would love to see what's on your I-Pod one day for sure.
"It's all about Pandora now for sure. All the bands that I knew growing up and all the live bands now are all there. I am getting introduced to all kinds of new music. I am really stoked on music."
For me it's Slacker Radio. It has brought me to a lot of albums that I could not afford to buy as a kid.
I have always heard about music in the locker room and multiple athletes pursuing musical careers. I am curious about the locker rooms that you have been with, in terms of what music dominated the locker room, be it with the New Orleans Saints, St. Louis Rams, Kansas City Chiefs or even at San Diego State?
"What music dominated the locker room?"
Yes.
"Well, most coaches were particular in that they did not want to hear any music. It should be personal. It wasn't until I got to Kansas City, and that team was a wreck anyway, and they let anybody play music in the locker room.
You know, you don't want to impose anything on anybody in the pre-game. I never wanted to do that. Now, maybe I thought that Slayer would hype our all team up, but that's my opinion.
Some guys like to listen to country some guys like to listen to Hip-Hop. For what it is for me, it is not going to be for the other guy. Good Coaches will always be very adamant that they didn't want to hear anybody's music. If you listened to music, you listened to it in your own headphones. Get in your zone, you know?"
Transitioning into a music career, I would like to ask you when it was in your career that you decided that you would look to pursue a music career. Were you still playing in the NFL, was it after, or anytime before? The reason I want to ask is that as we know, there have many far too many cases where a lot of athletes don't have the foresight to do something else.
"Music has always been a big part of my life. You know, it is a passion! I had a bunch of money to screw off with and it was easy to start a record company.
I had some friends in the music industry and I kind of got bamboozled a bit at first and had to learn the hard way in the music industry and how to do it and do it right. But it was something that I was very interested in, and I was able to gain some friends in the industry. I used the football card to get backstage and meet some people and give them Saints or Rams or Chiefs gear and hang out with them and let them know I'm a big fan.
I was able to sit down with some buddies who were in bands or had side bands or things that they were working on. It was something that I always wanted to do. I was able to test the waters and it turned out to be something that lasted, miraculously, but through a lot of hard work, sacrifice and a lot of lost money. We finally understand the game and we're trying to play it as best we can. It's ever changing and always will be through social media and etcetera but overall if you're passionate about it, and it is like that for any industry you learn your lessons and do the best you can."
One thing that I want to mention is on your website and social media, you have a logo that I think is fantastic.
"I appreciate it."
I can see by that logo that you are still a Saint at heart?
"Yeah. I was an art major in College, and that was part of the reason that I wanted to go into music I think.[iii] I design all my logos. I try to put something in it that means something you know? The same goes for all of my tattoos. I'm not the kind of guy who goes out to get a tattoo just to get a tattoo. It has to mean something to me. With the logos, you have to put a lot of thought into it and know what you want people to draw from that image. It's one of those things that if you do it right you don't have to change anything."
In a lot of the songs that you have, it is clear that you draw from your own experiences, be it on the football field or other aspects of life. You have been very open about changes that you would like to see in the NFL, and you have this interesting dynamic of being thought of as a musician/ex-football player.
"You know, I'm kind of marked as that. It is what it is. I was in an arena that few people get to step into to. That definitely marks you and you are forever an ex-football player. I ended up doing something in my football career that I became famous for. I was known for throwing the helmet, so now I'm the "helmet guy". Whatever it is you made it to the public eye for will stay with you."[iv]
I am actually a diehard Saints fan myself.
"Oh right on man!"
I remember being bummed out as I missed watching that game, as I had to go to a wedding that day. It was a Jewish wedding, so it was on a Sunday. Frankly, I don't know who schedules a wedding on a Sunday during the NFL season but (laughs). I think that a lot of your songs show the war in the trenches that you had.
"Oh definitely! That's the position I played, and it was a war every play. It was a battle. It was a hand to hand combat fight and you had to have the mentality of a warrior to go into that situation and come out victorious. I took great pride in that I was always ready to do that. I believe I accomplished that through my career and that it speaks for itself."
You have been outspoken on changes that you would like to see in Football. On your website, you have the banner of the Sports Legacy Institute from Christopher Nowinski, who has been leading the study on concussions in sport.[v] Concussions are a big hot point in not just Football, but in sports in general. Do you think that they are going in the right direction in preventing these issues from coming up in the next generation?
"No, they're not. They're clearly not. We saw an issue with Michael Vick this season, and every year we see the same situation over and over and over again, where you see a complete lack of protocol and they just put Band-Aids over it.[vi]
Media wise they have rules that they have come up with, with defenseless players and that's helped a lot with Receivers in going over the middle; it's helped with those really bad concussions that they can get. Outside of that, Football is Football and they have done nothing to address the concussion issue. They have done anything to address how the concussions are treated.
We saw that just recently with Michael Vick getting a serious concussion and taken to the locker room and put back in the game. If there's a doubt you shouldn't go back in. If there is a doubt, than it is a serious concussion and you shouldn't be going back in. The player would be not dizzy, disoriented, they would be able to walk fine, they would be able to talk fine, they would be able to tell you that they were fine and tell you what happened in their day, and their situation and where they are at.
The reality is that when you take all these thing into account, they then ask the one question that they should never ask, which is 'do you think you can go?' That is the question that still goes around that fumbles out of NFL doctor's mouths pre and post game. They are sitting there wondering how the game is going to turn out for them pending the opponent.
But that's the business, you know? If that's what it is then give us lifetime medical or guaranteed contracts. That's the way to solve it. Call it what it is. If you want it to be a blood sport and you could care less about our bodies and our brains and families and what it will all do to us down the road, than here is a bunch of money so all of you come out here to try to get it."[vii]
There is a lot to what you are saying here. I use my wife as a litmus test for just putting perspective on sports. She is not a sports fan at all, but she puts up with living with a sports fanatic. On Sundays when I am watching the National Football League, she doesn't have to be a sports fan to recognize that this is the biggest league in North America. When I told her one time that this was the only major sport with no guaranteed contracts, she couldn't understand it. In her mind, that defied all logic based on the sheer money she was generated from the product.
"It's because of our failed union. We have a joke of a union that has failed every step of the way. All the benefits that the player's union gloated about obtaining, any agent could have done that. What they have failed to do is hear the voices and the words of the players that scream in the union meetings and in the locker rooms that we need guaranteed contracts and lifetime medical. That's all it is.
It levels the playing field; players' careers will definitely be longer. If you want to address the issues than that's what you do. Have both parties have a responsibility to make sure that either the player is healed or you're willing to give up that money that he goes out there in that one game that you really need him for risking all the others and pay him just like you do those (baseball) Pitchers that make $100 million dollars, or whatever, when they throw out their arms. It happens all the time (in baseball).
You see situations where these baseball guys sign these massive contracts and everybody's fine with them. Their union has been able to negotiate guaranteed contracts when they have just as high a risk of throwing out their arm and getting Tommy John Surgery and may never pitch again like they used to as it is in the NFL for Running Backs to blow out a knee.[viii]
That's a reality. We just have a failed union that has prided itself on all of the money that has built up in their war chest and seem to never use. We got Workers Compensation benefits taken from us in California. We've got a benefits system that is structured horrifically that guys are denied left and right for earned benefits that have clear injuries that are disabling. They've really been the issue. The NFL has been the money grubbing old white men that everybody says they are."
Do you take flack from other players for speaking your mind, or do they pat you on the back?
"A bit of both. You have the company guys who will sit there and spew the company line and defend it to the end, and you got the guys who know the real story. I don't know why there are guys on the other side. Personally, they must be void of compassion and void of an understanding of what their brothers went through during their careers, or they are just taking their money and keeping their mouth shut.
Look at the situation with the NFL concussion settlement. You can take to a man, every person that's on TV that talks about of football; none of those guys were involved in the concussion lawsuit. Zero. Everybody's got a price tag. They run their lives that way. Unfortunately, you run into a guy like me; I would have played this game for a dollar, because it was a dream of mine, and the majority of guys I believe are like that. All we wanted in return was for them (the NFL) to honor their word. That we would be taken care of after the game was over and that just hasn't been the case."
In terms of image problems with the NFL, so much has been made of the Ray Rice situation. Roger Goodell has certainly taken a big hit for denying that he saw the video. I certainly have a strong opinion on it but whether he did or did not see it is not something I am going to say here.
"(Laughs) You can guarantee he did!"
Yeah, he probably did. OK, I gave my opinion! The domestic violence policy that although existed in the NFL, which was never enforced is now front and center. The difference maker being that we all saw the tape. Are these issues that the NFL should have looked at harder and been proactive on?
"It's a huge deal. Since all the information has come out on how many cases where there have been cover-ups, that's a big deal. When the NFL, which is actually dominated by women viewers, a group that buys a lot of merchandise, business wise that is a huge deal demographically. Whether they consider that insignificant seems to be the case. There was Roger Goodell basically laughing and pumped his chest out and laughed and said 'I'm not fired, hah!'[ix]
It was a joke to them (the NFL) and it was a joke to him. The only concern they had in the Ray Rice situation was what image it was going to portray in the public, or how much was it going to hurt their team by not having their player. At the end of the day, that's what its all about.
What if there's a video that popped up about Michael Vick? I'm sure that they are out there? You don't think that in all of that investigative work and the undercover work that was done that there isn't any video that helped to bring the dog kingpin down?
I'll go out on a limb and with that still being the cell phone era, and with video cameras, and I am sure that there were guys videoing these crowds at these dog fights that these investigators surely had to have some type of video evidence! They had to have more than just breaking into his house and finding a bunch of dogs in kennels. So, imagine if that had come out! Or even if it does today! The visual part of that occurring is definitely necessary.
In my situation I had a serious back injury, which is a perfect example of how the NFL chooses its priorities. My career was extremely sidelined by because of a serious back injury and I got into it with Mike Martz and got into a fight with him in his office.[x] We got into a yelling match, he tried to say that I threatened him and this and that.[xi]
It was all over my injury. I wasn't being treated right. The organization, the team doctors, it was all just fumbled beyond belief. The team was allowed to release me while I was rehabbing and nearly ready to make a comeback. I ended up having to be under a league minimum contract in the last two years I played football, which was with the Chiefs.
I had just signed a six year deal with the Rams and I did everything I could to make it back to play football again. I was allowed to be released, let go and I tried and tried to go to the union and get them to help with the situation and the answer back ultimately was that they were too busy trying to get Michael Vick off and that they couldn't go to battle for my case.
It's because they have these high profile players that mean a lot to them, you know, good publicity or bad, you would think that the NFL does not like bad publicity. The NFL doesn't believe in bad publicity. The NFL is a media machine that believes that any press is good press. It shows in their ratings. They're proven right. The whole thing with Ray Rice; I'm sorry and this might not be the right thing to say, but the women of the football world sat down and took it.
At the end of the day, where are these four ladies that are supposed to be in these positions to deal with these situations? Where's the FBI? I am sure that there are some female investigators who would love to have their hands on this. What happened to Gloria Allred? She said that an accusation was about to come out, but nothing happened. Obviously somebody got paid off in that situation. She let that one die; she didn't take that one any further. This situation just went away. There have been no consequences whatsoever.
That's because of the NFL's power and the people that support it. Going back to what you said about having other players against me? There are people that buy into this that think that football is God and if they think or believe that it's going to hurt the game, which I don't believe, which is why I talk freely about it.
I know that it's not going to stop. I know that our society loves violence and this is one of the greatest sports period that has ever been invented. Anybody who has ever played it gets attached to it! It's an amazing game to play. It does have some serious negative things around it that don't necessarily need to be there. Unfortunately in some of those cases will probably be there forever."
Do you still watch football on a regular basis?
"Oh yeah! I watch it all the time! I still help coach camps. I love football. Football is a passion and has been since the day I decided to play it. It is one of my greatest loves ever to strap on a football helmet and play football. That will never die no matter what. Nothing in this world would ever equal the feeling or the adrenaline that is the rush you get from playing football. To make it to the National Football League; I wouldn't trade it even with all of the damage done."
Going back to music, where would like to see your band in the next five years?
"The music industry is so crazy and it's all based on a lot of different factors. Ultimately it's whether or not you put the work in. It's gone back to the days of old and unless you become an overnight sensation with a pop hit, you have to get out there and beat the streets. I've done that the last four or five years and I've opened up for everybody under the sun in the Southern Rock world. I've got a small little metal project that I am working on. You know, I don't really think five years out. I know that five years from now I will still be playing music but at what stage that will be? I don't know. Hopefully some opportunities will come.
Unfortunately, I can't get out as much any more due to injuries and the surgeries that I need done from the game of football that are starting to surface. I'm right at that age where that finally catches up to you. I'm close to 40, and that is around where everything starts to fall apart. It's when you have to get it all fixed and fused, get bolts and plates, it's the reality of football.
I can't perform as many shows. I have to focus instead on quality instead of quantity. I've got to lay low for awhile as I ran my body pretty hard for awhile touring across the country back and forth for the last four or five years. I drove my own tour bus for at least two years straight. The music industry is a tough cookie to crack, but still at the same time, I have the passion for it and it's not like football where I can't do it anymore. I can do it sitting down or standing up. Hopefully in the next five years my body will feel a little better and I'll be in a better position to push the music. Right now, as I'm healing it is on the shelf for a little bit."
Well, Jeff Healey made a lot of money, and I don't think he stood up much in concerts![xii]
"(laughs) Like I said, you can do music anywhere. That's the great part about it. Can you do it every night though? That's the true test."
Can you tell me a little bit more about the metal project you have going on?
"It's just a little small project, it's a doom metal project that me and my bass player from my country project that we have going.[xiii] It's him playing guitar running through some crazy amps, pedals, we got a weird vocal thing going on. It's called "Delta Doom" and you may see it.
We toured a little bit with Crowbar last year and that was a lot of fun.[xiv] We had a decent response from some good sized crowds. You never know. The music industry is like that."
Is there anything that I can let people know where to find you?
"
Gridirongreats.org
is one. That's the charity site for the charity I work with Mike Ditka on for retired players. That would be the one I would want to promote the most."
Thanks so much!

You can follow Kyle Turley on Twitter
@KyleTurley
or visit his website at
kyleturley.com
.
---
[i]

This is the YouTube Page for Kyle Turley's label, Gridiron Records https://www.youtube.com/user/gridironrecords



[ii]

That was the 1990 album from Slayer, and was widely acclaimed in the Metal genre.



[iii]

Turley went to San Diego State where he was a consensus All American in 1997.



[iv]

He isn't kidding. The first thing that comes up when you Google his name is helmet.



[v]

Nowinski was himself a former College Football player at Harvard and went on to a career in the WWE which ended due to concussions.



[vi]

This is in reference to the Jets loss to Kansas City on November 2. Vick had a head injury in the fourth quarter and returned to the game.



[vii]

Despite all the issues with concussions and domestic violence, on November 20, 2014 ESPN announced that 28 of the top 30 rated television programs this fall (starting from September 4, 2014) has been NFL games. The NFL is bigger than ever.



[viii]

A recent article shows how Tommy John Surgery is on the rise.



[ix]

This is Goodell responding about job security: https://www.youtube.com/watch?v=ItvjfXMbsPM



[x]

That happened on December 13, 2004.



[xi]

Martz alleged that Turley threatened to kill him. Since the time of the incident, Turley has stated that he never threatened him and has maintained that ever since.



[xii]

Jeff Healey was a blind Canadian Blues Rock singer. If you saw Roadhouse, he was Cody, from the bar band.



[xiii]

Doom Metal is a slower, lower tuned based genre where both the music and lyrics are to evoke themes of (as you would guess) impending doom.



[xiv]

Crowbar is a well known band in the Metal genre and considered to be very influential. Not coincidentally, the band is based in New Orleans.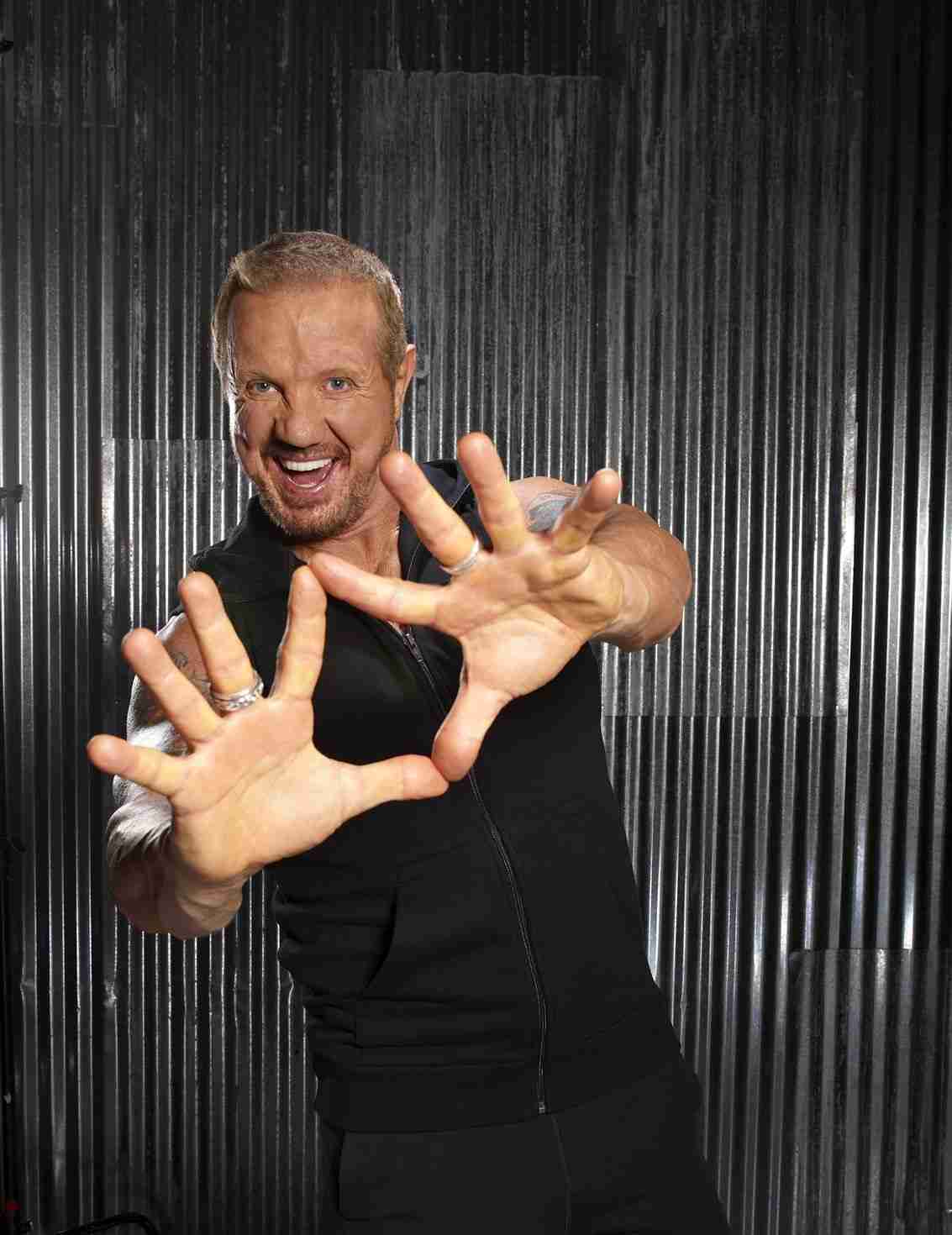 As I looked up and down the roster of everyone who ever graced the ring in either the WWE and WCW and could not find anyone who ever came close to changing the narrative of what a professional wrestler was more often and on a more seismic shift than Diamond Dallas Page. In fact, I will go a step further and say nobody even comes close.
A common thread in athletics is that once you hit your mid-30's you have likely hit you peak in your field of endeavour. This is not always the case, as some have postponed their decline a few years, but that is about it. Athletes make their professional debut in their very early twenties on average, but to do that at the age of 35? Not only does that seem unlikely, it seems impossible; or at least it did until Diamond Dallas Page decided that this was an unspoken rule that was made to be broken.
Prior to setting up the interview with Dallas, my head was spinning thinking about what this man accomplished, and did so when nobody thought he could. By 1997, Page had become one of the most popular wrestlers and this was not because he was booked to be so. Page, who was in his early 40's, was recognized by the fans as someone who got to where he was because he outworked every one else and was legitimately one of best in ring workers in the business.
How can you not respect that? You didn't have to read an interview with Dallas to know that he was spending day after day in the WCW Power Plant honing his craft. It was all there in the ring for fans to see. His offense was more diverse, he was in better condition than his peers and this is in all due respect to the Rock, who billed himself as the "People's Champion", it was Diamond Dallas Page who celebrated wins with the people in the crowd. It was Diamond Dallas Page who, without ever having to say it, showed the people that through determination and the belief of your own convictions that what you can accomplish is up to you.
Fast-forwarding to today, and Dallas is again changing perceptions. Now 58, though not looking much different than he did from when he wrestled, Page is one of a handful of people who can legitimately say that they have revolutionized the fitness industry. Prior to speaking with Dallas, I was aware of how successful it had become, but I had no idea what he had planned for it next.
In my conversation with Diamond Dallas Page, we discussed what he has on tap for DDP YOGA, talked about multiple Halls of Fame, and like many people who have had a chance to speak with Dallas left the conversation inspired and determined to keep my dreams going.
On your website, you discuss the process behind developing your DDP YOGA program. I am curious how you came up with the mindset to take this to another level after you retired from wrestling and make this your main focus?
"Well, the transition came because I needed it out of necessity for me personally. I had three doctors telling me that my wrestling career was over, my back was killing me and I lost all flexibility, and three months later, I'm back in the ring. At 42 they said my career was over, at 43 I'm the World Champ.[i]
I knew I was going to be doing this for the rest of my life. A lot of people do something to heal themselves and then they stop, and then they wonder why they get hurt again. For me, it became part of my life and as I moved on, I turned different people on to it. I did it when I was wrestling for a lot of years, and then I saw a lot of regular guys would do this.
I decided I would write a book about it and I did.[ii] It all took about eight years for it to really catch on; it was actually easier for me to get my wrestling career to go than it was for DDP Yoga. I started (wrestling) at 35 years old."
Actually, I am glad you mentioned that, and I hope I am not speaking out of turn, I use yourself as an example as a bit of an inspiration for myself. As you mentioned, you became a champion at 43, a time when most careers are winding down. You weren't just a champion, but one who was still elevating their game. I am 42, and as I push towards building up our websites and brand, it tells me that the best is still yet to come.
"I think that anybody who is inspired by what I have done, that's the key you know? A big line I use in DDP YOGA is that if I can do what I do at 58 years young, what could you do? An example of that is the other day I broke my record for superhero push-ups. Do you know what a superhero push-up is?"
I don't, no.
"You lay on your stomach and you stretch out your arms in front of you, lay your hands off the ground, you don't bend your elbows, you position your toes on the ground, you adjust the palms of your hand to the ground and raise up.[iii] They are next to impossible for anybody in really good shape to do!
I did fifty of them when I was 57 and I decided about a week ago that I was going to break my record. I lost count as to where I was but I decided I was going to keep going and push myself and I did I got to fifty-nine. If I could do that, what could you do?
I looked at one of my top trainers who had done fifty-one prior to this, and I really put him on the spot and said if I could do this at 58, what could you do at 41? Matt Hancock is in top shape, and he blew out 130 of those mothers…I was so proud of him. It's a really good example for yourself."
I really like how you have taken the philosophy of DDP YOGA and you have used that to help other wrestlers in need, namely Scott Hall and Jake Roberts in what could be classified as a different kind of rehab. The WWE has been open about how they have spent a lot of money and resources on Scott Hall, but their sponsored rehab did not have the same success that you had.[iv] Do you think that you had success because you are also a former wrestler and a friend of both of them, or was it because of the strength of the program you created?
"We were all friends, but I think they were ready, you know? I think that timing is everything, and the WWE was there when they needed him. The WWE put them into the Hall of Fame, and that was a pivotal goal for both of them, and it allowed Jake to retire on their own terms. That's what I was looking at for him."
Do you think that it is something that can be transformed into rehab in general, or is it more of a lifestyle choice?
"I think the whole thing. The whole DDP YOGA Program it's taking care of your body, healing your body, eating real food, and a mindset of not putting yourself down, focusing on Owning Your Life. We all go through ups and downs, different depressions. Obviously both of those guys had a lot of that. I go through it too, everybody does. It's how you overcome that. Everyone knows the line 'it's not how hard you fall, but how you get back up', but sometimes you want to pull yourself down; I call it emotional gravity. Sometimes you need your hand out and to have someone believe in you."
As I look at the progression of DDP YOGA, I am curious where you see it going in the next few years. I ask this as I am fascinated when an athlete such as yourself can totally reinvent themselves to the point where their new career becomes what they are known for. Personally, I use my business partner in the site as an example. He is a very casual wrestling fan and when I told him that I would be interviewing you next his response was 'that's the guy that does yoga right?' I think that is a testament to just how successful you have become at this, when this is the now the first thing that people think when the name of Diamond Dallas Page comes up.
"For the DDP YOGA!"
Yes, for the DDP YOGA![v]
"When he says DDP YOGA, then he knows that he's totally paying attention! I said to Bryan Alvarez[vi], about five years ago he asked me where do you see yourself in five years. It (DDP YOGA) was called YRG at the time I said the DDP Yoga will eclipse what I did as a wrestler.[vii] That's a bold statement if you watched wrestling in the 90's. I was on top of the world, you know '97, '98 and '99 and I said to him (Alvarez) that's a bold statement, but I really believe it. Now it's happening.
Last year I was inducted into the National Wrestling Hall of Fame and it was more for what I did outside of the ring than inside the ring.[viii] This year I am being inducted into the Cauliflower Alley Club Circle of Honor. It's their 50th year, they've been around for a long time. It's the first time someone has received two honors in the same year. They're giving me a wrestling award and a humanitarian award. So again, what I said five years ago is happening.
There's a lot of people right now who only know me from DDP YOGA, and don't know that I used to wrestle. I think five years from now, DDP YOGA, the way I'm structuring it, and it's going to be probably, if not the biggest or at least top two or three workouts on the planet.
The main reason that's going to happen is because that everything I do, I just bet on myself. What I am doing with the program, my lifestyle is what I believe in. Right now I am building a two million dollar facility. It will the home and headquarters for DDP YOGA which will have all our editing bays, because really we are a production company at this point.
What I mean by that is that we film everything ourselves. We produce everything ourselves. This building will have three sound stages within the DDP YOGA Performance Center. One is where we will do the workouts, which is one big room where we can film different things at any time so I can film my workouts.
Think of Netflix. Think of it like a network. What we are building is the Netflix of fitness so all workouts that we have, DDP YOGA for kids, DDP YOGA for Seniors would not be available on DVD. They would be on for lack of a better word would be on our network. The network we are building would be on your phone, or your I-Pad, or to your TV. We will be the first to do it. We should be up and running by April. I never do the same workout twice, and there will be all sorts of LIVE workouts scheduled that will be on the app where you can watch live. You would have today's live workout, or this week's live workout that you would be able to watch and do."
Backtracking a bit, you mentioned the two Halls of Fame that you are going into. I have been an advocate, and so have others who have visited our site, that your body of work more than qualifies you for the WWE Hall of Fame. Is that something that you would like to be part of, or are you the mindset that if it happens, great, if it doesn't, it doesn't take away from what has been a great career?
"I think at some point it will happen. Steve Austin said to me the other day 'No one ever did it the way you did it at such a success level'. He said to me that he was waiting for me to go in, and when it happens it happens. I'm honoured that the CAC and National Wrestling Hall of Fame inducted me, and I would be honoured if the WWE put me in their Hall of Fame.
I'm focused on what's happening right now with DDP YOGA and last year to get to induct Jake and with Scott being inducted in the same year, and they both came out of my house, you know DDP's accountability crib.[ix]
Wouldn't having them inducted almost mean more to you than getting in yourself?
"Yeah, and it happened on my birthday!"
"Oh wow!"
"When I gave Jake's induction speech. It was a great night"
Could I ask you a historical wrestling related question about your career if I could?
"Sure."
In 1996, you won the Battlebowl where by the winner was supposed to receive a WCW World Heavyweight Title shot.[x] That never materialized. I have been curious for years as to why that was?
"The bookers never saw me as a top guy. They never believed in me, not until I got over without their help. They gave a dog a bone and took it away, which if you look at my career from that Battlebowl, which was in 1996, where was I seven months later?"
Having the feud of the year with Randy Savage.[xi]
"Right! So, they (the bookers) were wrong. If you go back and look, and you can do that as a lot of the WCW stuff is all over YouTube and Nitro, which is part of the WWE Network you can see what I have done. If anybody has a question about my career, or what happened in my career, it's all there, and I'm having the run of a lifetime! No one ever did it like that.
No one ever went from a manager to a color commentator to a wrestler at 35 and got over at 40, and then got crazy over at 41! It never happened! You know, and I had a hell of a run on top!"
You definitely did. I remember watching you on the main event of a Nitro in Toronto against Hulk Hogan.[xii]
"I remember Steve Austin calling me the next day and saying 'How did you pull that match out of him?' (Laughs)
(Laughs) Really?
"Yeah, he called me the next night. Me and him have always been tight. In 1997 and 1998 the number one pro wrestler in the world from Pro Wrestling Illustrated was Steve Austin. The number four wrestlers in both years was Diamond Dallas Page.[xiii] So, surely, I was in the top ten. From nowhere to top ten. Obviously, the people who didn't believe in me or were trying to hold me down were wrong.
When I first became a wrestler at 35 people laughed. Michael P.S. Hayes fell down laughing. He also called me up in 1996 after a match up with Sting and said he was never happier to eat crow in his entire life."
I want to thank you so much for your time it has been an honor to talk with you.
"Thank you."
---
[i]

Page won the WCW World Heavyweight Championship in a four-way match on April 11, 1999 at the Spring Stampede Pay per View in Tacoma, Washington.





[ii]

That was released in 2005 entitled "Yoga for Regular Guys, the Best Damn Workout on the Planet!"





[iii]

Here is an example of DDP doing this on YouTube: https://www.youtube.com/watch?v=fOufcaCotQg





[iv]

This was the Scott Hall E60 piece where the WWE mentions the resources spent on Hall. This was roughly two years before Hall took up DDP Yoga.





[v]

Before we went to our conversation, Dallas corrected me, as what he does is not Yoga. His product is

DDP Yoga

, a specific brand and product all on its own!





[vi]

Bryan Alvarez is a respected sports writer and wrestling journalist.





[vii]

YRG stood for Yoga for Regular Guys.





[viii]

His inductor was Mick Foley.





[ix]

DDP's Accountability Crib was just that. Page had Scott Hall and Jake Roberts in his home and the journey was documented by DDP here: https://www.youtube.com/playlist?list=PLLR8R1GKZsazOBW35JJ6Jnrfx2QMdlB1V





[x]

That win was at the Slamboree PPV on May 19th, 1996. The Title shot was to have taken place on the next Pay Per View. On the next night's Nitro the title shot was revoked when "WCW Officials" decreed that based on how we won the match (the finals were an eight-man Battle Royale) that his Battlebowl win would stand, but his title shot, would be granted to Lex Luger.





[xi]

The fans of Pro Wrestling Illustrated voted the Savage/Page Rivalry of 1997 the "Feud of the Year".





[xii]

That was at the Air Canada Center on March 29, 1999.





[xiii]

Page also had other accolades from Pro Wrestling Illustrated. In addition to the 1997 Feud of the Year with Savage, he was named the Most Improved Wrestler in 1995 and Most Hated in 1999. The latter award, a testament to how he was able to transfer his persona into a heel character.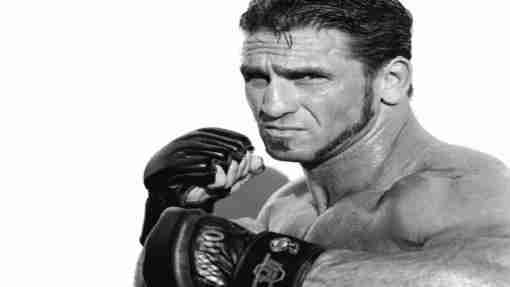 Mixed Martial Arts Legend. Former WWE Superstar. UFC Hall of Famer. The World's Most Dangerous Man. The Godfather of MMA.
All of the above have all been phrases attributed to Ken Shamrock, a former champion in virtually every promotion he competed for. Anyone who saw Shamrock compete either in shoot promotions like the UFC, Pride or Pancrase or in worked organizations like the WWE and TNA, where he was the upstart promotion's first Heavyweight Champion, could not help but me impressed with his intensity and ability to strike fear in opponents and fans alike with his mere presence.
As much as those phrases all describe Shamrock admirably, I found myself thinking of a different series of adjectives while I was talking to the former multi-time champion. Innovator, businessman, mentor, historian all were coming to mind. Perhaps the most accurate word might be reflective, as Ken Shamrock, at 48 years old, though still looking like he could enter the octagon, has ended the stage in his life where he made his name with his fighting prowess, and now uses his intellect to guide his path, and history to understand his past, and that of the sport he helped to make famous.[i]
The UFC has evolved into a multi-million dollar empire, and as athletic entities grow, the pioneers who were there at the beginning generally see their legend grow.[ii] As a still relatively young man, and living in the digital age, it is easy to fans to watch the early matches of Shamrock and see the early stars of the sport and understand the evolution of a product that for many has replaced Boxing as the premier combat sport in North America. For many fans, Shamrock symbolizes when Mixed Martial Arts began, although if you ask Ken himself, he might give you a different view.
The labels he has been given might flatter Shamrock, but in our conversation, he is looking towards putting the correct historical perspective of his career, and the sport of Mixed Martial Arts as a whole.
With UFC dominating the current Mixed Martial Arts narrative, there is a common belief that it all began with that promotion, but modern history tells a different tale. Tough man contests had long been contested across the United States and there have been examples in the past fifty years of combining multiple disciplines in competitive contests.
Still, as much as traditional Greco Roman Amateur Wresting was a featured attraction in the Olympic Games since its inception, it never translated into huge dollars, thus the belief that a legitimate wrestling match would be too "boring" to draw money, and for a long time in the United States that was true. In Japan, however it was a completely different story.
In 1975, Muhammad Ali, the Heavyweight Champion of the World in Boxing took place in a "Boxer Vs Wrestler" match against Antonio Inoki, a legend in the world of Japanese Pro Wrestling.[iii] The match itself was considered a dull affair, with Inoki lying on his back for most of the match kicking the legs of Ali. The match, which was shown on closed circuit television, told many what they thought they already knew, that hybrid types of fighting wouldn't work; though in Japan, the intrigue of these type of matches never went away.
Shamrock, whose first ambition was to be a Professional Wrestler, found his way to Japan, and was working for a company called Pro Wrestling Fujiwara Gumi, an offshoot of the UWF promotion in Japan that employed a more realistic shoot style.[iv] The wrestling showcased by the new organization was still a work, however on a card at the Tokyo Dome on October 4, 1992 they would elect to have Shamrock would compete in a legitimate contest against a man named Don Nakaya Nielson, who was the World Kickboxing Champion at the time. The match only lasted a minute, when Shamrock tapped out Nielson in an armlock, but something very interesting occurred; the normally stoic Japanese crowd was into what they saw.
Almost instantly, along with Japanese wrestlers, Minoru Suzuki and Masakatsu Funaki, Ken Shamrock helped to form Pancrase, an organization designed promote all fighting disciplines within one sport. During its inception, Pancrase proved to be successful and Shamrock would become the first "King of Pancrase" in a tournament in 1994. More importantly, Pancrase shows were filling large size venues and proved that that there was money to be made for a new style of combat sports.
Meanwhile in the United States, Professional Wrestling, while still popular had seen its largest organization, the World Wrestling Federation, openly went to State Athletic Commissions expressing that their matches were predetermined to avoid paying them. Wrestlers evolved into "Sports Entertainers", and those who still clung to the belief that Pro Wrestling may have been on the level were told the exact opposite by the product itself.[v]
Boxing began its wane in popularity in the U.S. as constant corruption and the lack of globally recognized champions caused its fan base to slowly deteriorate, a trend that continues to this day.[vi] Fans of combat sports needed a void, something that felt real, they were ready for the UFC.
For all intents and purposes, the UFC was the first major Mixed Martial Arts organization in the U.S., and almost immediately sports fans started to pay attention, and much like Shamrock had in Japan, he would become a champion again and generate fans. In the mid-90's however, the UFC was facing financial issues due to successful lobbying to remove it from Pay per view.[vii] Shamrock, regarded by many as the biggest name in the sport, looked to capitalize on that with his first love, Professional Wrestling.
As a former Professional Wrestler, Shamrock did not have to make an adjustment to a worked style. Joining the World Wrestling Federation in 1997, Shamrock would make is eagerly anticipated in-ring debut against former WCW World Heavyweight Champion Vader, which saw Shamrock win in stiff and compelling fashion.[viii] Shortly after, the company embarked on what would be known as the "Attitude Era" where sexual innuendo ran rampant and pushing the envelope was encouraged. Although Shamrock did not participate in multiple risqué angles, he raised the bar in a different way, in the ring.
Subtly, the product changed. Following Shamrock's lead, submissions were now rendered by tapping out. Other wrestlers would slowly adopt more realistic like submission moves as their finishers. Shamrock, who was known for his unparalleled intensity was rubbing off on others, and though the WWE does not often reference Shamrock, much of his influence can still be felt today, especially as they are entering what they call the "Reality Era" where television matches have been much longer and a higher premium is being placed on genuine athleticism and in ring ability; an era that Shamrock paved the way for.
In my conversation with Ken, we talked about he was justifiably one of the first members of the UFC Hall of Fame, and how he would like to see that institution, or a Mixed Martial Arts Hall of Fame look in the future. We also had a chance to discuss his legacy in Mixed Martial Arts, Professional Wrestling and how he transformed from a terrorizing in ring combatant into a soft-spoken public speaker.
The first thing that I wanted to discuss was your membership in the UFC Hall of Fame.[ix]
"I am in, yes."
You have been vocal about your opinion on the status of the UFC now, and how the pay to the fighters has not exactly been reflective of the name recognition that of the company's talent.
Currently, the UFC does not have a physical Hall of Fame in terms of an actual structure where fans can visit, similar to that of the Baseball Hall of Fame in Cooperstown, New York, the Hockey Hall of Fame in Toronto, Canada or the Pro Football Hall of Fame in Canton, Ohio. Is this something that you hope will change in the near future?
"I get what your saying but I am not sure that the UFC Hall of Fame can get there. The Halls of Fame that you spoke of have that kind of credibility is because those Halls have people that actually know the history. In this case, we need someone who knows the history of Mixed Martial Arts. The thing that we are missing today is the actual study and understanding where Mixed Martial Arts came from, how it got to where it is today, the people who helped create it.
Right now, the only Hall of Fame we have is with the knowledge of people who are from this era: not necessarily digging and trying to find out the roots of MMA, so we have people in the UFC Hall of Fame, who maybe friendly to the organization (UFC) or from just the memories of what we know.
For instance, the UFC (Hall of Fame) does not have Frank Shamrock who was involved in their history, nor does it have Jerry Bolhander who was the very first person to hold any other belt than the open belts or the Heavyweight belt.[x] Jerry Bolhander was the first one to capture those straps.[xi] There's no mention of him, and there has to be because it's a first, even if may not have accomplished that much, it's a first!
A lot of the history that we are seeing with this Halls of Fame (The UFC) basically have very limited knowledge with the people who are putting them into the Hall. You get people over in Japan who fought with me in the Pancrase organization, with all of the people from around the world with Bas Rutten being one of them, who have definitely paved the road for what we know today as MMA, which started three years before the UFC was even born.[xii]
For me, if there was a physical place for people to go and enjoy the Hall of Fame, you just can't put up one like the Football Hall of Fame, or Baseball or Hockey or Golf because there hasn't been enough study and enough education for people to enjoy it. Nobody's really doing their homework to get people interested as to where all of this came from; the people that made it important, the people that made it what it is today.
To enjoy the people that get inducted today, you need to know that line that got us here. How can you put something up when you don't have the right information or even the right people to do this? Every time someone is inducted (into the UFC Hall of Fame) it is always someone from the current era, but there's no understanding where it came from."
Who would you like to see spearhead that?
"Well, I would like to see the reporters who follow MMA have more of a role.[xiii] On top of that I would like to see some historians who would do a legitimate background search on where this (Mixed Martial Arts) came from and how it all started because we know it goes all the way back to the Olympic Games. It was hand-to-hand combat with two people with no skills or styles; just two people going in and one person would walk out.
In all honesty, I would like to see induction done by those who know the history, those who know the stats, and those who know what they meant to the growth of UFC. On the same level you also need a historian who could really make it legitimate of MMA, so that when people go to look at it, they are not just looking at what happened in the past twenty years.
Really, if you just look at that (time period), it is really quite boring, even though I know I was a part of that, and it was fun! But don't you think that when a person walks into a place like that (a MMA Hall of Fame) they could get a feel where the sport came from, so they can understand how we got where we are today? It would make it a lot more interesting to see where people got to where they are at.
That's my feeling. We have to do a whole lot more studying on the history of MMA before we think about putting up a building and have people come and view it."
If this were to ever happen, would you want this to be independent from UFC?
"I think you definitely need something that is separate. When a Hall is controlled by one organization they can control who and who does the research. You want people who are going to write what they think without fear of not being invited to the next ceremony."
Speaking of history, I personally feel that you did not receive the credit you deserve for bringing Mixed Martial Arts elements to the WWE. With all due respect to Dan Severn who was there at the same time you were, he didn't have the same impact you did.[xiv] I will go on record that a match you had with the Undertaker on Pay Per View, was an underappreciated match where Taker was clearly showing he was influenced by what you had already done.[xv] Do you think the WWE has put your influence on their product in proper perspective?
"I don't know if I can really speak to that. I do feel that I definitely deserve to be in their Hall of Fame based on the things that I did while I was there, being able to change that sport along with other people. I feel I earned that right based on what I was able to do there in a small amount of time.
I'm not sure that I can stand here and boast about that. The fans are the ones that really tell the tale and I think they speak very loudly about where I stand in pro wrestling. I don't think that there are too many people who would tell you that I don't deserve to be there.
Obviously, a lot of times the fans aren't listened to, or their opinions are overlooked a lot. Today's promoters just push them aside and don't listen to what they want and they want fans to 'shut up, sit down and enjoy the show', because we are going to do whatever we want to do, like it or not, because you are going to come to the show.
I hear it all the time in the WWE. I hear about how fans would like to see certain wrestlers, and obviously you can't give them everything they want, but you at least have to listen to them and I believe they are being completely ignored. I've always said that I think the fans are most important that you have when it comes to the entertainment industry. They are the ones that matter most and they should be heard."
In terms of your legacy, you have been billed as the "Godfather of MMA" and the "World's Most Dangerous Man", which is not exactly a title you think of when you think of a public speaker. Yet, here you are in 2014, and have embarked into that field, and have done very well.
"The one thing that I want to mention so that it is understood. When I was fighting, there was a station that came on that called me that. They were looking at the World's most dangerous food, or animal and of course, a person.[xvi] At the time, I was the bare knuckle/no holds barred champion and they (the producers of the program) looked at me for that. I was named the 'World's Most Dangerous Man' through a show; I did not name myself that. It was given to me, and it stick with me.[xvii]
'The Godfather of MMA', it's the same thing. I never named myself that; people just started calling me that. Once people start calling you that, especially if you're a smart guy, you're going to roll with what people say, or at least market it. Therefore, I just carried the Godfather name, and I thought it was very respectful and I was honored to carry that. I just want to make myself clear that I did not label myself that. You can't name yourself, that has to come from other people."
Understood. Again, though, your transformation from revered fighter to public speaker is very impressive.[xviii] I would like to know, and pardon my language here, can you tell me about the switch from 'bad-ass', to an eloquent public speaker looking to inspire?
"I was in trouble a lot as a kid. My biological mother was a go-go dancer at the time and wasn't home a whole lot and therefore me and my brothers had to take care of ourselves. We were in Georgia, and then we moved to California, and then later she (my biological mother) tried to have us live a constructive life with rules, but by that time it was too late it didn't work out because we were already rebels at that time.
I ended up in all kinds of placements, and just a lot of anger and a lot of disappointment was in my life. I ended up in a place called the Shamrock Boys Home and that's where my life started changing around a little bit.[xix] The man who ran it would become my father. He showed me how to direct my anger in something positive, and that was through sports. Some of them in the home would be directed through acting, or singing or whatever it might be but it allowed the kids to vent their frustrations through different activities. Mine happened to be sports.
I have always said that through MMA my life became something positive. I was able to fight in Japan and release all that anger. As life goes on, as you get older, you realize that you don't need to feed off that anger anymore. If you continue, it will eat you up inside. You have to learn to forgive yourself and forgive other people in order to move forward in life, in order to raise a family, and to enjoy yourself.
I was able to do that by speaking to others about my life and explain to others that you don't have to hang on to that hate anymore. You've made it, and you've done the things you need to do and you don't need to hit people or hate things and that guilt and anger that you've carried around for so long and let it go.
It was not easy for me to transition into learning how to fight and be that guy who did not stand on that anger. It was very difficult but I ended up figuring it out, and once I did, I was able to go into motivational speaking. I was able to go and speak to people in need to understand that it is ok what happened before, its ok to be angry about it, but you can't hang on to those things because it will tear you apart later in life.
That's where I am now. I am writing a book about my life and I have been able to make the transition and I have been able to let things go and still be successful, that it where my speaking comes from. You'd be surprised how many people are leading normal lives who have a lot of hurt or anger inside of them and they are still trying to figure out how to get rid of it"
When people think of Ken Shamrock, they think of automatically think of your exploits in the UFC and WWE. As a past star in both, is there anything you would change anything in either of those promotions?
"I would. In the WWE, I would push for them being to able have an outlet for the wrestlers for them to vent their frustrations, a personnel department where they could talk one on one and talk about what is going on in their lives. There's nothing there right now. There are guys who are struggling in life and in certain situations and there is nowhere for them to turn. That is what I would definitely implement there.
For the UFC, the definite thing that I would improve there the most is the fighter pay.[xx] Obviously they (the UFC) have their stance on it, but I would implement an opportunity for these guys to negotiate their terms and their ways to move forward in MMA. There is definitely a personnel problem in those companies, there needs to place for guys to go and vent about on the job frustrations; a place where they go and speak their mind.
Is there anything that you want fans of Ken Shamrock to know what you are up to?
"I definitely do. I have a website,

www.kenshamrock.com

, which has all my social media sites on there, Twitter, Instagram, Facebook, all of that. I stay connected with my fans as much as I can, as they were the ones that really drove me to be successful. I really wanted to make sure that when I was in the ring that they were entertained and was happy with what I was doing in the ring.
They really did help me to become successful, so I always like to stay connected to my fans, and I can do so through Social Media. So go on Kenshamrock.com, and be a part of the family and you can see what am I doing, or what appearances and podcasts that I am doing, or book me for whatever event that you may be doing.
Also too, I do a lot of ministry work and with troubled youth and will always be available to speak to young people. Other than that, you know, I'm just living life large and thank you so much for allowing me to speak to you.
Thank you, for your time and supporting us at Notinhalloffame.com!
---
[i]

Ken last fought in 2010.



[ii]

Ken has been outspoken in recent interviews about how the pay for the fighters have not been properly compensated for the increased revenue that UFC generates.



[iii]

Inoki was inducted into the WWE Hall of Fame.



[iv]

The Fujiwara name comes from Yoshiaki Fujiwara, the head of the promotion who was regarded highly for his shoot style of wrestling.



[v]

'Sports Entertainment' is what Vince McMahon, the owner of the World Wrestling Federation referred to his company as.



[vi]

Basically, the horrendous business practices of Don King caught up to the sport.



[vii]

The lobbying was spearheaded by future Presidential candidate and then Senator, John McCain.



[viii]

Shamrock would actually appear a month earlier as the special guest referee in the highly regarded Bret Hart/Steve Austin "I Quit Match" at Wrestlemania 13.



[ix]

Along with Royce Gracie, Ken was the first inductee to the Hall. It took place at UFC 45 on November 21, 2003.



[x]

Bolhander, a member of Shamrock's "Lion Den" won the UFC 12 Lightweight tournament.



[xi]

In the early days of UFC, weight classes were essentially non-existent.



[xii]

Pancrase, a Japanese promotion, was a precursor for the UFC. Shamrock was the "First King of Pancrase Open Weight Champion". That occurred in 1993.



[xiii]

In the major North American sports Halls of Fame, media plays major roles in Hall of Fame inductions.



[xiv]

Severn may have had classic encounters with Shamrock and others in the octagon, but as a pro wrestler, Severn's look and voice did not end himself to WWE success.



[xv]

That match took place at the Backlash Pay Per View on April 25, 1999. Although it was not well received by some, the Undertaker would later adopt MMA moves into his repertoire. Frankly, I loved that match, and enjoyed it for being different than anything else that had been on WWE TV in some time.



[xvi]

The station was ABC, and was done on ABC News.



[xvii]

When Ken worked in the WWF, they billed him as such, though initially crediting ABC for that moniker.



[xviii]

An example of Ken's public speaking can be found here: https://www.youtube.com/watch?v=8coM29QvSSY



[xix]

It was run by Bob Shamrock, who would have over 600 boys during his time running the Home. Ken, whose birth name was Ken Kilpatrick, would later be adopted by Bob, and take on the Shamrock family name as his own.



[xx]

Ken has been a longtime advocate for this for sometime and has been very blunt on this topic on numerous interviews.







Two months ago we were able to have a conversation with Mike Litherland, who runs the "Induct Janet Jackson to the Rock and Roll Hall of Fame" campaign that is gaining a sizable following on both Facebook and Twitter. We knew then that we wanted to continue interviewing heads of Hall of Fame campaigns and turn it into a regular series here at Notinhalloffame.com. With that in mind we turned our attention to Washington D.C., specifically towards the most powerful Offensive Lines in the history of Professional Football.
In the National Football League, the press generally goes to the skill positions, ie, the Quarterback, the Running Back and the Wide Receiver. Usually when the camera focuses on an Offensive Linemen, it is for a costly holding penalty. Linemen are respected, but never the stars; but that changed in the 1980's coverage of the Washington Redskins games with the emergence of the "Hogs".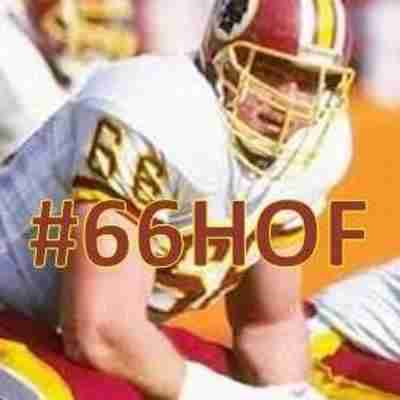 Originally consisting of Russ Grimm, Joe Jacoby, Jeff Bostic, Mark May and George Starke, the nickname was generated not because of their large size but due to an innocuous comment by Joe Bugel, the Offensive Line Coach who told his line

,

"Okay, you hogs, let's get running down there

.

".
That one sentence was all it took and a phenomenon was born. The sophisticated Washington fan base latched onto this group and quickly realized that had more than just a tag line that John Madden extolled the virtues of on Sunday afternoons. This was a formidable group that made stars out of average football players, and did it over and over again. It also made a group of football fans celebrities, too.
Calling themselves "The Hogettes", a group of a dozen men dressed up in pig snouts and dresses that would be worn old women and for many was as entertaining as the game itself. Appearing in the stands for Redskins home games for three decades, the Hogettes may have hung up their snouts, but there is one more task left to perform; helping their former great tackle, Joe Jacoby

,

receive a bust in Canton, Ohio.
We had a chance to speak with the Hogettes, who are pushingto add a second member from their beloved Offensive Line into the Professional Football Hall of Fame. As someone who watched the Redskins intensely for years and who has a relationship with Joe Jacoby himself, the Hogettes bring a unique perspective to this discussion and whenever we have a chance to chat with passionate football fans, it is a job we will always sign up for.
The first thing that I want to get into before we really get started, is that in doing my research for this piece, I was pleasantly surprised to learn that the Hogettes did so many charitable endeavors. I had no idea about it! I think that is incredible and I wanted to first commend you for it.
"Thanks,
we appreciate that. That is something that not everyone knows about. We were more than just a bunch of crazy football

fans, though it kind of morphed into that."
And this has continued even though you don't "perform" in the stands anymore?
"Yes. A lot of the guys still participate in it (charity work), and we still get invited often. We turn down any formal requests to get dressed up
, since we are retired, but we are finding that we are still asked to come out.[i] We were just out at Mark Rypien's golf benefit and a lot of the fundraisers we

have done in the past."
Your current push, and I notice that this is a focal point of your official website, is to get Joe Jacoby inducted into the Pro Football Hall of Fame. His line mate, Russ Grimm
, was enshrined some time ago.[ii] Jacoby has received a lot of respect throughout the league, and from Grimm himself who stated that he should be there.[iii]
I am sure you are asked often why Joe should be in the Hall of Fame. Do you have a quick sum up that you usually go to, or a set of intangibles that you go to that explains why he should be in the Hall of Fame?
"What I kind of go to is when you look at the Redskins as one of the great teams of the 80's when Joe Gibbs was coaching, Joe (Jacoby) played Left Tackle, the glamour spot of the Offensive Line. When you think about the Washington Redskins (of that time period) you think of that Offensive Line.
There are great lines out there, but
there are only a few that were so great that they transcend time. The ones that come to mind are (1970's) Oakland[iv], Pittsburgh back in the day[v], and the Houston Oilers (in the 80's)[vi], they have had two Linemen enter to Pro Football Hall of Fame, and rightfully so, but the Hogs are right there with them.
We could argue all day about who was the best (Offensive) Line of all time, and of course we're partial to the Hogs, but what really sets them apart is that they went to four Super Bowls, won three with three different Quarterbacks and three different Running Backs.[vii] To me that speaks volumes about what was the one constant
on all of those Super Bowl teams, and that was that Offensive Line.[viii] Jacoby was the anchor

of that line and Jacoby held it down during the glory years.
I just feel that this line was so good, and no matter who you talk to, they will tell you that they were in the top five of all time and they should have two players inducted.[ix] Russ got in in 2010 and there should be another. Sometimes when one member of a line gets in they feel that the entire group has been honored. We feel that this line was so good that they deserve two."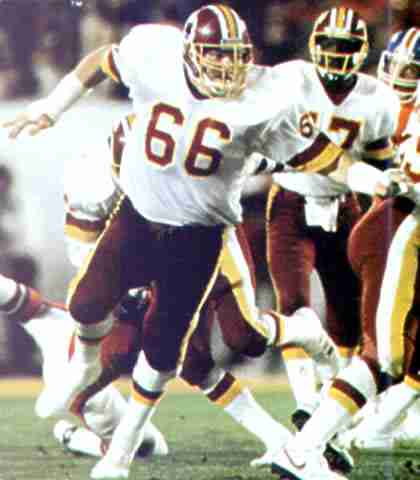 Why do you think so far that he has not gotten in? Thus far he has only made it to the Semi-Finalist Round. Do you think it is a political thing, or due to the glut of talent eligible or is there another factor that maybe we are not thinking of?
"I think a combination of a lot of it. It is very political. Like I said, because Russ is in, they can say that they recognized that. The other thing
I think that really plays itself is in the last decade you have seen the NFL push the rules

towards the offense and you see offensive (skill players) put up really big numbers. You are seeing some phenomenal numbers from Receivers and Running Backs and of course some advances (statistically) in the Passing Game. Indirectly that takes some of the shine off the Left Tackles and other Offensive Linemen.
There are some players in recent memory, like for example going back to Walter Jones who got in last year.[x] You can make a great argument that Joe should have gone in before him. I'm not taking anything away from Jones. He was a great player, he went to one Super Bowl, didn't win any. Jacoby was the premier Left Tackle on the great line, and that line again transcends having more than one man (inducted).
Going back to the Redskins, they have
only one retired number, that of Sammy Baugh.[xi] Saying that the organization has a tradition of "unofficially" retiring number, Joe Theismann being one of them.[xii] I don't believe they have given that honor to either Grimm or Jacoby.
"I've seen 66 or 68 worn since."[xiii]
Would that be something that you would push for in the future?
"The Redskins don't have a history of retiring numbers for whatever reason. They do have a history of not giving them out. That is how the Redskins have chosen to handle that. Other teams have certainly done that (retired numbers frequently)."
What kind of relationship does this movement have with Joe Jacoby himself?
"We wanted to make sure
Joe was O.K. with it. Joe did not ask us and he is one of the most modest guys you will ever meet. He has no plans in politicking for himself, like Harry Carson did.[xiv] Joe has no desire to do that. Joe is coaching the Offensive Line foe Concordia University, and he is happy doing that. He is a humble guy, extremely grateful that we decided to do this.
When we were at Mark Rypien's golf tournament, and we told him what we were thinking. Mikey T, the head of the Hogettes has been talking about this for the last few years and as we were approaching retiring (The Hogettes), we discussed how Joe is the one guy we really needed to help get into the Hall. We wanted that to be our swan song. Anything we can do to keep his

name on the forefront; that is our goal."
There is still a lot of time.
"There is. He retired in '93 and still has another nine years before he has to go the Senior route."[xv]
Having said that, the Senior route is what got Ray Guy finally inducted.[xvi]
"Yeah, I'm not saying that this would be the worst thing, but you're talking about another nine years. I'm pretty objective when it comes to this, I know I am a homer in regards to the Redskins, but I just feel their Offensive Line was too good to ignore. When you look at the Cowboys and the Niners they had a great supporting cast, they had Montana. Who did we have? We had Theismann, Rypien and Williams. It was always a different cast of characters around that O-Line."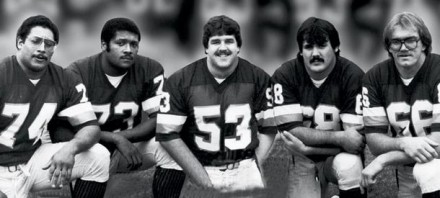 They certainly made Joe Theismann a star, and as much as he remains a public figure and well known to the next generation of Football fans, nobody is pushing for Joe Theismann to be in the Hall of Fame.
"Right, and no one is pushing for Mark Rypien or Doug Williams either. Riggins got in, which is good, but it was the O-Line that made those teams go."
Do you think that the Hall of Fame committee puts too much premium on Pro Bowl selections? Jacoby only had four, but perhaps they don't look at the bigger picture?
"I think that can happen, especially lately. The good side is that I am a firm believer that you don't have to have won a bunch of Super Bowls to be a Hall of Famer. I look at the Buffalo Bills who went to four Super Bowls and didn't win, but they are still one of the best teams I have ever seen. I think some times they can put too much weight on that as well. I could see that being a little too much weighted but I can see that those who don't have Super Bowl rings being penalized, where Joe has three. I don't worry about that argument a whole lot. I think it was thirteen different Running Backs that at least had one 100-yard game with that Line, which is pretty phenomenal.
If Jacoby becomes a Finalist, generally they don't revert back to being just a Semi-Finalist. It would be huge for him just to make that leap, even if he does not make it to the Hall this year.
"Yes, he made it to the Semis. If we can get him to that last group, then maybe we can get that one last step. Russ (Grimm) was great some believe that Joe should have gone in before him. Still, both of them should be in.
Thank you so much for your time!
---
[i] The Hogettes officially retired in 2013.
[ii] Grimm was inducted in 2010, after being a Finalist the five years previously.
[iii] Grimm has said this on many occasions to many media outlets.
[iv] They produced four Hall of Fame inductees, Art Shell, Bob Brown, Gene Upshaw and Jim Otto.
[v] That team was anchored by Center, Mike Webster.
[vi] Mike Munchak and Bruce Matthews entered the Pro Football Hall of Fame from that roster.
[vii] Joe Theismann and John Riggins in Super Bowl XVII, Doug Williams and Timmy Smith in Super Bowl in XXII and Mark Rypien and Earnest Byner in Super Bowl XXVI.
[viii] Of those six above players, only Riggins is in the Hall of Fame. The other five have never been considered for Canton.
[ix] This is a logical argument. Even diehard fans of the Dallas Cowboys would have a hard time disputing that.
[x] Jones entered the Pro Football Hall of Fame in 2014, his first year of eligibility.
[xi] Baugh was the Redskins Quarterback from 1937 to 1952 and was a member of the first Pro Football Hall of Fame Class in 1963.
[xii] The other former Redskins who have had their number "unofficially retired" are Sonny Jurgensen, Darrell Green, Charley Taylor, Larry Brown, John Riggins, Bobby Mitchell, Dave Butz, Sam Huff and Art Monk.
[xiii] These were numbers worn by Grimm and Jacoby respectively.
[xiv] Carson was inducted in 2006. He was very vocal about being snubbed for years to the point where in 2004 he asked for his name to be removed from the ballot.
[xv] Annually the Pro Football Hall of Fame announces one or two candidates from the Senior Committee. They automatically earn a spot into the Finalist round.
[xvi] Guy entered in 2014, his first year on the Senior Ballot. He was a multi time Finalist in the past.






Fictitious Athlete Hall of Fame
Fictitious Rock and Roll Hall of Fame