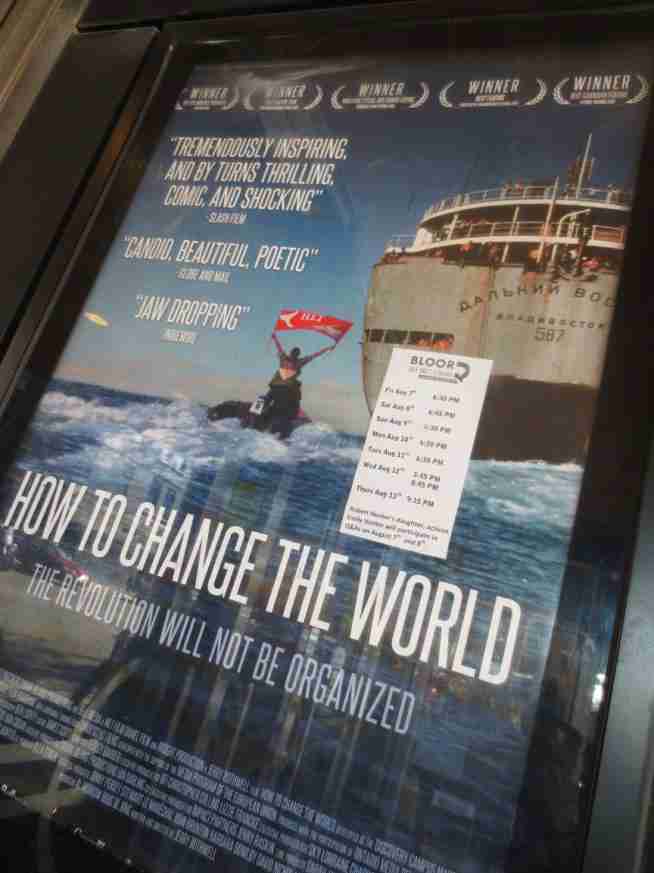 I had to run out of the cinema midway through the film in a rush to get to the ladies room where I locked myself in a stall just before the tears poured down my face uncontrollably. When I realized I wasn't in the ladies room alone, I tried to stifle my sobs until I realized the lady in the next stall was in there doing exactly the same thing as me, for the very same reason. Jesus. You may ask: "Why do you do this to yourself?" Well, I'll tell you why. Bob Hunter, the passionate and fearless Canadian environmental journalist who co-founded Greenpeace, that's why. And to hear the stories from his fellow Greenpeacers who started the environmental movement back in the early 1970s.
I grew up watching Bob Hunter, the eco-warrior, scan newspaper headlines dressed only in a bathrobe while talking about interesting and educational things on Toronto's Breakfast Television. And I was made a better person for it. But I hadn't thought about Hunter in years until tonight's screening of this doc, and when I heard that voice, I was instantly brought back in time and comforted by his presence. For I have a deep respect for people like Bob, who can stand up and do what I cannot. I mean, I can take almost anything, anything! Except for hearing about or, god forbid, seeing with my very own eyes any type of harm being inflicted upon an animal. Especially if the harm being inflicted is intentional and delivered by a "human being". I become completely devoid of any understanding or compassion for my own species. I say, "assassinate the assassins!" (And yes, that goes for you too dentist, asshole killer of Cecil the Lion).
In 1975, Bob Hunter put himself between a harpoon and its intended target in order to document, and bring to the world's attention, the horrific and completely heartbreaking atrocities performed by Russian whaling ships, thereby changing the world. And I applaud Hunter and Greenpeace for it, despite how appalling and disturbing it is to watch the butchery and massacre of such gentle and intelligent life forms, and to see all the blood. But, then came the baby seal hunt. Which is even worse! And because I saw mere seconds of the archival footage of the hunt, which was what drove me running out of the cinema to the ladies room, I will be deeply distraught now for days. However, after missing about twenty minutes of the film while hiding out in that washroom stall, I did manage to gather myself together again in order to go back inside (whereas my washroom stall neighbour declared she simply could not). I arrived back to see that Hunter himself had also unravelled, and put himself on Valium in order to deal with the depression that befell him after the challenges of taking on the Newfoundland seal slaughterers.
I also stuck around for the Q&A following the film to hear from Emily, Hunter's daughter, in attendance to promote the film, to celebrate all the great work done by her late father and Greenpeace, and to talk about all the work still yet to be done.
The trailer for How to Change the World...
Bloor Hot Docs cinema...
http://boxoffice.hotdocs.ca/WebSales/pages/info.aspx?evtinfo=42486~fff311b7-cdad-4e14-9ae4-a9905e1b9cb0&