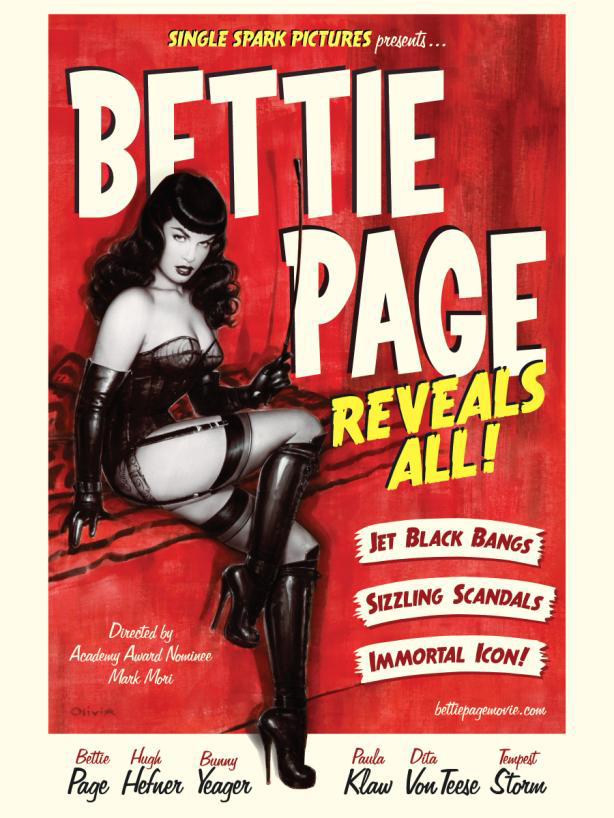 Movie-goers were treated to a live burlesque strip-tease prior to the Toronto premiere screening of Bettie Page Reveals All, on the stage at Bloor Hotdocs cinema. And in true Bettie Page form, it was provocative, titillating, and fun-loving. Thanks to Laura Desiree and CoCo Framboise.
Moments into the film however, Playboy's Hugh Hefner is shown attending Page's funeral service at Westwood Village Memorial Park in Los Angeles (the same place that held the service of that other world-famous sex symbol, Marilyn Monroe, and where both of these beautiful women currently rest, finally and hopefully in peace). Bagpipes. Hugh Hefner: "I think that she was a remarkable lady, an iconic figure in pop culture who influenced sexuality, taste in fashion, and someone who had a tremendous impact on our society."
Bettie Mae Page, born into a family of six just like me, arrived on April 22, 1923 in Nashville, Tennessee to a mother who was a hairdresser by day and a laundress at night, and a father whom she describes as "a womanizer of the worst kind." He raped his daughters. Despite this, Bettie appeared happy and looked just like The Girl Next Door. But as one would suspect, she grew up mistreated by many men. As the documentary's narrator, the story is told and heard in Bettie's older, raspier voice.
Fascinated by Hollywood starlets, Bettie practiced posing like them, studying what she saw in movie magazines. At local community centres she learned to cook and sew. Through hard work and determination, she rose to the top of her class in high school where she became secretary-treasurer of the Student Council, co-editor of the school's newspaper and yearbook, and the Program Director of the Dramatics Club. She was also voted "Most Likely to Succeed." In 1940, Page graduated high school and married classmate Billy Neal three years later, shortly before he was drafted to World War II. She enrolled in college with the intention of becoming a teacher, or an actress, and she also dreamed of becoming a missionary. Page graduated college with a Bachelor of Arts degree in 1944 and then moved to San Francisco. She got her first
modeling job at a local furrier, modelling fur coats for clients.
Having divorced Neal by 1947, she moved to New York City in '49 where she met Jerry Tibbs a year later, on the beach at Coney Island. Tibbs, a police officer and photographer, put together her first pinup portfolio. From there, Page's name and image quickly became known in the industry of erotic photography. And a fella by the name of Richard Arbib became the love in her life. The industrial designer of very stylish automobiles and wrist watches left his wife for Bettie. And then he left Bettie to return to his wife, only to leave his wife again for Bettie, but by then couldn't find her. Apparently letting Bettie get away was the biggest regret of his life.
Camera clubs led to posing for various magazines and Bettie's reputation as a model with the perfect balance between naughty and nice grew far and wide. She seemed to have a respectable working relationship with her photographers as well. They say she was nothing but a pleasure to work with; a playful, vivacious, joyous girl who loved to dance and always looked them straight in the eye. Men and women alike would be hard pressed not to fall in love with the 36-23-35, 5 foot 5 ½, 128lb sexpot with the glowing, infectious smile, who had a child's enthusiasm for life. Immature, after all, was only a word boring people used to describe fun people. She was someone who really enjoyed her work, and that joy is clearly evidenced in the photos. Bettie Page became the first, and famous-all-over-the-world, pin-up girl, ultimately crowned queen of 'em after posing in an endless amount of eye-popping bikinis that she made herself.
In 1952, and for the five years that followed, Page posed for a slew of pin-ups with themes of sadomasochism, snapped by Irving Klaw for his mail order business. She then became the first, and famous-all-over-the-world, bondage model. Klaw, who it's been read to have proclaimed himself Pin-Up King, also shot Page in 8mm and 16mm silent motion pictures which showed her acting out fetish scenarios dressed in elaborate leather costumes and restraints. Page could easily play a dominatrix or a helpless victim. And all around the world, doctors, lawyers, and upper class business husbands couldn't have been happier.
In 1953, Page took acting classes which landed her roles on stage and television, including The Jackie Gleason Show. In 1954, she met photographer Bunny Yeager in Miami, which resulted in her posing in that well-known leopard-print one-piece. Bunny also took nude shots of her that are completely and absolutely stunning. Bettie Page was certainly endowed with an unforgettable body. Yeager sent photos of Page to Hugh Hefner. And the publisher of Playboy, that enormously successful skin magazine, saw Bettie fit to become Playmate of the Month in January of 1955. She was also the magazine's Christmas centerfold.
It was all fun and games until about 1957, when the FBI came knocking trying to nail Klaw for pornography. Page was then living in Florida. Having never appeared in anything with explicit sexual content, Bettie described herself as a pin-up model, not a porn star. And she didn't believe she was doing anything shameful. And with her trademark straight-cut bangs (a style I've sported myself from time to time over the years) became known as a sexual revolutionary. In court, she defended Klaw, but thousands of her photos were destroyed as a result of the proceedings. In 1958, she got married for a second time, to Armond Walterson. And then in 1959, at the peak of her career, Bettie Page disappeared.
For years, no one knew where she was, or if she was alive or dead. During her absence, Bettie Page became a star of comic books and fan clubs. And her image graced everything from record albums to playing cards. By the 1980s, she'd gained a full-blown cult following, rising to the top of the list of highly-influential icons. Opportunists cashed in on what was open domain, and books with nothing but lies about her, were published. Bettie Page was oblivious to all of it, and of course never saw a dime. You see, by 1963, Page's modelling career was left behind when she settled in Nashville to live a private life, and began working full-time for Reverend Billy Graham, the evangelical Southern Baptist minister who also served as spiritual advisor to the President of the United States while offering what support he could to Martin Luther King Jr during the Civil Rights Movement. Bettie Page was now riding the waves of the tumultuous nineteen sixties, as a born-again Christian.
She re-married her first husband, but only briefly before moving to Florida in '67 to get married again, to Harry Lear and become mother to his three kids. Five years later she was divorced again, and in 1979 she moved to California where her life crumbled and seriously fell apart, in the outskirts of Los Angeles.
Page lost her mind in Bible Town, was arrested for assault, but found not guilty by reason of insanity. Diagnosed with paranoid schizophrenia, Bettie spent the following decade in a psychiatric hospital, shocked and medicated. But is anyone surprised? I mean, really? Her mother never wanted her. And her father molested her at the age of 13. That stuff always comes back.
Upon learning that Hugh Hefner helped an aging Bettie Page live out her remaining years in comfort, had me leaving the cinema feeling happy.
Due to technical difficulties with Skype, the scheduled on screen Q&A at the end of the film with director Mark Mori was cancelled.

The trailer for Bettie Page Reveals All...

The official website for Bettie Page...
http://www.bettiepage.com/

The official website for Bloor Hotdocs...
http://bloorcinema.com/