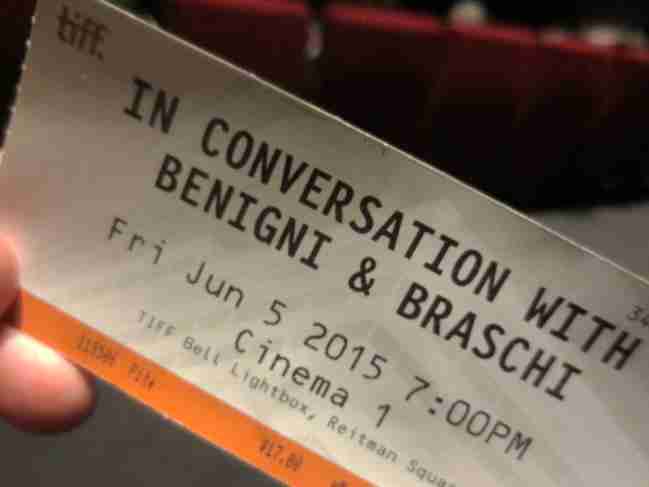 What a treat to be in the presence of Italian cinema royalty tonight, at tiff. Bell Lightbox in Toronto for the second night in a row. Roberto Benigni and Nicoletta Braschi are in town introducing several of their greatest films in a TIFF retrospective.
And tonight, they completely charmed the audience talking about their close friendship and work with idie film director, Jim Jarmusch. Braschi credits Jarmusch for teaching her how to become a producer. And she talked about being directed by him in that hotel room scene when she saw Elvis (aka Joe Strummer) in the 1989 film Mystery Train. Benigni talked about Jarmusch directing him in the 1986 film Down By Law, and the scene when his character first arrived in the jail cell confronted with the realization he'd be sharing it with the likes of Tom Waits and John Lurie.
About writing, directing and starring in Life is Beautiful, a film that I believe may just be one of the greatest films ever made, Benigni said he was consumed by it; consumed by the idea of bringing comedy to an extremely tragic situation. He was inspired by his father. For when Benigni himself was a child, his father had spent time in a concentration camp and used humour to protect
him
from the horrors of war. Benigni was obsessed with making the film. He had to do it, but apparently he did reach out to Jewish people, wondering how the sensitive subject matter would be received. Clearly, he didn't have anything to worry about.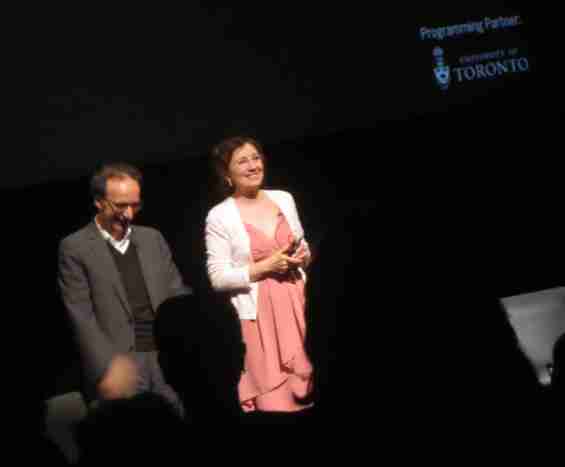 Roberto Benigni and Nicoletta Braschi
tiff. Bell Lightbox, Toronto June 6, 2015
There was also talk tonight about the magic and romance that the First Couple of Italian Cinema has brought to the silver screen; how reminiscent it is of classic Hollywood, especially the scenes in Life is Beautiful when Guido romances Dora by rolling out the red carpet down the stairs in the pouring rain. Oh, how I love that scene! Benigni said he was inspired by American films from the 1950s, like Singing in the Rain and Imitation of Life.
Benigni, described as the Woody Allen of Italy, has also worked with my favourite American film director of all time, and talked about being directed by him in the 2012 film, To Rome with Love.
But the highlite for me of this completely delightful treat of being in the presence of Roberto Benigni and Nicoletta Braschi at the Lightbox, was hearing Benigni explain, yet again, why he jumped up and over them seats at the Academy Awards in 1999. When he realized he'd won the Oscar for Best Actor (the first for a male performer in a non-English-speaking role), his heart simply burst open with gratitude and joy! He leapt up like he could fly! I could feel that joy tonight, sincerely.
Bravo, Mr Benigni!
Brava, Nicoletta Braschi!
Roberto Benigni wins the Academy Award for Best Foreign Film...
Roberto Benigni and Nicoletta Braschi: A Beautiful Life,tiff. retrospective...
http://tiff.net/summer2015-cinematheque/roberto-benigni-nicoletta-braschi-a-beautiful-life