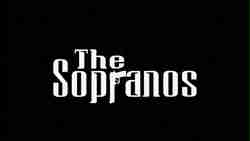 "The most financially successful series in the history of cable television;acknowledged as one of the greatest television series of all time;noted for its high level of quality in every aspect of production;particularly recognized for its writing."
~ Wikipedia
And I can totally see why.
I often imagined what it was like to be a writer on The Sopranos... throwing ideas around the HBO boardroom table, to come up with those storylines. I read that American playwrights Arthur Miller and Tennessee Williams were influential. Man!
Of the drama created by David Chase revolving around New Jersey-based Italian-American mobster Tony Soprano (James Gandolfini, who I admit I kinda have the hots for), I've seen every episode; every episode of all six seasons, and likely will again, and again, and again. For its truly incredible stories are told by incredibly talented actors. Chase apparently based many of the characters on those he found in his own life, including that of Livia (the late Nancy Marchand) who plays Tony's miserable and manipulating mother. Who could forget her? Man!! And apparently Chase was also inspired by real-life New Jersey organized-crime family, The Boiardo's.
There are countless unforgettable characters and scenes throughout the series and I could be here at my keyboard forever remembering all of them. I'd say overall, my favourite episode is the one where Christopher (Michael Imperioli) and Paulie (Tony Sirico) get lost in the forest in the dead of winter after losing the Russian. Holy fuck was that funny! Paulie kills me. And then there's Adriana (Drea de Matteo), Christopher's lovely, but guilt-sick girlfriend who many women, if they're like me, completely sympathized with. I'll never forget her. And I'll never forget what happened to her. Man!!! But unlike the extreme blood and gore mobster violence found throughout the series, Adriana's wack-job was emotionally impactful without showing a damn thing. And thank god, 'cuz I don't think I coulda taken what imagining was bad enough. When I met Little Steven last summer (Silvio Dante, the one assigned to wack Adriana), I had to bite my tongue from exclaiming, "Mr Van Zandt, how could you?! How could you?!!"
For a long time my Sunday nights were planned around a great guy, to watch The Sopranos together when the episodes originally aired. We'd watch while eating copious amounts of rich food that we spread out from one corner of the coffee table to the other. And this was exactly what we did for the great big Sopranos series finale (along with throwing back a couple bottles of red, red wine), where at the end, we were like all the other millions of folks across North America who sat on their couches stuffed, drunk, and dumbstruck... staring at a black screen. What the fuck? Man!!!
Kudos to Alabama 3 for the coolest theme song ever.
The Sopranos opening credits and theme song...