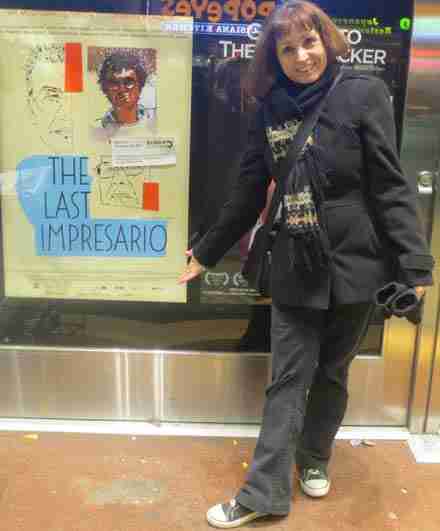 LMH sees The Last Impresario, Bloor Hotdocs cinema, Toronto 11/30/2014

The new Gracie Otto-directed documentary based on the life of Michael White, the most famous person you've never heard of, is simply a delight. Yes, I was quite charmed by this prolific, theatrical impresario and film maker who had a penchant for hard work, hard partying, models, marriage, and marijuana.
Born in Scotland in 1936 and educated at the Sorbonne in Paris, White had a rough childhood, but grew up to be a man with international perspective. A producer of art shows, dance performances, theatre and film. Michael White was drawn to the fringes of society, the avant garde, and the daring. Nothing was the same after full frontal, backside, and every-other-which-way female and male nudity was seen dancing across the stage in 1969's controversial theatrical revue Oh! Calcutta!, one of the longest-running off-Broadway productions in history. And he made things happen in Swinging London. He transformed Britain's cultural scene in the 1970s, and got to know a lot of people. He worked with Yoko Ono before she met John. And when he wasn't working, he was a playboy. Very popular with the ladies.
As a theatre producer, White also put together musical plays you may have heard of, like Joseph and the Amazing Technicolor Dreamcoat, A Chorus Line, Annie, and the Rocky Horror Show, which was such an enormous success in London that it caught the eye of record producer, manager, director, and owner of West Hollywood, California's Roxy Theatre, Lou Adler, who brought it to the United States. White lost control of the production in America, to a bad deal. But it was never about the money for White. It was about the adventure. It was about the excitement!
Over the years, White became a hoarder, amassing a collection of memorabilia that includes over sixty photo albums filled with captured moments spent with the most diverse group of people ever; a group of the most celebrated people of all. Like Jack Nicholson, David Bowie, Leonardo DiCaprio, Roman Polanski, Brooke Shields, John Travolta, Michael Douglas, Prince Charles, Andy Warhol, Margaret Thatcher, Lorne Michaels, Naomi Watts, and the front man of The Rolling Stones, Mick Jagger. In this regard, Michael White kind of reminds me a little of Rodney Bingenheimer, otherwise known as the Mayor of the Sunset Strip, the subject of another excellent documentary. Some of White's most cherished memorabilia were letters; letters from Paul McCartney and John Cleese which were, much to his regret, auctioned off at Southeby's. Sometimes it is about the money, when you really need it.
Regularly spotted at Cannes Film Festival, White was also a producer of films you may know, like Monty Python and The Holy Grail, My Dinner with Andre, and that same mad transvestite scientist story from Transylvania made so successful on the stage, turned cult-classic and renamed The Rocky Horror Picture Show to honour the big screen.
He's been described as subversive and anti-establishment; someone who just may have been honoured with the title of Sir to place in front of his name, if only he hadn't been. A social butterfly incapable of growing up, White now approaching the age of 80, continues to work hard, and party three times a week. Yes, Michael White is still alive. He's received many awards for his work, and in April of this year he received another one for Lifetime Achievement. It was presented to him by his very good friend, Kate Moss. Michael White: "I'm friends with everyone. I've been cheated, but I have no enemies."
The trailer for The Last Impresario...
The website for The Last Impresario...
http://www.thelastimpresario.com