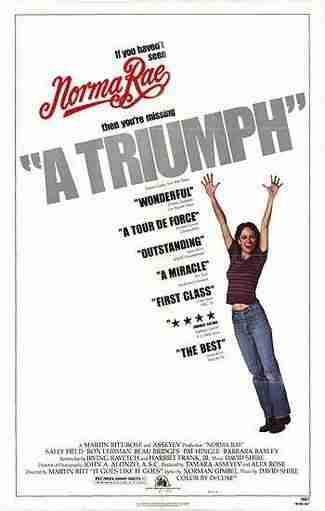 She's been a part of my life ever since The Flying Nun, the sitcom that ran on television in the late nineteen-sixties. And as Sybil, the 1976 made-for-tv movie about a victim of child abuse who suffered multiple personality disorder. And Carrie, the runaway bride in the 1977 action-comedy motion picture Smokey and The Bandit, which also starred Burt Reynolds who nicknamed her Frog because she's cute and he wanted to jump her.
But the earliest impression Sally Field made upon me was as a runaway hippie chick in the 1971 made-for-tv movie, Maybe I'll Come Home In The Spring. Yes, that one left a huge impression on my eight-year-old self. Much later, it was her performance as a courageous widow fighting to keep her family alive during the Great Depression in 1984's Places In The Heart. And as a courageous American wife trying to flee Iran and her abusive Muslim husband in Not Without My Daughter (1991). I have yet to see her as First Lady Mary Todd in Lincoln, the 2012 Academy Award winning film. But as the mother of Julia Roberts in Steel Magnolias (1989) and the mother of Tom Hanks in Forrest Gump (1994), I cannot tell you how many times I've watched Sally Field, and cried and laughed, and laughed and cried. For those are two of the best films ever, warranting countless screenings.
Mere months ago, I was excited to be on the guest list to see Sally Field be interviewed by George Stroumboulopoulos in Toronto's CBC Studios. But her flight got cancelled by Hurricane Sandy. Had she made it, it would certainly have been an emotional experience seeing this fine actress walk into the same room as I.
Having said all that, it gives me great pleasure to re-visit Norma Rae, the film about a small town minimum-wage factory worker who becomes involved in dangerous labor union activities. Sally Field plays the title role, a chick with a big mouth who's not afraid to use it. I like that. I like that she demanded a Kotex machine in the ladies room at the plant. I like courageous women, and obviously Sally Field is one, who's also very good at playin' one. But it's sad that strong, courageous women are so often viewed by men as a threat. I didn't like that abusive scene in the motel with Norma and her secret lover. Who the hell would want a fuck buddy like him? A girl who lives in a town of slim pickin's, that's who. The men in Norma Rae's life are not steeped in manners, or charm, or chivalry. One of the best lines in the film is when her husband (Beau Bridges) gives her a hard time for bringing a bunch of black men into their home for a union meeting, inviting trouble. Norma says: "I ain't never had any trouble with black men. The only trouble I've ever had in my life is with white men." Well, until she meets Reuben Warshowsky, the union organizer played by Ron Leibman who brings her trouble of a very worthwhile kind; trouble otherwise known as an education. Reuben enriches Norma's life, sexual favours not required.
The producers of Norma Rae were inspired to put the story on screen after reading an article in the New York Times about Crystal Lee Jordan, a woman who risked everything fighting for justice, and for leading her co-workers to unionize a cotton mill in North Carolina. Driven by a passion for social justice himself, Martin Ritt dedicated his life to giving voice to the poor and the oppressed. A former victim of the Hollywood blacklist of the 1950s, Ritt was naturally the right person to direct Norma Rae. The movie was shot with real-life unionized employees in a real-life, small town Alabama mill. Authenticity was important to Ritt. And under his mentorship, Field became immersed in her character; immersed in the lifestyle and community of the mill workers, and even worked one of the machines herself. Sally Field became Norma Rae. And her dedication paid off. She took home the Academy Award for Best Actress. (An award, I might add, she won over Bette Midler who was nominated in the same category for her performance as The Rose. The Rose has been an all-time favourite film of mine my whole lifelong and as much as I love Sally Field, I think Midler should have won).
In 2011, Norma Rae was selected by the U.S. Library of Congress for preservation in the National Film Registry as "culturally, historically, or aesthetically significant". Yes Sally, we like you. We really like you!
The trailer for Norma Rae...