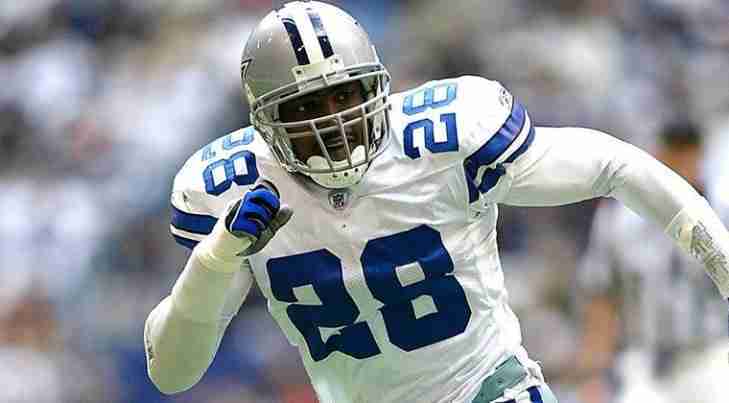 Our long and arduous work in progress of ranking the top fifty players for every North American sports team is underway, but after that is completed we will then take a look how each franchise honors their own in terms of respective franchise halls of fame, ring of honors, retired numbers and statues.
As such it is news to us that last weekend the Dallas Cowboys added Darren Woodson to their prestigious Ring of Honor at halftime of their home game against Seattle.
Woodson was drafted out of Arizona State in the second round in 1992 and would spend thirteen seasons in the National Football League, all of which were with the Cowboys. Converted to Safety from Linebacker, Woodson would have an outstanding career in professional football making five consecutive Pro Bowls from 1994 to 98 and would make three First Team All Pro squads during that timeframe.
More importantly to Woodson (and to the Cowboys fans), he was a big part of helping the team win three Super Bowls in the 1990's, though it was the potent offense and triumvirate of Aikman, Smith and Irvin that got most of the attention. Woodson was also set the record for tackles by a Dallas Cowboy.
While this is an elite accolade for the Defensive End, Woodson was asked what he felt about the most prestigious post career honor, the Hall of Fame:
"I think about it all the time when I see guys going in. When I look at my career and the guys I played with and played against, there ain't a Hall of Famer I couldn't have played with.
But if you are asking me, it's like me coming in my first year asking me if I should be starting? I say, 'Hell, yeah!' It's like asking if I belong in the Ring of Honor? 'Hell, yeah!' So should I be in the Hall of Fame? 'Hell, yeah!' But that decision is not up to me. That's every football player's ultimate goal. It would be icing on the cake."
Last year, Woodson was a Semi-Finalist for the Pro Football Hall of Fame, however he has yet to be a Finalist and is not (though he was close) to making our

Notinhalloffame.com 100

for Hall consideration.
We here at Notinhalloffame.com would like to congratulate Darren Woodson for achieving this honor!

Read more here: http://www.star-telegram.com/sports/nfl/dallas-cowboys/article42105006.html#storylink=cpy