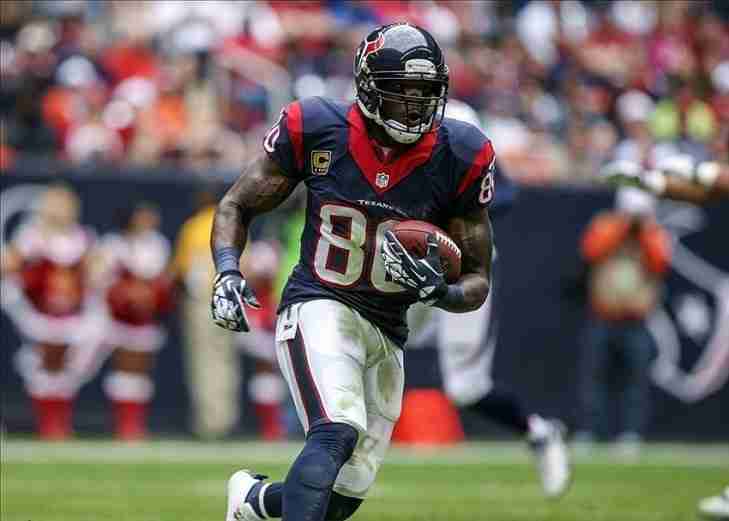 This must the week for former star Houston Texans to abruptly retire.
Fresh off Running Back Arian Foster's retirement, Wide Receiver, Andre Johnson has decided to call it a career too.
Drafted 3rd overall in 2003 from the University of Miami, Andre Johnson would not waste time establishing himself as a premiere wide out in the NFL. Johnson would have over 1,000 Yards in his second season and would rattle off six more years where he would hit that plateau again. In 2008 and 2009 he would be considered amongst the elite in his profession, leading everyone in Receiving Yards and earning First Team All Pro honors. He would be chosen for the Pro Bowl seven times.
Finishing his career last year with Indianapolis and this year for eight games with Tennessee, Andre Johnson retires with 1,052 Receptions, 14,185 Yards with 70 Touchdowns. He is currently ninth all time in Receptions and tenth all time in Receiving Yards.
Unlike Arian Foster, Johnson has a decent shot for Pro Football Hall of Fame consideration, and will be eligible in 2022. At present, the Texans do not have a Ring of Honor/Hall of Fame but wouldn't Johnson be a good fit (along with Foster) to start one?
Shortly we have the Football Futures updated and both Arian Foster and Andre Johnson will be on it.
We here at Notinhalloffame.com would like to congratulate Andre Johnson on a wonderful career and wish him the best in his post gridiron activities.