Two months ago we were able to have a conversation with Mike Litherland, who runs the "Induct Janet Jackson to the Rock and Roll Hall of Fame" campaign that is gaining a sizable following on both Facebook and Twitter. We knew then that we wanted to continue interviewing heads of Hall of Fame campaigns and turn it into a regular series here at Notinhalloffame.com. With that in mind we turned our attention to Washington D.C., specifically towards the most powerful Offensive Lines in the history of Professional Football.
In the National Football League, the press generally goes to the skill positions, ie, the Quarterback, the Running Back and the Wide Receiver. Usually when the camera focuses on an Offensive Linemen, it is for a costly holding penalty. Linemen are respected, but never the stars; but that changed in the 1980's coverage of the Washington Redskins games with the emergence of the "Hogs".
Originally consisting of Russ Grimm, Joe Jacoby, Jeff Bostic, Mark May and George Starke, the nickname was generated not because of their large size but due to an innocuous comment by Joe Bugel, the Offensive Line Coach who told his line

,

"Okay, you hogs, let's get running down there

.

".
That one sentence was all it took and a phenomenon was born. The sophisticated Washington fan base latched onto this group and quickly realized that had more than just a tag line that John Madden extolled the virtues of on Sunday afternoons. This was a formidable group that made stars out of average football players, and did it over and over again. It also made a group of football fans celebrities, too.
Calling themselves "The Hogettes", a group of a dozen men dressed up in pig snouts and dresses that would be worn old women and for many was as entertaining as the game itself. Appearing in the stands for Redskins home games for three decades, the Hogettes may have hung up their snouts, but there is one more task left to perform; helping their former great tackle, Joe Jacoby

,

receive a bust in Canton, Ohio.
We had a chance to speak with the Hogettes, who are pushingto add a second member from their beloved Offensive Line into the Professional Football Hall of Fame. As someone who watched the Redskins intensely for years and who has a relationship with Joe Jacoby himself, the Hogettes bring a unique perspective to this discussion and whenever we have a chance to chat with passionate football fans, it is a job we will always sign up for.
The first thing that I want to get into before we really get started, is that in doing my research for this piece, I was pleasantly surprised to learn that the Hogettes did so many charitable endeavors. I had no idea about it! I think that is incredible and I wanted to first commend you for it.
"Thanks,
we appreciate that. That is something that not everyone knows about. We were more than just a bunch of crazy football

fans, though it kind of morphed into that."
And this has continued even though you don't "perform" in the stands anymore?
"Yes. A lot of the guys still participate in it (charity work), and we still get invited often. We turn down any formal requests to get dressed up
, since we are retired, but we are finding that we are still asked to come out.[i] We were just out at Mark Rypien's golf benefit and a lot of the fundraisers we

have done in the past."
Your current push, and I notice that this is a focal point of your official website, is to get Joe Jacoby inducted into the Pro Football Hall of Fame. His line mate, Russ Grimm
, was enshrined some time ago.[ii] Jacoby has received a lot of respect throughout the league, and from Grimm himself who stated that he should be there.[iii]
I am sure you are asked often why Joe should be in the Hall of Fame. Do you have a quick sum up that you usually go to, or a set of intangibles that you go to that explains why he should be in the Hall of Fame?
"What I kind of go to is when you look at the Redskins as one of the great teams of the 80's when Joe Gibbs was coaching, Joe (Jacoby) played Left Tackle, the glamour spot of the Offensive Line. When you think about the Washington Redskins (of that time period) you think of that Offensive Line.
There are great lines out there, but
there are only a few that were so great that they transcend time. The ones that come to mind are (1970's) Oakland[iv], Pittsburgh back in the day[v], and the Houston Oilers (in the 80's)[vi], they have had two Linemen enter to Pro Football Hall of Fame, and rightfully so, but the Hogs are right there with them.
We could argue all day about who was the best (Offensive) Line of all time, and of course we're partial to the Hogs, but what really sets them apart is that they went to four Super Bowls, won three with three different Quarterbacks and three different Running Backs.[vii] To me that speaks volumes about what was the one constant
on all of those Super Bowl teams, and that was that Offensive Line.[viii] Jacoby was the anchor

of that line and Jacoby held it down during the glory years.
I just feel that this line was so good, and no matter who you talk to, they will tell you that they were in the top five of all time and they should have two players inducted.[ix] Russ got in in 2010 and there should be another. Sometimes when one member of a line gets in they feel that the entire group has been honored. We feel that this line was so good that they deserve two."
Why do you think so far that he has not gotten in? Thus far he has only made it to the Semi-Finalist Round. Do you think it is a political thing, or due to the glut of talent eligible or is there another factor that maybe we are not thinking of?
"I think a combination of a lot of it. It is very political. Like I said, because Russ is in, they can say that they recognized that. The other thing
I think that really plays itself is in the last decade you have seen the NFL push the rules

towards the offense and you see offensive (skill players) put up really big numbers. You are seeing some phenomenal numbers from Receivers and Running Backs and of course some advances (statistically) in the Passing Game. Indirectly that takes some of the shine off the Left Tackles and other Offensive Linemen.
There are some players in recent memory, like for example going back to Walter Jones who got in last year.[x] You can make a great argument that Joe should have gone in before him. I'm not taking anything away from Jones. He was a great player, he went to one Super Bowl, didn't win any. Jacoby was the premier Left Tackle on the great line, and that line again transcends having more than one man (inducted).
Going back to the Redskins, they have
only one retired number, that of Sammy Baugh.[xi] Saying that the organization has a tradition of "unofficially" retiring number, Joe Theismann being one of them.[xii] I don't believe they have given that honor to either Grimm or Jacoby.
"I've seen 66 or 68 worn since."[xiii]
Would that be something that you would push for in the future?
"The Redskins don't have a history of retiring numbers for whatever reason. They do have a history of not giving them out. That is how the Redskins have chosen to handle that. Other teams have certainly done that (retired numbers frequently)."
What kind of relationship does this movement have with Joe Jacoby himself?
"We wanted to make sure
Joe was O.K. with it. Joe did not ask us and he is one of the most modest guys you will ever meet. He has no plans in politicking for himself, like Harry Carson did.[xiv] Joe has no desire to do that. Joe is coaching the Offensive Line foe Concordia University, and he is happy doing that. He is a humble guy, extremely grateful that we decided to do this.
When we were at Mark Rypien's golf tournament, and we told him what we were thinking. Mikey T, the head of the Hogettes has been talking about this for the last few years and as we were approaching retiring (The Hogettes), we discussed how Joe is the one guy we really needed to help get into the Hall. We wanted that to be our swan song. Anything we can do to keep his

name on the forefront; that is our goal."
There is still a lot of time.
"There is. He retired in '93 and still has another nine years before he has to go the Senior route."[xv]
Having said that, the Senior route is what got Ray Guy finally inducted.[xvi]
"Yeah, I'm not saying that this would be the worst thing, but you're talking about another nine years. I'm pretty objective when it comes to this, I know I am a homer in regards to the Redskins, but I just feel their Offensive Line was too good to ignore. When you look at the Cowboys and the Niners they had a great supporting cast, they had Montana. Who did we have? We had Theismann, Rypien and Williams. It was always a different cast of characters around that O-Line."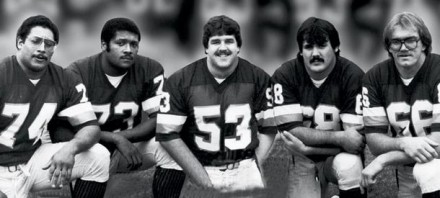 They certainly made Joe Theismann a star, and as much as he remains a public figure and well known to the next generation of Football fans, nobody is pushing for Joe Theismann to be in the Hall of Fame.
"Right, and no one is pushing for Mark Rypien or Doug Williams either. Riggins got in, which is good, but it was the O-Line that made those teams go."
Do you think that the Hall of Fame committee puts too much premium on Pro Bowl selections? Jacoby only had four, but perhaps they don't look at the bigger picture?
"I think that can happen, especially lately. The good side is that I am a firm believer that you don't have to have won a bunch of Super Bowls to be a Hall of Famer. I look at the Buffalo Bills who went to four Super Bowls and didn't win, but they are still one of the best teams I have ever seen. I think some times they can put too much weight on that as well. I could see that being a little too much weighted but I can see that those who don't have Super Bowl rings being penalized, where Joe has three. I don't worry about that argument a whole lot. I think it was thirteen different Running Backs that at least had one 100-yard game with that Line, which is pretty phenomenal.
If Jacoby becomes a Finalist, generally they don't revert back to being just a Semi-Finalist. It would be huge for him just to make that leap, even if he does not make it to the Hall this year.
"Yes, he made it to the Semis. If we can get him to that last group, then maybe we can get that one last step. Russ (Grimm) was great some believe that Joe should have gone in before him. Still, both of them should be in.
Thank you so much for your time!
---
[i]
The Hogettes officially retired in 2013.
[ii]
Grimm was inducted in 2010, after being a Finalist the five years previously.
[iii]
Grimm has said this on many occasions to many media outlets.
[iv]
They produced four Hall of Fame inductees, Art Shell, Bob Brown, Gene Upshaw and Jim Otto.
[v]
That team was anchored by Center, Mike Webster.
[vi]
Mike Munchak and Bruce Matthews entered the Pro Football Hall of Fame from that roster.
[vii]
Joe Theismann and John Riggins in Super Bowl XVII, Doug Williams and Timmy Smith in Super Bowl in XXII and Mark Rypien and Earnest Byner in Super Bowl XXVI.
[viii]
Of those six above players, only Riggins is in the Hall of Fame. The other five have never been considered for Canton.
[ix]
This is a logical argument. Even diehard fans of the Dallas Cowboys would have a hard time disputing that.
[x]
Jones entered the Pro Football Hall of Fame in 2014, his first year of eligibility.
[xi]
Baugh was the Redskins Quarterback from 1937 to 1952 and was a member of the first Pro Football Hall of Fame Class in 1963.
[xii]
The other former Redskins who have had their number "unofficially retired" are Sonny Jurgensen, Darrell Green, Charley Taylor, Larry Brown, John Riggins, Bobby Mitchell, Dave Butz, Sam Huff and Art Monk.
[xiii]
These were numbers worn by Grimm and Jacoby respectively.
[xiv]
Carson was inducted in 2006. He was very vocal about being snubbed for years to the point where in 2004 he asked for his name to be removed from the ballot.
[xv]
Annually the Pro Football Hall of Fame announces one or two candidates from the Senior Committee. They automatically earn a spot into the Finalist round.
[xvi]
Guy entered in 2014, his first year on the Senior Ballot. He was a multi time Finalist in the past.