Index
In a tumultuous year that was not normal for anything and everything including baseball, one thing that might be back to normal is voting for the Baseball Hall of Fame. Granted, the 2021 Baseball Hall of Fame ballot has 14 returning candidates, with just about every one of them owning cases for induction that range from borderline to compelling.
But the 2021 ballot, voted on by qualified voters of the Baseball Writers' Association of America (BBWAA), does not contain any candidates newly eligible for the Hall of Fame who have a strong case for Cooperstown induction. That trend continues through 2025, with only a few newly eligible candidates owning a Hall of Fame case.
The 2010s were tumultuous when it came to Hall of Fame voting. Not only did the furor over performance-enhancing drugs (PED) come to a head with players such as Barry Bonds and Roger Clemens becoming eligible, but a glut of qualified Hall of Fame candidates, both "clean" and "tainted," combined with a reduction in the number of years a candidate can remain on the ballot from 15 years to 10 years, effective for the 2015 ballot, resulted in ballot logjam: With so many qualified candidates and a maximum of 10 choices allowed per voter, Hall-worthy players fell off ballots.
The good news is that since the shutout on the 2013 BBWAA ballot that saw no candidate elected—ironic in that there was precisely a glut of candidates to vote for—the BBWAA and the veterans committees elected 27 players (and six non-players) to the Hall of Fame between them, with the BBWAA alone having voted in 22 players across seven ballots, an average of three inductees a year.
The better news, in a sense, is that for the next five years, the BBWAA ballot should be much less logjammed than it had been during the 2010s. The big caveat is that, as noted, the 2021 ballot has 14 returning players with Hall of Fame cases, and although 2021 offers no new candidates with a credible Hall of Fame case, voting for the returnees will be brisk, particularly as six candidates are in their "decline phase" of being in their sixth or more year on the ballot, with four candidates—Bonds, Clemens, Curt Schilling, and Sammy Sosa—facing just two more chances to be elected.
Returning candidates will be the big story for the 2021 ballot, but they are secondary to this examination of the new candidates expected to hit BBWAA ballot in 2021 and for the next four years after that.
Of those new candidates over the next five years, only Adrián Beltré, eligible in 2024, owns an ironclad case for the Hall of Fame and stands the best chance of being elected in his first ballot. A number of candidates are likely to be elected to the Hall starting in 2022 with David Ortiz; then in 2023 with Carlos Beltrán; in 2024 with Joe Mauer and Chase Utley; and in 2025 with CC Sabathia and Ichiro Suzuki. However, each faces a challenge to his Hall of Fame case and could see his induction delayed for a number of ballots.
Although both Ortiz and Suzuki seem to have evident cases for Cooperstown (and I've written previously that they do), Ortiz may still face resistance for being a career designated hitter along with unreliable rumors of PED usage, while Suzuki, the most atypical hitter in the Major Leagues since Willie Keeler, hung around far too long as a sub-league-average hitter in his quest for 3000 hits, and voters might hesitate over his rate versus his volume.
One candidate who, strictly by the numbers, is a first-ballot Hall of Famer, has already built a consensus against his induction: Álex Rodríguez, eligible in 2022, is set to become the reigning poster child for PED and is unlikely ever to be elected to the Hall, at least by the BBWAA.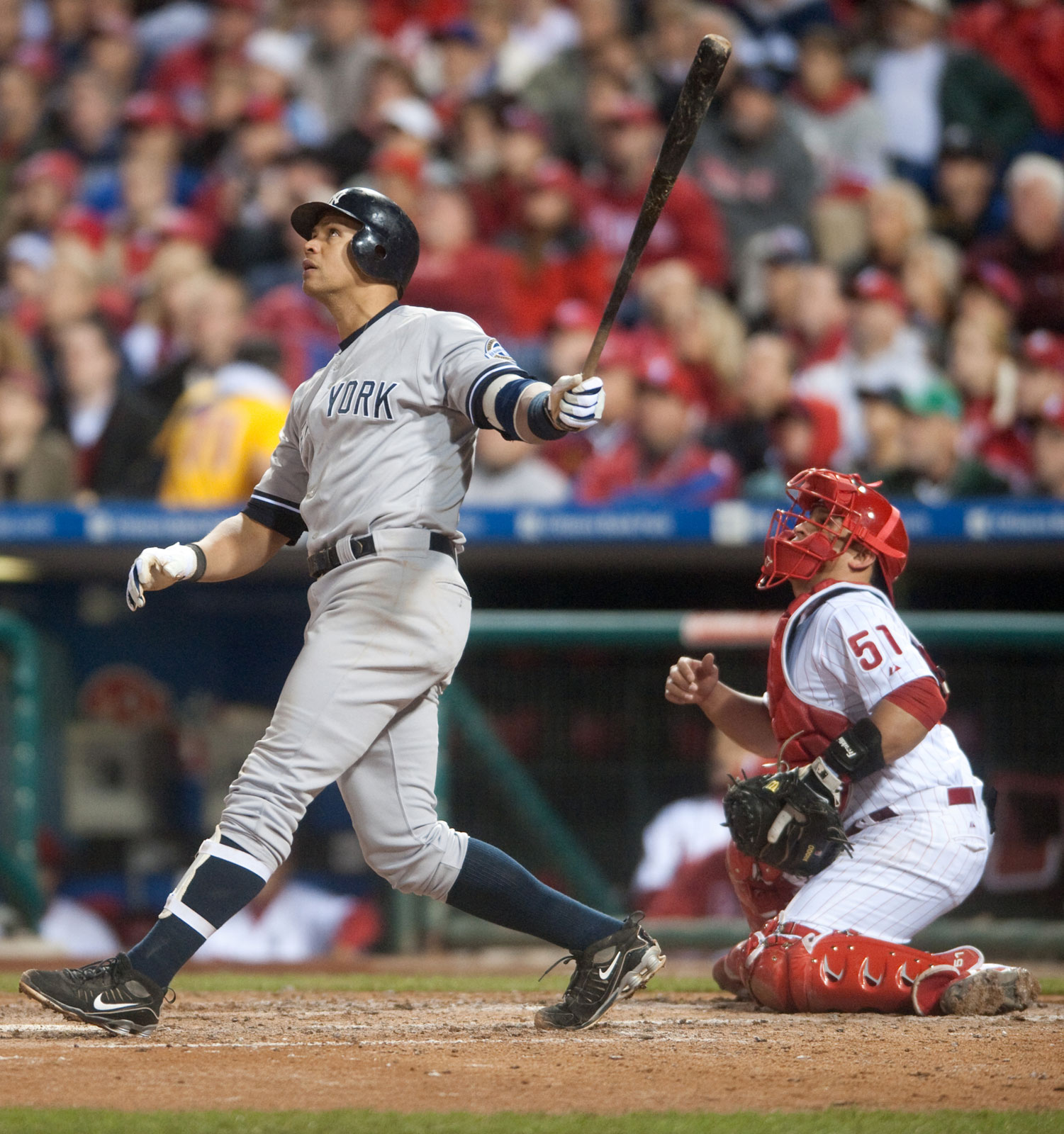 Deja vu all over again: Alex Rodriguez will assume the mantle of PED poster child when he hits the Hall of Fame ballot in 2022.

A number of upcoming candidates have borderline cases that do compel voters to stop and examine them more closely, although, ultimately, they are unlikely to be voted into the Hall. The 2021 ballot has Mark Buehrle and Tim Hudson. The 2022 ballot features Joe Nathan and Mark Teixeira. In 2023, the borderline case is Francisco Rodríguez, and in 2024 it's David Wright.
Among the candidates likely not to survive more than one, possibly two, ballots are, in 2021, Barry Zito, and in 2022, Jake Peavy and Jimmy Rollins, all of whom had at least one sterling season in a lengthy career that hinted at Hall of Fame glory but that proved not to be the case.
One special category contains the "hard-luck cases," candidates who burst into the Major Leagues with superlative careers that were ended prematurely. For Prince Fielder and Ryan Howard, both eligible in 2022, each was felled by injury. For Tim Lincecum, also eligible in 2022, he experienced a loss of mojo. And for Troy Tulowitzki, eligible in 2025, his career was plagued by chronic injury that kept him from sustained excellence. (David Wright, dogged by injuries in the second half of his career, could fall into this category although his first half was strong enough to merit legitimate examination for the Hall.)
An even more special category includes Ben Zobrist, eligible in 2025, a "super-scrub" who in a number of ways epitomizes contemporary baseball—and who challenges the traditional view of baseball legacy even as he does not have a traditional Hall of Fame case.
These players and others merit attention in the next five years as their names begin to appear on BBWAA Hall of Fame ballots from 2021 to 2025. Newly-eligible candidates are profiled by year below.
Following the yearly profiles is an appendix that contains statistical information on newly-eligible position players, starting pitchers, and relief pitchers. Descriptions of specific statistics cited in the yearly profiles can be found below the tables in the appendix. Common advanced statistics used in the profiles include:
WAR: Wins Above Replacement value, with variants including fWAR, FanGraphs' version, and bWAR, Baseball Reference's version, which is used to calculate oWAR (WAR for offensive value only) and dWAR (WAR for defensive value only).
JAWS: Jaffe WAR Score System, derived from bWAR and used to rank players at their primary positions.
OPS: On-base percentage plus slugging percentage.
OPS+: OPS that is league- and park-adjusted and indexed to 100, with 100 indicating a league-average hitter.
Slash line: Grouping of a hitter's batting average, on-base percentage, slugging percentage, and OPS.
ERA+: Earned run average that is league- and park-adjusted and indexed to 100, with 100 indicating a league-average pitcher.
FIP: Fielding-independent pitching, analogous to ERA but using only a pitcher's strikeouts induced and walks and home runs allowed.
WHIP: Walks and hits per innings pitched.
2021 Ballot: The Calm Before the Storm
The 2021 BBWAA ballot is likely to see major gains for some of the candidates returning from the 2020 ballot. Curt Schilling, with two more chances to reach the Hall of Fame, is likely to do that on this ballot as he got to 70 percent of the vote last year following increases of at least nine percent on the last two ballots. Schilling is also likely to be the only candidate, new or returning, to be elected to the Baseball Hall of Fame in 2021.
Barry Bonds, Roger Clemens, and Sammy Sosa, also with just two more chances to reach the Hall, bear the taint of PED, and although Sosa saw a five-percent bump on the 2020 ballot, which brought him to a shade below 14 percent, Bonds and Clemens have plateaued at around 60 percent and seem unlikely to convince the 75 percent of voters necessary for election to the Hall.
Overall, though, all candidates returning in 2020 enjoyed an increase in voting percentage, with Todd Helton, Andruw Jones, Scott Rolen, Gary Sheffield, and Billy Wagner experiencing double-digit jumps while Omar Vizquel got a bump of just under ten percent to get to 52.6 percent of the vote in his third appearance on a BBWAA ballot. Apart from Schilling and PED pariahs Bonds and Clemens, Vizquel is the only returning candidate with at least 50 percent of the vote on the 2020 ballot, but following his 37-percent debut in 2018, he is proceeding incrementally and not likely to be elected this year.
Similarly, prospects are not rosy for Jeff Kent, Andy Pettitte, and Manny Ramirez. Kent is on his eighth ballot in 2021, and the 9.4 percent increase he received on the 2020 ballot, which got him to 27.5 percent of the vote, marked his first visit above the 20-percent line. He would need to make Larry Walker-like jumps in the next three years to reach the Cooperstown threshold, not a promising prospect. Pettitte, who debuted in 2019 with just under 10 percent of the vote, got a marginal bump to 11.3 percent last year, and although it's not enough to establish a trend, Pettitte seems destined to be a perennial also-ran.
Meanwhile, Ramirez, significant because he is the first superstar to debut on a BBWAA ballot following Major League Baseball's revamping of its drug-testing policies and attendant penalties in 2006, which netted him two suspensions for failed drug tests, got a 5.4 percent increase in voting in 2020. That pushed him to 28.2 percent after he debuted in 2017 with 23.8 percent, itself a surprise considering his high-profile transgressions once clear-cut drug-testing rules had been established, but his trend seems to be following that of Bonds, Clemens, Sosa, and others.
As for Bobby Abreu, the only candidate to debut on the 2020 ballot who got at least five percent of the vote to return in 2021, he could benefit from a relatively quiet ballot and start to build a constituency for his Hall of Fame case, one built on both longevity and sabermetrics.
In any event, for any or all of the returning candidates, the 2021 ballot could be their last chance to make significant gains in vote totals. It is the calm before the storm because the 2022 ballot marks the debut of David Ortiz and Álex Rodríguez, with a few other first-timers who could make the vote interesting in a reprise of the ballot logjams in the 2010s, and with Bonds, Clemens, Sosa, and, should he not make it in 2021, Schilling holding out their last hope on their tenth and final BBWAA appearance. Moreover, the 2021 ballot offers no clear-cut Hall of Fame candidate making his debut, with only four of eleven candidates worth more than a mention.
On that 2021 ballot, those four newcomers are outfielder Torii Hunter and starting pitchers Mark Buehrle, Tim Hudson, and Barry Zito. None are Hall of Famers, but Buehrle and Hudson have legitimate if not compelling borderline cases.
Borderline: Mark Buehrle and Tim Hudson
Although neither is likely to make it into the Hall of Fame, both Tim Hudson and especially Mark Buehrle could collect at least five percent of the BBWAA vote in 2021 to stick around until the following year.
Mark Buehrle
Soft-tossing southpaw Mark Buehrle spent three-quarters of his 16-year career with the Chicago White Sox, winning the World Series with them in 2005. Buehrle won 214 games including at least 10 wins in 15 consecutive seasons, pitched two no-hitters including a perfect game, and had 14 consecutive seasons with at least 200 innings pitched, tying him with Greg Maddux, Christy Mathewson, and Phil Niekro, all of whom are in the Hall of Fame.
Career highlights: Named to five All-Star teams. Won a World Series championship in 2005 with the Chicago White Sox. Won four Gold Gloves. Finished in the top five for Cy Young Award voting once. Led the league in innings pitched twice and games started once. Had fifteen consecutive years with 10 or more wins, and six years with 15 or more wins. Had just one losing season in a 16-year career. Had 15 consecutive years with 30 or more starts. Had 14 consecutive years with 200 or more innings pitched.
Career summary: Beginning his career with the Chicago White Sox in 2000, Mark Buehrle made 25 of 28 appearances from the bullpen; he then went on to 490 consecutive starts for the rest of his 16-year career. Getting named to his first All-Star squad in 2002, when he won a career-high 19 games against 12 losses, Buehrle got his only top-five finish for the American League Cy Young in 2005, when he won 16 and lost only eight while leading the AL in innings pitched (236.2) and netting the second of five All-Star nods—and of course going on to win the World Series.
In April 2007, the southpaw no-hit the Texas Rangers, allowing just one walk to Sammy Sosa, whom he then picked off at first base. Buehrle then made it a true clean slate two years later when he hurled a perfect game at the Tampa Bay Rays, a feat that again put him in some rarefied company: By pitching a no-hitter and a perfect game, and winning a World Series, all with one team, the Chicago White Sox, Buehrle joined Cy Young and Sandy Koufax as the only pitchers ever to have done so. He made history again in 2010 when, having won the second of four consecutive Gold Gloves, he became the only pitcher with multiple no-hitters and multiple Gold Gloves.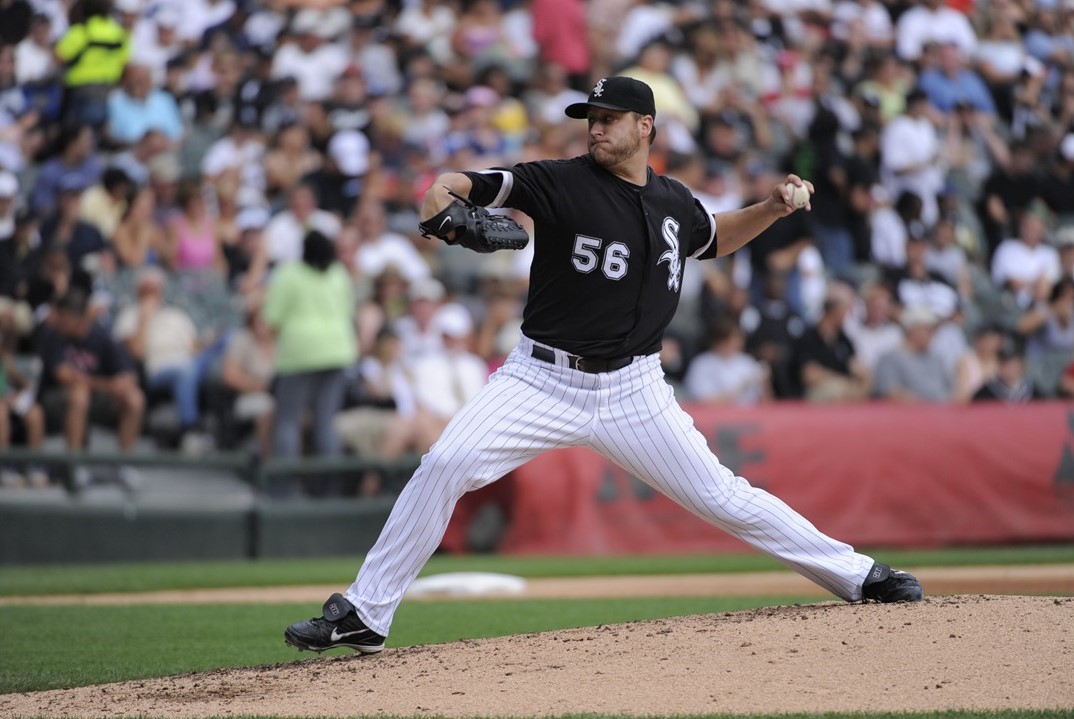 Slow and steady wins the race? Will soft-tossing Mark Buehrle's quietly consistent pitching record be enough for the Hall of Fame?

In 2011, his age-33 season, Mark Buehrle signed a four-year, $58 million contract with the Miami Marlins. In his first and only year in the National League, he was solid if unremarkable, posting a 13–13 win-loss record with a 3.74 ERA before being traded to the Toronto Blue Jays for the 2012 season, with whom he finished his career after the 2015 season. In Toronto, he made his last All-Star team in 2014, a year that saw him win 13 games against ten losses while posting a 3.39 ERA, his lowest ERA since 2005. In his age-36 season in 2015, Buehrle finished in fine style, winning 15 games, the most since 2008, while losing only eight as he led the Majors in complete games with four, bringing his career total to 33, including the tenth and last shutout of his career, although he fell one and a third innings short of his 15th consecutive season with at least 200 innings pitched.
Verdict: Mark Buehrle was an innings-eater par excellence who succeeded despite not being a strikeout pitcher (1870 punch-outs in 3283.1 innings pitched for 5.1 strikeouts per nine innings pitched) and pitched to a 3.81 ERA and a 117 ERA+ in a high-offense era, although his 4.11 FIP indicates his unexceptional ability to induce strikeouts while controlling walks (734) and especially home runs (361, 27th all-time).
Buehrle is ranked 90th by JAWS for starting pitchers, with his JAWS score tied with Sandy Koufax's, although Koufax pitched 900 fewer innings—while Buehrle had none of the dominance Koufax did. Buehrle's 59.2 bWAR does put him on the cusp of Hall of Fame consideration, but with a lack of dominance he falls into the compiler category. He might attract enough votes to make it to the 2022 ballot, although with all the holdovers from previous ballots he could find himself squeezed out early.
Tim Hudson
In the same boat as Mark Buehrle is Tim Hudson, who had a stronger peak in a 17-year career while he too owns a World Series ring, won while with the San Francisco Giants in his penultimate season of 2014. However, the right-hander did make his presence felt early in his career as one of the "Big Three" of the Oakland Athletics' pitching rotation along with left-handers Mark Mulder and Barry Zito in the early 2000s. Hudson led the American League in wins (20) and winning percentage (.769, the best in the Majors) in 2000, when he was runner-up for Cy Young Award honors to Pedro Martinez.
Career highlights: Named to four All-Star teams. Won a World Series ring in 2014 with the San Francisco Giants. Finished in the top five for the Cy Young Award three times. Led the American League in shutouts twice (tied with other pitchers in both years). Led the league in wins, win-loss percentage, and games started once each. Had 13 years with ten or more wins, ten of them consecutively, and had eight years with 15 or more wins, four of them consecutively. Had 13 years with an earned run average under 4.00, and three years with an ERA under 3.00. Had eight years with 30 or more starts and with 200 or more innings pitched. Ranks 65th all-time in win-loss percentage (.625; tied with Hall of Famer Chief Bender).
Career summary: Tim Hudson debuted with a blazing rookie season in 1999, winning 11 games and losing only two in 21 starts while posting a 3.23 ERA and a 142 ERA+, and striking out 132 hitters in 136.1 innings pitched. He was even better the next season: Despite a 4.14 ERA, Hudson won 20 games, a career high as it led the American League, and lost just six for a league-leading .769 win-loss percentage while he finished second in Cy Young voting—first place went to Hall of Famer Pedro Martinez, in the midst of his reign as the best pitcher on the planet. In six years with the A's, Hudson posted a 92–39 win-loss record, good for a sparkling .702 winning percentage, a 3.30 ERA and 136 ERA+, and 899 strikeouts.
After being traded to the Atlanta Braves following the 2004 season, Hudson spent nine years with the team, the longest tenure in his 17-year career. Ironically, Hudson joined the Braves during a time when they were not gobbling up division titles as if they were candy as Atlanta made the postseason just four times during his nine seasons with the club. In addition, injuries began to dog Hudson, such as Tommy John surgery in August 2008 that left him starting just seven games the following season. He rebounded in 2010 with 17 wins and just nine losses while delivering a stingy 2.83 ERA, the third and last time he would have a sub-3.00 ERA, as he finished fourth in National League Cy Young voting and made his third All-Star team. In his nine seasons with Atlanta, he won 113 games, which put him over the 200-win mark, and lost 72 for a .611 win-loss percentage while maintaining a 3.56 ERA and 115 ERA+.
Signing a two-year, $23 million deal with the Giants for 2014, Hudson posted his first losing season, winning nine games while dropping 13, yet he was chosen for the NL All-Star squad as he managed to be named an All-Star with every team he played for; meanwhile, his 120 strikeouts pushed him past the 2000-strikeout plateau. In Game Two of the 2014 National League Division Series, Hudson dueled Washington Nationals ace Jordan Zimmerman for 7.1 innings, allowing just one run while striking out eight in a game that became an 18-inning marathon eventually won by the Giants.
Although Hudson's final season in 2015 saw him experience another losing season (8–9, .471), his career win-loss percentage is .625, based on 222 wins and 133 losses. Thus, Hudson joins just twenty other Major League pitchers to record 200 wins, 2000 strikeouts, and a winning percentage of .600 or better, with 14 of those pitchers already in the Hall of Fame.
Verdict: Tim Hudson is ranked 84th by JAWS for starting pitchers. He was more than an innings-eater although he was not the unequivocal staff ace for any of the three teams he played for, and that lack of dominance will keep him from the Hall of Fame although he may be more likely to survive to the 2022 ballot than Mark Buehrle.
One and Done: Torii Hunter and Barry Zito
Both Torii Hunter and especially Barry Zito had their moments during their career but are not likely to make more than one appearance on a Hall of Fame ballot.
Torii Hunter
Patrolling the outfield for the Minnesota Twins with a potent combination of power, speed, and especially defense, Torii Hunter looked to be one of baseball's best center fielders during his heyday. Starting in 1997, Hunter spent 12 of 19 seasons in Minnesota, and by 2001 he was installed as the Twins' starting center fielder, winning seven of his nine consecutive Gold Gloves in the Twin Cities. He departed to spend five seasons with the Los Angeles Angels and two with the Detroit Tigers before returning to Minnesota for his final season in 2015.
Career highlights: Named to five All-Star teams. Finished in the top ten for American League Most Valuable Player voting once. Won nine consecutive Gold Glove Awards. Won two Silver Slugger Awards. Had nine years with 30 or more doubles, eight years with 150 or more hits, five years with 25 or more home runs, and two years with 100 or more runs batted in. Ranks 66th all-time in doubles (498; tied with Hall of Famer Al Kaline) and 92nd all-time in home runs (353).
Career summary: Making a solitary appearance as a pinch-runner in 1997, Torii Hunter moved slowly through the ranks of the Minnesota Twins' roster, getting into 135 games, with 113 starts in the outfield including 90 starts in center field, two years later. By 2001, the right-hander had become the Twins' starting center fielder, rapping out a .261/.306/.479/.784 slash line with 32 doubles, 27 home runs, and 92 runs driven in as he won his first Gold Glove Award. He was even better the following season, his age-26 year, with a .289/.334/.524/.859 slash line, generating a 124 OPS+, with 162 hits, 37 doubles, 29 home runs, 89 runs scored, 94 RBI, and a career-best 23 stolen bases as he made his first American League All-Star team and finished sixth in Most Valuable Player voting.
In his seven years as the Twins' full-time center fielder, Hunter established a .272/.326/.484/.810 slash line, good for a 110 OPS+, as he averaged, per year, 146 hits, 32 doubles, 25 home runs, 82 runs scored, 90 runs driven in, 16 stolen bases, and 3.8 bWAR. In 2008, his age-32 year, he left for greener pastures with a five-year, $90 million deal from the Los Angeles Angels. While with the Angels, which saw him transition to right field, Hunter won his first Silver Slugger Award in 2009. During his five-year tenure with Los Angeles, Hunter posted a .286/.352/.462/.814 slash line, generating a 122 OPS+, as he averaged, per year, 154 hits, 29 doubles, 21 home runs, 79 runs scored, 86 RBI, 12 stolen bases, and 4.1 bWAR while being named to two All-Star teams.
Following his stint with the Angels, Hunter spent two years with the Detroit Tigers starting in 2013, his age-37 season, and making a strong impression with a .304/.334/.465/.800 slash line and 115 OPS+ as he banged out a career-high 184 hits with 37 doubles, 17 home runs, 90 runs scored, and 84 runs knocked in. He earned his second Silver Slugger Award while making his fifth All-Star squad, ensuring that he was an All-Star with every team he played for. Ending his career back where he began, Hunter spent 2015, his final, age-39 season, with the Twins, and although he dipped below league-average with a 91 OPS+, he still logged 567 plate appearances and hit 22 home runs, the first time in four years he notched 20 or more.
A solid two-way outfielder in his prime, Torii Hunter never led the American League in any offensive or defensive category. And despite his highlight-reel outfield plays, defensive metrics have not been kind to him. He does have 36 defensive runs saved (DRS) as a center fielder, where he started 1492 games, but as he slowed up and moved to right field, he accrued a minus-13 DRS in 704 starts, dropping him to 23 DRS as an outfielder overall. Runs above average is even more unforgiving, assessing him at a minus-38 overall for play in both center- and right field.
Verdict: JAWS ranks Torii Hunter at 34th among all center fielders, eleven slots below Hall of Famer Kirby Puckett, Hunter's predecessor in center field for the Twins, and considering that Puckett was a charitable Hall of Fame pick, Hunter may garner a few votes initially but not enough to survive his inaugural ballot.
Barry Zito
Arguably the most auspicious of the Oakland Athletics' "Big Three" starting pitchers at the turn of the century who included Tim Hudson and Mark Mulder, Barry Zito was the only one to win a Cy Young Award when he led the American League in wins (23) and games started (35) in 2002. In his six years as a full-time starter for the A's, the left-hander famed for his curve ball built a reputation for effectiveness and consistency that netted him a seven-year, $126 million contract with the San Francisco Giants, at the time the largest deal for a pitcher. However, Zito struggled with the Giants although he provided late-career highlights during the 2012 postseason, which saw him win his second World Series ring.
Career highlights: Named to three All-Star teams. Won two World Series championships, both with the San Francisco Giants. Won the 2002 American League Cy Young Award. Led the AL in games started four times, and led the AL in wins once. Had ten years with ten or more wins, four years with 15 or more wins, and one year with 20 or more wins. Had eleven years with 30 or more games started, ten of them consecutively, and four years with 35 starts, three of them consecutively. Had six consecutive years with 200 or more innings pitched.
Career summary: Picked ninth overall by the Oakland Athletics in the 1999 draft, Barry Zito was with the parent club by the middle of the 2000 season, his age-22 year, and he even pitched the first of five career shutouts in his 14 starts for the A's. The southpaw with the big curve ball posted a 17–8 win-loss record and 3.49 ERA in his first full season in 2001, and by the following year he seemed to become the ace of Oakland's "Big Three" starting pitchers, who included Tim Hudson and Mark Mulder, when he won an American League-leading 23 games against just five losses, an .821 win-loss percentage, while posting a 2.75 ERA en route to winning the 2002 AL Cy Young Award, besting Pedro Martinez in the voting.
Winning 102 games while losing just 63, a .618 win-loss percentage, during his eight years in Oakland, Barry Zito never had a losing season as he posted a 3.58 ERA and a 124 ERA+, marking him as a standout pitcher in the American League. Zito wasn't as dominant following his Cy Young year, but he settled into being a workhorse for the A's staff: In six years as a full-time starting pitcher, Zito pitched at least 200 innings and started at least 34 games every season, leading the AL in starts for three years, as he generated 30.6 in bWAR, with four seasons at 4.5 bWAR or higher.


Riding high before the fall. Barry Zito's success with the Oakland Athletics didn't survive the trip across the Bay to the San Francisco Giants.

Moving to the Giants in 2007 with a cushy contract, Barry Zito was never able to live up to it as he toiled as a below-league-average pitcher with just one winning season, in 2012, and one season with an ERA+ above the 100 baseline for a league-average pitcher, a 105 ERA+ in 2009. Left off the postseason roster in 2010, when the Giants won their first World Series since 1954, Zito was a postseason factor in 2012 with a crucial Game Five elimination-game win against the St. Louis Cardinals in the National League Championship Series, and he did outduel future Hall of Famer Justin Verlander—and even got a hit off him—in Game One of the Giants' four-game sweep against the Detroit Tigers in the World Series.
Verdict: Barry Zito attained fairly lofty heights during his first seven years in Oakland, but his next seven years in San Francisco brought him back down to Earth. JAWS ranks Zito 249th all-time among starting pitchers, and despite a relative dearth of starting pitchers on the 2021 ballot, Zito will be eclipsed by Mark Buehrle and his former teammate Tim Hudson in the competition for votes and is unlikely to survive to 2022.