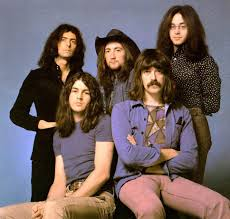 When the idea for this website was in its infancy, the first thing we did was figure who out all the eligible artists who are not in the Hall. Many elicited a surprised reaction that they were not enshrined, but Deep Purple received the biggest "they aren't in yet?" reaction from us. As we discussed the idea of this site with others, Deep Purple's omission continued to get the most surprised reaction. Considering that budding musicians still cut their teeth to "Smoke on the Water" it is easy to understand why people feel that way about Deep Purple. Probably more than any other band on this list, they just "feel" like they belong in a Rock and Roll Hall of Fame.
The discussion of legendary Heavy Metal/Hard Rock acts often begins with Black Sabbath and Led Zeppelin. However, it really isn't a stretch to include Deep Purple on that level. Like Sabbath & Zeppelin (who are currently inducted), Deep Purple had the hit records, the signature songs, an excellent reputation as a great live act, and they meet the influence category. Already eligible for fifteen years the only real knock against them is the multiple lineup changes they have had but with a resume like theirs, and with their perceived peers in; their legions of fans hope that they won't have to wait another fifteen years. We can't imagine they will.
The Bullet Points:Previous Rank:
2010: #4
2011: #3
2012: #2
2013: #2
2014: #1
Eligible Since:
1993
Country of Origin:
United Kingdom (Hertford, England)
Why They Will Get In:
We can't imagine that this band could possibly be ignored forever.
Why They Won't Get In:
The multiple lineup changes could be befuddling voters who may be uncertain which members to induct.
Nominated In:
2013
2014
Essential Albums:
Shades of Deep Purple (1968)
Deep Purple in Rock (1970)
Machine Head (1972)
Made in Japan (1972)
Our Five Favorite Songs as Chosen by Each Member of the NIHOF Committee:
Hush (From Shades of Deep Purple, 1968)
Child in Time (From Deep Purple in Rock (1970)
Highway Star (From Machine Head, 1972)
Lazy (From Machine Head, 1972)
Perfect Strangers (From Perfect Strangers, 1984)
Should Deep Purple be in the Hall of Fame?
Definitely put them in! - 69.6%
Maybe, but others deserve it first. - 12.7%
Probably not, but it wouldn't be the end of the world. - 7.6%