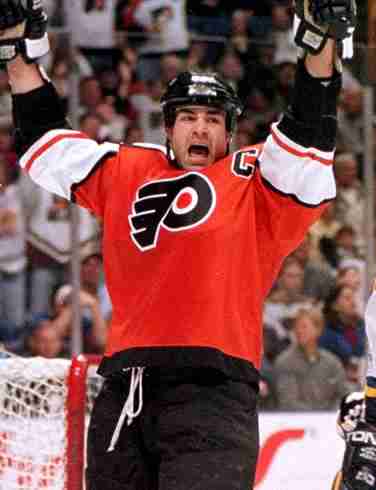 Dubbed "The Next One", Eric Lindros never really lived up to the mammoth expectations heaped upon him. This isn't to say that Eric Lindros didn't have a good career, as he most certainly did. He won the prestigious Hart Trophy in 1995 and had 115 points the following year. Lindros did average well over a point a game in his career but the issue was that his career was cut short by concussions. Throw in the constant issues he seemed to have with various managements, Lindros was not always the most beloved man in hockey. With a career riddled with concussions and controversy, a man who had the size, speed and skills to be a legend could very well be a "bubble" pick to enter the Hockey Hall of Fame.
The Bullet Points:
Country of Origin:
London, Ontario, Canada
Eligible Since:
2010
Position:
Center
Played for:
Philadelphia Flyers
New York Rangers
Toronto Maple Leafs
Dallas Stars
Team Canada (1992, 1998 & 2002 Olympics, 1996 World Cup)
Major Accolades and Awards:
Hart Trophy (1995)
Lester B Pearson Award (1995)
NHL All Star (1994, 1996, 1997, 1998, 1999 & 2000)
Olympic Gold Medal (2002) Canada

Should Eric Lindros be in the Hall of Fame?
Definitely put him in! - 82.4%
Maybe, but others deserve it first. - 5.9%
Probably not, but it wouldn't be the end of the world. - 5.9%