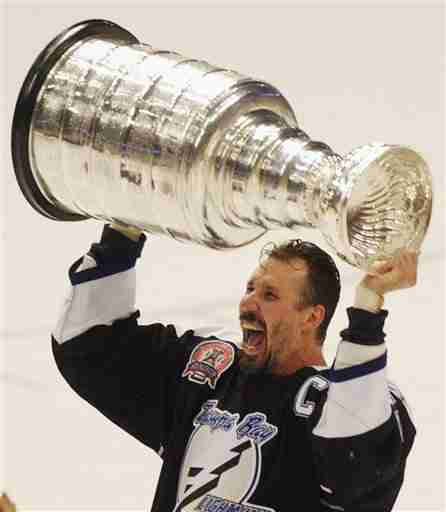 If longevity and consistency is the key to the Hockey Hall of Fame, then sign up Dave Andreychuk to the Hall right now. Andreychuk is among career leaders in Games Played and Points Scored and in terms of scoring proficiency for a left winger, he has few peers. He excelled at the Power Play, where he maintains the career record for the most Power Play Goals of all time. The culmination of Andreychuk's career was at the age of 40 he became the oldest player to ever make his Stanley Cup debut. Fortunately for him, he achieved the dream of any one who ever laced up the skates when he led the Tampa Bay Lightning to a Stanley Cup win. If there is a knock against Andreychuk it could be that he never dominated scored 100 points per season (although he did get 99 twice) and was only an All Star twice is in his extensive career. Dave Andreychuk may have never dominated any season, but when you have a career as extensive and fruitful as his was, it is a fairly small criticism.
[FilmStrip][/Filmstrip]

The Bullet Points:
Country of Origin:
Hamilton, Ontario, Canada
Eligible Since:
2009
Position:
Left Wing
Played for:
Buffalo Sabres
Toronto Maple Leafs
New Jersey Devils
Boston Bruins
Colorado Avalanche
Tampa Bay Lightning
Major Accolades and Awards:
NHL All Star (1990, 1994)
Stanley Cup Ring (2004) Tampa Bay Lightning
Should Dave Andreychuk be in the Hall of Fame?
Definitely put him in! - 37.5%
Maybe, but others deserve it first. - 37.5%
Probably not, but it wouldn't be the end of the world. - 18.8%