North Plainfield, New Jersey is where Gary Venittelli grew up to become Gar Francis, a guitar player and prolific singer-songwriter. Mr Venittelli's earliest musical memory was listening to Frank Sinatra on the William B. Williams radio show on WNEW, and by the early sixties, had formed his first band called Romeo, Red, Ripper, and Rufus who caused quite the unrest for the nuns when they played at his Catholic high school graduation parties. By the nineteen seventies, Venittelli was in a band called The Rockids who played regular gigs at NYC's legendary CBGBs and Max's Kansas City, sharing the stage with The Ramones and Blondie, among others. In the eighties, Gary mastered his knack for song writing when he wrote "Baby, It's You" for the band Ricochet which became a local hit and the band was asked to perform it on one of the first MTV live broadcasts from City Gardens in Trenton, New Jersey. Around this same time, Gary shortened his first name to Gar and took on a new last name to honour his father's love of Sinatra. The eighties saw Gar Francis as the featured guitar player on Billy Idol's recorded version of "Mony, Mony", produced by Gerry Ragovoy, writer of songs recorded by Janis Joplin and the Rolling Stones. And speaking of the Rolling Stones, Francis also kept busy in the eighties by filling the role of Keith Richards in Sticky Fingers,"The World's Greatest Rock & Roll Tribute Band". He also started playing regular gigs at The Bitter End in NYC with The Gar Francis Band. Gar wrote and produced a song called "Human Revival", which placed in the John Lennon Song Writing Contest, and also won 4th place at the Unisong Music Awards. By 2005, Gar had joined the 60s garage-rock band, The Doughboys, replacing original guitarist Willy Kirchofer who had passed away. The Doughboys had been together forty years before releasing their debut album "Is It Now?" which included the Gar Francis-penned hit single "Black Sheep", voted #2 Coolest Song In The World in 2008 by Little Steven on his radio program, The Underground Garage. The Doughboys, who had split up in the late-60s but re-formed in 2000 consists of bassist Mike Caruso, a studio musician who once backed Jimi Hendrix; Myke Scavone, former lead singer of Ram Jam known for the 1977 hit "Black Betty", and drummer Richard X. Heyman, who has drummed for Link Wray and Brian Wilson. A popular New Jersey band, The Doughboys mix originals and cover songs by The Yardbirds, The Kinks, and The Animals, as they continue to perform at venues like BB King's in New York City, Maxwell's in Hoboken, and The Stone Pony in Asbury Park, New Jersey. In addition to gigging, Gar Francis wrote and produced the single "Rocket" as a tribute for those serving in the U.S. Armed Forces, and wearing his father's WWII dog tags around his neck, performed the song live in 2009 in front of the troops at Fort Dix, forty-eight hours before the soldiers were deployed to Iraq. Singer-songwriter and folk activist Pete Seeger wrote letters to Francis regarding the importance of a song like "Rocket" in helping to keep the veterans of war in our minds and in our hearts. The same year, The Doughboys second CD "Act Your Rage" produced another Gar hit single called "I'm Not Your Man", which Little Steven's Underground Garage picked for "Coolest Song In The World" the week of September 5. It was also voted by the station's listeners as "#3 Coolest Song In The World". In 2010, The Underground Garage again honoured a Doughboys song, "Why Can't She See Me? " as the #1 Coolest Song In The World. This year, "Turn Your Love On Me" by The Doughboys and "The Bank Of The River" by Gar Francis (from of his new Americana album "The More Things Change, The More They Stay Same") will be featured in the indie film "Fairhaven" premiering at the 2012 Tribeca Film Festival. Gar continues to write songs for a variety of Bongo Boy recording artists (a label he runs with Monique Grimme) including The Easy Outs, Jana Peri, Jeanne Lozier, Genya Ravan, Kelly Caruso, a Mississippi Delta juke joint band called The Groundhawgs, as well as a bluesman by the name of Plainfield Slim. Live Music Head flew to New York City in March to have a chat with Gar and Monique. Over Indian food at Baluchi's, we talked about Gar's musical talents which also saw him receive honorable mention in Billboard's Songwriting Contest...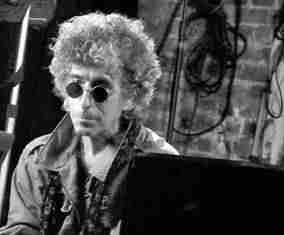 Photo courtesy of MoPromo Mgmt Co
Monique, when you said you were from Norway, I immediately thought of the new dramedy series Lilyhammer, starring Little Steven Van Zandt. Over a two-day period, I was thrilled to watch Bruce Springsteen's guitarist in every episode on Netflix.
Monique: I did the very same thing. I love Lilyhammer!
Gar: I still haven't seen it.
In The Sopranos I always thought Little Steven's character was more about the look, whereas in Lilyhammer, his acting ability is definitely showcased.
Gar: He's the main guy.
Miami Steve was just in Toronto, my hometown, where he did a fantastic interview with George Strombo for the CBC. He talked about Lilyhammer, the upcoming Springsteen tour, and his radio program The Underground Garage.
Gar: When I saw Little Steven on some other television show, they asked him about Lilyhammer, and he said "well, I just happened to be there when they grabbed me and put me into the thing". I find out later that Van Zandt actually produced, directed, co-wrote, and supervised the music for Lilyhammer! (laughs)
Monique: I slow-motioned the credits of Lilyhammer (laughs) to see the The Cocktail Slippers listed, who Gar opened up for once, with The Doughboys.
Like Springsteen and Little Steven, Gar Francis is also a New Jersey boy. Tell me about growing up in Plainfield.
Gar: North Plainfield to be exact. The Jersey Shore is the big thing, even for New Yorkers. I spent many years on the Jersey Shore myself. The beaches are great. I have a house on the Toms River, which goes right into the beach.
So what was it like growing up in North Plainfield?
Except for the riots of the sixties (I think it was '67), North Plainfield was a typical suburb. But the riots were brutal for Plainfield. There were tanks going up and down the streets. I believe it began with The Black Panthers, who started in Chicago, and then came to Newark and Plainfield, creating a ruckus.
And you were at an impressionable age then.
Oh my god yes, fourteen or fifteen. It was a scary thing. But otherwise, North Plainfield was a normal Italian-Irish suburb, where nothing exciting happened.
How did you get into music?
I got into music, specifically, through my uncle. Every Sunday, my father would take us around to see his brothers, and sister. My one uncle had two sons, both of which played guitar. And they looked just like The Everly Brothers, with the slicked-back hair and all.
Did they give you lessons?
They didn't. I was only five at the time. But I remember staring at their guitars a lot. When I was about eight or nine, I asked my father for lessons, but my hands were still too small. Around ten years of age, I took a couple of lessons and from that point on, playing guitar was all I thought about. And I would write songs on one string, coming up with melodies before I could even play, thinking how much I loved it and really wanting to make it work somehow.
Did you learn to play any other instruments?
My father brought home an old drum set he found that I would play, and over time got better at. I also banged on a friend's piano, and tried horns for a while, but (laughs) horns are just too difficult.
Did you practice by playing along with records?
Initially yes, especially with drums. Playing along with records, I'd make up my own drum parts. I didn't know any better. I was never very good at picking up other people's parts. I realized it was more intriguing to make up my own parts, and add them to other people's songs.
So what records were you listening to?
Early on, it was Frank Sinatra because of my dad; and Elvis Presley and the Everly Brothers because of my cousins. And then in the sixties, I listened to everything that came with the British Invasion... The Beatles, Stones, etc.
And then you formed your first band... Romeo, Red, Ripper, and Rufus?
And what a ridiculous name! (laughs) Those were the nicknames of the guys in the band. I'm Romeo. (laughs)
And you would play at your high school graduation parties?
We played all the graduation parties! Most of the time it was the girls who held the parties, and when the nuns found out about a rock and roll band playing at girl's parties, well, it created a real ruckus. (laughs)
Were you kicked out?
My mother would get phone calls saying "He can't be doing this!" You know how Catholic schools can be, but I didn't know any better. All I knew was... I was playing music!
Yes I can imagine, as I also attended a Catholic grade school.
The nuns were tough!
Heading into the 70s, you were in a band called The Rockids?
Yes! On our way here to this interview, we went by where the old CBGBs used to be... where The Rockids played all the time.
I was there earlier today.
Were you? And I was just saying to Monique, "we have to stop there on our way back".
If CBGBs has to be something else, well, the "something else" that stands there now is pretty cool (the location of the original CBGBs is now John Varvatos Fashion House). I mean, I could never afford to buy anything in there (laughs), but I was impressed with the decor, especially the old Captain Fantastic and the Brown Dirt Cowboy pinball machine they have on display.
Is it an original?
I'm not sure, but it sure looked vintage. It's a pretty cool fashion store with much of the iconic art of the sixties and seventies on display, including parts of the original walls of CBGBs with old posters and torn handbills still tacked to them.
The first time we played at CBGBs, it was a dump. I remember walking in for the first time and there wasn't even a stage set up yet. All they had were pool tables and all the pool tables were covered with blood because the Hell's Angels used to hang out there.
So tell me about playing CBGBs with The Rockids, and how you got your first gig there.
Well, the singer for the Rockids, Wayne Oliver, was very forward.
He just stormed right in and said, "we're playin' here god dammit!"?
Exactly! Wayne was the kind of guy who went after what he wanted. I remember when he got really upset after hearing that the Bay City Rollers would be playing at the re-opening of The Ed Sullivan Theatre, instead of an American band like us. He decided what we would do was drive to the re-opening festivities on a flat-bed truck. We rented a flat-bed truck and drove from New Jersey to New York with all the equipment set up, through the tunnel, straight up the street to the Ed Sullivan Theatre! It was mostly blocked off with tons of girls behind barricades because The Bay City Rollers were huge at the time. But the police thought we were part of the act, so they actually directed us to the front of the theatre, where we were captured on film. Suddenly the manager for the Bay City Rollers comes out screaming, "These guys shouldn't be here! Get them out of here!" The truck was immediately covered with cops and we got written up with something like thirty-five tickets! But that's the way the singer of the Rockids was. Wayne would get us into anything... with publicity galore! Once he almost got us into John Lennon's apartment at The Dakota because he told the guard at the gate I was Keith Richards. We were through the gate before the guard realized he'd been had, and came running up behind us yelling,"hey you, wait just a minute!" (laughs).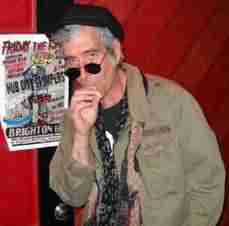 Gar Francis 2012 Photo courtesy of Bruce Ferguson
Having played in a Rolling Stones cover band, looking the part of Keith Richards...
Yes, I was the guitar player in Sticky Fingers. But Wayne would walk into CBGBs and Max's Kansas City, anywhere, and manage to get us where we wanted to go.
I took a photo of the "CBGBs '73" carved into the sidewalk outside of the former location.
A year or two ago, there was a museum exhibit in NYC of mostly John Lennon stuff, but also a section roped off with memorabilia from CBGBs. The original awning was on display, some tables, and the telephone booth. I stood there looking at it thinking, my god, we were a part of all that history, and didn't know it at the time. I wonder if that's my gum stuck under the table?! (laughs) At CBGBs we played with the Ramones, Blondie, and the Talking Heads. The bar would put place cards on the tables. I still have one that says "The Rockids" and written beneath it, "and debuting from Florida, Tom Petty and the Heartbreakers".
Also outside CBGBs, I saw the Joey Ramone street sign, attached to the post way up high.
That's because Joey was tall! (laughs)
Do you have a story about Blondie you can share with me?
Back then, bands in New York would play all night long. The clubs would stuff in as many bands as they could every night, and one time at CBGBs, we were getting tired of waiting to play. It was about one or two in the morning and we really wanted to play, but in walked Blondie. Of course everyone then got pushed aside because she was already big at the time. I run into Clem Burke from time to time, her drummer, who's played in different bands.
And what about the Talking Heads? What were they like back then?
We played with them all the time, and they were horrible, just horrible! (laughs) It was before CBGBs had a stage, only a corner where the band would play. David Byrne would stand there with a beat-up acoustic guitar, alongside Tina (Weymouth) and the drummer, and as a trio they were just horrible. Byrne was so nervous, he would shake. And us being arrogant Jersey boys, made fun of them. But the joke's on me now, right? (laughs)
Those days back at CBGBs were exciting times, huh?
Yea, it was great, and I'm really glad I lived through it. Hilly Kristal, the owner of CBGBs who has since passed away, loved The Rockids. But we had a Rolling Stones vibe that didn't really fit in when the punk movement happened...
So you started gigging at Max's Kansas City?
Yes, and we played there all the time! Max's wasn't the dump that CBGBs was. I remember black and white tiles, glass and stainless steel.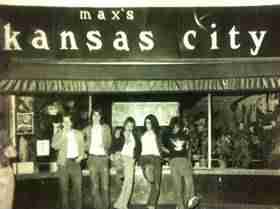 The Rockids at Max's Kansas City, NYC
How has your song writing developed since you first started doing it as a kid?
I used to make demos with rhythm tracks and try and go back and write a song on top of that. And it never worked well. I've taken a whole different approach to song writing over the last ten years. It's like what John Lennon once said. If you can't sit down and write a song on an acoustic guitar, don't go anywhere near a recording studio. And I read Lennon said to George Harrison once that if you start writing a song, finish it. Because when you're in that song writing mode, and you leave and don't come back to it for days, it becomes harder to finish. So I've been doing that, and it seems to work a lot better.
So you're always writing... and writing for many other artists.
It's always been about writing. Performing became a necessity to get the songs out there.
But speaking about the punk movement... that music was never really about the songs, was it? Rather, it was more about the attitude and the look. I was talking about the Sex Pistols lately, and how I heard their manager wanted to get rid of the bass player because he didn't have the look, even though the bass player wrote the songs.
It was the same with The Runaways. I just watched the movie about them the other day. There's a funny scene where the manager has them practice while he throws bottles at them, trying to teach them to be tough as guys. Being an all-female band, he knew they'd be heckled, and Joan Jett was bouncing bottles off her guitar.
In the eighties, you joined a band called Ricochet from the Trenton-Princeton, New Jersey area, and wrote a song for them called "Baby, It's You" which became very popular. Tell me about that time in your career.
That song brought the band out of New Jersey and into New York. It was always important to make it in New York. Ricochet was initially a cover band and they asked me to do sound for them. I was happy to because I wanted to get out of performing music for a while. But then their keyboard player was in a car accident, and they recruited me as their guitar player. From there, I helped transform them from a cover band to an original band. We were signed to a recording contract by Pat Methaney's management, but unfortunately it went nowhere. We had a knack for people signing us, but couldn't adapt to them wanting to change what we did. Wayne and I, the singer from the Rockids, were signed to Frank Sinatra's management company in the late eighties at the same time we were hanging out with Bon Jovi, recording demos in his basement. I figured the management company were just trying to turn us into another Bon Jovi band, which didn't work either. (laughs)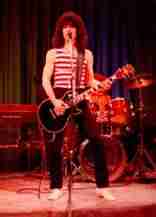 Gar Francis in Ricochet, 1981
Was it also around this time that you changed your name?
Yes, I did change my last name during the Ricochet days. My father loved Frank Sinatra but never called Sinatra Frank, it was always Francis.
Frank Sinatra is also a New Jersey native.
Yes, from Hoboken, about twenty minutes away from Plainfield.
Is your father still with us?
No, he passed away about eight years ago now. Time goes fast. The funny thing is my dad was more of a jock than a musician, playing baseball and basketball that earned him a lot of trophies. So it was weird that I became a musician.
Because you expected him to push you toward sports rather than music?
Exactly.
So did he encourage you to play music?
Not initially! (laughs)
Did he want you to play Frank Sinatra music?
He wanted me to learn to play Stardust, which was my parent's wedding song.
And did you?
I attempted it, yes! And then a few years later, I met the writer of Stardust... Hoagy Carmichael at a party. But unfortunately I don't remember anything about meeting him, other than meeting him. (laughs)
Tell me about working on Billy Idol's version of Mony Mony.
In Ricochet, we used to cover Bill Idol songs, and when the drummer from Ricochet played with a band called The Others, Billy Idol showed interest in joining them when he was planning to come over from England to form a band in the U.S. Before Idol got here however, The Others broke up because the guitarist had passed away. I was called in to play guitar on the session and sang background vocals with The Black Girls, who I love. I never met Billy, but a month after we did the session, the record came out with his vocals.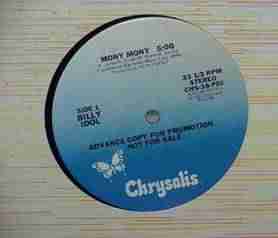 Tell me about Sticky Fingers, the Stones cover band you were in.
I always had insight to know when to get out of things before trouble started. Ricochet had outgrown the area and had hired a management company to help give us a step up. But all the management company really did was take a commission from jobs the band already had. There was no step up. Shortly after I joined Sticky Fingers, Ricochet's management company took everything the band had... light show, two trucks, sound, stage, the whole bit, and sued the band. Lee Fink, the other guitar player in Sticky Fingers, who I was always in competing bands with, actually got me the position of Keith Richards. The audition for Sticky Fingers was at Lee's house. I was sitting there with my guitar watching the singer do a fabulous Mick Jagger, when he came up to me and said, "Well, you look right. Do you smoke?" I said "yea". "Do you drink Jack Daniels?" "I happen to do that, yes", I replied. "We play on Friday," he said, and left. He didn't even hear me play! It was like you said about the punk bands... it was all about the look and the image. Sticky Fingers made a fortune. We would arrive in limousines with champagne, the whole bit.
Did Sticky Fingers perform mostly in the New Jersey area?
Yes, because New York wouldn't book cover bands, at least not at the time. And NYC bars could always tell if you weren't from New York. And if you weren't from New York, you weren't accepted.
How long did you play with Sticky Fingers?
For about two or three years, off and on, between other projects.
In all of the bands you play and have played in, attempts are always made to include your original material?
Always. Ricochet was a cover band, but by the time they broke up, we were doing 75% originals. Performing original songs was always where I wanted to go.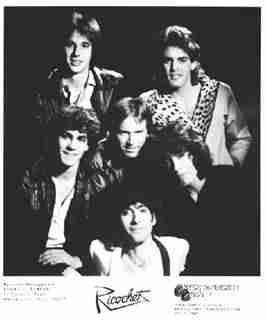 Ricochet: Robert Venturini, Mark Gazo,
Glenn McClelland, Gar Francis, Paul Garisto, Joe Grillo
Do you collaborate with other band members when you write?
I wrote with the singer of Ricochet, and I write with The Doughboys. I'll write stuff by myself and then ask the singer for input. I want to keep the band involved.
I went by The Bitter End today, and although I've never seen a show there, I know of its legendary status and that The Gar Francis Band has had regular gigs there.
Yes, and The Bitter End still looks exactly the same as it always has. I always wanted to play at The Bitter End. Bob Dylan played there, and what more can you ask for than that?
Were you in the recording studio today?
Yes, working on the new album for The Doughboys.
So tell me the story of how you joined The Doughboys.
The Doughboys were a big thing back in the sixties and idols of mine from high school. The singles from back then still make money today; vinyl singles that go for $17. It was in 2004 when the original guitar player for The Doughboys had fallen off the wagon and gone on a drug binge and I was asked to fill in for a few dates. I thought it would be a temporary thing, as Willy Kirchofer was a very talented and tremendous musician. But when he passed away, I joined full time. The Doughboys had such an energy and force, and I saw another opportunity to record original songs. The band was happy being a bar band playing covers, so I had to talk them into performing and recording originals. I would push my songs, but it wasn't until Little Steven picked up "Black Sheep" that everything changed. After that, the band started to think well, maybe I'm right.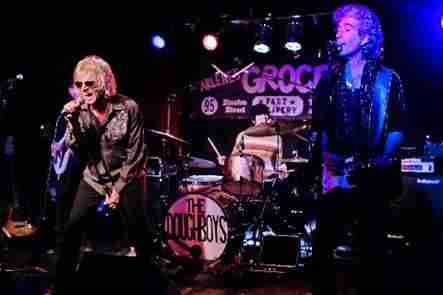 The Doughboys "Rock n Raw" at Arlene's Grocery NYC
Photo courtesy of Vanessa Joy Photography
So how did that song come to be? Were you the black sheep of the family?
Pretty much! (laughs). When I sat down to write that song, I was thinking about Myke Scavone, who went to my high school, and was always the cool guy. He would never talk to anybody. Playing together in The Doughboys, we got to know each other better. I found out that his coolness wasn't coolness at all. He was just really shy! I had the same thing going on. It may have appeared we chose to be separate from everybody, but we were really just shy. So I pulled elements from both of us into the song and that's how it came to be. To this day, Myke still doesn't really talk to anybody because he never knows what to say. I told him to just keep singing then. He's a great singer!
How did Little Steven become aware of "Black Sheep"?
Kurt Reil (The Grip Weeds) who produced our album and owned the studio where we recorded it kept saying, "Little Steven will love this! He'll love it!" So we sent the song in to The Underground Garage, and kept sending it in, until eventually Little Steven heard it, and that was it.
It's a killer song and I can see why Van Zandt would go for it.
Monique: Other bands cover the song now too.
Gar: Little Steven put songs up for vote every week on his radio program. There'd be 52 Cool Songs by the end of the year, and then he would put them up to vote for Coolest Song of The Year. "Black Sheep" came in at #2. And then he'd release a compilation. "Black Sheep" appears on Volume 7. What's funny is Mike Caruso's son just got a new car; a car with Sirius in it. The first time he gets in to the new car, what song comes on the radio? Black Sheep! (laughs)
The song "Why Can't She See Me?" was also voted by Little Steven's Underground Garage.
That was voted "Coolest Song of The Week", and it was Richie's song (Richard X Heyman). All together, we've had four songs voted by Little Steven's Underground Garage. One of them was a rocking cover of "Tuesday Afternoon" by The Moody Blues.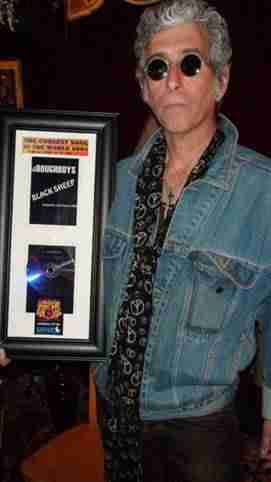 Gar Francis receives a plaque for Coolest Song in the World -
Black Sheep (photo courtesy of MoPromo Mgmt Co.)
Speaking of Myke Scavone and cool songs, wasn't he the same lead singer for Ram Jam, the vocalist on "Black Betty"?
Well that's a funny story. None of the original members of Ram Jam are actually on that song.
What?!
The guitar player of Ram Jam had another band in Ohio, and I forget what they were called, but he recorded "Black Betty" with this Ohio band as a demo and put it out as Ram Jam. The song became a hit, but the only original Ram Jam musician who plays on "Black Betty" is the guitar player. Scavone was the lead singer for everything else with Ram Jam.
Tell me about the song "Human Revival" that caught the attention of the John Lennon Songwriting Contest.
Mark Baxter, the drummer from the Rockids, is one of my closest friends. He grew up in Plainfield too, but moved to Boston where he's now a vocal coach for everyone you can think of (Goo Goo Dolls, Cyndi Lauper). We've written songs together over the years and Mark sent that one in. I believe that's the same song that also got us an honourable mention in Billboard, which I didn't even know about until years later. Mark wrote most of the lyrics.
With songs like "Rocket" that you wrote for the U.S. troops, and "Raise a Hand" that was inspired by Occupy Wall St, are politics on your mind a lot these days? Do you think we need more protest singers?
Yes, and the proceeds from "Rocket" will be donated to the veterans. You know, coming up in the sixties we thought we would make a difference. And maybe to a degree, we did. When I was young, people were always trying to change things. There was always some kind of movement; people getting involved. It doesn't seem that people want to be involved as much today. I still have some of that old school in me, and I ask "where are all those people today who wanted to change the world back then?" I don't know what's going to save us. I think we need a revolution.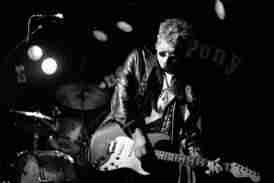 Gar Francis at The Stone Pony - Photo courtesy of Barry Davis
Some of the old protest singers did show up at Occupy Wall Street, like Crosby and Nash. And I think Bruce Springsteen is a protest singer, especially with the new album Wrecking Ball.
I've always respected Springsteen as a great lyricist; very inspirational lyric-wise. I think Tunnel of Love is a tremendous record.
Do you respect artists who enter the political arena?
Personally, I don't really like music that preaches politics. It's good that musicians make us aware of certain things, but they shouldn't preach just because they have a big mouth, especially when they don't really know what they're talking about.
John Lennon said a lot of things, expressed opinions that sometimes made him sound stupid and naive, but it's what endears him to many of us. I often wonder what John Lennon would have said if he'd been alive when 911 happened.
I love John Lennon. I love that he would always speak his mind, and how he stood up for women's rights. Like Howard Stern, he had the balls to stand up for things.
Howard Stern was recently on Letterman and admitted and apologized for some of the things he's said. He came across as quite sincere. Larry Flynt, the Hustler guy, is also incredible for not only exposing the hypocrites in politics and elsewhere, but he took his right for freedom of speech all the way to the Supreme Court and won.
I once worked for a guy who was a crack addict. He used to get arrested all the time. His family was involved in politics, and they had money. I happened to be at this guy's house when it was raided. Every cop car in town was in his driveway, and I thought to myself, he's done. Life is now over for him. But you know, this guy turned to every one of those cops and named everything they did. "You raped that girl in the basement of the police station... you did this, and you did that." The cops just stood there and didn't say a word. This guy knew the number of every one of them cops. He was still arrested (laughs), but that took a lot of balls!
"Turn Your Love of Me", another song you wrote was in a Jane Fonda film?
It was, but the film got scrapped. But the same song will be featured in the indie film "Fairhaven" which is premiering at the Tribeca Film Festival in a few weeks. And "Born Dainty" just got picked up for Hell or Highwater, a roller derby indie film out of Nashville. "Born Dainty" was only out for two weeks before it was picked up. Monique is great at getting the music out there. Actually, there are producers out of Canada looking at picking from some of my songs for a dvd about extreme sports.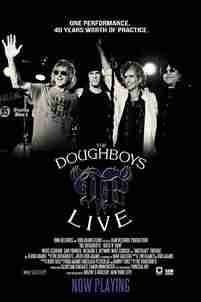 Photo courtesy of Vanessa Joy Photography
I watched the clip from the documentary "The Doughboys Live- Rock n' Raw", posted at the band's website, with a song featuring keyboardist John Hawken (The Nashville Teens, The Strawbs, Renaissance), and it rocks!
Yes, I wanted to work with John because he played on "Tobacco Road", one of my favourite songs. When I ran into him, I said, "John, you have to play on our record". He said, "Well you know, I'm getting a little old". I said, "No, you have to play on our record!" (laughs) John's a sweetheart.
I'd like to ask you about some of the songs you wrote that stood out for me. For instance, the song you wrote for Jana Peri called Ballerina of The Bowery has a Bo Diddley beat. Tell me about this song.
Initially I wrote it for the Doughboys because the Bo Diddley beat suits them. But they didn't want to do it, so I gave it to Jana.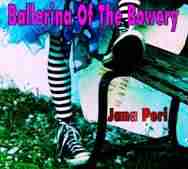 Album cover design by Monique Grimme
When I first listened to the song, "Come On, Come On" that you wrote for the Easy Outs, the sound of the keyboards immediately brought "96 Tears" to mind... the song written in 1966 by Question Mark & The Mysterians.
So it worked! Yes, I used the same keyboard sound from "96 Tears" intentionally, changing it around just a bit (laughs). We referenced the Everly Brothers on a song once, and a reviewer picked up on it right away. He named not only the Everly Brothers album in the review, but noted the catalogue number of the song that we referenced!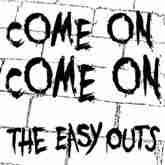 Album cover design by Gage Rowley
"She's Still Blue", a song title that caught my eye (from the solo album "The More Things Change, The More They Stay The Same"), contains the line "she's got scars her eyes can't hide". I watched the video, but I couldn't find the song on iTunes.
No, that song isn't on iTunes. The writing of that song initiated with a gay friend of mine whose father owns a company, a huge company in New Jersey that resurfaces roads. This friend of mine really wanted to get out of the family business, not really fitting in with the other construction workers. He's also a songwriter. His father gave him a ton of money to go out and do his own thing, but every time I talk to him there's always a problem. He's got money, a beautiful apartment in Hoboken, and yet there's always something wrong. And through his eyes, he's not fooling anybody.
Tell me something about Plainfield Slim... is he really you?
Yes he's me, but I try to keep him separate. I'll never use a picture of him on an album cover. The first album has a picture of a horse at a stable and after I put it up on Youtube, it got a lot of hits, and a lot of sales. And then I did a compilation with a friend of mine with a picture of Plainfield Slim and the sales dropped, especially in France. I wondered if maybe it was because people thought Slim was black, and obviously I'm not. When I put the first album cover up again, it started selling again. It's better if Plainfield Slim is perceived as an old black singer.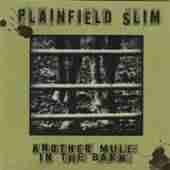 Album cover design by Scott Venittelli
So what are some of your upcoming plans?
I'm working on The Doughboys next album, and it's taking forever to complete, but the recording studio is my environment, so I can work all night. Something clicked long ago, and I don't try to understand it, but I write more now than I ever have; one after another. It really comes easy. When I do get stuck, I'll go to the beach or the mountains and try and forget about writing for a while, but I also realize that the times I write a lot are the times that I read a lot. I also get inspiration from watching and talking to people. Sometimes something somebody says, a line, will end up in a song. Some of my friends have stopped talking to me (laughs) because they think what they say or some part of their story will end up in a song. (laughs) I'm also starting a new project with someone, but I'm not able to talk about it yet. I don't want to jinx anything.
Doesn't the Gar Francis Band have a new EP?
Yes, Shine On, and we'll be debuting it next week at The Wonder Bar. I'll be working both bands that night, a set with The Gar Francis Band and a set with The Doughboys.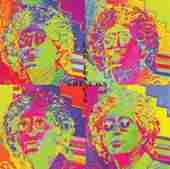 Album cover design Monique Grimme
You got a lot going on, don't you?
I want to keep working, and I'm really lucky that the guys I play with are committed musicians.
Gar Francis will appear on the red carpet at the Tribeca Film Festival in NYC for the premiere of Fairhaven on April 20th.
The Doughboys will appear at The Wonder Bar on April 21st and at Stanhope House, New Jersey on April 27th.
The Gar Francis Band will appear at Showtime in Belvedere, New Jersey on May 6th.
Gar Francis website...
www.garfrancis.com
The Doughboys...
http://www.thedoughboysnj.com/
Gar Francis on Youtube...
http://www.youtube.com/user/garfrancismusic
Bongo Boy Records website...
www.bongoboyrecords.com
About Lisa McDonald:
Otherwise known as Live Music Head, Ms McDonald has an enormous passion for music that keeps her tapping away at a keyboard. A freelance music writer living in downtown Toronto, Lisa is currently in conversation with musicians and entertainers, publishing articles at web-based magazines. She may be contacted at:
This email address is being protected from spambots. You need JavaScript enabled to view it.