Index
2025 Ballot: Smooth Sailing?
With both Joe Mauer and Chase Utley likely to be carried over from the 2024 BBWAA ballot while en route to Cooperstown, two newly-eligible candidates who are also Hall of Famers-in-waiting but who are also likely to not be voted into the Hall in their first year could start to make the Hall of Fame ballot somewhat crowded.
Of course, both CC Sabathia and especially Ichiro Suzuki could very well reach the 75-percent threshold necessary for Cooperstown election on their inaugural ballot, and if Mauer and Utley join them, the 2025 class for induction will look quite robust.
Of the other five players worthy of consideration but unlikely to even make it past this first ballot, Curtis Granderson, Ian Kinsler, and Brian McCann had fine careers with notable highlights, fitting into the familiar pattern of excellent players getting their nod of recognition for being in the small minority distinguished enough to be saluted but, ultimately, not qualified for the rarefied atmosphere of baseball's elite. As for the other two, Troy Tulowitzki also fits into another familiar pattern, that of the richly talented player whose career was marred by chronic health issues, reducing his playing time and effectiveness and making us ponder what might have been as a hard-luck case.
However, Ben Zobrist, a journeyman for his entire career whose playing record, at least on the surface, hardly suggests a traditional Hall of Famer, does not fit into a familiar pattern: As a "super-sub" whose ability to fill various positions and roles has become the norm for baseball in the last two decades, Zobrist, like the growing prominence of relief pitching, forces us to reconsider what is meant by "Hall-worthy" in a baseball environment that has fundamentally moved away from traditional patterns.
"No-Doubt Hall of Famer, Except . . . ": CC Sabathia and Ichiro Suzuki
Both marquee names throughout their careers, which intersected for a few seasons as teammates on the New York Yankees, starting pitcher CC Sabathia and right fielder Ichiro Suzuki would both seem to be locks for the Baseball Hall of Fame. Sabathia earned a reputation as a big-game pitcher while Suzuki, one of the most idiosyncratic baseball players in history, is the most successful Japanese-born MLB player ever, capping his career by joining the vaunted 3000-hit club. Yet both have aspects to their celebrated careers that might give BBWAA voters pause when it comes to checking their boxes on their ballots, as are outlined below. Both seem earmarked to enter the Hall of Fame—but that might not be on this first ballot for both of them.
CC Sabathia
In traditional terms, CC Sabathia checks many of the boxes for a Hall of Fame starting pitcher. He reached the 250-win and 3000-strikeout plateaus, one of only 14 pitchers in Major League history to do so, 13 of whom are in the Hall of Fame, as 24 fewer strikeouts separate Sabathia and first-ballot Hall of Famer Bob Gibson from having identical records in those two categories. Sabathia won a Cy Young Award and a World Series ring, and when he was traded from the Cleveland Indians to Milwaukee to help the Brewers with their postseason push, the intimidating southpaw performed brilliantly down the stretch.
But in a sabermetric era, Sabathia's 3.74 ERA and 116 ERA+ might give Hall voters pause to consider whether his run prevention was elite. After all, Mike Mussina's 3.68 ERA was deemed a factor in delaying his induction into the Hall (as was an impacted ballot), and Jack Morris's 3.90 ERA, which triggered heated debates about how Morris "pitched to the score, not to the stat sheet," was significant enough to deter his election by BBWAA voters, although not by veterans committee voters. Where CC Sabathia lands on this ballot will be fascinating.
Career highlights: Chosen for six All-Star teams. Won a World Series with the 2009 New York Yankees. Won the American League Cy Young Award and finished in the top ten for Cy Young voting overall five times. Finished in the top ten for National League Most Valuable Player voting once. Led the Major Leagues in wins twice, led the American League in games started and in shutouts (tied with other pitchers) twice each, led the Majors in innings pitched and in games started once each, led the AL in complete games once, and led the National League in complete games and in shutouts (tied with teammate Ben Sheets) once each. Had 12 years with 30 or more games started, eight years with 15 or more wins and with 200 or more innings pitched, and three years with 200 or more strikeouts. All-time rankings include 16th in strikeouts (3093), 28th in games started (560), 47th in wins (251), 53rd in bWAR for pitchers (62.0), and 82nd in strikeouts per nine innings pitched (7.78).
Career summary: Bursting into the Major Leagues with the Cleveland Indians in 2001, his age-20 year, Carsten Charles Sabathia won 17 games against just five losses, a .773 win-loss percentage, as he struck out 171 in 180.1 innings pitched and would have been the American League Rookie of the Year were it not for the Seattle Mariners' Ichiro Suzuki and his historic season. Two years later, Sabathia was named to the first of six All-Star teams as the hulking left-hander developed into the Indians' workhorse, starting at least 30 games every season and pitching at least 190 innings in all but one season during the seven full seasons he pitched for the Indians.
Sabathia capped his Cleveland career with a Cy Young Award in 2007 as in 34 starts and 241.0 innings pitched, both career highs, he won 19 games against just seven losses, a sparkling win-loss percentage of .731, while striking out 209 hitters and walking just 37 for a Major League-leading 5.65 strikeouts-to-walks ratio, another career high. Competition for the AL Cy Young was fierce, and it was essentially a toss-up among Sabathia, Josh Beckett, John Lackey, and Sabathia's teammate Roberto Hernandez, all of whom fell into a bWAR range from 6.2 to 6.5, although BBWAA voters awarded Sabathia 19 of 28 first-place votes.
Sabathia's worth was proved the following season. The Indians, out of playoff contention in 2008 after having lost the 2007 American League Championship Series to the Boston Red Sox in seven games after having taken a 3–1 lead in the series, traded him to the Milwaukee Brewers, who were in contention for the postseason and needed an ace pitcher for the push. Sabathia came through in the clutch: In 17 starts for the Brewers, he won 11 games, lost only two, posted a superb 1.65 ERA, and even managed to lead the National League in complete games (7). In fact, Sabathia managed to tie for the league lead in shutouts in both the AL (3) and the NL (3, tied with teammate Ben Sheets) as his 251 total strikeouts were a career high.
For the 2009 season, Sabathia had signed a seven-year, $161 million deal with the New York Yankees, at the time the largest pitcher contract in MLB history. Again Sabathia proved himself a big-game pitcher with a Major League-leading 19 wins and just eight losses with a 3.37 ERA as he started 34 games and pitched 230.0 innings while falling three K's shy of 200 strikeouts. He finished fourth in AL Cy Young voting, but more importantly, he helped lead the Yankees to their first World Series victory in nine years (that's a lifetime for Yankees fans). Even more crucially, Sabathia, who had struggled in the postseason previously, was named the AL Championship Series Most Valuable Player as he won two games with a combined 1.13 ERA against the Los Angeles Angels on his way to winning his only World Series ring.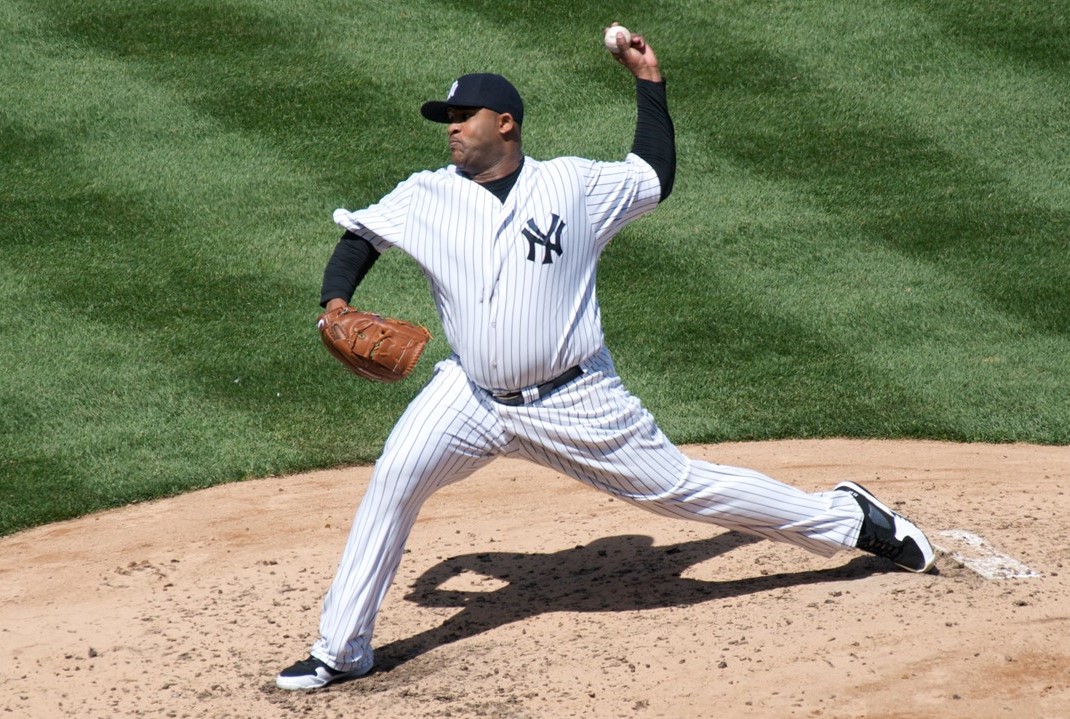 Like so many before him, workhorse starter CC Sabathia's stint with the New York Yankees provided the pinnacle to his Hall of Fame career.

In 2010, Sabathia was even better, again leading the Majors in wins (21) while losing just seven with a 3.18 ERA as he finished third in AL Cy Young voting. Significantly, the winner, Felix Hernandez of the Seattle Mariners, posted a middling 13–12 win-loss record, but he struck out 232 batters while brandishing a 174 ERA+ and a Major League-leading 2.27 ERA—proof that sabermetric analysis was surely eclipsing more traditional measures.
Still, Sabathia was strong no matter how you evaluated his performance. In his first four seasons in New York, his age-28 through his age-31 years, he recorded a 3.22 ERA, a 135 ERA+, and a 3.28 FIP as he averaged, per year, 32 games started, two complete games, 18 wins against just seven losses, 226 innings pitched, and 205 strikeouts. In three of four years, he was selected for an All-Star squad and finished in the top five for Cy Young voting.
But by 2013, injuries began to weaken Sabathia's performance as that season saw his ERA mushroom to 4.78 while marking the last time he would pitch at least 200 innings, ending a streak of seven straight seasons with 200 or more innings pitched. Sabathia continued to amass career milestones including 500 games started, 3500 innings pitched, and of course, in his final season in 2019, 250 wins and 3000 strikeouts. However, in Game Four of the 2019 ALCS against the Boston Red Sox, he had to be taken out from a relief appearance by a shoulder injury as CC Sabathia pitched until he could pitch no more.
Verdict: JAWS ranks CC Sabathia 71st all-time among starting pitchers, which puts him just above Hall of Famers Don Sutton and Early Wynn, with fellow southpaws Sandy Koufax and Whitey Ford below them. Sabathia is probably not going to be elected in his first year of eligibility. He has already been described as equivalent to Andy Pettitte, who, as of 2020, has secured just 11.3 percent of the vote in two ballots with a JAWS score and overall bWAR rating just below Sabathia's—and Pettitte has a much stronger postseason legacy than does Sabathia. Ironically, though, Sabathia's old-school approach and traditional milestones of legacy could make his path to Cooperstown a smoother one. CC Sabathia should be making his induction speech before the decade of the 2020s closes.
Ichiro Suzuki
If nothing else, Ichiro Suzuki is unique among any Hall of Fame candidate in Major League Baseball history. Among the first Japanese position players ever to play MLB baseball, Suzuki is the only one to have thrived for any significant amount of time, particularly after entering American baseball in his age-27 year following his nine-year tenure in Nippon Professional Baseball, where he established himself as a superstar. Exploding onto the American baseball scene in 2001, Suzuki's idiosyncratic mode of play—precision place-hitting that took advantage of his speed—was more in line with the "hit 'em where they ain't" approach of Willie Keeler from a century earlier, and hardly the norm in a period in which hitters were swinging for the fences during every at-bat, strikeouts be damned.
It paid off in spades for Ichiro, who, despite his disdain for hitting for power, demonstrated right off the bat that he was more than willing to deploy the other four tools—running, throwing, fielding, and hitting for average—in the five-tool kitbag. After breaking the 84-year-old record for the most hits in a single season in 2004, Suzuki went on to amass 3000 hits by 2016 to join that prestigious club, practically a golden ticket to the Hall of Fame. Alas, herein lies the rub: Despite a remarkable decade-long run beginning with his (MLB) rookie year, Suzuki stopped being an elite player by 2011, his age-37 season, as his OPS+ fell to 86, below league-average. Yet he hung on grimly for another eight years as a part-time, substitute player, one who, save for his 2016 season, never again rose above league-average. How this will affect voters is another fascinating question.
Career highlights: Selected to the All-Star team in ten consecutive years. Voted the American League Rookie of the Year. Voted the American League Most Valuable Player; finished in the top ten for MVP voting four times total; became only the second player ever to be named MVP and Rookie of the Year. Won ten consecutive Gold Glove Awards. Won three Silver Slugger Awards. Led the AL in hits seven times, including a record 262 hits in 2004; led the AL in batting twice and in stolen bases once. Had ten consecutive years with 200 or more hits; had ten years with 30 or more stolen bases, eight of them consecutively; had eight consecutive years with 100 or more runs scored. Had ten consecutive years with a batting average of .300 or better, and four years with a batting average of .350 or better. Ranks 6th all-time in singles (2514), 24th all-time in hits (3089), 35th all-time in stolen bases (509), 90th all-time in runs scored (1420).
Career summary: Arriving in the United States amidst tremendous anticipation in 2001, Ichiro Suzuki did not disappoint anyone: Installed in right field for the Seattle Mariners, he merely led the American League in batting average (.350) and the Major Leagues in hits (242) and stolen bases (56), that last a career high as he established career bests for doubles (34), runs scored (127), and runs batted in (69); meanwhile, the season was just about one week old when the Oakland Athletics' Terrence Long learned not to take an extra base on Suzuki's rifle arm, which gunned him down trying to go first-to-third.
In his first year in the American Major Leagues, Ichiro replicated a feat accomplished only once previously, in 1975 by Fred Lynn of the Boston Red Sox: Suzuki was not only named to the AL All-Star team, he won awards for being the AL Rookie of the Year and Most Valuable Player along with the first of ten consecutive Gold Gloves—and then Suzuki topped Lynn by winning a Silver Slugger Award. (In fairness, the Silver Slugger was first instituted in 1980, and Lynn, who had led the AL in doubles and slugging percentage, would most likely have been awarded a Silver Slugger had it existed in 1975.)
Oh, and the Mariners didn't do too badly, either, as their 116 regular-season wins set the new AL mark and tied the 1906 Chicago Cubs for the most team wins all-time. Suzuki continued his sizzling pace into the postseason, batting .600 and scoring four runs in Seattle's five-game victory over CC Sabathia's Cleveland Indians. However, the New York Yankees cooled Suzuki's and the Mariners' jets in the American League Championship Series by holding Suzuki to just four hits in their five-game defeat of Seattle.
Although the Mariners have yet to make the postseason since 2001, Ichiro went on to become one of Seattle's most distinguished players, impressive when you consider that Hall of Famers Ken Griffey, Jr. and Edgar Martinez were his teammates while the memories of Álex Rodríguez and Hall of Famer Randy Johnson remained bright when he arrived—although Suzuki managed to make Johnson's uniform number, 51, all his own. Suzuki also made all his own ten straight years with at least 200 hits, the longest streak in baseball history, a batting average of .300 or better, an annual All-Star Game selection, and an annual Gold Glove Award. His 54.8 bWAR over this decade-long stretch averaged 5.5 bWAR annually, which is at the All-Star level.
In 2004, Suzuki broke Hall of Famer George Sisler's 84-year-old record of 257 hits in a single season by five hits, which at the time sparked asterisk-like debate as Sisler set his record in a 154-game season while Ichiro had a 162-game season. Suzuki also led the Majors in batting average with .372, tied for the seventh-highest batting average for any hitter in the Integration Era (since 1947), and the highest qualified batting average so far in the 21st century. (Nomar Garciaparra and Todd Helton both hit .372 in 2000, but that is technically the last year of the 20th century.)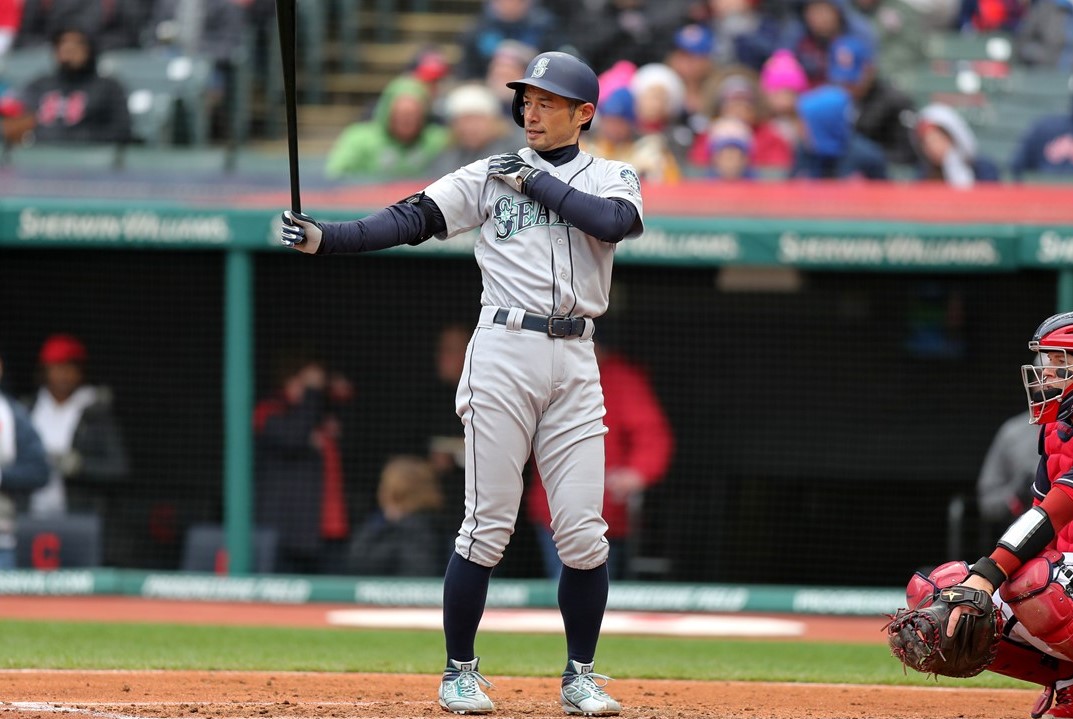 Ups and downs. Was Ichiro Suzuki's stellar decade with the Seattle Mariners enough for the Hall of Fame? Did he need to reach 3000 hits?

Then came 2011, Ichiro's age-37 year, which saw the left-handed hitter's batting average drop to .272, with his entire slash line reading .272/.310/.335/.645 and generating an OPS+ of 86. Suzuki's bWAR for the year was 0.6. His 2012 season saw marginal improvements due primarily to his mid-season trade to the New York Yankees as in 67 games and 240 plate appearances he produced a .322/.340/.454/.794 slash line, good for a 113 OPS+, as the Yankees made it into the postseason, but even though Ichiro flashed a .353/.389/.529/.918 slash line with one home run and two RBI in the AL Championship Series, New York's four-game sweep by the Detroit Tigers spelled the last chance for Suzuki to play in the World Series.
Suzuki returned to the Yankees for two more seasons before playing with the Miami Marlins for three years starting in 2015, and while he scratched his way to league-average (102 OPS+) with the 95 hits he collected to push him into the 3000-hit club in 2016 (and the ten bases he stole to push him into the 500-theft club), it was a sad, grim spectacle seeing Suzuki, now superannuated in his early forties, a part-time vestige still hanging on even after he attained his milestone. Suzuki himself knew it: In mid-2012, he had asked to be traded, knowing that he was taking a roster spot better suited to a younger player in Seattle's rebuilding program. So why did Ichiro feel compelled to hang around?
In 2012, his age-37 year, I first wrote about Suzuki and his chances for the Hall of Fame at that time. At 2244 hits and 54.8 bWAR, he was a borderline pick light on volume but with that ten-year streak unmatched by anyone since the deadball era, weirdly anachronistic in and of itself. Then, before the 2016 season began, as Ichiro was closing in on 3000 hits, I wondered if he was the real Mr. 3000 and whether he needed to reach 3000 hits to reach the Hall of Fame. He had come off a season that saw him hit just .229 in 438 plate appearances; he had never worked walks and, at that point, probably couldn't hit for power even if he wanted to—his slugging percentage was .279, three points lower than his on-base percentage, generating an OPS+ of 58, which would spell "designated for assignment" for any player, especially a 41-year-old, were they not named Ichiro Suzuki.
Verdict: JAWS ranks Ichiro Suzuki 16th all-time among right fielders, which puts him ahead of Dave Winfield and Vladimir Guerrero, who needed two shots at being elected to the Hall of Fame in 2018, albeit on an impacted ballot. On the other hand, 10th-ranked Larry Walker encountered continual resistance before he squeaked in on his final ballot. Moreover, Dwight Evans and Reggie Smith, who flank Suzuki at 15th- and 17th-place, respectively, made hardly a blip on BBWAA ballots back in their day, although Evans made an encouraging showing on the 2020 Modern Baseball Era Committee ballot.
The greatest Japanese baseball player, bar none, in Major League Baseball history will nevertheless find himself under scrutiny certainly for hanging around too long, and possibly for not fitting the mold of the contemporary metric-aware hitter. Ichiro looked great when he was hitting well above .300, but when his batting average went south, it took the rest of his slash line with it, making him look in need of a replacement player. The first ten years of his career produced 54.8 bWAR; the last nine years yielded 4.9 bWAR. Thus, it is likely that Ichiro Suzuki will hang around on the BBWAA ballot for some indeterminate time, but in time he will find himself in Cooperstown.
One and Done: Curtis Granderson, Ian Kinsler, Brian McCann, Ben Zobrist
All four of these players attained distinction enough to merit their consideration for a Hall of Fame ballot, yet all four are likely not to survive their first appearance on a BBWAA ballot. Center fielder Curtis Granderson combined power, speed, and defense in sufficient quantities to serve as a lineup fixture for several teams, but his career was not exceptional enough to warrant extended consideration. Ian Kinsler was an excellent, and sometimes overlooked, second baseman on both sides of the ball, but although he was solid and consistent throughout his career, he doesn't emerge as one of the best second basemen of all time. A throwback to the old hard-slugging, base-clogging catchers of yore, Brian McCann was recognized as an excellent offensive catcher during his career, but he too doesn't rise up to Hall of Fame levels.
And while Ben Zobrist is unlikely to impress voters as a traditional second baseman, his entire career as a "super-utility player" underscores how much baseball has changed in the last two decades or so as rosters evolved to add pitchers at the expense of position players, forcing the latter to become more flexible and more proficient at other positions—a situation in which Zobrist thrived. In turn, his career forces a reappraisal of how we perceive Hall of Fame worthiness.
Curtis Granderson
In his 16-year career, center fielder Curtis Granderson played for nine teams, truly a journeyman who could provide solid defense, get on base, and hit for power. Every few seasons, the left-handed hitter provided a different surprise, although the one constant was his high strikeout rate as he hit triple digits in whiffs 12 times including an American League-leading 174 in 2006; his 1916 career punch-outs are tenth all-time. Granderson did hit 23 triples in 2007, tied for 22nd all-time and is the best single-season mark in the Integrated Era.
Career highlights: Chosen for three All-Star teams. Finished in the top ten for American League Most Valuable Player voting twice. Appeared in two World Series, once each with a different team. Led the league in triples twice, and runs scored, runs batted in, and strikeouts once each. Joined the 20-20-20-20 club by hitting at least 20 doubles, triples, and home runs and by stealing at least 20 bases in a single season. Had six years with at least 25 home runs. Had four years with at least 100 runs scored. Had three years each with at least 30 doubles, with at least 10 triples, and with at least 20 stolen bases. Had two years with at least 100 runs batted in.
Career summary: Drafted by the Detroit Tigers, Curtis Granderson made his debut in 2004 and by 2006 he was the Tigers' starting center fielder, conspicuously leading the American League in strikeouts (174) although he did slug 13 triples and 19 home runs while scoring 90 runs as the Tigers went to the World Series.
In 2007, "The Grandy Man" put a "20" across four offensive categories when he hit 38 doubles, a Major League-leading 23 triples, 23 home runs, and stole 26 bases, becoming just the third hitter in MLB history to reach at least 20 in those categories; coincidentally, Jimmy Rollins joined that club three weeks after Granderson as both were the first to do so since Willie Mays a half-century earlier. Granderson also established career highs in hits (185) and batting average (.302). Granderson again led the AL in triples (13) in 2008, and the following season he slugged 30 home runs, the first of four seasons with 30 or more long balls as he made the first of three AL All-Star teams.
Traded to the New York Yankees for the 2010 season, Granderson made a fair showing with 24 home runs and 76 runs scored, but with 41 home runs the next year, he blossomed in the Big Apple by leading the Majors in runs scored (136) and the AL in runs driven (119), both career bests, as were his .552 slugging percentage, .916 OPS, and 142 OPS+, and in addition to being named to the AL All-Star squad, he finished fourth in voting for AL Most Valuable Player. Although Granderson's batting average dropped 30 points in 2012, to .232, he still slugged a career-high 43 home runs while scoring 102 runs and driving in 106 runs on his way to his third All-Star appearance.
Hampered by injuries stemming from two separate hit-by-pitch incidents, Granderson played just 61 games in 2013, his age-32 season, and after the Yankees granted him free agency, he moved across town to a four-year, $60 million deal with the Mets. He also moved over to right field, an indication of his decline phase, although in three full years with the Mets, he averaged, per year, 28 doubles, 25 home runs, 86 runs scored, 65 RBI, eight stolen bases, and a 116 OPS+. Traded to the Los Angeles Dodgers late in the 2017 season, Granderson helped the Dodgers for their pennant drive but did not make the postseason roster. Then, facing his age-37 season in 2018, Granderson split time with three clubs before announcing his retirement after the 2019 season.
Verdict: Curtis Granderson was a fine power-speed offensive player throughout his career, hitting 346 doubles, 95 triples, and 344 home runs (tied for 98th all-time with Jose Bautista), stealing 153 bases, and scoring 1217 runs as he batted leadoff for most of his career. He also gets a defensive boost from starting 1166 games in center field with a 3.5 dWAR and 25 defensive runs saved, although his defensive runs above average is minus-24. JAWS ranks Granderson 33rd all-time among center fielders, just a tick above Torii Hunter, and he will not return for any subsequent ballots.
Ian Kinsler
Overcoming asthma to thrive as a Major League second baseman, Ian Kinsler was solid offensively and excellent defensively during his 14-year career, spent primarily with the Texas Rangers, although he was with the Boston Red Sox when they won the 2018 World Series. Kinsler is one of twelve Major Leaguers to have joined the 30-30 Club—hitting at least 30 home runs and stealing at least 30 bases—more than once.
Career highlights: Selected to four All-Star teams. Won a World Series ring with the Boston Red Sox in 2018; played in three World Series overall. Won two Gold Glove Awards. Had seven years with 150 or more hits, six of those consecutively, and seven years with 30 or more doubles, five of those consecutively. Had three years with 25 or more home runs. Had 30 or more home runs and 30 or more stolen bases in the same season twice.
Career summary: In his very first Major League at-bat to start the 2006 season with the Texas Rangers, Ian Kinsler got off to an auspicious start: he singled off Boston Red Sox legend Curt Schilling. In 120 games and 474 plate appearances, the right-handed hitter posted a respectable .286/.347/.454/.801 slash line, generating a 105 OPS+, with 27 doubles, 14 home runs (his first coming just two games after his knock off Schilling), 11 stolen bases, 65 runs scored, and 55 runs driven in for his rookie season.
Kinsler spent his first eight seasons in Texas, establishing his reputation as an outstanding two-way second baseman highlighted by two 30-30 seasons: 2009, when he hit 31 home runs and stole a career-high 31 bases, and 2011, when he slugged a career-high 32 long balls and swiped 30 bags, becoming the twelfth player in Major League history to have multiple 30-30 seasons. From 2006 to 2013, Kinsler posted a .273/.349/.454/.804 slash line, generating a 111 OPS+ and 4.4 bWAR, as he averaged, per year, 143 hits, 31 doubles, 20 home runs, 22 stolen bases, 94 runs scored, and 67 RBI.
The knock on Kinsler was a tendency toward injury as he averaged 133 games played per season. Still, he was named to three All-Star teams during his Texas tenure—and grumblings among media and baseball insiders indicated that the sure-handed second baseman, who recorded 39 defensive runs above average and 49 defensive runs saved over eight years, should have been named to more All-Star squads.
Moreover, Kinsler's stock was so robust that the Rangers brokered a straight-up trade with the Detroit Tigers for their slugging first baseman Prince Fielder, who had already joined the 50-home-run club, for the 2014 season, Kinsler's age-32 year. He responded to the change of scenery with career highs in games played (161), plate appearances (176), and at-bats (684), leading the Major Leagues in the last two categories, with more career bests in hits (188) and runs batted in (92) as he was named an All-Star for the fourth time. Kinsler continued to be solid for the Tigers, winning his first Gold Glove in 2016, his age-34 year, but he began to slip offensively as his .236 batting average was the lowest of his career, and he fell below league-average (as measured by OPS+) for just the second time.
The Tigers traded Kinsler to the Los Angeles Angels for the 2018 season, and by the trade deadline he was on the move cross-country to the Boston Red Sox to shore up their infield for their postseason push, which saw the Sox win the World Series for the fourth time since 2004—albeit with subsequent allegations of sign-stealing—as Kinsler, who had been with Texas when they lost back-to-back Series in 2010 and 2011, respectively, won his only World Series ring. Kinsler's final season, 2019, his age-37 year, was with the San Diego Padres, and a neck injury ended it prematurely. In his final game, an August home game that saw the Tampa Bay Rays routing San Diego by a 10–2 score, he pitched a scoreless top of the ninth inning—albeit after giving up two walks, a hit, and a hit by pitch, with a double play tucked in between—then hit a two-run home run in the bottom of the inning. It was his 1999th hit.
Verdict: Ian Kinsler fell one hit shy of 2000 career hits, and without sounding glib or mean, he also falls just short of the Hall of Fame. JAWS does rank Kinsler 18th all-time among second basemen, a tick ahead of Hall of Famer Billy Herman and below Joe Gordon. Kinsler is practically even with Jeff Kent in overall bWAR, and whether Kent, whose final year on the ballot will be 2023, is voted into the Hall could impact Kinsler's chances. Kinsler was overlooked and underappreciated for much of his career, which cuts both ways: He was an excellent performer but not a literally outstanding one, a seasonal league-leader in a significant offensive category or a career leader in a traditional volume or an advanced rate category. Like Adrián González or Matt Holliday, Ian Kinsler belongs in the Hall of Very Good.
Brian McCann
In many ways a throwback to earlier eras, Brian McCann was an old-school catcher, slow-footed on the basepaths while slugging the ball and driving in runs. The left-handed hitter was also durable over his 15-year career, with ten of those years spent with the Atlanta Braves, as he played in at least 100 games for eleven consecutive seasons. His veteran presence contributed to the Houston Astros' 2017 World Series championship, although their notorious sign-stealing scandal has tainted that accomplishment, and whether those reverberations will continue to ripple when Brian McCann hits this ballot is an open question.
Career highlights: Selected for seven All-Star teams. Won a World Series championship in 2017 with the Houston Astros. Won six Silver Slugger Awards. Had ten years with 20 or more home runs, nine of them consecutively, six consecutive years with 120 or more hits, five consecutive years with 25 or more doubles, and five years with 85 or more runs batted in, four of them consecutively. Played in at least 100 games for eleven consecutive years, and started at least 100 games at catcher for nine seasons, seven of them consecutively.
Career summary: Debuting with the Atlanta Braves in 2005, his age-21 year, Brian McCann served as Hall of Famer John Smoltz's personal catcher in limited service before becoming the Braves' starting catcher the following year. McCann blossomed in his first full year, banging out a .333/.388/.572/.961 slash line, generating a career-best 143 OPS+, as he slugged 34 doubles and 24 home runs while knocking in 93 runs to garner his first All-Star nod and his first Silver Slugger Award.
That 2006 season ushered in a streak of durability and consistency that lasted eleven years, eight of them with the Braves, and three of them with the New York Yankees. From 2006, McCann's age-22 year, to 2016, he posted a .266/.340/.461/.801 slash line, good for a 113 OPS+, as he averaged, per year, 122 hits, 24 doubles, 22 home runs, 57 runs scored, and 79 RBI. McCann was better in his first six years, as he hit .270 or better in five of those seasons—just missing that mark by one point in 2010—which is not surprising for one who straps on the catcher's "tools of ignorance" on a full-time basis, and for seven consecutive years, from 2006 to 2012, McCann started at least 100 games behind the plate. In six of those years, he went to the All-Star Game, and in five of them, he won a Silver Slugger Award.
Brian McCann had to produce offensively because as a defensive catcher he was a liability. In 2009, he led the National League in passed balls (7) and the Major Leagues in errors by a catcher (12), and over his career he allowed 897 baserunners to steal a base off him, with a career high of 104 in 2011, while throwing out just 297 baserunners for a career average of 25 percent, three points lower than the league average during his playing days. As a catcher, McCann finished with a minus-two in defensive runs above average, although he does have 18 defensive runs saved at the position.
For the 2014 season, McCann signed a five-year, $85 million deal with the New York Yankees as he hit 23 home runs and knocked in 75 runs in his first season in the Bronx. He topped himself the following year with a career-high 26 long balls while matching his season-best mark in RBI with 94. But by 2016, the Yankees were eager to test Gary Sanchez behind the plate, slotting McCann into the designated-hitter spot, and by 2017 he had been traded to the Houston Astros.
In limited action, McCann smacked 18 homers and drove in 62 runs in his contribution to the Astros' successful run to their first World Series victory; he hit two RBI doubles against his old team the Yankees in Games Six and Seven of the American League Championship Series, and he was the Astros' starting catcher in all seven World Series games against the Los Angeles Dodgers, hitting a key home run against them in Game Five. By 2018, his age-34 year, McCann was officially a part-time player, and after a valedictory stint with the Braves, he retired.
Verdict: Ranked 32nd by JAWS, Brian McCann is ahead of only Rick Ferrell on the all-time list of catchers inducted into the Hall of Fame for their playing records. Among catchers in the Hall, McCann's dWAR of 7.7 is better than that of Ernie Lombardi, Mike Piazza, and Ted Simmons, but as a backstop better known for his hitting ability, McCann's oWAR cannot match theirs. Another strike against McCann is his membership on the 2017 Houston Astros and any involvement he might have had in their sign-stealing scandal; Astros' teammate Carlos Beltrán's treatment after his 2023 debut on a BBWAA ballot might provide some insight into how much weight the scandal plays on voters' decisions. But even without that complication, Brian McCann is unlikely to survive more than one appearance on a Hall of Fame ballot.
Ben Zobrist
Possessing a number of amazingly useful tools, Ben Zobrist became, in a number of ways, the face of contemporary baseball—and possibly a face of the modern Hall of Famer. The switch-hitter started at least 100 Major League games at four positions, most frequently at second base, and in his 14-career he had started at least one game at every position on the diamond, including designated hitter, except at catcher and pitcher—and he did eventually pitch one inning late in his career. Gaining notice as a key cog in manager Joe Maddon's unorthodox Tampa Bay Rays teams of the 2000s, and again with Maddon while with the Chicago Cubs during their historic 2016 season, Ben Zobrist epitomized the "super-utility man" integral to lineups and positioning considerably more fluid than in more traditional baseball eras.
Career highlights: Selected to three All-Star teams. Participated in three World Series, with three different teams, winning back-to-back world championships with the Kansas City Royals in 2015 and with the Chicago Cubs in 2016; was named the Most Valuable Player in that 2016 World Series. Finished in the top ten for MVP voting once. Led the Major Leagues in sacrifice flies once. Had nine years with 25 or more doubles, eight of them consecutively. Had four consecutive years with 150 or more hits. Had four years with 90 or more walks, and three years with 90 or more runs scored.
Career summary: Ben Zobrist didn't reach the Major Leagues until 2006, his age-25 season, and when he did, he spent three undistinguished years as a backup shortstop for the Tampa Bay Rays (known as the Devil Rays until 2008).
But in 2009, "Zorilla" broke into the starting lineup in a big way, posting in 599 plate appearances a .297/.405/.543/.948 slash line, good for a career-high 149 OPS+ (his slash line save for batting average also comprised career-bests), as he slugged 28 doubles and a career-best 27 home runs while scoring 91 runs and driving in 91 runs, another personal best. He was named to his first All-Star team while finishing eighth in voting for the American League Most Valuable Player—and all this after Zobrist, starting 81 games at second base and 37 games in right field, started at least one game at six other positions. Moreover, Zobrist's 8.6 bWAR, another career-best, was tops among AL position players and was the third-highest among all players in MLB.
After a sophomore slump in 2010, which saw him dip to below league-average in OPS+, the only season he did so while qualified for league-leadership in an offensive category, Zobrist recovered to become a reliable fixture in the Rays' lineup. For a six-year stretch, from 2009 to 2014, Zobrist put up a .270/.364/.437/.801 slash line, generating a 123 OPS+, while averaging, per year, 153 games played, 658 plate appearances, 152 hits, 35 doubles, 16 home runs, 86 runs scored, 76 runs knocked in, 84 walks, 16 stolen bases, and 6.0 bWAR, above All-Star grade. In 2011, he matched his career high in RBI (91) while slugging 46 doubles, his best mark in that category. Other personal bests include 168 hits in 2013 and 24 stolen bases in 2010.
Traded to the Oakland Athletics in 2015, his age-34 year, Zobrist also experienced his first significant knee injury, as he played in just 126 games overall. However, he was dealt to the Kansas City Royals at the July trade deadline and helped to guide them into the postseason, culminating with the Royals' second-ever world championship against the New York Mets. Zobrist started every postseason game at second base and hit two home runs against the Toronto Blue Jays in the American League Championship Series.
Reuniting with Joe Maddon, his Tampa Bay manager, in 2016, Zobrist signed with the Chicago Cubs for $56 million over four years, helping the Cubs to their historic postseason. He was undistinguished in the National League Division and Championship Series, but in the epic seven-game World Series against the Cleveland Indians, which saw the Cubs win their first world championship since 1908—the longest drought between World Series victories in Major League history—Zobrist came alive, banging out ten hits, including two doubles and a triple, while scoring five runs and driving in two runs, with a .357/.419/.500/.919 slash line. Zobrist capped his second World Series victory by being named the World Series MVP.


Uber-utility player Ben Zobrist. Does his unusual yet distinctive career indicate what future Hall of Fame players will look like from now on?

Ben Zobrist played out his four-year term in Chicago and even batted a career-best .305 in 520 plate appearances in 2018, his age-37 year, but after limited playing time in 2019, he announced his retirement prior to the 2020 season.
Verdict: JAWS ranks Ben Zobrist 25th all-time among second basemen, and although he played half of his defensive games at second, JAWS doesn't tell the whole Zobrist story (although the bWAR used to calculate JAWS does not segregate WAR value by position). Zobrist's 44.5 bWAR is below that of most non-catcher position players in the Hall of Fame, but he is not a typical position player, and he would not be a typical Hall of Famer. Hampering Zobrist further is that he didn't debut in the Major Leagues until his age-25 year, and he didn't become a full-time player until his age-28 year, and with a negligible final season, his effective career was ten years—which makes his 44.5 bWAR look more impressive, if not necessarily convincing.
Baseball has changed significantly in the last few decades, with the emphasis on large bullpens reducing the number of position-player slots on the roster, in turn compelling position players to be competent at more than one position. Ben Zobrist provided the model for that super-utility player able to step into multiple positions and deliver offensively and defensively. Whether that is Hall of Fame-worthy is debatable, and Zobrist deserves to stay on the ballot for several more balloting rounds in order to facilitate that debate. That is up to BBWAA voters to decide.
Hard Luck: Troy Tulowitzki
Runner-up to Ryan Braun in 2007 voting for National League Rookie of the Year, Troy Tulowitzki, in his age-22 year, looked to be the heir to Cal Ripken, Jr., Derek Jeter, and Alex Rodríguez as an excellent defensive shortstop who could also swing the lumber in the middle of the batting order. The rangy right-hander quickly became a star for the Colorado Rockies, making five National League All-Star squads and finishing in the top ten for NL Most Valuable Player voting three times. But starting in 2008, Tulowitzki began the first of several stints on the injury list that limited his playing time throughout his 13-year career.
Career highlights: Selected to five All-Star teams. Runner-up for 2007 National League Rookie of the Year Award. Finished in the top ten for Most Valuable Player voting three times. Won two Gold Glove and Two Silver Slugger Awards each. Had six years with 25 or more doubles, four years each with 25 or more home runs and with 90 or more runs batted in, three years with 160 or more hits, and two years with 100 or more runs scored.
Career summary: Picked seventh overall by the Colorado Rockies in the 2005 draft, Troy Tulowitzki played just 126 games in the minor leagues before getting the September call-up to the big-league team in 2006, although a knee injury that year offered a portent of his career to come. Nevertheless, "Tulo" made an auspicious entrance as the Rockies' shortstop in 2007 as in 682 plate appearances, which would remain his career high, he tattooed a .291/.359/.479/.838 slash line, generating a 109 OPS+, with 33 doubles and 24 home runs among his career-best 177 hits while scoring a career-high 104 runs and missing the century mark in RBI by one.
The Milwaukee Brewers' Ryan Braun just eked past Tulowitzki for National League Rookie of the Year honors, 128 points to 126, although the Colorado shortstop had a 6.8 bWAR, another career best, to Braun's 2.0 bWAR. Tulowitzki also established himself as a Gold Glove-caliber fielder, leading all Major League shortstops in putouts (262), total chances (834), double plays turned (114), fielding percentage (.987; all-time best by a rookie shortstop), and range factor (5.39), although the actual Gold Glove went to the Philadelphia Phillies' Jimmy Rollins in his Most Valuable Player year. Tulowitzki's heroics continued into the Rockies' postseason as he had four hits, three for extra bases, in the thrilling NL wild card tie-breaking game against the San Diego Padres that Colorado won in extra innings, sending them all the way to the World Series, where they were swept by the Boston Red Sox.
It's tempting to say that it was all downhill for Tulowitzki after that because injuries limited him to 101 games in his 2008 campaign, but he did rebound the following season. In fact, his three-year span from 2009 to 2011 demonstrated what a healthy Troy Tulowitzki could contribute: In that period, he slammed out a sizzling .304/.376/.554/.931 slash line, generating a 133 OPS+, as he averaged, per year, 139 games played, 588 plate appearances, 157 hits, 31 doubles, 30 home runs, 90 runs scored, 97 RBI, 13 stolen bases, and 6.5 bWAR. Defensively, he totaled 39 defensive runs above average and 44 defensive runs saved over those three years, generating 6.9 dWAR overall. He finished in the top ten for MVP voting in all three years, and in 2010 and 2011, he was chosen for the NL All-Star team while winning both a Gold Glove and Silver Slugger Award.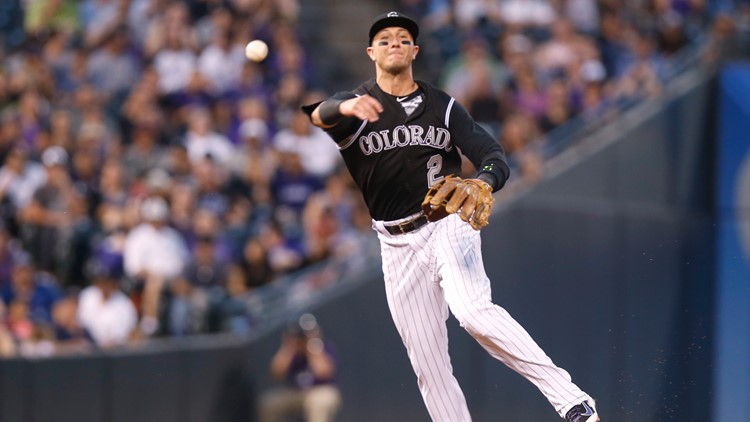 Set to be another super-shortstop in the Cal Ripken, Jr., mold, Troy Tulowitzki's injury-riddled career scuttled his chances for the Hall of Fame.

Yes, Tulo played in Colorado, and his home-road splits reflect that Coors Field boost, although he did close the gap in each of the last two years. Moreover, three years is impressive but not definitive. A groin injury halted his 2012 season after just 47 games, although he did return in 2013, his age-28 year, to play 126 games and hit .312 with 25 home runs and 82 RBI and another All-Star appearance. His 2014 campaign was off to a strong start until a hip injury sidelined him after 91 games, which didn't keep him from being named to the All-Star squad as he posted a torrid .340/.432/.603/.1.035 slash line with 107 hits, 18 doubles, and 21 long flies in 375 plate appearances.
A contentious trade-deadline deal to the Toronto Blue Jays in 2015 did put Tulowitzki on a playoff contender, and he helped to put Toronto into the postseason again in 2016, his last full season in the Majors, and while he produced at the league-average level, measured by his 102 OPS+, he did hit 24 home runs to push him past the 200 mark. Moreover, he batted a scorching .462 in the Blue Jays' three-game sweep of the Texas Rangers in the American League Division Series, driving in five runs while slugging a triple and a home run. But by 2017, injuries kept Tulowitzki to just 66 games, and after missing all of 2018 and an abortive five-game stint with the New York Yankees in 2019, Troy Tulowitzki was finished in Major League baseball.
Verdict: Ranked 26th all-time by JAWS among shortstops, Troy Tulowitzki is just three places behind Nomar Garciaparra, which is appropriate since each had tremendous promise that just couldn't pan out over a long career. Garciaparra survived his initial ballot appearance, only to fall off in his second year in 2016, in a period of impacted ballots. Tulowitzki is not likely to experience the same ballot logjam, but whether he can survive, let alone garner the 75 percent needed for induction, is doubtful. For different reasons, Tulowitzki's case echoes that of Tim Lincecum, a phenom who flamed out early as both hard-luck cases illustrate just how hard it is to be elected to the Baseball Hall of Fame.