On
October 6, 2015
, the Miami Marlins reported that they had re-signed Ichiro Suzuki to a one-year, $2 million contract for the 2016 season. The 41-year-old outfielder, the most successful Japanese player in Major League Baseball history, is just 65 hits shy of the vaunted 3000-hit plateau, a baseball hallmark that generally results in a Baseball Hall of Fame induction for those hitters who have reached it unless you've run afoul of baseball's proscriptions against gambling (see: Rose, Pete) or performance-enhancing drugs (see: Palmeiro, Rafael).
And although Suzuki did not begin playing in the Major Leagues until his age-27 season in 2001, having spent the previous eight years as a superstar for the Orix Blue Wave in Nippon Professional Baseball, "Ichiro" proved to be a superstar for his first decade in the American big leagues, a hitting machine for the Seattle Mariners who also stole a lot of bases and was a perennial Gold Glove right fielder. Despite his getting a late start in the majors (and his NPB career has no impact on his MLB legacy), Suzuki looked to be a Hall of Famer during his halcyon years in
Seattle
, and I made the case for him as a Hall of Fame player back in 2011.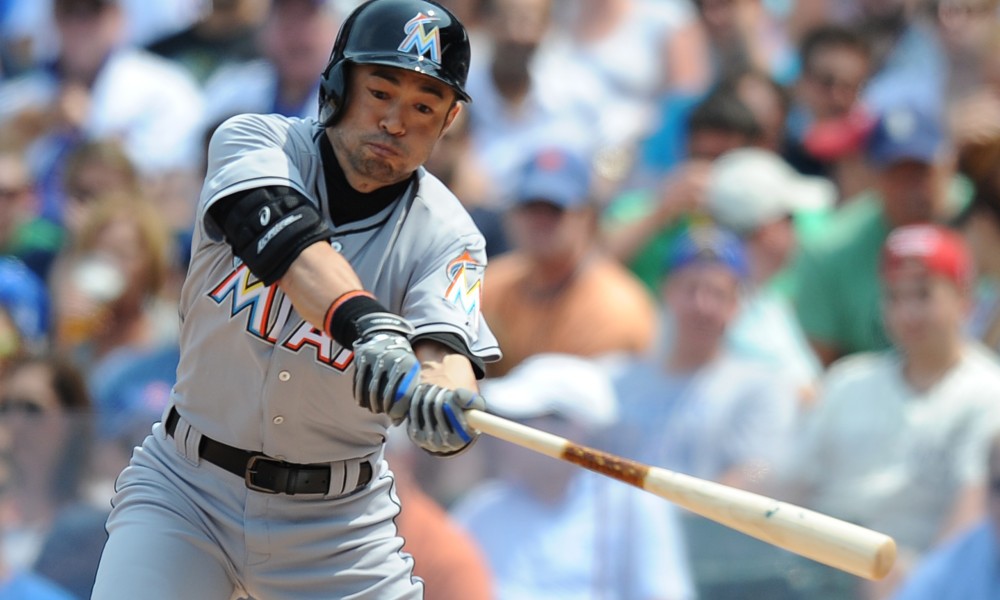 Ichiro Suzuki's quest for 3000 hits continues with the Miami Marlins--but does he need to reach that milestone in order to be considered for the Baseball Hall of Fame?
But as I noted in that article, the then-37-year-old Suzuki was showing significant cracks in the façade, which only grew bigger with each passing season, as he was a stopgap for the Mariners and then for the Yankees before becoming a part-time player for the Marlins. Ichiro's 2016 return, then, does look like the attempt to soldier on until he reaches a milestone, which is not unheard-of in baseball, but if Ichiro or anybody thinks that he must reach 3000 hits, then we could be looking at this question: Is Ichiro Suzuki the real Mr. 3000?
The Cinematic Genius of Mr. 3000
For those unfamiliar with this scintillating baseball movie (or who found a better way to spend their time and money), Mr. 3000, released in 2004, is the story of Stan Ross (played by Bernie Mac), the fictitious superstar of the real Milwaukee Brewers, a great hitter but an arrogant, egotistical, and selfish one (any resemblance to an actual player such as Barry Bonds is purely etc., etc.) who notches his 3000th hit but, in a fit of pique after the game in which he reaches that milestone, announces his retirement, convinced that having reached that milestone, he is a lock for the Hall of Fame—and never mind that he's quitting right as the Brewers are in a pennant race.
However, even after he becomes eligible for the Hall, the voting writers, not suffering from short-term memory loss vis-à-vis Ross's unpleasant personality, haven't yet got around to voting him in—and when statisticians rectify a clerical error that credited Ross with three more hits than he actually collected, leaving him with 2997 hits, Ross thinks that he must get back into the Show somehow to get three more hits, so at age 47 (Julio Franco, anyone?) he manages to land a spot back on the Brewers' roster to chase that hallowed milestone once more.


Stan Ross (Bernie Mac) thinks he needs to regain three lost hits to reach 3000 hits and be a Hall of Famer in
Mr. 3000
. Does Ichiro Suzuki think the same thing?
True, Ross did launch a chain of businesses all named after his "Mr. 3000" tag, which would all incur significant costs in order to rename them "Mr. 2997," but any baseball fan would recognize that this premise, cooked up by Eric Champnella and Keith Mitchell, is asinine: Three hits out of 3000 is statistical noise—Ross is the same player at 2997 hits as he is at 3000 hits. Not to mention that Hall voters in Mr. 3000 had not voted Ross in when he was supposed to be at 3000 hits already—so how would getting back to that plateau help his cause? Yes, as a sports comedy, that's not really the point—Stan must learn the lessons of humility, teamwork, and (literal) self-sacrifice while trying to win over Angela Bassett's sportscaster, but still.
The Curious Case of Al Kaline
In the real world, Al Kaline, the star right fielder for the Detroit Tigers from 1953 to 1974, reached the 3000-hit plateau in his final season and then retired, to be elected to the Hall of Fame in his first appearance on the ballot in 1980. Going into the 1974 season, his age-39 year, Kaline had 2861 hits, and in all likelihood he would have been elected to the Hall had he not played the 1974 season. However, Kaline returned to full-time status in 1974, starting 144 games as the Tigers' newfangled designated hitter, and collected 146 hits, pushing him seven hits over the 3000-hit threshold and becoming, at that time, only the 12th player to reach that milestone.
Intriguingly, though, when it comes to reaching those nice, round numbers, Kaline is really a case of just-missed. He retired with 498 doubles, two shy of 500, 399 home runs, one shy of 400, and a .297 batting average, three percentage points under .300. Is Al Kaline any less of Hall of Famer for not reaching those milestones? Of course he isn't.
But is he any less of a Hall of Famer for having reached the 3000-hit milestone? That's an interesting question—and one that is relevant to Suzuki's situation. For hanging on for the 1974 season, Kaline lost a couple of points from his career percentages: Had he retired at the end of the 1973 season, which would have left him with 2861 hits, 470 doubles, 386 home runs, 1551 runs scored, and 1518 runs batted in, his slash line (batting average, on-base percentage, and slugging percentage) would have been .299/.378/.485, with an OPS+ of 136. (OPS+, or adjusted OPS, is the sum of a player's on-base percentage and slugging percentage and adjusted for his ballpark and for his league's total percentages. An OPS+ of 100 indicates a player who is league-average—in other words, he is par for his league.)
Following the 1974 season, Kaline retired with a .297/.376/.480 line, with an OPS+ of 134. In terms of value, Kaline was worth almost an entire win by himself in his final season, a 0.9 WAR value (Wins Above a Replacement-level player; Baseball-Reference.com version), putting his total at 92.5 from his cumulative value through 1973 of 91.6; FanGraphs.com is a little less bullish on Kaline, a 88.1 WAR value through 1973 and 88.9 WAR through 1974, although it too has Kaline adding close to a win's worth of value in his final season as the Tigers' DH.
For Kaline to have returned in 1974 in his age-39 season to get to his 3000th hit was worth it: The Detroit outfielder did not hurt the Tigers too badly as their designated hitter—he added nearly an entire win and made his 15th All-Star appearance, his first since 1971. (The Tigers did go from a winning, third-place record of 85–77 in 1973 to a losing, sixth-place record of 72–90 the following season, but that is unlikely to have been ascribed to Kaline alone.)
On the other hand, Kaline didn't need to get to 3000 hits to be considered a Hall of Famer, although this is a retrospective assessment made with the benefit of an array of advanced qualitative metrics unavailable in Kaline's day. Several players close to Kaline's pre-1974 hit total had already been inducted into the Hall, elected by either the writers (Frankie Frisch, Charlie Gehringer, George Sisler) or the veterans committee (Zack Wheat), and it was unlikely that either body would have ignored Kaline.
But although Kaline is recognized as one of the great right fielders of the Golden Era—of any era, for that matter—his playing in the relative hinterlands of Detroit combined with a lack of "flare" put him in the shadow of contemporaries Hank Aaron and Roberto Clemente, and as a contemporaneous St. Petersburg Times article suggests, Kaline, had he not reached 3000 hits in 1974, was prepared to return the following year to do so. Does Ichiro Suzuki feel the same way about 3000 hits?
The Prime of Mr. Ichiro Suzuki
Unlike Kaline, though, Suzuki had no problem being recognized. He was the first Japanese position player signed to play Major League Baseball and to actually take the field in the regular season, a historic event occurring in an age of media saturation even if Suzuki had signed with a team regarded to be in the hinterlands, the Seattle Mariners.
How did Ichiro—he became so famous that one need only refer to him by his first name (and that practice began back in
Japan
)—respond to the limelight in 2001? In his first week, he uncorked a throw from deep right field that nailed Oakland A's baserunner Terrence Long at third base and quickly taught baserunners not to run on his cannon of an arm; that Suzuki notched "only" eight assists in 2001 should be seen as an indication of respect and not inability: He helped turn two double plays from right, and in 344 total chances he committed just one error for a .997 fielding percentage (the league average for right fielders was .984) while his Total Zone total fielding runs was 15 runs above league average, and his fielding alone was worth nearly one win (0.9) to the Mariners, using Baseball Reference's defensive Wins Above Replacement.
Ichiro was even more auspicious at the plate: He led the American League in hits (242), batting average (.350), and stolen bases (56) while scoring 127 runs as the Mariners had an equally historical year overall, winning 116 games and matching a feat first done by the Chicago Cubs nearly a century before. With Ichiro batting .600 in the AL Division Series against the Cleveland Indians, the Mariners won in five games and advanced to the Championship Series, although the New York Yankees cooled Suzuki down—he batted only .222 and struck out four times in 22 plate appearances—as they beat
Seattle
in five games.
Nevertheless, Suzuki easily became the AL Rookie of the Year in 2001 and just beat out the Athletics' Jason Giambi for the AL Most Valuable Player Award to become only the second player ever to be his league's Rookie of the Year and MVP in the same year. (In 1975, Fred Lynn of the Boston Red Sox was the first to attain this honor.)
Ichiro Suzuki had conquered American baseball—and he showed no signs of being a flash in the pan. For the first ten years of his career, through his age-36 season, Suzuki hit over .300 every season, averaging a remarkable 224 hits, 105 runs scored, and 38 stolen bases per year while making the All-Star squad and earning a Gold Glove every season. Suzuki's slash line for the period between 2001 and 2010 was .331/.376/.430, with his .806 OPS yielding a 117 OPS+ when adjusted for his home ball park, Safeco Field, and all American League OPS averages.
Suzuki led the
AL
in batting again in 2004 with a .372 average as he banged out 262 hits—establishing a new single-season record by eclipsing the 257 hits George Sisler had amassed 84 years previously. It was a tremendous achievement, and detractors who dismissed the accomplishment by noting that Suzuki had broken Sisler's record in more games (and plate appearances) than had Sisler—shades of Roger Maris in 1961—conveniently ignored that Sisler's record had been set right at the start of the live-ball era, a time of high offense related to talent dispersion, and not the high talent compression of Suzuki's time.
In just ten years, Ichiro amassed 2244 hits—he did collect at least 200 hits in each of those first ten seasons—and at the rate he was collecting hits that 3000-hit milestone did not seem too far-fetched—if he could maintain that rate, he could accomplish the feat in less than four seasons.
Ah, but going into the 2011 season, Ichiro would be 37 years old, which in today's game of high talent compression was a superannuated age—and Suzuki's performance in 2011 showed that age. He batted .272, his first sub-.300 season, while notching "just" 184 hits, hardly a total to be ashamed of although he played in 161 games, starting all of them and finishing all but two as he played 151 games in right field and 10 as the Mariners' DH, and led the majors in at-bats with 677—in other words, he was getting his chances at the plate, leading off every game he was in.