Index
2023 Ballot: Eye of the Storm—Or Is It?
With the storm that is the 2022 BBWAA ballot having passed and meted out its judgment on all those candidates who appeared on it, the 2023 ballot should be a much calmer affair. Should he not have been elected in 2022, David Ortiz would be returning for 2023. The PED controversy remains with, in all likelihood, Andy Pettitte, Manny Ramirez, Álex Rodríguez, and Gary Sheffield returning to the 2023 ballot. However, Barry Bonds, Roger Clemens, and Sammy Sosa are removed either through election or expiration as 2022 was their last year allowed on the ballot. Curt Schilling, not associated with PED, also had until 2022 to be elected.
Assuming none of these candidates have not left the ballot already, Jeff Kent faces his final chance on the 2023 ballot, Billy Wagner watches his needle enter the yellow zone, and Todd Helton, Andruw Jones, Scott Rolen, and Omar Vizquel all pass the midpoint that Bobby Abreu is fast approaching. Other possible returnees from the 2022 ballot are Joe Nathan and Mark Teixeira, with the odds favoring Nathan.
The potential for a full ballot exists, but of the newly-eligible candidates in 2023, only three stand out for scrutiny: Carlos Beltrán, John Lackey, and Francisco Rodríguez. Of the three, Beltrán has a strong case for the Hall of Fame, Rodríguez has a borderline case, and Lackey has no case.
"No-Doubt Hall of Famer, Except . . . ": Carlos Beltrán
Combining speed, power, and defense, switch-hitting center fielder Carlos Beltrán is one of only eight players ever to reach 300 home runs and 300 stolen bases, and is the only switch-hitter to do so. The 1999 American League Rookie of the Year played for seven teams in his 20-year career and appeared in the postseason with all but one of them, eventually winning a World Series ring in his final year as a player, 2017, with the Houston Astros.
Carlos Beltrán seemed destined for the Hall of Fame until news of the Astros' sign-stealing scandal broke in 2020. Fingered as the ringleader of the scheme, Beltrán had to jettison his chance to manage the New York Mets as a result of the scandal. Writing in 2020, it is impossible to know how the scandal will affect voting opinions in 2023, but if that kind of cheating carries the same opprobrium as using performance-enhancing drugs, Beltrán could be in for a rough ride on this ballot and any other ballots he might be on.
Career highlights: Was American League Rookie of the Year in 1999 with the Kansas City Royals. Won a world championship with the Houston Astros in 2017. Picked for nine All-Star squads. Won three Gold Glove and two Silver Slugger Awards. Finished twice in the top-ten for Most Valuable Player voting. Hit eight home runs, four each in divisional and championship series play with the New York Mets, tying him with Barry Bonds for most home runs in a single postseason year (2004). Ranks 25th all-time in extra-base hits (1078, tied with Hall of Famer Cal Ripken, Jr.), 29th all-time in doubles (565), 34th all-time in total bases (4751), 41st all-time in runs batted in (1587), 46th all-time in home runs (435), 53rd all-time in runs scored (1582), and 62nd all-time in hits (2725).
Career summary: After a brief but auspicious mid-September call-up with the Royals in 1998, his age-21 year, Carlos Beltrán moved into the starting lineup the following year and became the American League Rookie of the Year with a career-high 194 hits, including 27 doubles, seven triples, and 22 home runs, as he scored 112 runs, the first of seven seasons with 100 or more runs scored, drove in 108, the first of eight seasons with 100 or more RBI, and stole 27 bases, the first of seven seasons with 25 or more swipes.
Traded to the Houston Astros, then still in the National League, in mid-2004, Beltrán hit 23 home runs in 90 games, with 47 extra-base hits of his 86 hits in total. In his first taste of postseason baseball, the switch-hitter exploded as in five games in the NL Division Series against the Atlanta Braves and seven games against the St. Louis Cardinals in the NL Championship Series, he belted out a sizzling .435/.532/1.022/1.554 slash line with three doubles, eight home runs, 21 runs scored, 14 runs batted in, nine walks (one intentional), and six stolen bases without being caught once. But despite Beltrán's one-man offensive, the Astros fell to the Cardinals.
As a free agent, Beltrán signed a seven-year, $119 million deal with the New York Mets, with whom he was named to four All-Star teams, won three Gold Gloves and two Silver Slugger Awards, and finished fourth in NL MVP voting in 2006 when he hit 38 doubles, 41 home runs (tying Todd Hundley for the then-Mets team record), scored a career-high 127 runs, knocked in a career-high 116, and stole 18 bases while getting caught just three times. In the postseason again, Beltrán hit three home runs against the Cardinals in the exciting, see-saw seven-game NLCS, although it was Beltrán, with the Mets down two runs in the ninth inning of Game Seven, who struck out with the bases loaded to end the series.
Traded to the San Francisco Giants in the middle of the 2011 season, Beltrán, in his age-34 year, finished out his career as a veteran gun for hire, seeing time with the Cardinals, the New York Yankees, the Texas Rangers, and, finally, in 2017, back with the Houston Astros, now in the American League and en route to their historic World Series victory and Beltrán's first and only World Series ring.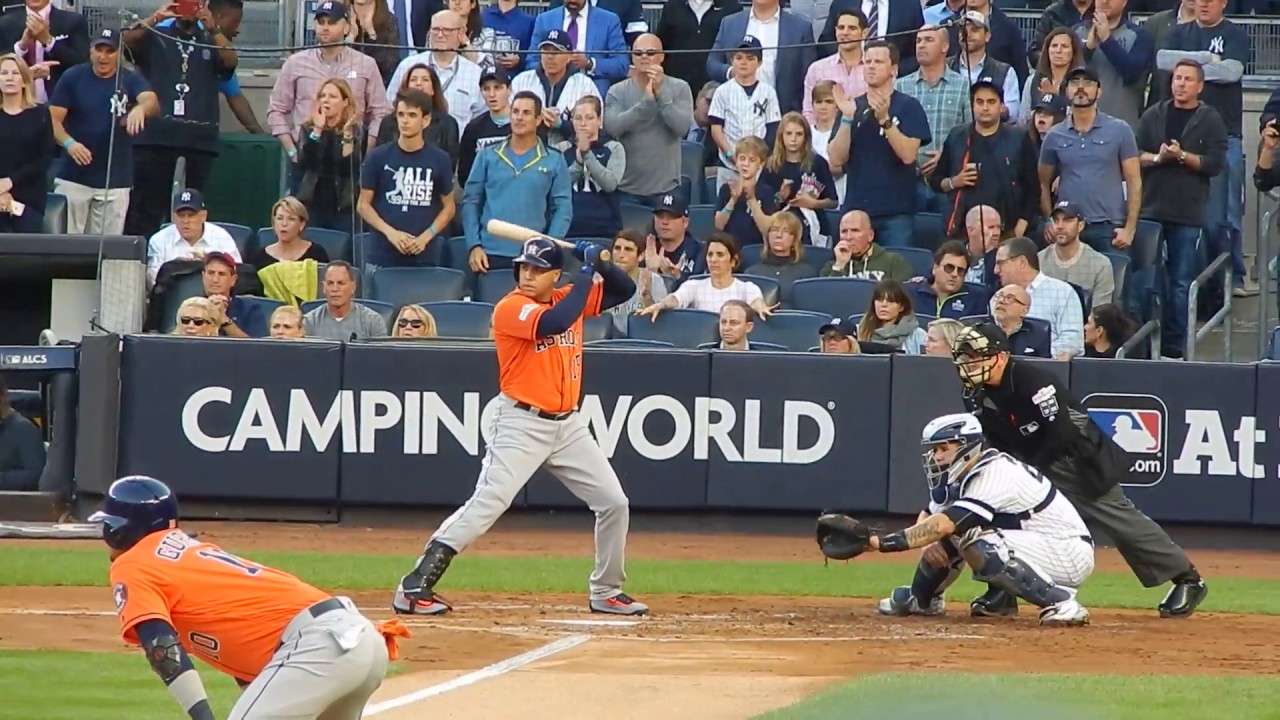 Carlos Beltran (batting) capped a Hall of Fame career with a World Series ring--until the Houston Astros' 2017 sign-stealing scandal broke.

At least until the sign-stealing furor erupted, casting a pall on the Astros' entire 2017 season including their World Series win. Although Astros bench coach Alex Cora was deemed the mastermind behind the sign-stealing methodology, Beltrán was considered the enforcer among the players. Cora, who went on to win another World Series in his first year as manager of the Boston Red Sox in 2018, was forced from his position in 2020 while Beltrán, eying his first managerial job with the New York Mets, was compelled to abandon that idea.
What seemed to be the bow on Carlos Beltrán's outstanding career, a World Series victory, instead became a noose around his neck—one that might strangle his chances to enter the Hall of Fame. JAWS ranks Beltrán ninth among all center fielders in Major League history, making him a seeming a shoo-in for the Hall—unless his involvement in sign-stealing steals that from him.
Verdict: How voters will regard Carlos Beltrán when he debuts in 2023 is an open question. In 2020, growing reaction to the cheating scandal soon became overshadowed by the COVID-19 pandemic. Whether this worked to dispel any wrath or merely postpone it remains to be seen. However, it is worth noting that A.J. Hinch, the Astros manager who was both fired from the franchise and suspended from any baseball activities for the 2020 season, was quickly snapped up to manage the Detroit Tigers once his suspension was over. Similarly, Alex Cora, who "mutually agreed to part ways" with the Red Sox as he was suspended, quietly resumed managing the Red Sox once his suspension expired.
But the Baseball Hall of Fame is a different animal, especially for a player. Carlos Beltrán may be "punished" by not receiving enough votes on his debut ballot. He may be left to twist in the wind for a few ballots. Or he may never be voted in. I suspect it will be the second option—Beltrán may find himself waiting a few years before getting the call to Cooperstown. He was a Hall of Fame-caliber player who merits election. He can even sit next to Gaylord Perry at the induction ceremony.
Borderline: Francisco Rodríguez
Relief pitcher Francisco Rodríguez was just 20 years old when he exploded into prominence for the (then-)Anaheim Angels during the 2002 postseason, helping the team win its first (and so far only) World Series in seven exciting games against the San Francisco Giants—with Rodríguez becoming the youngest pitcher ever to win a World Series game. "K-Rod" went on to become Troy Percival's setup man before taking the Angels' closer role in 2005, promptly leading the American League in saves. He set the single-season record for saves with 62 in 2008, his final year in Anaheim before signing as a free agent with the New York Mets as he pitched for five teams in total over a 16-year career that saw him wind up fourth in all-time saves with 437.
Career highlights: Selected to six All-Star teams. Finished in the top five for Cy Young Award voting three times. Finished in the top ten for Most Valuable Player voting once. Won one World Series championship with the (then-)Anaheim Angels in 2002. Led the American League in saves three times; set single-season record for saves (62) in 2008. Led the league in games finished three times and in appearances once. Had six years with an earned run average under 3.00 (minimum of 60 innings pitched), and two years with an ERA under 2.00 (minimum of 60 innings pitched). Ranks fourth all-time in saves (437). Has a career 10.5 strikeouts per nine innings pitched (SO/9) with 1142 punch-outs in 976.0 innings pitched.
Career summary: In a storied year, 2002, for the (then-)Anaheim Angels, who embarked on their first World Series win, relief pitcher Francisco Rodríguez seemingly had the biggest Cinderella story of all. The Venezuelan right-hander, a mid-September call-up, had pitched exactly 5.2 innings in five games during the regular season when the Angels carried him on their postseason roster. An unknown quantity to opposing hitters, Rodríguez simply overpowered them with his blazing fastball and especially his devastating curveball.
In three rounds of playoffs—the American League Division Series against the New York Yankees, the AL Championship Series against the Minnesota Twins, and the World Series against the San Francisco Giants—Rodríguez appeared in 11 games, won five of those games (although one win, against the Yankees, resulted from a blown save opportunity), and in 18.2 innings posted a 1.98 ERA while striking out 28 batters, an SO/9 of 13.8. He wasn't invincible—he walked five batters, and he lost one game when the Giants got to him for the go-ahead run in a tied Game Four to even the World Series—but he made a powerful impression.
Nevertheless, with Troy Percival the Angels' closer, Rodríguez settled into the setup role the following season, appearing in 59 games while winning eight games and losing three, all in relief, with a 3.03 ERA and 95 strikeouts in 86 innings pitched. Rodríguez was even better in 2004 when he posted a 4–1 win-loss record with a sterling 1.82 ERA, backed up by a 1.64 FIP and a 245 ERA+, with a career-high 123 strikeouts in 84.0 innings pitched, an SO/9 of 13.2, as he was named to his first All-Star squad and finished fourth in AL Cy Young voting.
With Percival gone in 2005, Rodríguez stepped into the closer role and promptly led the AL in saves with 45 and a sparkling 90 percent save-conversion rate although he did lose five games while winning two. He even bumped his save-conversion rate up to 92 percent the following season as he led the Majors with 47 saves atop a career-best 1.73 ERA as he again finished fourth in AL Cy Young voting. In 2008, Rodríguez broke the single-season record for saves, set by Bobby Thigpen in 1990 at 57, when he converted 62 of 69 save opportunities (90 percent) with a 2.24 ERA and an average leverage index (aLI) of 2.550, earning his third berth on an All-Star team while finishing third in AL Cy Young voting and sixth in AL Most Valuable Player voting. (Average leverage index, or aLI, measures the "pressure" a pitcher faces in a given situation, with 1.0 considered average pressure and 1.5 or higher considered high pressure.)


Will Francisco Rodriguez's electrifying MLB debut deliver the momentum he needs for the Hall of Fame?

Francisco Rodríguez's record-setting season coincided with his free agency, and he signed a three-year, $37 million agreement with the New York Mets starting in 2009, and although he saved 35 games in the new league, his save-conversion rate dipped to 83 percent as his ERA rose to 3.71, underlined by a 4.01 FIP as he walked a career-high 38 batters in 68.0 innings pitched. Despite an excellent 2.20 ERA, his 2010 season was shortened by a domestic altercation that resulted in his arrest on a misdemeanor assault charge and subsequent suspension by the Mets. Rodríguez had injured his thumb in the alleged assault, which required season-ending surgery and further suspension by the team. The incident underscored Rodríguez's emotional excitability that had provoked on-field confrontations previously.
Midway through the 2011 season, the Mets traded Rodríguez to the Milwaukee Brewers, where the reliever bristled at becoming the setup man to closer John Axford. He continued in the role in 2012, making a career-high 78 appearances while finishing only 13 games with just three saves while losing seven games and posting a 4.38 ERA, his worst mark to date. The Brewers traded Rodríguez to the Baltimore Orioles midway through the 2013 season, ostensibly to help the Orioles make a push for the playoffs, but Rodríguez floundered in Baltimore, which didn't make the postseason, anyway.
Rodríguez returned to the Brewers for the next two seasons, which saw him save a total of 82 games with a 2.66 ERA in 129 total appearances and 125 total innings pitched. He was on the move again for the 2016 season, this time to the Detroit Tigers, saving 44 games with a 3.24 ERA, although with just 52 strikeouts in 58.1 innings pitched, Rodríguez, in his age-34 season and a Major Leaguer for 15 years now, was squarely in his decline phase. After a terrible start to the 2017 season that saw him lose his closer's job, Rodríguez was released by the Tigers in midseason, and despite minor league deals with the Washington Nationals in 2017 and with the Philadelphia Phillies in 2018, Francisco Rodríguez was out of Major League Baseball for good.
Verdict: JAWS ranks Francisco Rodríguez 35th all-time among relief pitchers, even lower than Jonathan Papelbon, who is not expected to survive his inaugural ballot in 2022. Rodríguez had just two seasons with a bWAR above 3.0, with his 3.7 bWAR in 2006 his best mark. Fourth all-time among saves leaders, Rodríguez has only that volume and his status as the single-season record holder in saves to buttress his Hall of Fame case. After his electrifying 2002 postseason performance, he returned to Earth in his subsequent playoff appearances.
Assessing relief-pitcher legacy remains more art than science, and WAR and its derivative JAWS become even more stratified when just a few wins above replacement result in quantum leaps. Rodríguez's 24.1 bWAR is just less than four wins below the 28.0 bWAR of Trevor Hoffman, already in the Hall of Fame, and the 27.7 bWAR of Billy Wagner, whom Rodríguez eclipsed in career saves and who is starting to gain traction on the BBWAA ballot (as of 2020). Rodríguez is less than three wins below Joe Nathan, whose consistency and longevity make him a borderline candidate, and it is even slightly better than Papelbon's, although Papelbon had a stronger seven-year peak.
Francisco Rodríguez will surely not be elected on his first ballot, but he does deserve to receive at least five percent of the vote to remain on the ballot and provide a case analysis to better assess how to recognize relief-pitcher legacy.
One and Done: John Lackey
Like his long-time teammate Francisco Rodríguez, starting pitcher John Lackey also made his Major League debut with the (then-)Anaheim Angels in 2002, and he too made an auspicious presence in the postseason when he earned the win in the deciding Game Seven of the World Series against the San Francisco Giants. Eleven years later, with the Boston Red Sox, Lackey won the clinching Game Six against the St. Louis Cardinals to hand Boston its third World Series victory in less than a decade, and in the process the right-hander became the only pitcher in Major League history to win his team's deciding World Series game with two different teams.
Lackey further burnished his postseason reputation by taking a spot in the starting rotation for the 2016 Chicago Cubs, who went on to win their epic seven-game World Series against the Cleveland Indians for their first world championship since 1908, with Lackey earning his third World Series ring, each with a different team. (Lackey lost his only World Series start against Cleveland.) However, Lackey's reputation as a big-game pitcher, either in the regular- or postseason, is chimerical and deceptive. He may be the Forrest Gump of early-21st-century starting pitchers, doing the right thing in the right place at the right time but more a beneficiary of fortune than a maker of fortune as he was a reliable innings-eater but was considered the staff ace only when the staff ace was not available.
Career highlights: Made one All-Star appearance. Won three World Series rings (each with a different team). Finished in the top five for Cy Young Award voting once. Led the league in earned run average once. Tied for league lead in shutouts three times. Ranks 57th in all-time strikeouts (2294).
Career summary: Joining Anaheim during the 2002 midseason, John Lackey slid into the Angels' starting rotation to post a 9–4 win-loss record with a 3.66 ERA and a 121 ERA+ as the team went into the postseason. Getting the start in Game Seven of the World Series, Lackey pitched five innings of four-hit, one-run ball against the San Francisco Giants as the Angels scored four runs for him by the end of the third inning, enabling Lackey to get the decision and become just the second rookie pitcher ever to start and win a World Series Game Seven. (The first? Babe Adams, for the 1909 Pittsburgh Pirates in a six-hit shutout against Ty Cobb's Detroit Tigers.)
For the next five seasons, Lackey took a spot in the Angels' regular rotation, starting 33 games and pitching at least 200 innings every year except in 2004, when he started 32 games and pitched 198.1 innings. Apart from 2003, Lackey posted winning seasons with double digits in wins, and by 2005 he had knocked his ERA down to below 4.00.
His 2007 season was a banner year: He won a career-high 19 games against just nine losses while he led the American League in earned run average with 3.01, good for a league-high 150 ERA+. Picked for his only All-Star appearance, Lackey finished third in Cy Young Award voting, behind Cleveland Indians winner CC Sabathia and Boston Red Sox first-runner up Josh Beckett, but the records of all three were fairly interchangeable—Lackey and Sabathia each posted a 6.3 bWAR while Beckett had a 6.5 bWAR—and Lackey could just as easily have been the winner.
Lackey's workload lessened over the next two seasons, although he remained effective enough to become an attractive free agent when he hit the market for the 2010 season. The Red Sox thought enough of Lackey to offer him a five-year, $82.5 million contract, but Lackey was lacking in Boston, particularly in 2011 when, amidst the Red Sox' epic collapse in September, he was castigated for the notorious clubhouse "fried chicken and beerfests" he and other starting pitchers such as Josh Beckett and Jon Lester held during games in which they weren't pitching. Lackey missed all of the 2012 season while recovering from Tommy John surgery, and while his 2013 return was a modest one, he did get the win in the clinching Game Six of Boston's World Series victory against the St. Louis Cardinals.
Fittingly, perhaps, John Lackey was traded to the Cardinals in mid-2014, and by the following season he had rebounded to deliver a career-best 2.77 ERA, yielding a 142 ERA+, while leading the National League in starts (33) as he pitched 218 innings, his first 200-inning year since 2010. Lackey signed a two-year, $32 million contract with the Chicago Cubs for the 2016 season, his age-37 year, and he turned in a solid performance capped by the Cubs' historic World Series win that gave him his third World Series ring, each with a different team. But a mediocre 2017 campaign, which saw Lackey lead the NL in home runs allowed (36)—he ranks 46th all-time in that category with 319—became his final season as he officially retired in 2018.
Verdict: JAWS ranks John Lackey 215th all-time among starting pitchers, just a tick below fellow chicken-and-beer man Josh Beckett, who polled no votes on his only appearance on a BBWAA ballot in 2020. Lackey will experience the same outcome.