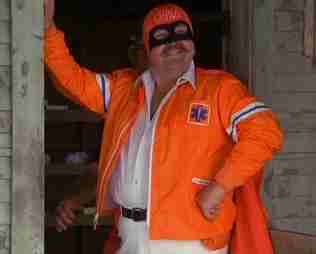 Jamie Blake (Dean Martin playing off his alcoholic and womanizing image) said it best when he warned his partner Fenderbaum (Sammy Davis Jr.) to watch out for the "Blimp". Once the rotund Victor Prinzi (played by Dom DeLuise) felt the need to defend himself or his friends, the sound of "Dun Dun Dunnnn" would fill the air and suddenly Captain Chaos would emerge with his cape and mask to save the day. It wasn't a traditional looking superhero (although much of mannerisms were ripped from a comic book), but it didn't matter. Considering this was an All Star cast (in a B-Grade movie), Captain Chaos stood tallest of all.
The Bullet Points:
Movies Appeared:
Cannonball Run (1981)
Cannonball Run II (1984)
Actor:
Dom DeLuise
Position Portrayed:
Driver
Played for:
Team McLure/Prinzi
Why you

should

vote for him:
Captain Chaos may be the best thing of the Cannonball Run.
Why you

should not

vote for him:
Captain Chaos may have been the best thing of Cannonball Run II.