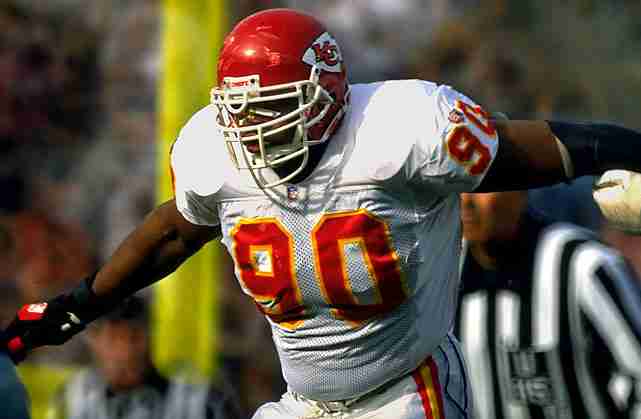 Very few players could be viewed as the total athletic package. Neil Smith may have been one of those rare exceptions as scouts felt with his skills there was little he couldn't do on the football field. Those scouts would be right.
Neil Smith was a multi faceted Defensive End who was equally adept at stuffing the run as defending against the pass. His true gift may have been sacking the Quarterback as he led the NFL in that category in 1993. Smith was a six time Pro Bowler and though his skills were slightly diminished in the second half of his career, he was able to aid the Denver Broncos in their two consecutive Super Bowl wins in the late 90's.
Smith was paired in Kansas City with Derrick Thomas who collectively made one of the fiercest Defensive pairings in football. Thomas was posthumously selected into the Football Hall of Fame, but many of his achievements were aided by having Smith as a linemate.
The Bullet Points:
Country of Origin:
New Orleans, Louisiana, U.S.A.
Eligible Since:
2006
Position:
Left Defensive Tackle
Played for:
Kansas City Chiefs
Denver Broncos
San Diego Chargers
College:
Nebraska
Drafted:
1st Round, 2nd Overall in 1988
Major Accolades and Awards:
Pro Bowl Selections (6) (1991, 1992, 1993, 1994, 1995 & 1997)
First Team All Pro Selection (1) (1993)
Second Team All Pro Selection (2) (1995 & 1997)
Most Sacks (1) (1993)
NFL 1990's All Decade Team
Super Bowl Rings (2) (Denver Broncos, Super Bowl XXXII & XXXIII
Other Points of Note:
Top Ten Finishes: Sacks (4) (1992, 1993, 1994 & 1995)
Notable All Time Rankings:
19. Sacks: 104.5
Years Nominated for the Hall of Fame:
Never
Should Neil Smith be in the Hall of Fame?
Definitely put him in! - 9.1%
Maybe, but others deserve it first. - 54.5%
Probably not, but it wouldn't be the end of the world. - 18.2%