When people talk of U.S. Hockey, often the first image that comes to mind is the "Miracle on Ice" victory over the Soviet Union in the 1980 Olympics. The "Miracle" was not an exaggeration, as this was a time when a player had to maintain amateur status to perform their country. Although many of the American group would go on to have productive careers in the National Hockey League, none of them at this point had ever played a shift of professional hockey and to say that they were overmatched on paper against a Soviet team that was considered to be the most talented group in the world is not an understatement by any stretch.
It wasn't just a battle on ice between the two countries, as it had the undertones of Capitalism VS Communism, Youth VS Experience and David VS Goliath. The Americans were the vast underdog, not a position familiar to the United States in many forms of athletics. It was a story worthy of Hollywood; in fact Hollywood went there twice. It had the "Do you believe in miracles?" call by Al Michaels, possible the most perfect sentence in sports broadcasting. This may have taken place thirty two years ago, but its place in American sports history remains untarnished and remains an iconic moment.
Since that time hockey has taken an upswing in America. Granted, it is far from perfect; as it is no longer carried on ESPN and numerous NHL franchises in southern cities struggle to find a fan base in their respective cities. However, there have never been more talented American players than there are now. Internationally, the United States are a serious threat to win any championship they enter; a status that was far from true when they won in Lake Placid.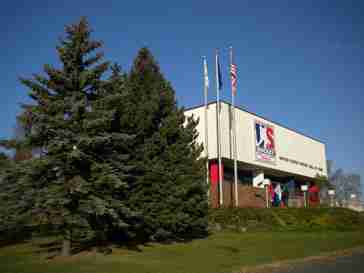 U.S. Hockey has come a long way since the 1980 Winter Olympics, and as such the United States Hockey Hall of Fame has grown along with it. Officially opening in 1973 in the small town of Eveleth in Northeastern Minnesota, the institution has created a place where young Americans who lace up the skates endeavor to finish their career.
We had the opportunity to chat with the Executive Director of the Hall, Doug Palazzari, who himself was a former seven year NHL player with the St. Louis Blues and is also an inducted member to the U.S. Hockey Hall of Fame. Doug shared with his thoughts on American hockey, its future, and the wonderful institution that he oversees.
The United States Hall of Fame is located in a very small town in Northeastern Minnesota. I know in doing my research that Eveleth appears to be a very appropriate place for the Hall with the history that took place there. Was there any pressure to put it in a larger city, such as Minneapolis, which would still allow it to be in a hockey state like Minnesota?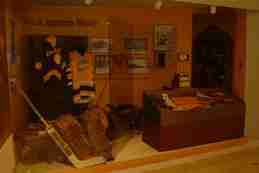 "Back in the late 60's it was put out around the country for communities to bid on. Eveleth was chosen for a number of reasons, of course being its rich tradition and history in hockey. So many great players came from here, like Sam LoPresti who holds the record for the most saves in a regulation NHL game when he made eighty saves in a 3-2 loss against the Boston Bruins. In goal for Boston that night was Frank Brimsek who was also from here and he won the Vezina two times. In 1938 when the Chicago Black Hawks won the Stanley Cup, their goalie was Mike Karakas who was also from Eveleth. There is so much history here, they have had hockey here since the late 1800's. Certainly there was great hockey in the East, and in Michigan, but Eveleth was chosen, and I think rightfully so.
There were issues later on. Some people had the notion that it would be a good idea to move the institution to a larger metropolitan area, however saner minds prevailed. We have a beautiful museum here, particularly in the summer time. We get visitors from all over the United States and Canada, and I think it is the right place. We are doing very well at the moment."
Do you think that having it in a small town gives it a Cooperstown feel in a way?
"I think there are some things lacking in terms of Cooperstown in that we don't have the induction ceremony here. However in terms of being a major attraction in a small rural area, yes we are very similar."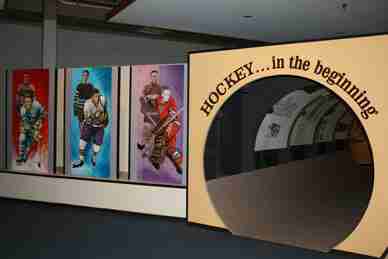 I would like your take on this. I can argue that in the last twenty five years that no other country has improved in Hockey more than the United States; not just internationally in competition but in terms of the high talent they provide to the professional ranks. Granted, they are not on ESPN anymore, but the hockey audience in the States is a loyal one, and it has made some solid inroads in many different communities. With that said, the U.S. is one of five countries (Canada, Russia, Sweden and the Czech Republic) that can legitimately look at any competition and feel that anything other than Gold is a disappointment. How strong are the Hall's ties to the international game? I sense that is a very strong one. What is the main relationship that you have with U.S. Hockey?
"Obviously we are very close with U.S.A. Hockey. At this point they control the induction and the ceremony. They have the committee that chooses those who are going to be enshrined. They were actually instrumental in starting this facility. Of course, our goal here is to make sure that we honor those who are inducted in the best way possible. U.S.A. Hockey is of course the national governing body for the sport, and we are hand in hand with them. The International side is very important, and we are here to sell great American hockey. We have had some wonderful success over the years, and as you said we are certainly competitive on all levels of hockey. We also recognize all the great American players in the past and the corresponding accomplishments. This includes the 1960 Gold Medal and the 1980 Gold Medal Team and the 1998 Women's Gold Medal Team."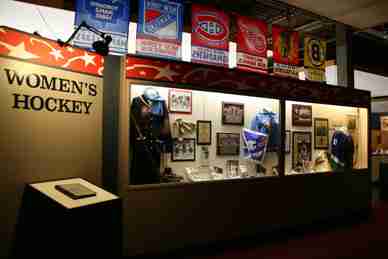 I would like to touch on that last point. I believe your Hall of Fame predated the Hockey Hall of Fame in Toronto by inducting a female by inducting Cammi Granato in 2008.
"I think that was just wonderful. She is a deserving selection for the Hall of Fame. I was very proud of the committee and U.S.A. Hockey with that decision."
I noticed that your museum puts a lot of focus on the 1980 Olympic Team. Personally speaking, I went to Lake Placid and took my wife to the site of the "Miracle on Ice". She is an immigrant from a non-hockey playing country and I explained to her the significance of the event, and shortly thereafter the Kurt Russell film, "Miracle" came out. It is story that still resonates thirty two years later. When you are at the museum, you see many children and young adults who were not around in 1980, but are taught the historical importance of the event. Is this something that you can see lasting for generations to come?
"It's funny how time goes by. Yes, there are kids who come in and aren't aware of it, but most have some idea, usually from the different movies they have seen. It's been a long time, but I think it's going to live on even longer. What Herb Brooks and those young players did was conquer the impossible. Twenty years earlier in Squaw Valley, the team that won there has been forgotten, and that was a great accomplishment as well."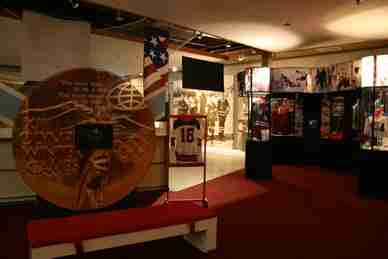 True, but 1960 did not have Al Michaels' signature call.
"It doesn't get any better than that. I don't think that call will get old to anybody who loves American Hockey."
Well, not just American Hockey. Who doesn't like the underdog story?
"I think there was the political climate that played into it too. You're right, the hockey world is dialed in to that event."
Where do you see U.S. Hockey in the future?
"I think it is very important to keep growing the game. Our game has grown substantially and many years ago it was a regional sport in Massachusetts, Michigan and Minnesota; but with the expansion of the National Hockey League and the growth of the many Minor Leagues has added a lot of growth in non-traditional hockey markets. It is become very competitive. We are getting talent from all places now. There is a lot of work that still needs to be done and new avenues that need to be explored. We have a great sport but there a lot of options for athletic youngsters in this country. We really need to find a way to make the game more affordable, and with it being such a time consuming activity, it is difficult for families where both parents work, as most households are. I think that these are the issues that have to be addressed for the numbers of young players to improve throughout our country.
We have to improve in non-traditional areas because our growth has been stagnant in our traditional ones. We have to find a way to reach more and more kids. But there is an attitude now in the United States that when we enter a tournament, we are there to win. We are confident that we have the athletes to do that, and that is what our players feel when they put on that USA jersey."
When someone is selected to the U.S. Hockey Hall of Fame who gives the new inductee the phone call?
"That comes from U.S.A. Hockey. They are completely in charge of the process and the call. They have a committee of fourteen. Anyone can nominate someone who has made significant contributions to the game in the United States, and the committee will review them accordingly. I am glad I am not on that committee as those decisions keep getting tougher will all the great players who will be eligible soon!"
The group that will be inducted this year is a very good class. Mike Modano was a perennial All Star.
"It will get harder and harder to get into the Hall of Fame with all the talent coming up. By that token it shows how far American hockey has come. I do want to say that we recognize International individuals as well. We have the Gretzky Award, which of course he was the first recipient of it. That's given periodically to the International individuals who have made a major contribution to the growth and advancement of hockey in the United States. This year, Murray Costello will be given that award. Certainly, Murray has an incredible influence not just in Canadian hockey but on International aspects as well. When you look at our American hockey since our inception you see that we have had great Canadian influence in our game. It is a struggle to reach Canada's level, we don't feel we are there yet, but we feel we are pretty darn close."
But at the same time it is not something that you necessarily have to do. It is like the growth of soccer in both your country and mine. Twenty years ago it would seem impossible for the U.S. to win the World Cup. Twenty years from now it seems like it could happen.
"There is no question about it. Every sport wants to convince youngsters that their sport is the best."
But everything starts at the grass root level. How many young kids in the States looked at the '80 Olympic team and said I want to be the next Neal Broten, or Jim Craig or Mike Eruzione? And how many young girls a decade ago wanted to be Cammi Granato? Winning is that toxin that just makes everyone want to go the next level.
"Youngsters definitely emulate their role models. One thing that we have to work on is getting more minority participation in hockey. I know we have made strides in those regards, but we need to reach out to those communities with more participation in ice hockey"
Does the U.S. Hockey Hall of Fame have a working relationship with the Hockey Hall of Fame in Toronto?
"We don't really have a great deal of interaction with the Hall of Fame in Toronto, but we do have a wonderful relationship. Certainly we have great respect for the Hall in Toronto. It is an outstanding tribute to our sport, but we are not competitors. We are two different entities. We are supportive of them and they are supportive of us."
Where do you see the U.S. Hockey Hall of Fame in twenty years?
"You look at different Halls of Fames; the International Ice Hockey Federation has a Hall of Fame, but not a physical structure where people and come and celebrate and remember. Next month we are going to start a new exhibit on the WHA. They (the WHA) have a Hall of Fame, but they don't have an actual building. We feel that the WHA helped get a lot of Americans exposure to hockey and helped a lot of American players and coaches start their career. We want to do that for them."
I would go there just to see the old jerseys!
"We have one coming in from the Minnesota Fighting Saints. We will have about four different ones coming in our display. I think also you don't want to induct someone into the Hall and then forget about them. We want to pay forever a tribute to those who have contributed to American hockey and we want the people to enjoy the history and remember the people and celebrate the heritage that is American Hockey.