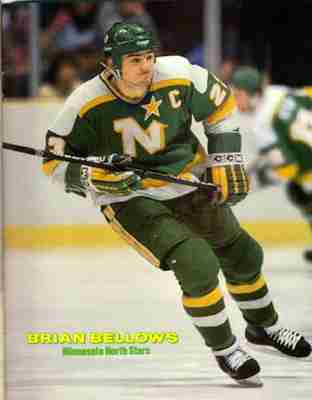 As the second selection in the 1982 NHL draft, Brian Bellows struggled with the initial comparison to Wayne Gretzky. Once he shook off the yoke of living off the disappointment, Bellows settled into a solid career becoming one of the key players for the Minnesota North Stars. Bellows became the youngest captain (though an interim) in 1983 and his leadership became evident as it was for him when he led the Kitchener Rangers to a Memorial Cup. Bellows was a star for the North Stars on and off the ice, where in Minnesota he became famous for his charitable endeavors. As one of the few players with over 1,000 points he should be an outside threat to break into the Hall, though he never did crack 100 points in any season. Brian Bellows could get into the Hall, but he may have a continued wait ahead of him.
The Bullet Points:
Country of Origin:
St. Catharines, Ontario, Canada
Eligible Since:
2002
Played for:
Minnesota North Stars
Montreal Canadians
Tampa Bay Lightning
Anaheim Ducks
Washington Capitals
Team Canada (Canada Cup 1984)
Major Accolades and Awards:
NHL All Star (1984, 1988, 1992)
Stanley Cup Ring (Montreal, 1993)
Should Brian Bellows be in the Hall of Fame?
Definitely put him in! - 33.3%
Maybe, but others deserve it first. - 33.3%
Probably not, but it wouldn't be the end of the world. - 0%