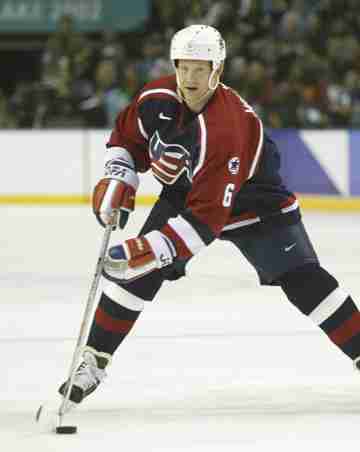 Phil Housley is on the record books for many a team based on his scoring prowess for a blue liner. Sadly, Housley has a few records he may want to forget too.
It seems from the time that Phil Housley began his professional career; he was always among the top scorers among defensemen. The team records he holds for defensive scoring is multiple and he enjoyed a very consistent career. Where Phil Housley was unfortunate was that he played in the same era as defensive legends Ray Bourque, Chris Chelios, Brian Leetch and Paul Coffey. As such, the Norris trophy eluded him, and when hockey fans spoke of the leagues top defender, his name would rarely come first. His peak years also occurred for the small market Sabres and Jets, and while the fans their appreciated him, he was overlooked nationally. Even as a top American player, his fellow countrymen of Chelios, Leetch and Mike Modano would be mentioned as the top American Player. His most dubious record is that of the most games played without a Stanley Cup ring. Again, he was overshadowed in that aspect too. Phil Housley is in the American Hockey Hall of Fame, as he deserves, and we can't see him out of place in the one in Toronto either.
The Bullet Points:
Country of Origin:
St. Paul, Minnesota, U.S.A.
Eligible Since:
2006
Position:
Defense
Played for:
Buffalo Sabres
Winnipeg Jets
St. Louis Blues
Calgary Flames
New Jersey Devils
Washington Capitals
Chicago Blackhawks
Toronto Maple Leafs
Team U.S.A. (Canada Cup 1984 & 1987 World Cup 1996, Olympics 2002)
Major Accolades and Awards:
NHL All Star (1984, 1989, 1990, 1991, 1992. 1993 & 2000)
Should Phil Housley be in the Hall of Fame?
Definitely put him in! - 66.7%
Maybe, but others deserve it first. - 26.7%
Probably not, but it wouldn't be the end of the world. - 6.7%