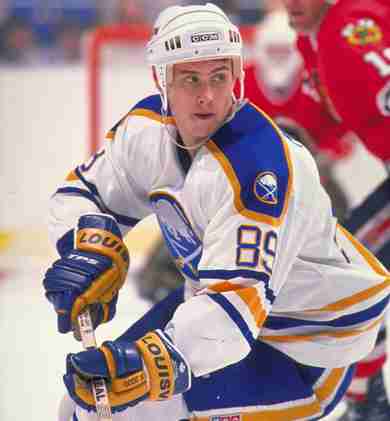 Alexander Mogilny may not go down as the best player (though he is up there) to come from Russia but he may be the one who broke down the most barriers in the NHL. Mogilny was the first player from the Soviet Union to defect to the west, the first Russian to make an NHL All Star Team, and the first European to be an NHL captain. Mogilny was a brilliant scorer whose whopping 76 goals led the league in the 1992-93 season. Although hip injuries prevented him keeping that scoring touch late in his career, "Alexander the Great" went down as the second leading Russian scorer in NHL history and is a select member of the Triple Gold Club (Olympic Gold, World Championship Gold and Stanley Cup). It shouldn't be a surprise if Alexander Mogilny is the next Russian to enter the Hall.
The Bullet Points:
Country of Origin:
Khabarovsk, Soviet Union (Russia)
Eligible Since:
2009
Position:
Right Wing
Played for:
Team Soviet Union
CSKA Moscow (Red Army)
Buffalo Sabres
Vancouver Canucks
New Jersey Devils
Toronto Maple Leafs
Team Russia (1996 World Cup)
Major Accolades and Awards:
Lady Byng Trophy (2003)
NHL All Star 1992, 1993, 1994, 1996, 2001 & 2003
Olympic Gold Medal (1988) Soviet Union
Stanley Cup Ring (2000) New Jersey
Should Alexander Mogilny be in the Hall of Fame?
Definitely put him in! - 50%
Maybe, but others deserve it first. - 33.3%
Probably not, but it wouldn't be the end of the world. - 16.7%