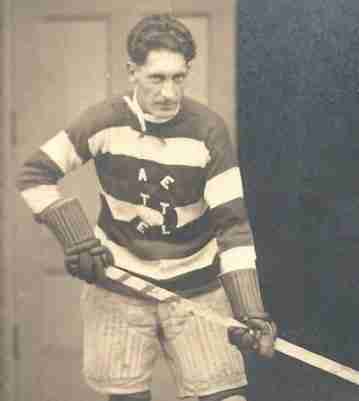 A very good player in his own right,

Lester Patrick

entered the Hockey Hall of Fame for a lot more than his prowess with a stick. Granted, he was a very good offensive minded defenseman, but may not have been good enough to become a Hall of Famer on his on ice skills alone. Along with his brother, he founded the Pacific Coast Hockey Association (later renamed the Western Canada Hockey League) and created a more wide open game.
Although the League would eventually fold, Patrick's mind for the game made him an asset. He would go on to coach the New York Rangers and lead them to a pair of Cups, the first of which saw him take the net himself at the age of 44 in Game 2 when his regular goalie (Lorne Chabot) suffered an eye injury. New York went on to win the game. Lester Patrick would also win a Stanley Cup as the General Manager of the Rangers. Patrick's overall body of work is almost worthy of his own wing in Toronto.
The Bullet Points:
Country of Origin:
Drummondville, Quebec, Canada
Elected In:
1947
Position:
Defense
Played for:
Victoria Cougars
Victoria Aristocrats
Seattle Metropolitans
Spokane Canaries
Renfrew Creamery Kings
Edmonton Pros
Montreal Wanderers
Brandon Hockey Club
New York Rangers
Major Accolades and Awards:
Stanley Cup Rings (5) (Montreal Wanderers, 1906 & 1907) (as a Coach) (New York Rangers, 1928 & 1933) (as a General Manager) (New York Rangers, 1940)