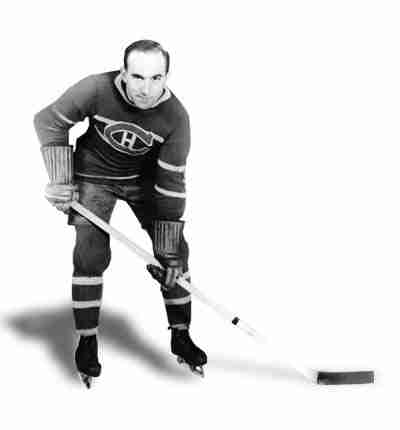 Many have stated that

Howie Morenz

is the first true superstar of the National Hockey League. They may very well be right.
Morenz was the first player to score fifty points in a season, the first to win three Hart Trophies and anchored the Montreal Canadians to the Stanley Cup four times. Howie suffered a major injury and would later suffer a heart attack, while still an active player. He would become the first to have his jersey honored in Montreal (now think of what an honor that is!) and is the first icon of that hockey rich city. Frankly, it would have been a travesty had Morenz not been part of the inaugural class.
The Bullet Points:
Country of Origin:
Mitchell, Ontario, Canada
Elected In:
1945
Position:
Centre
Played for:
Montreal Canadians
Chicago Black Hawks
New York Rangers
Major Accolades and Awards:
Hart Trophy (3) (1928, 1931 & 1932)
First Team All Star (2) (1931 & 1932)
Second Team All Star (1) (1933)
Most Goals (1) (1928)
Most Assists (1) (1928)
Most Points (2) (1928 & 1931)
Stanley Cup Rings (4) (Montreal Canadians, 1924, 1925, 1930 & 1931)
Should Howie Morenz be in the Hall of Fame?
Yes I totally agree with this induction. - 0%
I am fine with this induction. - 0%
I do not agree with this induction, but it does not bother me. - 0%