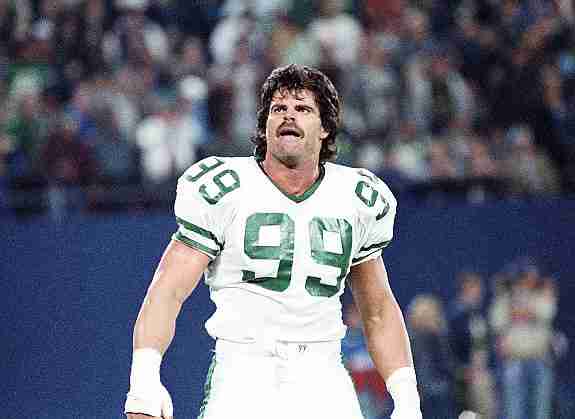 Although Quarterback sacks have always taken place in football, it was not an official statistic in the NFL until 1982. The first true "sackmaster" of American football would have to be the flamboyant and somewhat controversial Mark Gastineau who terrorized Quarterbacks; and not because he had sex with Brigitte Neilsen.
Mark Gastineau seemed to be built for terrorizing gunslingers. It was what he was best at, and it could be assured that if the Jets were on the schedule that the opposing QB would have a sleepless night before the game. Gastineau twice led the league in the new official statistic and set a season record that would not be broken until 2001 by Michael Strahan. As the sack became in vogue, Gastineau became synonymous with it, especially as he developed his "sack dance".
For a four year period, it was hard to argue that Mark Gastineau was not among the top three pass rushers in the NFL. He has been accused by some as being too one dimensional and as he did rub some people the wrong way, he faces a long climb should he ever wish to see himself in Canton.
The Bullet Points:
Country of Origin:
Ardmore, Oklahoma, U.S.A.
Eligible Since:
1994
Position:
Left Defensive End
Played for:
New York Jets
College:
East Central Oklahoma State
Drafted:
2nd Round, 41st Overall in 1979
Major Accolades and Awards:
NEA NFL Defensive Player of the Year (1) (1982)
Pro Bowl MVP (1) (1985)
Pro Bowl Selections (5) (1981, 1982, 1983, 1984 & 1985)
First Team All Pro Selection (1) (1982, 1983 & 1984)
Second Team All Pro Selection (1) (1985)
Most Sacks (2) (1983 & 1984)
Other Points of Note:
Top Ten Finishes: Sacks (3) (1983, 1984 & 1985)
Notable All Time Rankings:
58. Sacks: 74
Years Nominated for the Hall of Fame:
Never
Should Mark Gastineau be in the Hall of Fame?
Definitely put him in! - 14.3%
Maybe, but others deserve it first. - 42.9%
Probably not, but it wouldn't be the end of the world. - 14.3%