On a ballot packed with qualified candidates for the National Baseball Hall of Fame, is it possible that none of them will be elected this year?
If that happens, as it did last year, it would be the third time in the last decade that the qualified voters of the Baseball Writers' Association of America (BBWAA) have thrown a shutout at the Hall of Fame. This is an odd paradox considering that after the Big Zilch of 2013, the BBWAA in subsequent years went on to elect 22 players across the next seven ballots, with the various guises of the veterans committee voting in another five players (and six non-players) during that seven-year span. (In 2013, the veterans committee did elect three candidates to the Hall.)
Last year, Curt Schilling, who had garnered 70 percent of the vote on the previous ballot, seemed to be a lock for election. Instead, he stalled with a negligible increase in support, then threw a social-media Trumper tantrum declaring that he wanted to be removed from this year's ballot. The Hall of Fame quickly responded that it would not do so.
Also making negligible increases were Barry Bonds and Roger Clemens, the pair of poster-boys for performance-enhancing drugs (PED) whose debuts on the 2013 ballot, along with Sammy Sosa's, marked the apex of the PED furor that is far from over; Schilling also debuted on that 2013 ballot although he has never been associated with PED. All four candidates are in their final year of eligibility this year.




Swinging for naught? Home run king Barry Bonds is unlikely to be voted into the Hall of Fame in his final year. (Photo credit: Getty Images)

This year's ballot also marks the debut of Álex Rodriguez, who will assume the mantle of PED poster boy, thus perpetuating the PED furor that has marked Hall of Fame voting ever since Mark McGwire landed on a ballot in 2007. David Ortiz also debuts this year, and he is sure to be buffeted by what has become a tortuous Hall of Fame process.
In fact, this evaluation and recognition of baseball legacy typifies the problems Major League Baseball has been in for some time, problems only exacerbated by the work stoppage that began at the start of December 2021 and, as of this writing, shows no sign of reconciliation. And should BBWAA voters throw another Hall of Fame ballot shutout when their results are revealed on January 25, it would be just another indication that something is very wrong with baseball.
Hall of Fame Environment 2022
The Big Leagues are in Big Trouble. Despite an array of qualified candidates, and despite the early returns posted at the 2022 BBHOF Tracker, it is entirely possible that BBWAA voters could fail to elect any candidate to the Hall of Fame for the second consecutive year. Prior to last year, BBWAA voters last threw a Hall of Fame shutout in 2013, perhaps not coincidentally the year Bonds, Clemens, Schilling, and Sosa debuted on the ballot.
Schilling might have sealed his fate with his Trumper tantrum following the results of last year's ballot, asking to be removed from consideration for this year's ballot. The Hall of Fame did not oblige him, but BBWAA voters could. Even if Bonds, Clemens, and Sosa go away empty-handed this year, the PED issue will not. Taking the PED poster-boy baton from Bonds and Clemens is first-timer Álex Rodriguez, who joins Gary Sheffield and especially Manny Ramirez as candidates also tainted by PED.
Furthermore, Major League Baseball has been at a standstill since the start of December 2021 because of the owners' lockout of players following the failure to renew the 2016 collective bargaining agreement with the Major League Baseball Players' Association; as of this writing, there has been no movement on that stalemate.
The last work stoppage, in 1994, which resulted in the cancelation of the World Series for the first time in 90 years, engendered lingering fan enmity that lasted at least until 1998, when the Mark McGwire-Sammy Sosa chase for MLB's single-season home run record electrified the baseball world (and a good part of the non-baseball world), at least until it turned out to be fueled by PED, a bigger problem that still hasn't gone away and will not for some time. (Hint: Will Robinson Cano become the next PED poster-boy after Rodriguez?)
A blizzard of home runs is unlikely to assuage disgruntled fans—for one thing, baseball is already awash in home runs as hitters obsessed with "launch angle" and "exit velo" swing for the fences during nearly every at-bat—but MLB has been struggling to retain its market share in the overstuffed entertainment arena for several years already, and this work stoppage cannot help.
Finally, the Hall of Fame has become the Hall of Saints, enforcing a moral code upon its prospective candidates as an imperative for "enshrinement"—the word itself smacks of sanctity and canonization—even as baseball itself, still dealing with PED, has seen recent sign-stealing and baseball-doctoring scandals expose the culture of cheating that, frankly, baseball has had since its inception in the 19th century.
Yet amidst all that, the National Baseball Hall of Fame increasingly presents a gauzy, glossy, Disneyfied view of Major League Baseball that insists on standards of purity for those "enshrined"—and ignores those who fail to measure up to those standards.
Granted, induction into the Hall is a privilege, not a right, conferred by private institutions charged with administrating the induction process. But what does it say about MLB in general, and the Hall in particular, that baseball's all-time hits leader, Pete Rose, is not inducted? Or baseball's all-time home run leader, Bonds, is not inducted?
Don't say that it's a case of a few bad apples who might spoil the barrel. Rose might be an exception in that gambling, by and large, is not a problem in baseball. But as Rodriguez, and in a few years Robinson Cano, demonstrate, even if Bonds, Clemens, and Sosa go away this year without induction, the PED problem will not go away with them.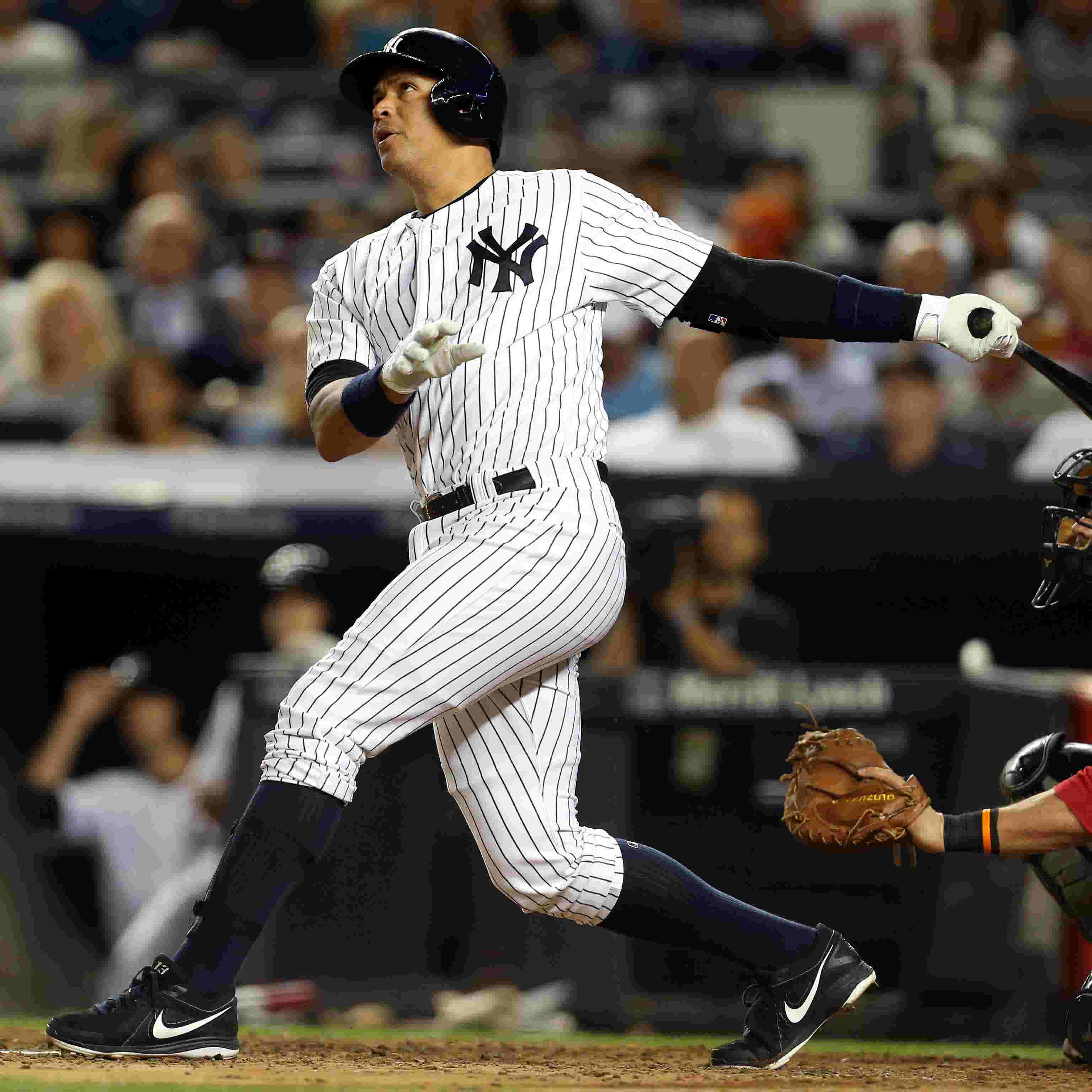 The Hall of Fame is unlikely for Alex Rodgriguez--but he is the new poster boy for performance-enhancing drugs. (Photo credit: USA Today)


Why should it? Baseball players have been looking for a chemical edge since Hall of Famer Pud Galvin's "monkey testosterone" in the 19th century. Even noted pitching coach and instructor Tom House, a former relief pitcher who caught teammate Hank Aaron's record-breaking 715th home run in the Atlanta Braves bullpen in April 1974, admitted that he and his contemporaries were dosing themselves with all kinds of dubious, even dangerous substances in the 1970s.
And given that, at least until a third failed drug test, PED penalties are little more than the equivalent of fines levied against a company that pollutes the local stream but continues its practices nevertheless, and that suspended players usually find work in MLB after they've served their penance, it seems that it's the barrel that is spoiling the apples. In other words, it's the baseball environment that enables players to take their chances with PED, or to pursue sign-stealing schemes, or to doctor baseballs—all in the name of winning division titles, league pennants, and world championships. Aren't those accomplishments tainted by a culture of cheating tolerated by the baseball industry?
Still, the Baseball Hall of Fame insists on the kind of purity exemplified by the late Hall of Famer Joe Morgan's pearl-clutching 2018 letter to Hall of Fame voters imploring them not to vote for candidates with PED associations. That mindset, along with a continuing logjam of qualified candidates—technically, if not morally, in the minds of many voters—could indeed result in no candidates being elected this year, a conundrum that epitomizes the problems that beset Major League Baseball today and into its foreseeable future.
As I've said many times, you evaluate the baseball you have, not the baseball you wish you had.
New and Returning Candidates
Of the 30 candidates on the 2022 BBWAA Hall of Fame ballot, 17 are returning candidates. Joining Bonds, Clemens, Ramirez, Schilling, Sheffield, and Sosa as returnees are Bobby Abreu, Mark Buehrle, Todd Helton, Tim Hudson, Torii Hunter, Andruw Jones, Jeff Kent, Andy Pettitte, Scott Rolen, Omar Vizquel, and Billy Wagner.
Buehrle, Hudson, and Hunter are the only newcomers from the 2021 ballot to survive on this ballot; in my ballot forecast for 2021, I considered Buehrle and Hudson to be borderline candidates, with Hunter a one-and-done although he actually garnered nearly ten percent of the vote. As for the remaining 14 candidates, I consider all but Pettitte to be Hall of Fame-worthy candidates.
The 13 first-time candidates are Carl Crawford, Prince Fielder, Ryan Howard, Tim Lincecum, Justin Morneau, Joe Nathan, David Ortiz, Jonathan Papelbon, Jake Peavy, A.J. Pierzynski, Álex Rodriguez, Jimmy Rollins, and Mark Texeira.
In my ballot forecast for 2022, I named Ortiz and Rodriguez as no-doubt Hall of Famers, with Nathan and Teixeira on the borderline. All others except for Morneau and Pierzynski, neither of whom I evaluated, I considered to be one-and-done while dubbing Fielder, Howard, and Lincecum "hard-luck" cases because their careers began with Hall of Fame potential but, as has been the case for so many players, that simply did not pan out.
I didn't evaluate Morneau or Pierzynski because both lacked the distinction of the other newcomers. Morneau, a four-time All-Star, was the American League Most Valuable Player in 2006 while with the Minnesota Twins and led the National League in batting in 2014 while with the Colorado Rockies, but with a JAWS (JAffe War Score system) ranking of 88th among first basemen, he is unlikely to survive this ballot. And although Pierzynski, a two-time All-Star, is distinguished by his "colorful" (read: exasperating) personality, and he is one of only twelve catchers to amass 2000 hits while posting a career batting average of .280, his JAWS ranking of 71st makes him unlikely to survive this ballot as well.
My Hypothetical Ballot
With 15 candidates whom I consider to be Hall of Famers, I have to make some strategic voting choices on my hypothetical Hall of Fame ballot. So, although I would vote for them if permitted to do so, I would forego voting for Helton, Jones, Ramirez, Rolen, and Vizquel because all five still have a few years left on the ballot (although Ramirez, in his sixth year, has already reached his "decline phase" on the ballot) and all five have polled comfortably enough on their past ballots—with Helton, Jones, and especially Rolen making impressive gains in 2021—that they are very likely to receive enough votes to keep them on the 2023 ballot.
That leaves my ten boxes to be checked for the following candidates, in order of urgency (even though the Hall of Fame ballot neither requires nor recognizes ranked choices):
10. Álex Rodriguez
9. David Ortiz
8. Billy Wagner
7. Gary Sheffield
6. Sammy Sosa
5. Roger Clemens
4. Barry Bonds
3. Curt Schilling
2. Bobby Abreu
1. Jeff Kent
What's the urgency? Bonds, Clemens, Schilling, and Sosa are on the ballot for the last time. Kent has one more chance after this year, Sheffield has two, and Wagner has three. Abreu, a sabermetric darling, eked onto the ballot in 2020 and received just under nine percent of the vote last year. And while both Ortiz and Rodriguez, despite his notoriety, are certain to receive well more than the five-percent minimum of the vote to remain on the ballot for next year, both are no-doubt Hall of Famers although no doubt a sizeable number of voters will not vote for them.
Because all ten candidates have had their careers and Hall of Fame chances exhaustively evaluated over the years (I've certainly written at length about all of them), I have not commented on them under the assumption that readers are also quite familiar with them.
Below I have provided an appendix containing the career statistics of all 30 candidates on the 2022 National Baseball Hall of Fame ballot.