Strategic Voting
The renewed furor over performance-enhancing drugs highlights yet again an ongoing problem with determining baseball legacy, but there is still another problem that is a bigger one regardless of your attitude toward PED: There is an ongoing ballot logjam in which there are more qualified candidates for the Baseball Hall of Fame than there are slots in which to vote for them.
That number of qualified candidates can vary depending on how you feel about candidates with known or suspected PED association. For me, I count 17 players whom I would vote for if I had a Hall of Fame ballot from the Baseball Writers' Association of America. The maximum number you can vote for is ten. A candidate must receive at least five percent of the vote in order to remain on the BBWAA ballot, and a candidate can remain on a BBWAA ballot for a maximum of ten years before being removed permanently from the ballot.
This can then lead to the situation of strategic voting, which is what you have to do when you have too many choices and not enough time or opportunities to realize all those choices. You have to prioritize your voting based on those restrictions.
So, for example, if I had a 2018 BBWAA ballot, I would not vote for Chipper Jones or Jim Thome.
Not
because I think that either or both is not a Hall of Fame-caliber player, but precisely because each of them is absolutely a Hall of Famer: I am counting on at least 75 percent of the other voters to check the box for Jones and Thome so that I can use those votes for other candidates who are likely to receive less support for their candidacies.
There is the danger of the "Ken Griffey Effect" in this strategy. In 2016, Griffey received 99.3 percent of the vote, with all but three of 440 voters casting a ballot for Griffey, thus denying him from becoming the first-ever BBWAA candidate to be elected unanimously to the Hall of Fame. (Griffey had to settle for merely having the highest voting percentage ever accorded to a candidate.) This failure launched the stirrings of a witch hunt to find the three voters who didn't cast their ballot for Griffey, with rumblings that those voters did not deserve to have a Hall of Fame vote since they were clearly incompetent in not voting for such a blindingly obvious candidate.
Fortunately, baseball's version of
The Ox-Bow Incident
never occurred, but it may have cast a chilling effect on subsequent voting. Despite the Hall striking down the BBWAA's initiative to make all ballots cast public, many voters do make their ballots public voluntarily, and they have done for quite some time. Now, however, the threat of peer pressure might unduly influence a voter's choices—exacerbated by Joe Morgan's letter to voters imploring them not to vote for PED-associated players.
For the record, I would have been one of the three voters not to have voted for Griffey, for precisely the same reason why I would not vote for Jones and Thome this year—yes, Griffey is a blindingly obvious candidate, so I would expect at least 75 percent of the voters to choose him while I use that vote for Griffey to support a less obvious, but equally deserving, candidate.
That is strategic voting, which I believe is necessary given the logjam of qualified candidates, and which I believe will continue to be necessary until the logjam dissipates. When will that happen? Hard to say, except that BBWAA voters need to elect candidates at the pace at which they have been doing since 2014 in order to thin the ballot and reduce the logjam, unless the Baseball Hall of Fame elects to increase the number of votes that can be cast on a ballot, increase the amount of time a candidate can remain on a ballot, or decrease the voting percentage needed to be elected to the Hall of Fame.
The Hall has previously rejected a request to increase the number of votes that can be cast, it is unlikely that it will reverse its 2014 decision to limit the number of years a candidate can remain on the ballot, and it is equally unlikely that the Hall will reduce the voting percentage needed to be elected. And at least for that last one, that is as it should be—it should be hard for a candidate to get into the Hall of Fame, and we hope that in time it won't be thought necessary to increase the number of votes that can be cast. Restoring the number of years a candidate can remain on the ballot to 15 years is not only a good idea—it should not have been changed in the first place.
The good news, in a sense, is that the number of bona fide Hall of Fame candidates looks to be slowing in the next few years. Roy Halladay and Mariano Rivera are the most likely Hall of Fame inductees in 2019, with
Lance Berkman, Todd Helton, Roy Oswalt, Andy Pettitte, and Michael Young among the borderline candidates
. Derek Jeter is the only no-doubt pick in 2020, while the 2021 class offers no clear-cut candidates. Meanwhile, the presence of David Ortiz and especially Alex Rodriguez on the 2022 ballot is sure to get Joe Morgan's pen scratching another urgent missive to BBWAA voters cautioning them not to vote for PED performers.
But as for the 2018 Baseball Hall of Fame ballot, here is how I would vote, were I to have a ballot.
2018 Hall of Fame Candidates on the Bubble
Although I would not vote for the following candidates even given the opportunity to do so, I do believe that they are truly on the bubble: Were any of them to be elected to the Hall of Fame, I would not complain as I believe that each has a legitimate case for the Hall, but it is one that I do not agree with. At least, not yet—as we will see below, I have shifted my position somewhat on one candidate for whom I was previously equivocal, not clearly coming out in support of his candidacy, which I am doing this year.
If the defensive metrics are to be believed,
Andruw Jones
is one of the greatest center fielders of all time, and
at least for the first ten years of his career, he looked to be on his way to Cooperstown as a top-notch defender and a first-class slugger
. Then his career tumbled over a cliff, and the former king of center field found a hard time simply securing a job as a corner outfielder. Was Jones's peak dominant enough to compensate for his stumbling to the finish line? I don't think that it was, but it does carry some weight.
Already a consistent performer just as the PED era was getting underway, first baseman
Fred McGriff
seems to be penalized for not posting the eye-popping numbers of that inflated era, which in turn is used as evidence that McGriff played the "right way" and is more worthy of the Hall of Fame than the cheaters. I've been looking at McGriff for the past eight ballots, and I still see a player on the bubble, consistently very good but not great, not the marquee player. McGriff has just two more chances on the Hall of Fame ballot. Would the full fifteen years players used to have on the ballot have helped to build the case for McGriff? If so, is it a case of Ralph Kiner? Or Jim Rice? I suspect the latter.
Languishing on the lower reaches of the Hall of Fame ballot, slugger Fred McGriff already seems like a relic of a bygone era.
Brian Kenny of MLB Network recently made the case for right fielder
Gary Sheffield
as being comparable to Vladimir Guerrero, and thus a Hall of Famer as Guerrero seems certain to be voted in this year, and it think it is a valid comparison—their numbers are very similar, and Sheffield certainly has a strong case for the Hall of Fame. Yet Sheffield, always an important cog, never seemed to be in the spotlight in the same way that Guerrero seemed to be. Sheffield was the runner-up to Guerrero in American League voting for the 2004 Most Valuable Player Award, with Sheffield playing for the New York Yankees while Guerrero toiled for the (then‑)Anaheim Angels—Guerrero just edged out Sheffield in several categories. It is a small margin, but sometimes that is the margin between being on one side of the threshold and the other.
2018 Hall of Fame Candidates I Would Not Vote For—But Do Consider Hall-Worthy
Again, as part of the strategic voting approach, I consider these seven candidates to be worthy of the Hall of Fame, but I would not vote for them this year, largely with the expectation that other voters would vote for them.
Just as I gave right fielder
Vladimir Guerrero
the edge over Gary Sheffield above, I now state that I would not vote for Guerrero on this ballot.
I had already pegged him as a Hall of Famer back in 2014
, and his garnering of 71.7 percent of the vote last year in his ballot debut heralds well for his chances to be elected this year. As part of the big dice-rolling that occurs with strategic voting, I am betting on at least 75 percent of the voters to check the box for Guerrero and elect him this year.
Similarly for
Trevor Hoffman
,
I identified him as a Hall of Famer as well back in 2014
, and as the first reliever to notch both 500 and 600 saves fell just one percent shy of election last year, his second year on the Hall of Fame ballot as he debuted in 2016 at 67.3 percent, I am also betting that at least 75 percent of the voters will choose Hoffman this year and send him to Cooperstown.
Already knocking on Cooperstown's door after two years on the ballot, reliever Trevor Hoffman seems a sure bet to be elected.
Of course
Chipper Jones
is a Hall of Famer—Jay Jaffe's JAWS (Jaffe WAR Score) system lists him as the sixth-best third baseman in history with a classic 3-4-5 slash line, .303/.401/.529, with a .930 OPS and 141 OPS+, 2726 hits, 549 doubles, 468 home runs, 1619 runs scored, and 1623 runs driven in, and he walked 103 more times (1512) than he struck out (1409). The 1999 National League Most Valuable Player also played his entire 19-year career with one team, the Atlanta Braves, which may be the last time we see that occurring for a while.
About the only thing
Manny Ramirez
didn't accomplish on his way to becoming one of the greatest right-handed batters in MLB history was to win a Most Valuable Player Award, although he did finish in the top five of MVP voting four times and in the top ten nine times. All right, the left fielder was never going to win a Gold Glove as his Total Zone total fielding runs above average for his career was –109. And then there is the whole PED issue as he failed two drug tests after MLB had codified its drug policy in 2006. Thus the fact that Ramirez garnered nearly one-quarter of the vote on his 2017 ballot debut must have sent Joe Morgan scurrying for his pen. Ramirez is just starting his tenure on the Hall of Fame ballot, and unless Morgan's persuasive skills are better than they seem, Ramirez will be back after 2018.
However, that might not be the case for
Sammy Sosa
, who prompts the question, "Why does a hitter with 609 lifetime home runs and 1667 runs batted in not feel like a Hall of Famer?" The slugging right fielder is the only hitter in MLB history to have hit 60 or more home runs in three different seasons, and although he never led the league in home runs in any of those years, he did lead the National League in homers in two other seasons, in runs batted in twice, and in 1998, the year in which Mark McGwire broke Roger Maris's single-season home run record with 70 long balls, Sosa, who had hit 65 homers, was named the NL MVP. Sosa was the MVP runner-up to Barry Bonds in 2001 when he hit 64 round-trippers, drove in a league-leading 160 runs, and managed to top Bonds in both total bases (425) and in intentional walks (37) as Bonds broke McGwire's single-season home run record by three homers.
All but forgotten after his glory period during the PED heyday, Sammy Sosa could easily fall off the Hall of Fame ballot in 2018.
Yet in 18 seasons, Sammy Sosa generated just 58.4 wins above a replacement player, with just six seasons of 5.0 bWAR or better, indicating an All-Star level of value. Sosa was a good right fielder, with 104 fielding runs above average, and a career dWAR of –1.0, which is more a factor of positional adjustment for right field, borne out by Sosa's career oWAR of 49.6. All those gaudy numbers seemed not to count for much. Sosa is a conundrum irrespective of the PED taint, and I feel that I should include him in my strategic voting because he has been hanging onto his place on the Hall of Fame ballot by his fingernails, with his 8.6 percent of the vote last year a marginal improvement over the previous year's 7.0 percent, and he is in his sixth year this year with time and support running out. Somehow, though, there seems to be so many other candidates who are more deserving.
However, the other guy with 600 home runs on this ballot,
Jim Thome
, doesn't have that problem, although
I wondered in 2011, when the left-handed first baseman and designated hitter reached the 600-homer plateau, whether he was getting any recognition for reaching this milestone
. That doesn't seem to be a problem now as Thome, truly one of the great Three True Outcomes hitters of all time—eighth in home runs (612), seventh in walks (1747), and second in strikeouts (2548)—appears to have plenty of support on his first ballot, which is likely to be his only ballot as he starts to write his Cooperstown acceptance speech.
Whether
Omar Vizquel
enjoys that same level of support is doubtful although he is sure to spark ongoing debates between the numbers geeks, who claim that the durable shortstop was a steady compiler on the offensive side while the defensive metrics don't quite make the Cooperstown case for him, and the "eye-test" traditionalists who point to the stacks of highlight reels and say, "there's your case, pal." My own take is that
Vizquel is somewhere between Ozzie Smith and Rabbit Maranville
—he doesn't have the glowing defensive case that got Smith elected on his first ballot in 2002 (on a ballot that was not nearly as strong as Vizquel's first ballot despite the presence of eight candidates who were subsequently elected to the Hall of Fame), yet Vizquel's case is nevertheless stronger than Maranville's, still one of the most gratuitous selections that the writers have ever made. Vizquel will not get elected in 2018, but he will get at least five percent of the vote and live for another year of debate.
My 2018 Baseball Hall of Fame Strategic Ballot
I will admit at the outset that a couple of my votes are quixotic ones, for candidates who are truly on the bubble and could easily be replaced by the three candidates above, whom I identified as being on the bubble as well. The other eight, however, are sure Hall of Famers.
Scott Rolen (First year on ballot)
Scott Rolen has everything for the Hall of Fame except the fame part
. Rolen ranks tenth in Jay Jaffe's JAWS system for third basemen, a consistent middle-of-the-order power hitter and run producer whose eight Gold Gloves rank behind only Brooks Robinson and Mike Schmidt—in fact, Rolen is really the poor man's Mike Schmidt.
Rolen's two biggest challenges are that fellow third baseman Chipper Jones debuts on the Hall of Fame ballot this year as well, and that Rolen played in the shadow of other, high-profile stars as a blue-collar, Larry Lunchpail kind of player who did not establish their kind of fame. It will take a few tries for Rolen to get into the Hall of Fame. That starts here, because he deserves to be in the Hall of Fame.
Johan Santana (First year on ballot)
Here is the first of my two quixotic picks. Certainly for the first half of his career,
Johan Santana
seemed to be writing his ticket for Cooperstown, and for a five-year peak,
the left-handed starting pitcher had a run that was as comparable for his era as was Sandy Koufax's for his era
. That might be a bold statement to make, and it may not be fully justifiable, but given the nature of baseball in the 21st century, and especially the nature of starting pitching, I think that we need to re-evaluate how we measure legacy in a period of high talent compression, and we start by examining what Santana was able to accomplish in the space of five years, when he was arguably the most dominant pitcher in baseball.
Injuries contributed to Santana's ineffectiveness after 2010, his age-31 season, and he was out of baseball after the 2012 season (although he did throw his only no-hitter that year), but he was worth 50 wins above a replacement pitcher over 12 seasons, with 35 of those coming during his five-year period of dominance, an average of seven wins a season for his 34 starts each season. Had Johan Santana not won three ERA titles, three strikeout titles, and two unanimous Cy Young Awards during that five-year span, I would not consider him a viable candidate for the Hall of Fame, which typically requires that a candidate be very good for a very long time. Santana is the exception who proves that rule, and the test comes from how much he was able to accomplish during his relatively brief career.
Billy Wagner (Third year on ballot)
The second of my quixotic strategic votes,
Billy Wagner
would seem to require his maximum time on the ballot to allow his case to build among voters. The first stigma comes from his being a relief pitcher—to date, there are only five relief pitchers in the Hall of Fame, with one of those, Dennis Eckersley, a starting pitcher in the first half of his career. Lee Smith, arguably the model of the contemporary closer, spent 15 years on a BBWAA ballot and got at best 50.6 percent of the vote (in 2012) before being eliminated last year. Wagner's second stigma comes from a seemingly light workload—the fireballing left-hander may be sixth all-time in saves with 422, but he made 853 appearances for 903 total innings pitched, which would make him the first reliever in the Hall with fewer than 1000 innings pitched.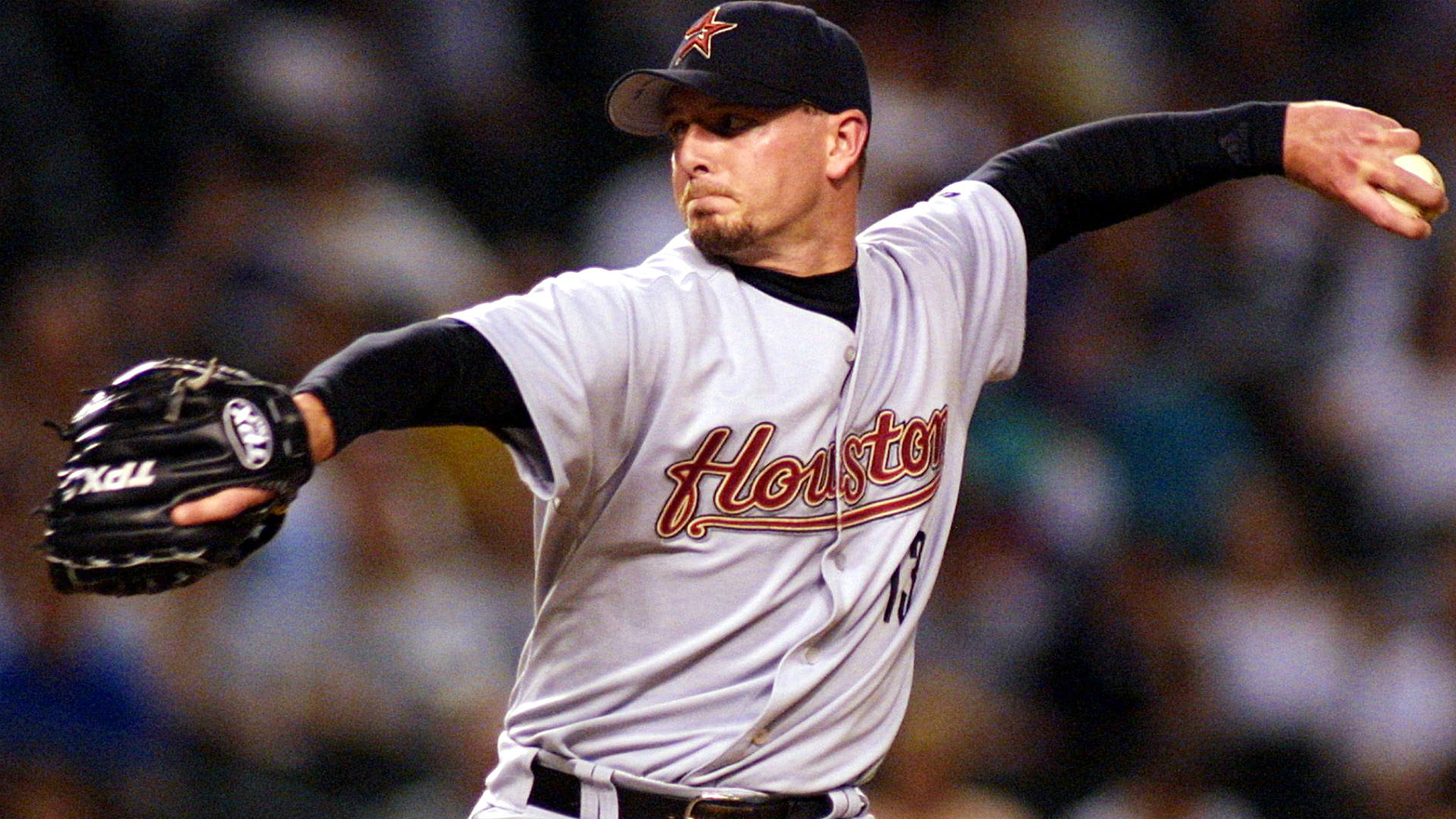 Fireballing southpaw reliever Billy Wagner has managed to hang onto the ballot--does he stand a chance of being elected to the Hall?

When I evaluated Billy Wagner as a borderline candidate in 2014
, I was so sure that he would not survive his first ballot that I dismissed his case as a foregone conclusion even as I touted his sometimes-amazing record. Well, Wagner has survived two ballots with about 10 percent of the vote, far from the 75 percent that he needs but enough to keep him in the discussion. Wagner's 11.9 strikeouts per nine innings pitched is better than either Trevor Hoffman or Mariano Rivera, while his 187 ERA+ is topped only by Rivera's 205 ERA+, with both about even with respect to WHIP—Wagner sports a 0.998 to Rivera's 1.000. Furthermore, Wagner held batters to a .187 batting average, again besting both Hoffman and Rivera, each with a .211 batting average against. As with the re-evaluation of contemporary starting pitching as exemplified by Johan Santana, we need to re-evaluate contemporary relief pitching as exemplified by Billy Wagner.
Mike Mussina (Fifth year on ballot)
Mike Mussina
has qualities that impress traditionalists and stat geeks alike. For traditionalists, the career starting pitcher—he made only one relief appearance in 537 games pitched—won a lot of games, 270 of them, and with just 153 losses, he has a great winning percentage of .638. The right-hander was in double digits for wins in all but his first of 18 seasons as he notched 57 complete games, 23 shutouts, and in 3562.2 innings pitched he struck out 2813 batters against only 785 walks for a sparkling 3.58 strikeouts to walks ratio. His ERA was fairly high, 3.68, but he pitched his entire career in the American League East—and, besides, Jack Morris is in the Hall of Fame now with his 3.90 ERA.
For the stat geeks, Mussina's FIP is 3.57 and his ERA+ is 123, while his 83.0 bWAR is nearly ten wins better than the 73.9 average of 62 starting pitchers in the Hall of Fame, and his JAWS ranking is 28th, better than Tom Glavine, Nolan Ryan, Jim Palmer, and, well, 34 other starting pitchers already in the Hall of Fame. Mussina never won a Cy Young Award, but he finished in the top five for Cy Young voting six times and was the runner-up to Pedro Martinez in 1999. That is not a bad place to be—who was going to top Pedro in 1999, with a 2.07 ERA and 313 strikeouts in 213.1 innings pitched? No one.
Jeff Kent (Fifth year on ballot)
Back in 2011,
I profiled five players who I thought were bound for Cooperstown but who would face a tough time of it because of the ballot logjam
. Two of those were Mike Piazza and Frank Thomas, who have been elected to the Hall of Fame. The other three were Mike Mussina, Curt Schilling, and
Jeff Kent
. Both Mussina and Schilling are around the two-thirds mark in terms of vote percentage, but Kent has been hovering around the 15-percent mark—and he is at the halfway point of his time on the ballot.
Another ballot-basement dweller, slugging second baseman Jeff Kent has not impressed voters with his Hall of Fame credentials.
As a second baseman, Jeff Kent hit 351 home runs, the most at the position, and 377 home runs overall, 74th all time and more than Hall of Famers Ralph Kiner, Joe DiMaggio, and Johnny Mize. Kent drove in 1518 runs, 54th all time and more than Hall of Famers Mickey Mantle and Billy Williams and certain Hall of Famer Vladimir Guerrero. And Kent played his entire career at a position that was more difficult than any of them. Kent was the 2000 National League Most Valuable Player, no small feat considering that not only was runner-up Barry Bonds in the same league as Kent, he was on the same team as Kent. We may be looking at the current Alan Trammell, and while Trammell just received some Cooperstown justice from the Modern Baseball Committee, it is not too late for the writers to elect Jeff Kent themselves.
Curt Schilling (Sixth year on ballot)
It is, quite frankly, puzzling as to why
Curt Schilling
has not only not been elected to the Hall of Fame yet, but why he has been climbing so slowly up the percentage ladder. Not all of that can be ascribed to his personality or to his political views, neither of which were on prominent display when he was on the field, which is the primary—if not the only—consideration when evaluating a candidate for the Hall of Fame.
The right-handed starting pitcher was the runner-up for the Cy Young Award three times, twice to Randy Johnson and once to Johan Santana, and there is no shame in that. Schilling struck out 300 or more batters in a season three times and came within seven of that plateau once; his 3116 career strikeouts, one less than Hall of Famer Bob Gibson, are 15th all time, while his strikeouts-to-walks ratio of 4.38 is fourth-best in the live-ball era. That is just in the regular season. In 19 postseason games, Schilling won 11 of those with just two losses while posting a 2.23 ERA; in seven World Series games, he won four and lost only one with a 2.06 ERA and one shutout as he won three World Series rings. Curt Schilling ranks 27th among starting pitchers according to JAWS. Sounds like a Hall of Famer to me.
Roger Clemens (Sixth year on ballot)
Now we get to the PED portion of our program and to one of the players who spurred Joe Morgan to write his letter. Yes,
Roger Clemens
is one of the poster children for the entire Steroids Era. It happened. Get over it and start dealing with it. It is not going to go away just because you close your eyes, stick your fingers in your ears, and hum "la-la-la-la-la." It is a part of baseball history, and it occurred not only because players like Clemens took performance-enhancing drugs but because the infrastructure of baseball enabled it.
Managers like Joe Torre penciled in Clemens's name onto the lineup card with regularity, particularly in 1999 and 2000, when Torre's New York Yankees won back-to-back World Series behind Clemens. Executives like John Schuerholz hired and acquired players like Clemens with regularity. Adjudicating bodies such as the Baseball Writers Association of America awarded the Cy Young to Clemens seven times, more than any other pitcher in baseball history. And Commissioner of Baseball Bud Selig presided over the entire era.
Schuerholz, Selig, and Torre have all been elected to the Hall of Fame since Roger Clemens first appeared on a Hall of Fame ballot in 2013. Baseball history as told by the Hall of Fame is a fairy tale with little grounding in reality. Get real and elect Roger Clemens.
Barry Bonds (Sixth year on ballot)
As parents squire their children through the Baseball Hall of Fame during that "uplifting, feel-good visit" so beloved of Joe Morgan, what do they say when the children ask, where is the plaque for Pete Rose, the all-time hits leader in Major League Baseball history, or for
Barry Bonds
, the all-time home run king of MLB?
Bonds and Rose are integral to baseball history, and even their absence from the Hall of Fame is problematic because of their centrality—why
aren't
they in the Hall of Fame for their accomplishments? Do parents employ the "few bad apples" explanation, which implicitly exonerates the barrel as being blameless in causing apples to go bad? Or do they attempt to explain that the barrel, which we should recognize as being the infrastructure of baseball, enabled the apples to go bad?
Actually, the most accurate explanation would note that the "apples" are part of the infrastructure, but the Baseball Hall of Fame, although its marquee elements are the players (does anyone go to see Pat Gillick's plaque apart from his family members?), is dedicated to preserving and celebrating the institution of baseball, which makes a structural critique unacceptable. No, better to take the "personal responsibility" approach and place the blame squarely on the moral failing of the player.
Barry Bonds is on the other half of the PED poster from Roger Clemens, with the same infrastructure that supported Clemens supporting him. The BBWAA saw fit to name him the National League's Most Valuable Player seven times, and in the two years in which he was the runner-up MVP, he could easily have been named the winner.
You could look it up—that's baseball history, warts, "bacne," shrunken testicles and all. The Baseball Hall of Fame shouldn't be a fairy story to lull children into a fantasy version of baseball in which storks deliver baseball players and Santa Claus rewards the best of them with Cy Young and Most Valuable Player Awards. That is denying a reality that will only be more painful when they grow up. Celebrate the baseball you have, not the baseball you wish you had.
Larry Walker (Eighth year on ballot)
First they said that
Larry Walker
benefited unfairly from having played 30 percent of his career at Denver's Coors Field, a hitters' paradise, during the nine-and-a-half seasons the left-handed hitter played for the Colorado Rockies. Now they say that he never played enough games during any given season, that during his 17-year career, the right fielder, whom JAWS ranks 10th all-time among players at that position, only played 140 or more games in a season four times.
Ranked 10th by JAWS among right fielders, Larry Walker is watching his Hall of Fame chances disappear like a ball hit at Coors Field.
How many more excuses are they going to come up with for why Larry Walker is not a Hall of Famer? In a very real sense, it doesn't matter because Walker, with only three more years left on the BBWAA ballot, has garnered just about 20 percent of the vote in any given year, and he would have to secure nearly four times that number to be elected. It's not impossible, just very improbable, which is a shame given that Walker was a five-tool player who still played more games than Kiki Cuyler or Chuck Klein, two right fielders who are both in the Hall of Fame. Larry Walker isn't better than either of them? Nonsense.
Edgar Martinez (Ninth year on ballot)
Of course, the knock against
Edgar Martinez
is that he was a designated hitter for much of his career. Never mind that the award given to the top DH in the American League each season is named for him.
The good news is that Martinez was bubbling under the 60-percent vote mark on the 2017 ballot. The bad news is that the right-handed hitting star has just two chances to get to the 75-percent threshold for election. On the other hand, Tim Raines was just about where Martinez was in his eighth year, and he was able to close the gap in his final two years. But why take the chance? The first box I'd check would be for Edgar. He not only deserves it, he needs it.
Last At-Bats
Despite the fact that performance-enhancing drugs are the herpes of the Baseball Hall of Fame—just when you thought they had gone away, here they come again—with Joe Morgan delivering the latest outbreak with his letter to BBWAA voters urging them not to vote for candidates with connections to PED, and that the ongoing ballot logjam necessitates strategic voting in order to accommodate the optimal distribution of votes to an overflow of qualified candidates, I am, curiously enough, wildly optimistic about the 2018 Hall of Fame vote.
In fact, I will go out on a limb and predict that BBWAA voters will elect not three, not even four, but five—count 'em!—
five
candidates to the Hall of Fame this year.
All right, I think there will be four for sure, with the fifth a strong possibility although not outside the realm of probability. Granted, BBWAA voters have voted for five candidates in a year only once, in 1936, which was the inaugural vote, but they have voted for four candidates four times, the most recent being in 2015.
The five candidates I think could pass the 75-percent threshold are:
Chipper Jones: 86.7 percentJim Thome: 83.2 percentTrevor Hoffman: 81.4 percentVladimir Guerrero: 79.5 percentEdgar Martinez: 76.2 percent
Jones and Thome are the LIFO candidates—Last In, First Out—as the generally acknowledged first-ballot Hall of Famers among the 2018 first-timers. Hoffman debuted strongly with 67.3 percent in 2016 and edged up to the threshold with 74.0 percent last year—it's a brief trend but a positive one, and he should slip past the threshold this year. Guerrero debuted with a bang in 2017—71.7 percent—which seems too definitive to simply be an initial enthusiasm that will wane; he looks to be elected to the Hall this year.
Martinez might not make that 17-percent jump in one year, although voters may indeed be heeding the lessons of Jack Morris's last three years on the BBWAA ballot, ultimately failing to make it via the BBWAA, as well as Tim Raines's last three years, who did make it on his final year on a BBWAA ballot, and give Martinez the push over the line before his final year in 2019.
Will designated hitter Edgar Martinez find himself elected to the Hall of Fame before he runs out of time on the ballot?
But if Martinez does not make it this year, he will likely be very close as a few other candidates start to make their move:
Edgar Martinez: 73.1 percentMike Mussina: 69.6 percentCurt Schilling: 64.3 percentRoger Clemens: 61.4 percentBarry Bonds: 60.7 percent
Joe Morgan's PED missive will likely give a few voters pause, but it will equally be likely to produce a backlash among voters who might not be enthusiastic about supporting Bonds or Clemens but who resent being told how to vote even by a current Hall of Famer.
As for the remainder of candidates, I do not see any new or returning candidates getting to the 40-percent mark, let alone the 50-percent mark. Omar Vizquel may get into 30-percent territory while Scott Rolen and Johan Santana may debut in the 20- to 30-percent range as Larry Walker remains within that range too.
Among the newcomers, Andruw Jones may get at least five percent of the vote to stay on the ballot although recent center fielders from Jim Edmonds to Kenny Lofton have not survived their first vote. Among the returnees, Manny Ramirez could drop into the 10- to 20-percent range, Fred McGriff is likely to hold his place as is Gary Sheffield, while this may be the year that Sammy Sosa pulls a Rafael Palmeiro and exits the ballot with less than the five percent needed to hang on.
All of which might turn out to be utter garbage when the results are announced on January 24, but I can guarantee that the Baseball Hall of Fame ballot will return for 2019 with even more opportunities for strategic voting.