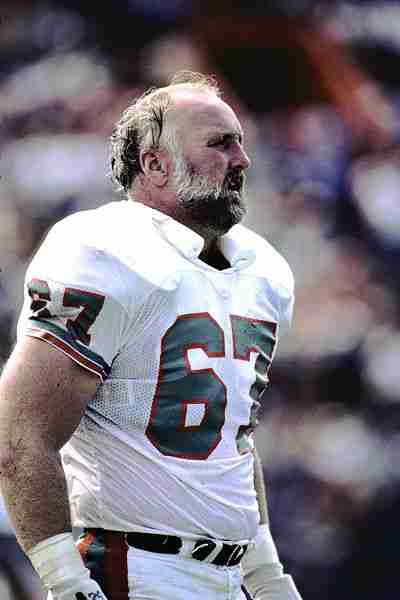 As one of the men who eagerly waits for the final undefeated team to lose every NFL season, Bob Kuechenberg was a staple on the fame Miami Dolphins O-Line.
As part of the Dolphins two consecutive Super Bowl champions, Kuechenberg actually enjoyed better individual seasons after. Although he looked like a reject from the Longest Yard Prison Team (the original movie); Kuechenberg would enter into six Pro Bowl seasons. What he lacked in ability, he made up for in guile.
Kuechenberg was a finalist for eight years in a row but in 2010 he failed to even get to the Semi Finals on the Hall of Fame ballot. Many from that legendary 72' Dolphins team are in the Hall (including fellow lineman) and this may now work against him as it may be felt that that group has been sufficiently recognized.
The Bullet Points:
Country of Origin:
Gary, Indiana, U.S.A.
Eligible Since:
1990
Position:
Left Guard
Played for:
Miami Dolphins
College:
Notre Dame
Drafted:
4th Round, 80th Overall in 1969
Major Accolades and Awards:
Pro Bowl Selections (6) (1974, 1975, 1977, 1978, 1982 & 1983)
First Team All Pro Selection (1) (1978)
Second Team All Pro Selection (1) (1977)
Super Bowl Rings (2) (Miami Dolphins, Super Bowl VII & VIII)
Other Points of Note:
None
Notable All Time Rankings:
None
Years Nominated for the Hall of Fame:
Finalist: 2002, 2003, 2004, 2005, 2006, 2007, 2008 & 2009
Should Bob Kuechenberg be in the Hall of Fame?
Definitely put him in! - 33.3%
Maybe, but others deserve it first. - 33.3%
Probably not, but it wouldn't be the end of the world. - 11.1%