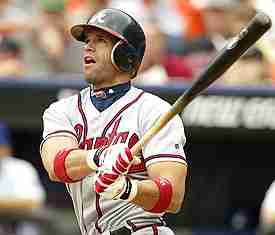 We have a lot that we are working on here at Notinhalloffame.com, one of which is a look at each major franchise's respective Hall of Fame and Retired Numbers. That won't be for a while but as you have seen, every time there is an addition to a team's Hall or a new retired number, we will comment on it here.
Today, the Atlanta Braves have announced the 26th, 27th and 28th members of their Hall of Fame. The biggest name is Javy Lopez, who was their Catcher for parts of twelve seasons playing 1,156 Games for the Atlanta Braves. In that time, the popular Puerto Rican was a three time All Star and in 1996 was the NLCS MVP. The year previously, Lopez was the Catcher on the World Series winning Atlanta Braves team.
Lopez only received 0.2 of the vote when he was first eligible for the Baseball Hall of Fame, but he was well worthy of the Atlanta Braves Hall of Fame. He hit 214 Home Runs for the Braves and had a huge 2003 where he won the Silver Slugger and had an OPS well over one. Career wise with Atlanta he has a more than respectable .839.
Lopez is joined Rabbit Maranville, who had two separate stints with the Boston Braves. He and was inducted into Baseball Hall of Fame in 1954 and was regarded as one of the finest defensive infielders in his era. Offensively he contributed 1,696 Hits for the Braves and would have 2,605 total in his career. This induction shows how Atlanta; unlike other relocated franchises honours its past.
The Braves have also selected Dave Pursely who became the team's Assistant Trainer when the team was still in Milwaukee in 1961. He would soon be promoted to Head Trainer and serve in that capacity until 2002.
We would like to congratulate all three for entering the Atlanta Braves Hall of Fame.