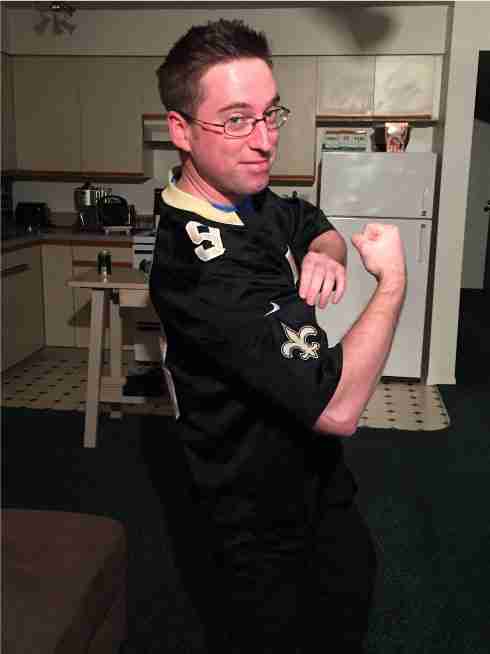 Wearing your favorite players jersey at a game goes with tailgating and ten dollar beers. Fans are not just wearing their team's colors by supporting whom they feel is the star player, but who they feel is worthy enough for them to wear, and in a world where we want to be like our heroes, you would like to think that we choose them carefully.
So with Thanksgiving Football just passing just who are the "Big Three" selling jerseys for each team? Some of those answers will surprise you.
Here they are in order of their overall sales
THIS SEASON
as per the DICK'S Sporting Goods Football
Jersey Report
:
New England Patriots
:
#1 Overall
1. Tom Brady, Quarterback (#2 Overall)
Does this guy ever age? Presumably there are many Pats fans that are on their third or fourth Brady jersey as he has been there so long winning ring after ring. People who wear his jersey just don't want to cheer him; they want to
be him
! Brady is a bigger rock star in Boston than Aerosmith!
2. Rob Gronkowski, Tight End (#5 Overall)
Patriots fans want to be Brady, but they want party with the "Gronk". This is the only team to have two players in the top five in jersey sales.
3. Julian Edelman, Wide Receiver (#30 Overall)
Edelman is a workman like WR. He is very lunchbox, but is also very Belichek. No wonder the Pats fans love him.
New England Patriots: Synopsis:
Hey, New England fans! Where is the love for LeGarrette Blount, who isn't ranked at all! This especially in a season where he might make his first Pro Bowl! Beyond that criticism, New England is a franchise that will be high in jersey sales for as long as the Belichek/Brady show stays in town. Don't be surprised if the Pats lead in this category for the next three seasons.
Carolina Panthers #2 Overall
1. Luke Kuechly, Linebacker (#7 Overall)
Luke Kuechly sold the most jerseys last year, even more than his charismatic Quarterback, Cam Newton. Kuechly recently suffered a severe concussion and you have to wonder just how much longer he can be an elite defensive player in the NFL. This is a horrible thing to say about a player who is only 25 years old, and if it causes decline, it could easily lead to his jersey sales tumbling.
2. Cam Newton, Quarterback (#8 Overall)
Can we say again, how did Kuechly outsell Newton? Which, by the way we want to state is not a shot at the Linebacker, but you can't do the Dab wearing a Kuechly jersey. No matter, as Newton, even in this horrible Panthers season is still a top ten jersey seller and it brings last year's Super Bowl runner up to two top ten finishers.
3. Greg Olsen, Tight End (#20 Overall)
Olsen has been a dependable player for years and is getting better with age. Coming off of two straight Pro Bowls, he is poised for a third. Definitely, the safe jersey choice in the Carolinas!
Carolina Panthers: Synopsis
There were many that pegged Carolina as a return candidate to the Super Bowl, thus likely spiking sales at the start of the season, but they are actually still third overall in sales this week as they appear to have slim chances of making the final NFC Wild Card spot. Hats off to you Carolina fans, we didn't know you were that good…and that many of you!
Denver Broncos #3 Overall
1. Von Miller, Linebacker (#4 Overall)
The highest jersey seller on the defensive side of the ball is still riding high after leading the Broncos to last year's Super Bowl win. (Sorry Peyton, but Miller better receive Christmas presents every year from you, as Denver sure didn't win based on anything you did!). Miller was also a contestant on Dancing With the Stars, an appearance that helped make him a mainstream attraction.
2. Demaryius Thomas, Wide Receiver (#28 Overall)
The Broncos have been known for their defense in recent years but Demaryius Thomas has accumulated 1,000 Yards the last four years and should again this year. Remember, Wideouts are the sexy position right now!
3. Emmanuel Sanders, Wide Receiver (#35 Overall)
This is Sanders' third season in Denver and if he goes over 1,000 Yards this campaign, it will make him three for three. Not too bad, but it speaks a lot to the Broncos fans that he is this high overall.
Denver Broncos: Synopsis
You can't blame the Denver fans for being gun shy on pulling the trigger on purchasing a Trevor Siemian jersey, especially with Paxton Lynch waiting in the wings. Denver loves its football and even when they are bad, they will sell a lot of gear.
New York Giants #4 Overall
1. Odell Beckham Jr., Wide Receiver (#3 Overall)
Beckham Jr. just became the fastest player to 3,500 Yards and is the most dynamic Wide Receiver in the league. His jersey sales alone are still spiking after that fingertip catch in 2014, which is arguably the greatest reception of all time. What kid wouldn't want to wear that jersey?
2. Eli Manning, Quarterback (#25 Overall)
You have to remember this about Eli. Two Super Bowl Rings. That alone ends most arguments against him.
3. Victor Cruz, Wide Receiver (#53 Overall)
Do you think that Victor Crus has lost sales to Odell Beckham Jr.? Of course he has!
New York Giants: Synopsis
The Giants are another one of those teams that will always be popular and their number four rank (despite not being a number four team) reflects this.
Dallas Cowboys #5 overall
1. Ezekiel Elliott, Running Back (#12 Overall)
This is a different era, as it took until #12 to get to a Running Back. Elliott just set the Cowboys Rookie Rushing mark, and is currently the league leading rusher. It makes sense that this is the highest selling jersey for Running Backs, especially considering that prior to this year, nobody owned one.
2. Dez Bryant, Wide Receiver (#15 Overall)
Injuries appear to piling up on Mr. Bryant, but this is a top wide out on America's Team. Dallas is again really good and that enough will generate jersey sales.
3. Jason Witten, Tight End (#17 Overall)
The long serving Tight End (218 Games thus far) for Dallas is probably going to have a bust in Canton one day. A dependable and classy player throughout his career, it is hard not to see why his sales are always strong.
Dallas Cowboys: Synopsis
I know what you are thinking. Where the hell is their Quarterback, Dak Prescott? He is ranked #21 for the season right now and #8 this week so he is rising, but remember there is still Tony Romo there and the QB controversy in Dallas is on. Perhaps Romo sales will spike if DICK'S offers a matching clipboard?
Now what we really want to see are huge sales for the real stars of Dallas the Offensive Line.
Pittsburgh Steelers #6 Overall
1. Antonio Brown, Wide Receiver (#6 Overall)
We will bet that a lot more people have Antonio Brown's jersey than have his haircut. This is another example of the Wide Receiver taking over from the Running Back as the premier offensive skill player (other than QB of course) in the game.
2. Le'Veon Bell, Running Back (#24 Overall)
Honestly, Bell is more popular than he is good, and the Steelers are a team that has been known for bruising Running Backs and he does fit that mold.
3. Ben Roethlisberger, Quarterback (#42 Overall)
Aren't you just a little surprised that Roethlisberger is only # 3 here on his own team list? His sales have been trending down in recent years.
Pittsburgh Steelers: Synopsis
The Steelers are one of those teams that have a strong national fan base and as long as they are decent, should always factor in the top ten in this metric. Once they get a new defensive star, look out!
Seattle Seahawks #7 Overall
1. Russell Wilson, Quarterback (#9 Overall)
Wilson is Seattle's star offensive player, especially with the retirement of Marshawn "Beast Mode" Lynch. Still, shouldn't someone from the defense be first here? With all due respect to Wilson, Seattle fans, you know which side of the ball is stronger!
2. 12th Fan (#26 Overall)
This can't be right. It's right? Sigh. Hey Seahawks fans! While we recognize that you are some of the best fans in any sport and have made a difference in games for your beloved team, don't you think wearing what is essentially your own name to a game is a tad narcissistic? Sadly, this is up from #71 from last year so there are some good players for Seattle missing out on some extra licensing money.
3. Richard Sherman (#31 Overall)
How is Sherman behind the 12th Man? Seattle, again, this is the personality of the team and an incredible player. If he were a Raider this would be the top selling team jersey for sure.
Seattle Seahawks: Synopsis
Can we say again how much we hate that the 12th Fan is outselling Sherman? Couldn't you wear Jimmy Graham, Kam Chancellor, Earl Thomas III or Doug Baldwin instead?
Philadelphia Eagles
:
#8 Overall
1. Carson Wentz, Quarterback (#1 Overall)
Eagles fans (and Philadelphia sports fans in general) are a rabid bunch and the former North Dakota State Quarterback has given them new hope. It isn't hard to see why Philly has jumped on the Carson bandwagon and as a rookie there are a lot of people who wouldn't already own his #11.
2. Darren Sproles, Running Back (#60 Overall)
Sproles has been a rusher, a receiver and the consummate playmaker for years. It was in Philadelphia where he would make his first Pro Bowl.
3. Connor Barwin, Defensive End (#101 Overall)
Barwin moved from Linebacker to Defensive End and is a one time Pro Bowler in his fourth season in Philadelphia.
Philadelphia Eagles: Synopsis
For the Eagles to be this low in the overall rank is a testament to just how many jerseys Carson Wentz is selling. Who knew that the people of North Dakota were all buying them twice!
Cincinnati Bengals #9 Overall
1. A.J. Green, Wide Receiver (#10 Overall)
Green should be the highest seller as he has five straight Pro Bowls and could get a sixth if he comes back from injury in time. The Bengals have a superstar here.
2. Tyler Eifert, Tight End (#14 Overall)
A Pro Bowler last year, Eifert is a fan favorite in Cincy, but 14th overall? Really? We are surprised he is ahead of Andy Dalton.
3. Andy Dalton, Quarterback (#46 Overall)
Again, we are surprised that Dalton is not higher, but Cincinnati has always had a weird love/hate relationship with their Quarterbacks.
Cincinnati Bengals: Synopsis
The Bengals have yet to win the Super Bowl, but the fans have been faithful. The cool design of the Bengals uniform certainly does not hurt their sales.
Green Bay Packers #10 Overall
1. Aaron Rodgers, Quarterback (#13 Overall)
Green Bay is having a down year, but Rodgers is still the straw that stirs the drink for Green Bay. While the Packers have the smallest physical market, their fan base in huge.
2. Jordy Nelson, Wide Receiver (#41 Overall)
Nelson was forced to sit out all of last year, but he has come back with a vengeance. This is the type of player that Packers fans love.
3. Clay Matthews, Linebacker (#52 Overall)
How is it that the Matthews family is not considered football royalty? Well, they are, and in Green Bay they love their six time Pro Bowler, though behind Jordy Nelson? Maybe, some of them really are wearing cheese on their head.
Green Bay Packers: Synopsis
This is a solid trio for the Pack, but didn't you expect Clay to be higher in jersey sales? We did!
Minnesota Vikings #11 Overall
1. Stefon Diggs, Wide Receiver (#19 Overall)
Remember, we are in the age of the Wide Receiver! Diggs is in his sophomore year and has already surpassed his rookie production. A first Pro Bowl appearance (which could happen) could drive sales up even higher.
2. Teddy Bridgewater, Quarterback (#38 Overall)
Come on, did you really think that Vikings fans are buying Sam Bradford jerseys? Teddy will be back.
3. Harrison Smith, Safety (#51 Overall)
A Pro Bowler last season, Smith is the leader of the Vikings secondary. With all due respect to Smith, this is hardly the era of the Purple People Eaters and he is lucky to be ranked this high.
Minnesota Vikings: Synopsis
Minnesota is a football town and despite multiple Super Bowl appearances have never tasted the big win. Of course, when you are in the NFC North (The Norris), you are definitely a football town!
Adrian Peterson is nowhere to be found here, but is that really a surprise considering his future in the NFL as an elite runner? Clearly Vikings fans think Teddy is coming back and Adrian is not.
Indianapolis Colts #12 Overall
1. Andrew Luck, Quarterback (#11 Overall)
The Colts have had great Quarterbacks in the years (Unitas, Manning) and while it remains to be seen whether Andrew Luck is in that category, he is probably going to be their guy for another decade. Not a bad jersey investment to make for an Indianapolis fan.
2. T.Y. Hilton, Wide Receiver (#54 Overall)
Hilton has had three consecutive seasons tallying over 1,000 Yards Receiving. He will likely have a fourth this year
3. Pat McAfee, Place Kicker (#91 Overall)
McAfee is the highest selling kicker. Somewhere, Peyton Manning is shaking his head.
Indianapolis Colts: Synopsis
McAfee is a head scratcher isn't it? Colts fans clearly will be anything and based on their #12 ranking they will do so in large amounts.
Buffalo Bills #13 Overall
Sammy Watkins, Wide Receiver (#29 Overall)
Buffalo loves its football, but this is very curious considering that Watkins is on injured reserve and has been for most of the season. How is Tyrod Taylor not number one right now in terms of Buffalo Bills jersey sales?
Tyrod Taylor, Quarterback (#32 Overall)
He isn't number one, but is close. Is it possible that Buffalo fans are so jaded waiting for the next Jim Kelly that they haven't bought his jersey in mass quantities yet? Maybe if they were allowed to trade in their J.P. Losman or E.J. Manuel Jersey. If they still have a Rob Johnson one, that statute of limitations has expired.
LeSean McCoy, Running Back (#44 Overall)
McCoy was a superstar in Philadelphia who is finding his groove in Buffalo. The way he was treated in Philly makes a lot of fans in Buffalo want to cheer for him.
Buffalo Bills: Synopsis
The Buffalo Bills fans are desperate for a winner, and you can see that from their jersey sales in a small fan base. Hey, Cleveland finally got a champion (yes, we know, not in the NFL) and this is a city that needs it more than probably any other American city.
Baltimore Ravens #14 Overall
1. Joe Flacco, Quarterback (#17 Overall)
Flacco is still riding high on jersey sales since becoming the Quarterback who led the Ravens to their first Super Bowl.
2. Terrell Suggs, Linebacker (#71 Overall)
Do you think that Suggs has picked up residual jersey sales since the retirement of Ray Lewis?
3. Steve Smith Sr., Wide Receiver (#97 Overall)
Smith is in what is probably his last season, so for the fringe Hall of Famer to be hanging on to the top 100 is actually pretty good.
Baltimore Ravens: Synopsis
The Ravens overall sales from not having Ray Lewis, a figure that transcended beyond just Ravens fans, but a 14th overall position feels about right.
Arizona Cardinals #15 Overall
1. Larry Fitzgerald, Wide Receiver (#23 Overall)
Who else right? This year may be a massive disappointment for Arizona but Fitzgerald is a probable Hall of Famer and one of the classiest players in the league. This is a player you want your son to emulate and would be proud to see him wear.
2. Tyrann Mathieu, Cornerback (#45 Overall)
Fitzgerald is the good one, and Tyrann Mathiew is the bad ass. "The Honey Badger" went First Team All-Pro last year and the former LSU star has become a star in the National Football League
3. Patrick Peterson, Cornerback (#56 Overall)
Mathieu may get more love, but it is Patrick Peterson who has been a Pro Bowler in all five of his NFL seasons.
Arizona Cardinals: Synopsis
Arizona should be so much better, but this threesome should give them hope for a future. Carson Palmer did not make the top three, but is this really a surprise?
Cleveland Browns #16 Overall
1. Joe Haden, Defensive Back (#16 Overall)
Well, somebody in Cleveland had to be on the top but did you really think that this person would be ranked #16 overall? The only theory we have is that all of the Browns fans who bought Johnny Manziel jerseys need to wear something else, and a two time Pro Bowl DB is a safe choice.
2. Joe Thomas, Offensive Tackle (#74 Overall)
Joe Thomas makes sense here. Actually, we thought he would be higher as no matter how good (or realistically how bad) the Browns were, Thomas is a Pro Bowl selection and a rare highlight for the team. Actually for a rust belt city like Cleveland, shouldn't a player like Thomas always be selling well?
3. Josh McCown, Quarterback (#141 Overall)
Well, we guess a few people had to replace the RGIII jerseys they bought. McCown does give it everything he has, we can say that for him.
Cleveland Browns: Synopsis
Now that Cleveland has a winner in the Cavs, and with the Indians being a win away from the title can the Browns be far behind. Actually, they are, but give this city credit for supporting their team so much. This is why you want to cheer for the city.
Washington Redskins #17 Overall
1. Ryan Kerrigan, Defensive End (#33 Overall)
Hmmm. A slightly above average Defensive End as your team's biggest jersey seller? Washington fans (except in politics) are really playing it safe here.
2. Kirk Cousins, Quarterback (#49 Overall)
Does the fact that Cousins only ranks second on his team in jersey sales reflect what Redskins fans think of him? Let's say it is cautious optimism at best and they are not ready to reinvest after purchasing their RGIII jersey.
3. DeSean Jackson, Wide Receiver (#82)
Jackson sold more jerseys in Philadelphia, but he did much better there. He is lucky to be in the top 100 right now.
Washington Redskins: Synopsis
This isn't the days of the Hogs is it? Could it be that a name change for the franchise would jettison an increase in sales? There are a lot of people who are uncomfortable wearing that logo.
Los Angeles Rams #18 Overall
1. Todd Gurley, Running Back (#22 Overall)
Gurley gives the (once again) Los Angeles Rams hope, and if we were Rams fans we would be wearing his #30. He was a Pro Bowler as a rookie.
2. Jared Goff, Quarterback (#50 Overall)
Goff has only played two games thus far but is a number one pick. If he turns out to be really good (and in a huge market) look for Goff sales to skyrocket.
3. Aaron Donald, Defensive Tackle (#94 Overall)
Donald was a First Team All-Pro last year and if you are going to wear any jersey from the defensive side of the ledger it would be him.
Los Angeles Rams: Synopsis
While the Rams aren't that good, it is worth noting that the move saw them jump from #32 (dead last) to #18 overall in jersey sales this year. They will jump again next year for certain.
Atlanta Falcons #19 Overall
1. Julio Jones, Wide Receiver (#27 Overall)
Jones is (as of this writing) the leading Wide Receiver in Yards this season, and won that statistical measure last year. If Atlanta can go deep in to the playoffs expect Jones' jersey sales to soar…like a falcon! (Sorry, couldn't resist).
2. Matt Ryan, Quarterback (#43 Overall)
"Matty Ice" (…and isn't that one of the best nicknames ever?) has been their QB long enough for Falcons fans to forget about Ron Mexico.
3. Jake Matthews, Offensive Tackle (#180 Overall)
Matthews is in his third year and has been the starting Left Tackle almost immediately. He had not yet proven himself amongst the elite in his position but as a former sixth overall pick, the optimism is there.
Atlanta Falcons: Synopsis
So behind Jones and Ryan, there really isn't much else the Falcons faithful want to wear. Perhaps they are still clinging to wearing their Tony Gonzalez jersey?
Miami Dolphins #20 Overall
1. Ryan Tannehill, Quarterback (#37 Overall)
For those not on the Ryan Tannehill train, take a look. He is better than you think.
2. Jarvis Landry, Wide Receiver (#65 Overall)
In his third year, Landry is the teams top Wide Receiver and was chosen for the Pro Bowl last year.
3. Ndamukong Suh, Defensive Tackle (#85 Overall)
Two years ago, you would have pegged Suh jerseys as a top seller in Miami but he has not been the same force he was in Detroit.
Miami Dolphins: Synopsis
Doesn't it seem like a lifetime ago since the Dolphins were serious playoff contenders? Miami might be lucky to be this high in overall sales.
Kansas City Chiefs #21 Overall
1. Jamaal Charles, Running Back (#63 Overall)
Charles has been on the IR almost all year and is unlikely to return anywhere near his Pro Bowl form, especially at his age. This is a very curious top seller for Kansas City fans.
2. Travis Kelce, Tight End (#67 Overall)
Kelce was a Pro Bowl Selection last year and one of the better Tight Ends in the NFL.
3. Eric Berry, Defensive Back (#76)
His nickname is the "5th Dimension". That might be cooler to wear. Too bad this isn't the XFL.
Kansas City Chiefs: Synopsis
For a relatively good team, there is no real must have sports jersey here is there? No wonder they are down as a team six spots from last season.
New York Jets #22 Overall
1. Darrell Revis, Cornerback (#45 Overall)
"Revis Island" is easier to inhabit than it used to be, but he will still go down as a legend in the terms of Defensive Backs.
2. Brandon Marshall, Wide Receiver (#64 Overall)
Like Revis, Marshall's best days are probably behind him but his tenure in New York should be applauded. Marshall would go over 1,000 Yards eight times and could still do it again.
3. Geno Smith, Quarterback (#83 Overall)
So many people have given up on this guy, but the recent play of Ryan Fitzpatrick has changed some minds back. Somehow, we can't help but root for the former West Virginia Mountaineer.
New York Jets: Synopsis
Jets fans want so bad to have a star whose name they can wear, but they don't have any in their prime right now. While Nick Mangold falls into the Revis/Marshall category, we were surprised to see that he wasn't in the top three for the Jets.
New Orleans Saints #23 Overall
1. Drew Brees, Quarterback (#34 Overall)
How is Brees not higher overall? The Saints may not be playoff contenders anymore but Brees will go down as one of the top Quarterbacks of all time! Baffling!
2. Brandin Cooks, Wide Receiver (#98 Overall)
Cooks isn't Jimmy Graham or Marques Colston, but he is the Saints top Wide Receiver and the main target for Drew Brees these days.
3. Mark Ingram, Running Back (#167 Overall)
A former Heisman Trophy winner from Alabama, Mark Ingram has not been the superstar that Saints fans were hoping for but he is far from a dud too.
New Orleans Saints: Synopsis
Brees might be in the back nine of his career but it is a first ballot Hall of Fame one. It is criminal that more people aren't buying his jersey this year.
Oakland Raiders (#24 Overall)
1. Amari Cooper, Wide Receiver (#47 Overall)
Cooper is the star skill player on the Raiders offense, and was a Pro Bowler last season. He probably will be again this year and should eclipse his totals from last year.
2. Derek Carr, Quarterback (#66 Overall)
Carr is a big part of the Oakland Raiders resurgence but wouldn't you be hesitant to buy a Quarterback jersey with that last name on it? Sorry Derek, but blame David for that one.
3. Khalil Mack, Defensive End (#92 Overall)
Raiders fans! How do you not have the black and silver on without wearing "Mack" on the back? That name is tailor made for you!
Oakland Raiders: Synopsis
The Raiders might be one of the best in the league but they are poised to move to Las Vegas, which has to be hampering their apparel sales. Early prediction is that they will rocket to the top five in sales. That Vegas Raiders jerseys will fly off of the shelf.
Houston Texans #25 Overall
1. J.J. Watt, Defensive End (#36 Overall)
No Shock: J.J. Watt has the highest selling jersey for the Houston Texans. Shock: J.J. Watt is only #36 in sales and is not the highest selling Defensive End. Isn't this guy a future Hall of Famer and seemingly in EVERY NFL commercial? We guess this is what happens when you play for the second most popular team in your state.
2. DeAndre Hopkins, Wide Receiver (#122 Overall)
Hopkins is down this year after accumulating over 1,500 Receiving Yards and making his first Pro Bowl. He isn't likely to duplicate either feat this year.
3. Brock Osweiler, Quarterback (#138 Overall)
This hasn't been Osweiler's year has it? There have been times he has been so disappointing that Texans fans were longing for David Carr.
Houston Texans: Synopsis
Can we again state that J.J. Watt's low overall ranking is again befuddling? This is one of those few players who even casual fans know and a beast of a player that anyone should be proud to wear. Don't you think that if Watt played for Dallas, that he would be top five overall?
Chicago Bears #26 Overall
1. Jay Cutler, Quarterback (#57 Overall)
How bad is it for Chicago when Jay Cutler is your leading jersey seller? Especially this year!
2. Alshon Jeffrey, Wide Receiver (#63 Overall)
Jeffrey was a Pro Bowl Selection in 2013, though due to a PED suspension he is unlikely to make it this year.
#3. Kevin White, Wide Receiver (#93 Overall)
Kevin White has played four games in his first two seasons. This jersey comes with a note from the doctor.
Chicago Bears: Synopsis
My God, do you think they miss selling Brian Urlacher jerseys? The fact that this team isn't dead last is a testament to the devotion of Bears fans as the above triumvirate are not doing the Super Bowl Shuffle anytime soon…especially Cutler.
Tampa Bay Buccaneers #27 Overall
1. Jameis Winston, Quarterback (#40 Overall)
There are still a lot of questions about the long term potential of Jameis Winston but still a lot of hope for the former Heisman Trophy winner. This is one player who nobody would be surprised if in three years he was considered elite, average or is out of the league.
2. Mike Evans, Wide Receiver (#102 Overall)
The brash Wide Receiver is in his third season and had over 1,000 Yards in his first two. He will for sure do it again this year.
3. Doug Martin, Running Back (#133 Overall)
Martin is coming back from injury and this year will be major let down from last year's 1,400 Yard campaign. No wonder his jersey sales are way down this year.
Tampa Bay Buccaneers: Synopsis
Do you remember when the above list would have been filled with defensive stars? Right now, neither do most of their fans!
Tennessee Titans #28 Overall
1. Marcus Mariota, Quarterback (#39 Overall)
Mariota has proven to be a good pick for the Titans and has thus far done a good job for the organization. Should Tennessee ever become elite under Mariota (a very distinct possibility) this could be a top five jersey seller.
2. DeMarco Murray, Running Back (#96 Overall)
You would think that this would be much higher considering that Murray is back to his Dallas form.
3. Dexter McCluster, Running Back (#153 Overall)
First off, he is injured. Second, he is a San Diego Charger now. This leaves us speechless.
Tennessee Titans: Synopsis
Here is our plea to Titans fans looking to buy a jersey. DeMarco Murray. You are welcome. Support this man!
San Diego Chargers (#29 Overall)
1. Philip Rivers, Quarterback (#48 Overall)
Rivers has been their Quarterback since forever and there really isn't any other Charger that should do better than him in jersey sales.
2. Joey Bosa, Defensive End (#115 Overall)
A highly touted rookie from Ohio State, Joey Bosa still has a lot to do to live up to the high pick but he does bring hope to the Chargers defense.
3. Melvin Gordon, Running Back (#125 Overall)
Gordon is not LaDaininan Tomlinson, but the Running Back is quietly putting together what should be a 1,000 Rushing Yard season.
San Diego Chargers: Synopsis
The Chargers have made a lot of noise about looking to move. This doesn't exactly inspire a lot of people to buy their gear does it?
Detroit Lions #30 Overall
1. Matthew Stafford, Quarterback (#59 Overall)
Is Stafford number one this year because Calvin Johnson retired? Why yes, he is!
2. Golden Tate, Wide Receiver (#109 Overall)
A Pro Bowler in 2014, the former player for the Notre Dame Fighting Irish is the main offensive weapon for Stafford.
3. Ameer Abduallah, Running Back (#139 Overall)
Another curious one as Abdullah only has 101 Rushing Yards this year (Granted, he has been injured for most of the season) but hasn't reached 700 for his career yet.
Detroit Lions: Synopsis
So…How much do the Lions miss being able to sell Megatron jerseys? Keep in mind, this teams is ranked #30 but are likely to win the NFC North.
San Francisco 49ers (#31 Overall)
1. NaVorro Bowman, Linebacker (#81 Overall)
Hey look it is a 49ers defensive player who didn't leave in the off-season.
2. Colin Kaepernick, Quarterback (#88 Overall)
For all of the attention he received this year, didn't you think he would be ranked much higher? We sure did!
3. Carlos Hyde, Running Back (#117 Overall)
Hyde is a decent Running Back but far from Pro Bowl level.
San Francisco 49ers: Synopsis
Wasn't it just yesterday that Kaeprenick took the Niners to the Super Bowl? That seems as long as when Steve Young did take them there…and win. Seeing San Francisco this low in the overall rankings is depressing.
Jacksonville Jaguars #32 Overall
1. Blake Bortles, Quarterback (#61 Overall)
Bortles is not the best QB in the NFL, but the best that Jacksonville has. These days that is enough.
2. Julius Thomas, Tight End (#126 Overall)
Thomas is not as productive has he has been in previous seasons but he is a former two time Pro Bowl Selection. At this point, that is more than enough to be the number two jersey seller in this market.
3. Jalen Ramsey, Safety (#132 Overall)
Ramsey was the 5th Overall pick but the Cornerback hasn't recorded an Interception yet. His sales likely stemmed from playing his college ball at Florida State.
Jacksonville Jaguars: Synopsis
Did you really expect to see anyone else last? Jacksonville is a college football market that just hasn't embraced the NFL yet. This team needs a mega star and realistically this franchise has not had one yet.
Based on what we learned from the past years, the trends will always be in jersey sales for red hot rookies and dependable (and somewhat quiet) veterans. The biggest change from this decade to last is the boom in Wide Receivers as the rock stars in the NFL, and yes this is reflected in jersey sales.
We also know that when Louisville Quarterback, Lamar Jackson enters the NFL, look for that to be a top selling jersey!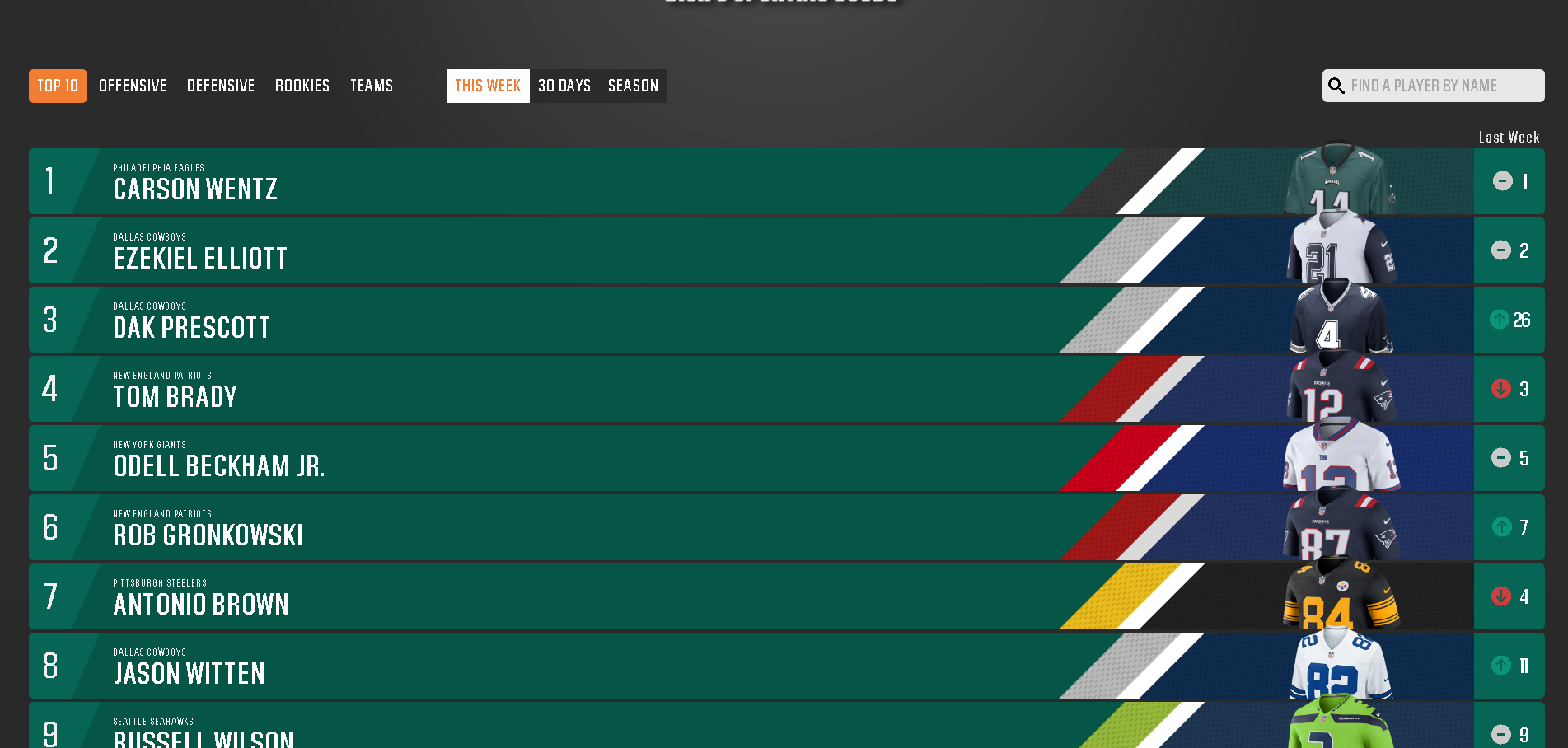 This was a fun article to write, and expect us to make this an annual feature here at Notinhalloffame.com, as many of these players will be ranked by us one day.
Also be sure to follow DICK'S Sporting Goods on
Facebook
and
Instagram
.