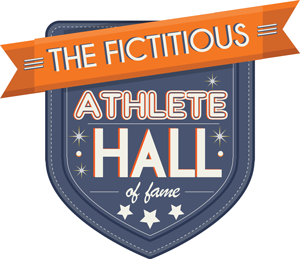 To announce this on a show that I have listened to for years is not something I originally expected when I co-founded the Hall not long ago, which was meant to be a companion piece to Notinhalloffame.com, the core website that was created by my little group in 2009. Saying this, the Fictitious Halls (I also co-founded to Fictitious Rock and Roll Hall of Fame, which I am proud to say is gaining attention too) needed to main one rule: that the fictional characters that received the most votes would be the ones that got inducted.
There would be no discussions in a boardroom; no back door shenanigans, no politicking and the voting percentages would be disclosed at the end. With it being Fictional Athletes and Musicians, there really is not any point to not have full transparency, and the people should judge a true Hall of Fame anyway.
Granted, the five of us who built the Fictitious Athlete Hall, decided to induct Rocky Balboa immediately as the first inductee. Rather than go into great detail here, I will leave it at asking anyone to try to really debate that immediate inclusion, which I suspect will be very difficult to do. Either way, going forward my vote equals exactly what yours does: one.
Inspired by when Baseball writers who have Hall of Fame ballots and are open enough to disclose whom they voted for and why, I thought I would do the same and unveil who I selected.
Recapping, in the Final Round, though you can vote for five of the fifteen finalists, only the top three will enter this year in the Athlete Division. In the Contributor Division, three votes can be cast, though only the top vote getter will advance.
The fifteen Fictitious Athletes left who made the final round are:
Al Bundy
(Married With Children), who most notably reflects on the day that he scored four touchdowns in a game in Polk High in Chicago, Illinois.
Apollo Creed
(Rocky, Rocky II, Rocky III & Rocky IV) who was the former World Heavyweight Champion of the World in Boxing and tragically died in the ring at the hands of Soviet behemoth, Ivan Drago.
Bobby Boucher
(The Waterboy), who may very well be the most impressive Defensive Collegiate Player of all time, and was the star of the "Bourbon Bowl".
Crash Davis
(Bull Durham), the cerebral Catcher who set the Minor League record for Home Runs while as a member of the Durham Bulls.
"Fast" Eddie Felson
(The Hustler & The Color of Money), a billiards hustler on the circuit for decades.
Forrest Gump
(Forrest Gump), who not only ran across the United States multiple times, but was an All-American at Alabama, a perennial Football power. Gump also represented the U.S. in Ping Pong.
Happy Gilmore
(Happy Gilmore), a washout Hockey Player who found success on the professional Golf circuit.
Jimmy Chitwood
(Hoosiers) who led small Hickory High to an unexpected State Championship in Basketball obsessed Indiana.
Paul Crewe
(The Longest Yard '74), a former Super Bowl winning Quarterback who threw games and found redemption leading his prison team to a win over the prison guard football team.
Reggie Dunlop
(Slap Shot), the scheming Player/Coach of the Minor League Hockey Team, the Charlestown Chiefs.
Ricky "Wild Thing" Vaughn
(Major League and Major League 2) who became a star with the Cleveland Indians following an impressive rookie campaign and closing the game against the New York Yankees to win their division.
Roy Hobbs
(The Natural) was a rising Pitching prospect who was shot and eventually reinvented himself as a slugger who debuted as a thirty-five year old rookie with the New York Knights.
Sam Malone
(Cheers), the former Boston Red Sox Relief Pitcher who would later own a bar in Boston.
The Hanson Brothers
(Slap Shot), a trio of bespectacled Hockey goons whose arrival to the Charlestown Chiefs changed the face of the franchise.
Willie "Mays" Hays
(Major League), who as a rookie made the Cleveland Indians roster in the Outfield. His speed on the basepaths would help the Tribe win their Division.
The eleven Fictitious Contributors left who made the Final Round are:
Carl Spackler
(Caddyshack), the Groundskeeper of Bushwood Country Club.
Chubbs Peterson
(Happy Gilmore), a former Pro Golfer whose career ended when a crocodile bit off his hand. He would later coach Happy Gilmore in the fine art of Golf.
Gordon Bombay
(The Mighty Dicks Trilogy), a former youth Hockey star who through unique circumstances becomes a youth Hockey Coach in the same league he once starred in.
Harry Doyle
(The Major League series), the alcoholic play-by-play radio commentator for the Cleveland Indians.
Hayden Fox
(Coach), who led the Minnesota State Screaming Eagles to the National Championship, and would later coach the expansion Orlando Breakers.
Jerry Maguire
(Jerry Maguire), the Sports Agent who developed a conscience, and lost most of his clients in the process.
Jimmy Dugan
(A League of Their Own), a former Baseball slugger who was relegated to the managing the women's team, the Rockford Peaches.
Mickey Goldmill
(Rocky, Rocky II & Rocky III), a former boxer and trainer of Heavyweight Boxing Champion of the World.
Morris Buttermaker
(The Bad News Bears '76), a former Minor League Baseball player turned Little League coach who is saddled with the biggest bunch of misfits in youth Baseball.
Mr. Miyagi
(The Karate Kid Trilogy), who trained young Daniel LaRusso in Karate (and in life) aiding him to become the All-Valley Karate Champion.
Norman Dale
(Hoosiers), a former star College Coach, who is put in charge of the Hickory High School Basketball team in Indiana.
Rather than tell you whom I chose first, I will disclose the Finalists and reasons they did not make my final vote.
Al Bundy
: High School Football
Based on the strong demographic of Males aged 35 to 49 on Notinhalloffame.com, the popularity of Al Bundy during voting was as shocking as a Roger Goodell denial. Still, the level of support he received exceeded my expectations. Here is a bit of disclosure; Bundy was the leading vote getter in the opening round!
Personally, I loved the controversial at it's time Sitcom, Married, With Children and laughed along with many of you when he would talk poetic about his Football exploits at Polk High; most specifically that four touchdown game! Is it the wannabe athlete in some of us (or the failed athlete in some of us) that really identify with sad sack of a man? I personally did vote for him in both the Preliminary and Semi-Finalists when we were able to make more selections, but despite Al's showdown with Spare Tire Dixon (Bubba Smith), and numerous references to his football past, it wasn't enough for him to make my final cut.
"Fast" Eddie Felson
: Billiards
If I based this purely on acting, Felson (Paul Newman) would have been chosen immediately by me, as there are few American actors of any generation that can touch him. However, I am going to allow a personal bias (and this is my vote after all) and I am not yet comfortable with the first few entries for this "Sports Hall" being a pool player.
Still, whether it is on a billiards table or on a baseball diamond; the story that was equated in both films, "The Hustler" where the youngster tries to take on the conquering champion of the sport, and the "Color of Money" where that same man is now a grizzled veteran trying to recapture his fading glory is an amazing backdrop on any athletic canvas. As much as I ay this, how far am I from voting for Fast Eddie? Not that far!
Forrest Gump
: College Football, Ping Pong & Long Distance Running
In theory, I can argue that Gump is the most complete Fictional Athlete on the ballot, and at the very least a certifiable three-sport superstar. His blazing speed got him a scholarship at College Football powerhouse, the University of Alabama under legendary coach, Bear Bryant, and he was named to the prestigious All-American Team. He would later master the game of Ping Pong and represent the United States internationally, most memorably in China. His most impressive athletic accomplishment was his continuous running across America, which can only be described as the greatest feat of distance running imaginable.
Here is my problem though. Gump's athletic accomplishments were vast, but he no concept of any of his athletic achievements. From what we could tell, Gump could only execute one football play (apparently Kick Returns), and is there any reason to think he could understand the Crimson Tide Playbook? When he ran across the U.S., sure he inspired thousands, but his motivation was just to forget a girl. Maybe I need more of a rationale behind his athleticism before I can feel comfortable casting a vote for this simpleton.
Happy Gilmore
: Golf
Another that I almost found myself voting for and a film that I will watch every time it is on cable is Happy Gilmore. I am a horrific golfer but have played with some excellent ones, mediocre ones, duffers, slicers, and semi-professionals, and what did they all have in common? They loved that movie as much as I did!
The goofy story of a failed Hockey Player turned champion golfer may be unrealistic, but that was Adam Sandler at his best; especially in a time period when we didn't look for plot holes in his movies, when we laughed at all his jokes, and looked forward to his next effort. Damn, that seems so long ago doesn't it? Gilmore will eventually get my vote, just not this year.
Jimmy Chitwood
: High School Basketball
Here is another that almost made my final vote. I will admit that I did not see "Hoosiers" until twenty-five years after it was released and I will go into more as to the why when I write about Norman Dale. As for Chitwood, the athletic star of the film, we really didn't have a dramatic arc, or maybe that is a bias based on the lack of acting range from Maris Valainis, who played him; though playing opposite of Gene Hackman, we'll cut him some slack as Gene more than made up for his lack of skills.
Is this the reason why Jimmy Chitwood did not make my final ballot, because of the lack of acting range from Valainis? Why yes, yes it is, and when we are in the final round, I am looking for something a little more complete, though I will strongly bet he gets in before 2020 approaches. Oh, by the way, "Ollie" is a preliminary nominee next year! How did we forget about him in the first place? Those made free throws were epic!
Reggie Dunlop
: Minor League Hockey
I was almost convinced. Oh, boy, was I almost convinced! Here is what you didn't know. Paul Newman's portrayal of Charlestown Chiefs, Player/Coach, Reggie Dunlop barely made it here. Actually, it barely made it to the Semi-Finalist Round, so to find it as a strong contender in the Final Round is a bit of a shock. That being said, the more I thought about it the more I like this nominee.
Think about it (and based on recent support, maybe you have) this is the guy who not only competed well on the ice, but transformed the team into a fictional version of the "Broad Street Bullies" and thus made their hockey team a must see attraction in Charlestown. Additionally, Dunlop tried to save his team with deception, duplicity and undeniable charisma and there is a large part of me that loves those shenanigans. So why didn't I vote for him?
I have to wonder if the "cancelling out" procedure occurred here. Was Dunlop my legit 6th, and pushed down for the love of the Hanson Brothers, the popular choice from this movie and one I was certain I was going to vote for in every round? I am still trying to sort that out, and admittedly, I may have cancelled them both out in the attempt to figure out which nominee should receive my vote.
In the end I chose neither, but I am now more inclined to indict Dunlop than the Hansens. Let's see if I feel the same next year, though it is possible that one or both will be selected this year and I don't have to concern myself with this internal debate, that is until Ogie Oglethorpe makes it to the Final Round!
Roy Hobbs
: Baseball
I can't help but feel that this was the man I was supposed to vote for. I even rewatched this movie, thinking that Hobbs was who I was supposed to vote for, yet I couldn't. It is not that I thought it was a bad movie, or that I did not respect it. I did, and thought Robert Redford was great in the role, yet there was something about it that I could not identify with.
Baseball has a romantic element about it, and I get that, especially when watching this film, but for reasons I can't explain, or maybe just simply because it is depicted in an a way that is beyond even my father's generation, I struggle to identify with the romanticism of it, even though it was being hit over my head with Wonderboy. Do I need to age a few more years, before I vote for it? Maybe I simply need to watch it again.
Sam Malone: Baseball
"Mayday" Malone had five seasons in the Major Leagues of Baseball, with the Boston Red Sox as a reliever, and though we never saw him play, his exploits in Beantown are legendary. Although Cheers left the air twenty years ago (though doesn't it seem longer?), this was one of the best SitComs of its day and a program that was a favorite of a generation. When Cheers ended, Sports Illustrated (when that magazine mattered) even did a piece on the career of Sam Malone. Now that is a fictitious athlete tribute wouldn't you say?
Now wait a minute…why is he in this column? As much as I loved watching Cheers at the time, I can't say that I cared much soon after to watch a rerun of it. If I have not clamored to see Sam Malone on ESPN Classics, is it a man I need to vote for? The Baseball memories we do have from Malone was a beer commercial with Luis Tiant and as a ringer for Evan Drake's corporate Baseball Team. As the show went on, they actually downplayed his run in the Majors, making a minor joke of his five year stint in Boston. I love Sam, but the fact that he was a former Baseball player didn't have that much to do with it.
The Hanson Brothers
: Minor League Hockey
Initially, this was a no-brainer for me to vote for. So what changed? Was it the emergence of many of you with Reggie Dunlop, clouding who should be inducted from "Slapshot"?
That was a major part of it, but was it also the appearance of the Hansons in awful made to video sequels that knocked them out of my final ballot. Seriously, that is a major reason that I couldn't vote for the Hansons on this vote but will probably choose them again in the future if they are still available. I wonder of the post Oscar career of Cuba Gooding Jr. is a big reason why Rod Tidwell did not make it out of the Preliminary Round? The film "Radio" alone kept me from voting him.
Willie "Mays" Hays: Baseball
I have to admit I never thought Mays would get here as a last day rush pushed him into the Final Round. I liked Wesley Snipes here (and have no interest in even acknowledging Omar Epps in the sequel), but honestly behind Ricky Vaughn, Jake Taylor and Pedro Cerrano, Hays is only my fourth favorite character from Major League and this is not going to get my full support until those other three are selected.
Saying that, Snipes was a great casting choice, and damned if we ever have a wing just devoted to actors in their work for athletic roles, Snipes would be a strong contender for the first ballot. Incidentally, Omar Epps would make it around the tenth ballot!
Here are the five I did vote for:
Apollo Creed
: Boxing
First off, I love all things Rocky. I will admit that I will watch the horrific Rocky V on television when it airs, knowing that it is a flaming piece of shit compared to the original film. Hell, I don't even turn the channel during the shitty Rap montage. Here is another admission, though one I love to talk about; one of my athletic heroes in life is Muhammad Ali, so how can I not love a character loosely based on him?
Apollo Creed entered the Rocky series as the Heavyweight Champion of the World, and Carl Weathers, a former athlete himself looked and acted every bit the part of a cocky Boxing champion. The first Rocky film is one of the best sports films of the world, and Creed was not presented as a villain, but as a multi-layered businessman who knew what persona he wanted to present to the public. Creed, as we know, died tragically in the ring against Soviet behemoth, Ivan Drago, and though that set in motion the final fight in Rocky IV between Balboa and Drago, didn't we want to see more of the man with the multiple nicknames? I know that I did!
You know what else? Apollo (and Rocky) takes me back to an era when the sport of Boxing just seemed to matter more. Mixed Martial Arts has taken over the fighting landscape, but there is something far more romantic (and maybe that is the writer in me) about Boxing. Creed is a great character and one who received my vote, though whether he joins his adversary and friend, Rocky Balboa is up to us all!
Bobby Boucher
: College Football
This just made it under the wire for me and was the final selection I went with. As much as film buffs despise Adam Sandler, it is undeniable that he made a lot of movies, and a lot of people laugh in the process. I grant that he has made his share of stinkers (Jack and Jill was so bad that it is worth three flops, and how he made Al Pacino suck will depress me to my grave), but despite his egghead appearance, he is legitimately a decent athlete. Perhaps that is why he gravitates to (and succeeds in) athletic roles.
As such, my favorite Sandler roles, has been when he played an athlete. I went into his remake of the Longest Yard expecting to hate it, and I didn't. I am a fan of Happy Gilmore, but as the Waterboy, the dimwitted Football player from Louisiana, I witnessed the most dominant player in College Football history. I tried to think of any scenario where a Football team wanted to be on Defense to avoid a player, and I could not think of one, real or fictional. Sandler is all over the Fictitious Athlete Hall of Fame ballot, and though Gilmore is likely to get in before Boucher, this was my vote, and one I will probably keep making until he gets in.
Crash Davis
: Minor League Baseball
This vote was not for the brilliance of his fictitious athletic career, as even Crash Davis would tell you holding the record for the most Home Runs in Minor League Baseball (which he accomplished during the film) is not exactly a record to have. My vote for Crash was for his cerebral prowess, charisma and overall appearance in a brilliant Baseball picture.
Kevin Costner, in my opinion is an icon for this type of Hall of Fame, and maybe I am a little bit biased, as this is the only Costner Finalist (Athlete or Contributor) that has advanced to this round. Is it wrong that this entry would justify a Costner entry immediately that could have multiple entries within a few years. Regardless of my pro-Costner bias, Crash Davis is a character with depth and humor and most of all a timeless tale.
We will say this, that Crash would know how to give us the perfect acceptance speech, and do so while entertaining us and telling us nothing at the same time. Oh my!!!
Paul "Wrecking" Crewe ('74)
: Football
Let's get this out of the way. I far prefer the original version of the Longest Yard and kudos on all of you for voting the Burt Reynolds version ahead of the Sandler version. This is nothing against Adam Sandler, as I thought he did a decent job putting his own spin on the movie, but the darker Reynolds version was far superior in my opinion.
Reynolds, a legit football player himself (he played at Florida State) brought a swagger and aloofness to the role and along with a great athletic tale, we also see a story of redemption; an attribute that we can latch on to in any athletic (and dramatic for that matter) role. I am not sure if Burt Reynolds will wind up in this Hall of Fame, but damn it he should! Damn, that last sentence just explained my personal bias didn't it?
Ricky "Wild Thing" Vaughn
: Baseball
Personally, I really wanted to see their Catcher, Jake Taylor do better in the voting but I completely comprehend why Charlie Sheen's "Ricky 'Wild Thing' Vaughn" led the votes in Major League. This Baseball film, which albeit was not as cerebral as other films of the genre, though was far more fun, should generate a Finalist, and why not the man who was the most "fun". Jake Taylor may have ha the winning Hit, but it was the flash of Vaughn and the Strikeouts associated with the "Wild Thing" that we remember. You know what? That is what I remember the most too. Though damned if that wasn't the wussiest rendition of the Troggs 1960's hit! That alone almost cost him my vote.
Sorry, Tom Berenger, maybe next year!
As for the Contributors, I think I made a mistake pushing for only one Contributor to be selected this year. In the future, it was decided that we will alternate years so that two will go in next year and back to one the year following. Somehow just one contributor doesn't seem right as I look up and down the list of Finalists.
Like with the Athletes, I will go over the ones I did not pick first.
Chubbs Peterson: Golf
In what would be Carl Weathers last role of significance, Chubbs Peterson helped teach the unrefined Happy Gilmore the art of putting, and must have been pretty good at it because he seemed to do it quickly. We laughed at his prosthetic hand, and his quick demise, but if someone (let's say Julie Bowen's character, whose name is escaping me at the moment) would have given Happy a putter in the shape of a hockey stick, would not Peterson's role been easily eliminated. Maybe I will vote for Apollo…err…Chubbs another time.
Gordon Bombay
: Hockey
I will admit that the Mighty Ducks trilogy was far from my list of favorite sports movies. I will also disclose that Emilio Estevez is pretty low on actors I liked, and high on my personal list of actors I always wondered how he got employment and a Paula Abdul in her prime. Still, just because I am not a fan of Emilio does not mean that I don't recognize him as the star of a very popular series of sports films. Bombay will probably get in one day, though not through any vote of mine.
Harry Doyle
: Baseball
This one almost got my vote and I was going back and forth between Harry Doyle and my eventual selection. Hell, I may still even regret not taking him. Many sports films utilize Play-by-Play announcers during the games within the film, but did anyone tell it in a more entertaining way than Bob Uecker as Harry Doyle? Hell, was anyone even close? Doyle was not just entertaining but the range (serious) that was shown during the first film of the Major League series told you exactly how the Cleveland Indians were doing. Doyle was arguable the best part of Major League 2 and the only reason to watch Major League 3. Wait, now how did he fall "Juusst a bit outside" on my vote?
Hayden Fox
: College Football
I remember watching Coach on a regular basis, not thinking it was a great show, nor thinking it was terrible. What I remember thinking more than anything else (and still do when I think of the show) is how could such a smart man hire the most incompetent coaching staff and somehow find a way to eventually win the National Championship? Until I figure that one out, voting for this one will be hard.
Jerry Maguire
: Sports Agent
Is the sports agent with the heart of gold akin to the hooker heart of gold that is common in movies? Since we only have one reformed agent, I am not sure I have enough data to remotely support that lame hypothesis. There was enough sports in the film to enjoy it, the acting was good, but with what was essentially a Romantic Comedy, and someone whose actual sports relevance decreased exponentially by the end of the movie, is this someone I will always have trouble putting in the Hall.
Mickey Goldmill
: Boxing
I can't imagine anyone other than Burgess Meredith in the role of Mickey Goldmill, the feisty former boxer turned manager/trainer of Rocky Balboa, the first inductee into our little Hall of Fame. Goldmill devolved into a wise cracking parental figure by Rocky III as opposed to the tragic figure from boxing's past who failed to make it and was riddled with hatred and contempt (though he still had that paternal instinct). Still, there would be no Rocky without Mick, so will he follow his protégé into the Hall? If Goldmill does not get in this year, it will likely get my vote soon.
Morris Buttermaker '76: Youth Baseball
First off, we are openly questioning why we didn't include the Billy Bob Thornton remake. It will never get a vote from me, but we will give you the opportunity to prove us wrong. (The Jack Warden television version will NEVER be a nominee). That being said, this will remain my favorite Walter Mattheau role of all time and when this film is shown in reruns I always look forward to watching the scene where he drunkenly makes his way through practice. Actually, the more I think about it, how many acerbic and hard ass coaches have we seen ripped off in the vein of Morris Buttermaker?
Mr. Miyagi: Karate
I am going to forget about the "Next Karate Kid" starring Hilary Swank, though I really want to give him a pass as nobody gave the underrated Pat Morita a role even close to the wise handyman who happened to be a karate expert. I am trying to think of any teacher (athletic or scholastic) that imparted knowledge in a more unique and effortless way than Miyagi, and by proxy, entertaining. I have to think that many of you feel the same way, or at least feel that he was the true star of the 1984 All-Valley Karate Tournament, as Daniel LaRusso is not a Finalist (in the Athletic Category) and Miyagi is a Finalist here. Miyagi will eventually get my vote, just not this year.
The three I did vote for are:
Carl Spackler
Now I know that Spackler really didn't factor that much into the main plot, accept for his war with the Gopher indirectly causing a win for the Webb/Czervik/Noonan team on the links, and his interaction with the main characters was not exactly deep but can you imagine this film without him? Bill Murray may never have played a less intelligent character, but (almost) everything he played, he was entertaining and found a way to be essential despite again not having any real plot relevance. Now the question we initially asked is does a Groundkeeper belong into an athletic Hall of Fame, but we answered that with two points:
First, there are multiple Baseball Halls of Fames (the Baltimore Orioles and the Boston Red Sox for example) that have inducted Groundskeepers.
Second, the idea that the first full ballot has NOBODY from Caddyshack in the Athlete selection compelled me to have to vote for Spackler.
Ok, it was Bill Murray; my arm really wasn't twisted to make this vote!
Norman Dale: High School Basketball
As I mentioned in the Jimmy Chitwood paragraph, it took me a long time to watch this movie. I don't know why, as I have an unofficial "Gene Hackman Rule" where if he is in a film, I will give it a chance. Sadly that countered my irrational "If I am going to invest nearly two hours of my time on a Basketball film, it won't be one with only undersized white guys rule", which is why I watched the dull "The Air Up There" before Hoosiers.
Saying all this, Hackman was great (isn't he always) as the former College coach looking for redemption in a small High School in rural Indiana, and recalling the scene where he equated the big gym dimensions to the same in Hickory High was one that we could never imagine anyone but Hackman delivering.
Jimmy Dugan
: Baseball
There is something about alcoholic baseball contributors (see Doyle, Harry) that I completely gravitate towards. Tom Hanks' portrayal of an alcoholic former slugger (he did 500 Home Runs in the Majors) gave us the line "There's no crying in Baseball!" that has been uttered on baseball diamonds across North America on ever level ever since. The film may have been an ensemble piece with superb performances by Geena Davis, Lori Petty and the only time Madonna didn't suck (insert pun here), but Hanks is the reason that most people watch it when it comes on television. He was not the best fictitious Baseball Manager, as shown by his scratching of his balls during early season games of the Rockford Peaches (I'll tell you who I think is the best fictional Baseball Manager, later), but he was damned entertaining and stood above the rest in a film loaded with talent.
Overall, as I look at the Finalists for both categories, I couldn't help but wonder how a few people slipped through the cracks. Perhaps I am clouded by my love of the Rocky series, but the omission of both Clubber Lang and Ivan Drago to the Final Round shocked me a little. Perhaps it was that Mr. T (with the exception of his haircut) has gone from menacing anti-hero to goofy caricature over the past thirty years, that we forgot how we used to "Pity the fool" that messed with him. Russia may be having issues with the Ukraine right now, but they are not the evil empire we remember either. Drago is a very dated villain, and time won't do him any favors.
Where was the Karate Kid in the finals? And, for the record unlike Billy Bob Thornton's Buttermaker, there is no way that the no-talent Jaden Smith version will be a nominee here! What worked against him (for me too) had to be that horrific third installment. Seriously, who wants to watch the hero take a pounding in the entire film, and win his match on a palm thrust that did no physical damage to the guy who needed to be taught a lesson by the film's end? He also did not get the girl at the end when they decided to be friends instead.
Again, I am screaming as loud as Howard Beale when I wonder where Al Czervik is! Although, Thornton Melon's triple lindy was a far greater athletic accomplishment.
Wait, this was not a snub…good call everyone, good call!
Here is the omission that puzzled me the most, Benny "The Jet" Rodriguez. The Sandlot is a film (and no not the sequels) that can be passed down from generation to generation, and Benny was the guy you wanted to be friends with middle school. The shock for me is that he killed in the Preliminary Round, and dominated during the first half of the voting for the Semi-Finals. For reasons unknown, he dropped off the face of the earth in terms of voting support, perhaps similar to the actor (Mike Vitar) himself. Is it possible that we had one too many Baseball players left and he just got squeezed out? That is exactly why we do this in three rounds!
As for the contributors, despite the love for the Rocky franchise I extolled earlier, that does not translate to his adoring wife, Adrian.
Admittedly, and though this paints myself in somewhat of a sexist frame, when I first saw Talia Shire (made up to be mousier than usual) the first thing I could thin was despite how broke the "Italian Stallion" was, he could surely do better than this! Take her looks aside, and her "You Can't Win!" speech to Rocky before travelling to Russia to avenge his friends death is hardly the material that supporting wives are made from. Frankly, I would vote for the 80's robot before her.
I did tell you that I would tell you my favorite Coach in Fictional Athletic history, and one who will probably never get inducted into this Hall, no matter what the Chairman and co-creator of this website thinks.
That man is Mike Leak.
Who, some of you are asking?
First off, if you know who that is, please contact me as I want to give you your own section on Notinhalloffame.com! For those unaware, he was the Bears' second Coach in the first Bad News Bears sequel, The Bad News Bears in Breaking Training.
First off, he looked way cooler than any other Head Coach with his army jacket in the dugout, not that a late 1970's William Devane needs any more help looking cool!
Mike Leak took over the team's reign (they had no Head Coach) and promptly got them back in the game in the Astrodome against the Texas Little League Champion, completely ensuring that the Texas businessman overlooked the fact that the Bears were not the California Champs; remember they lost against the Yankees at the end of the first movie.
Leak was able to teach Chachi's little brother how to pitch without a Luis Tiant delivery, Toby how to do subterfuge at First Base, and somehow rigged the batting order in a way that his son (who was the best hitter on the team, and a case where nepotism does work) had multiple spots in the order.
I will throw one more out there. Jimmy Dugan may have given us "There's no crying in Baseball", but Leak gave us "Let Them Play", an anthem he had the entire Astrodome chanting allowing the Bears to come back on the field and defeat the Toros after the game was called off due to time constraints.
Anyone looking to vote for the Final Round can do so
here
, and I certainly encourage all of you to do share your opinions on what I think will be a very special little endeavor.