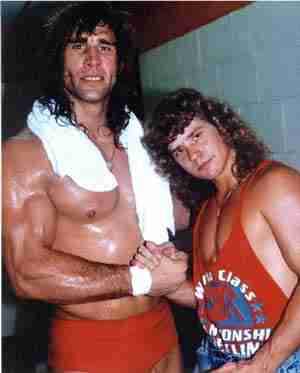 Before we get to the comments of Poffo, let's take a look at the backstory of this situation and how we got to the continued omission of Randy "Macho Man" Savage from the WWE Hall of Fame in the first place.
In the summer of 1985, Savage debuted in the World Wrestling Federation and was positioned as the "hottest Free Agent",[i] as all the heel managers were scouting him during his televised preliminary matches. In an industry where the participants were flashy and intense, the "Macho Man" took those attributes to another level. In the ring, he showcased a rapid gunfire approach and aerial tactics that nobody had ever seen before. The package was completed, when rather than select one of the established managers, he chose a ravishing brunette named Elizabeth (who was his real life wife) as his manager. Randy Savage was already a ten-year veteran, but for the first time in his career, he was a superstar, and within months was one of the WWF's top guys.
In early 1986, Savage won the Intercontinental Championship from Tito Santana and held it for fourteen months before losing to Ricky "The Dragon" Steamboat in what was the Match of the Year, and still one of the best matches in Wrestlemania history. Shortly after, Savage would turn babyface and feud with the Honky Tonk Man, the most famous match of which saw Savage form an alliance with Hulk Hogan on an episode of Saturday Night's Main Event.
The team was called the "Megapowers", and this was more than just an occasional tag team. This pairing told the WWF fans that Randy Savage should be considered at the same level of Hulk Hogan. The Macho Man would go on to win the vacant World Wrestling Federation Heavyweight Championship at Wrestlemania IV and hold the title until Wrestlemania V, where he would lose it to Hogan. Savage would still be at the top of the card, and would win his second WWF World Title from "Nature Boy" Ric Flair at Wrestlemania VIII. Savage would drop it back to Flair that September, but would find himself forever out of the WWF World Title picture. Actually, he would find himself not wrestling much at all.
Randy would be placed in the broadcast booth, which would eventually become a bone of contention between he and Vince McMahon. Still feeling he had a lot left in the ring, he left for the rival, World Championship Wrestling in 1994 and would win their World Title multiple times and headline many Pay Per Views.
Now here is where everything becomes muddled. While many have left the Vince McMahon for seemingly greener pastures, they were all welcomed back to the fold, if money appeared to be made. This includes the late Ultimate Warrior (who went into the WWE Hall of Fame this year) who infamously held up the main event of Summer Slam 1991, demanding a lump sum of money before going out to perform.[ii]
Randy Savage was never asked back. It can be argued that following the demise of WCW and witnessing the poor wrestling shape he was in during a brief run in TNA in 2004, that he had little value left as an in ring performer. Still, a post stroke Bret "Hit Man" Hart (who may have had the worst departure from the WWE of anyone) returned and had a few matches. It is not an exaggeration to say that Bret was only one percent of what he once was in the ring, but he added value out of it; especially in the form of DVD releases, and other original WWE content.
Savage, who can be argued was on an equal (and some would say higher) level of Hart certainly could have provided the same value. The WWE produced a DVD of the best of his work; though did so without any input of Randy Savage, who according to his brother (Lanny Poffo) was hopeful to work again with Vince McMahon and the WWE in some capacity.
There has been multiple theories as to why Savage was not welcomed back, though only Vince McMahon Jr. knows for sure.[iii] On a recent podcast, former WWE writer, Court Bauer mentioned that when the topic of Savage came up, Vince would shoot down any idea to use him immediately, and that it was best not to bring his name up in his Vince's presence. Still, with all those who came back to the WWE fold, it was expected that Savage would himself return one day.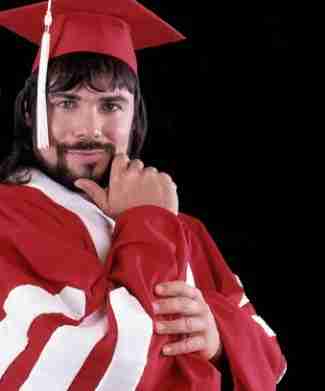 As we all know, any reconciliation between Savage and McMahon and/or return to the WWE cannot happen. Randy Savage died in a car accident on May 20, 2011. Almost immediately, many fans of the WWE, criticized the organization for failing to induct Savage when he was alive and hoped that he would be inducted at least the following year. That did not happen, nor did occur this year.
The brother of Randy Savage, former WWE performer "Leaping" Lanny Poffo has said in multiple interviews in the past that Randy would only enter the WWE Hall of Fame if they were to go in as a family.[iv] This would be Randy, Lanny, and their father, Angelo Poffo.
We don't have any reason to doubt Lanny, and in fact, past history shows a specific event that lends a lot of credence to this claim. In 1995, Angelo Poffo was inducted into the WCW Hall of Fame, where the honor was campaigned (and given) at the request of Randy Savage. With all due respect to Poffo, take a look at the list of the others who were inducted:
Lou Thesz, Verne Gagne, Mr. Wrestling II, Eddie Graham, Harley Race, Ernie Ladd, The Crusher, Dick the Bruiser, Ole Anderson, The Assassin, Wahoo McDaniel, Dusty Rhodes, Antonio Inoki, Terry Funk, Big John Studd and Gordon Solie.
Does Angelo Poffo even remotely belong on that list?
Poffo was a decent wrestler, but realistically did not accomplish one tenth of anyone else who was honoured by WCW. His outlaw promotion, ICW out of Kentucky ran from 1978 to 1984, but is best known for being the first showcase for his son, Randy, and not really much else. If Randy lobbied successfully to get his father into the WCW Hall of Fame, is it that hard to believe that he would do the same for the WWE Hall of Fame?
Lanny Poffo,[v] who when claiming that Randy made this statement, referenced the induction of Chris Von Erich (and essentially how he does not deserve it), and that the idea to induct the family came from the Von Erich family induction. The Von Erichs were inducted as a group in 2009, where part of the deal included the purchase of the World Class Championship Wrestling library.
The Von Erich family induction included the patriarch, Fritz Von Erich and his five sons, Kevin, David, Kerry, Mike and Chris. Fritz was arguably the most successful of the "Nazi" wrestlers, who were used as stereotypical evil Germans, capitalizing on the anti-German sentiment that existed in the United States decades after World War II. Fritz would become a legitimate International superstar and by the late 70's, he morphed (in only a way that occurs in Professional Wrestling) into a Texas celebrity. Fritz did compete in the then named World Wide Wrestling Federation in the 1960's, and based on his overall accomplishments in the business could be a Hall of Fame inductee on his own, without receiving any question from the fans.
As for his three oldest sons, David was the most charismatic and his induction could almost be based on his potential; Kevin was a "glue guy" who held everything together, and Kerry won the NWA World Heavyweight Title and the WWF intercontinental Title. Those three individually may not be the best WWE Hall of Fame inductees, but they are not ones that stick out as a poor selection.
The Von Erich induction included Mike and Chris Von Erich, the former who never wanted to wrestle, and the latter who couldn't.
By multiple accounts, Mike Von Erich did not want to compete as a Professional Wrestler, but was pressured (or possibly forced) to perform following the death of his brother David. The hope was that he would "plug in the gap", as he resembled David the most facially, visually it was believed by a few that he could. Unfortunately for Mike, he was not a very good wrestler and was visibly in over his head, though it would get much worse beyond his debut year.
Mike Von Erich would suffer a separated shoulder on a tour of Israel and as a result suffered a bout of Toxic Shock Syndrome, which impacted him both physically and mentally. Mike noticeably lost a lot of his muscle, and his speech was occasionally slurred. The result was a decrease in in-ring skills of a man who frankly was not that good to begin with.[vi]
The pressure of trying to live up to the standard of his older brothers would begin to tear him apart. Mike's drinking and drug abuse increased, and a car accident in 1986 caused head injuries and essentially an early retirement. Sadly, he remained a slave to his addictions and days following a drunk driving charge in 1987; he committed suicide.
Chris Von Erich, the youngest of the family, dreamed of following the family footsteps, but severe asthma and brittle bones prevented him even approaching the physical frame of his brothers. Chris was short in stature (especially for a Professional Wrestler) and beyond a few matches in the USWA at the Sportatotium where he was paired against Percy Pringle[vii], he had little to no impact in the industry. Like his brothers, depression set in, and in 1991, he too took his own life.
What does it say about a Hall of Fame, where bartering can take place for entry. If the Graham family did not sell the Championship Wrestling from Florida library to Vince, would Eddie Graham be in the WWE Hall of Fame. Verne Gagne's tape library is now in the hands of the WWE. Verne had harsh words about the WWE for years, yet he was inducted. This year, Carlos Colon also was inducted and it was reported that the World Wrestling Council library has been sold to the WWE.
Graham, Gagne and Colon are all legitimate WWE Hall of Fame inductees, but what if family members were inducted with them? Greg Gagne inducted with Verne? What about Eddie Graham's kayfabe family inducted, or just his son Mike? It is absurd, but when compared to the induction of Chris and Mike Von Erich, it isn't that far out of place. Hell, was the possibility of the inducting the Hart Family on the table when Stu Hart was selected?[viii]
As long as there is no transparent WWE Hall of Fame selection committee, we will always have inductions without understanding the rationale, and as this is the case, Professional Wrestlers can be forgiven if there is far from a consensus opinion as to what the Hall of Fame means. With no rules, is it really wrong for Lanny Poffo to bargain for Savage's induction?
In the past, Poffo continued to state that he would not endorse the induction, if his wishes of inducting the Poffo family did not occur. This is not to say that the WWE could not induct Randy Savage anyway, without the blessing of Lanny Poffo. There have been numerous posthumous inductions, but none without the support of the family. In the Tampa Tribune article Poffo said "they (the fans) want to honor Randy and see him get his respect; so if the WWE wants Randy in the Hall of Fame but not my father or me, they should do it."
That does not mean that Lanny would attend the ceremony. He mentioned again in the Tampa Tribune piece that he was upset that he never received any acknowledgement when Randy passed away; though this olive branch he is extending could allow the Macho Man in, which would be huge for his fans, and who are we kidding; for us too!
We are eager to see if the "Curse of Chris Von Erich's Induction" keeps Randy "Macho Man" Savage out, or whether Lanny's verbal olive branch puts him in.
As always, we will be watching.
---
[i]
This let to the angle where Elizabeth would debut as his Manager.
[ii]
Couldn't we write a bible's worth of horrific exits form the WWE, only to come back?
[iii]
They have been from Savage allegedly deflowering Stephanie McMahon to Vince being genuinely hurt that Macho Man left in 1994 and not getting over it.
[iv]
There is even a YouTube video where Lanny has his mother in the video corroborating this claim.
[v]
Here is a YouTube reference link, where Poffo mentions this to the Pro Wrestling Torch.
https://www.youtube.com/watch?v=1HtsP4fhHP8
[vi]
Mike was named as the "Worst Wrestler of the Year" by the Wrestling Observer.
[vii]
Pringle is best known as Paul Bearer.
[viii]
Actually, if that happened, it might sneak Owen Hart in by diffusing the attention from Owen's widow, Martha.