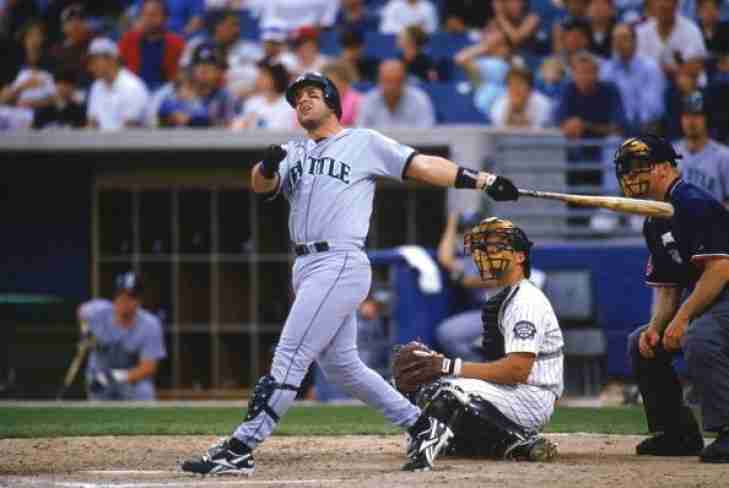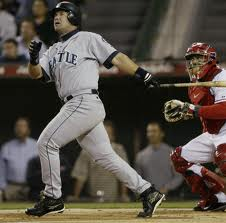 This is the tenth of our series where we here at Notinhalloffame.com, do what else? Debate the merit of twenty-four men on the most loaded Baseball Hall of Fame ballot in our lifetime.
Joining me, the site's Committee Chairman, in this debate are D.K. of the site's Phillies Archivist blog and Darryl Tahirali of the site's DDT's Pop Flies blog. This looks to be a very important part of our site, and we hope you will enjoy reading this as much as we enjoyed writing it.
Chairman:
Ahhh…the Designated Hitter. For my entire life, and let's just state that I am no longer a young man, the DH has been part of baseball fandom and growing up in an American League city (Toronto), I don't know it any other way. Yet, here we are, with the DH well off the place where he could date a late 20 year old, and he is still judged as too young to be relevant.
Gentlemen, after all of this time do we have a case where the Baseball Writers don't respect a part of the game that has been a fixture for more than four decades? I have to think that, because if
Edgar Martinez
, who has to be considered the greatest DH of all time can't get to 50 percent of the vote, will anyone who forgoes a glove for the bulk of their career ever have a shot?
Darryl:
Call me a Polyanna, but I don't think this is a case of outright antipathy toward the DH. Granted, it has taken time to acknowledge the position, and it has been incremental: Paul Molitor was elected, and he played about 44 percent of his games at DH. Frank Thomas went in, and he played about 57 percent at DH. Edgar Martinez played 70 percent at DH, and that is significant: He played about four seasons' worth at third base—and he was a better third baseman than Thomas was a first baseman, and third is a tougher position. But both Molitor and Thomas hit Hall of Fame milestones, the former with 3000 hits, and the latter with 500 home runs. Martinez has terrific qualitative numbers but he doesn't have those counting numbers. By now I think Martinez's bigger problem is the logjam on the ballot, which is affecting almost every candidate—but his time is running out.
D.K.:
If I remember correctly Martinez was a decent fielding third baseman before injuries limited him to DH duties. He then set the standards for all DHs with ten .300 seasons, five 100 RBI seasons, over 300 home runs and a .312 career batting average. If elected, Martinez will have played a highest percentage of games at DH than anyone in Hall Of Fame history (almost 70%), surpassing Paul Molitor who DHed in nearly 44% of his career games. Like another of this year's candidates, Craig Biggio, Martinez was something of a "Doubles Machine" with 514 doubles lifetime, reaching 50 doubles in a season twice and leading the AL in that category twice also.
I think he's deserving... it all depends on how open-minded the writers are to having the first real full-time DH in the HOF.
Chairman:
Those are great points about Thomas and Molitor, though and based on the percentages you gave about the three (Thomas, Molitor and Martinez), the perception about Edgar as "only" being a DH, isn't that far off the mark. I do think there is some bias towards the position, though the stiff competition he faces does him no favors.
I think we all agree that Martinez has some serious HOF qualifications, but isn't a must for any of us. Let me change the question here: With all the great players who were his teammates (A-Rod, Griffey, Randy Johnson) who are all Hall of Fame locks (or would have been had he not been caught lying about PEDs multiple times, and yes A-Rod I'm looking at you) is Edgar Martinez the greatest Seattle Mariner of all time? I'm not saying that he is the best player to ever wear the uniform, but the greatest Mariner, if you catch my meaning.
D.K.:
The Hall Of Fame really hasn't reached the age of the dominant one inning closer. When it does, however, I'd expect Trevor Hoffman to be the first serious contender for the Hall. It's a reflection of how the game has evolved that the only relievers in the HOF now are those who were expected to go a few innings, if necessary (Wilhelm, Fingers, Gossage, Sutter).
I don't expect there to be any controversy regarding their possible place in the HOF (once they become eligible) because Billy Wagner, Hoffman and Mariano Rivera were only expected to pitch the ninth inning unlike relievers of previous eras.
However there is quite a fuss over Designated Hitters, players who hit only and don't field a position, unlike players of previous eras who were both expected to excel at the plate and in the field. - Designated hitters. Edgar Martinez and other DHs didn't rewrite the rulebook in 1973 that allowed the Designated Hitter in the American League. They merely tried to fulfill that DH role as well as humanly possible and Martinez filled that role better than anyone in the 40 plus years of the DH rule's existence. I'm leaning strongly towards giving Edgar my vote.
Darryl:
Interestingly, the Wikipedia page for Baseball Hall of Fame inductees lists Frank Thomas's primary position as DH (Paul Molitor's is third base). Nothing to take to the bank except that it is being recognized now. And of course the annual award for the best DH has been re-named for Edgar Martinez, who probably best exemplifies the position, but how ironic if he is never elected to the Hall.
However, to your question, Chairman, I'm not sure that Martinez is even the greatest Mariner. Randy Johnson first gained fame in Seattle, but his greatest fame was with the Arizona Diamondbacks. Between the historic contract Alex Rodriguez signed with the Texas Rangers and then his move to the New York Yankees, many people may forget that he started as a Mariner. However, I think that Ken Griffey, Jr., is and will continue to be regarded as the greatest Mariner: The Kid notched his four home run titles and his only MVP award in Seattle. Mariners fans may consider Martinez the hometown favorite because he spent his entire career with Seattle, but I think he will continued to be overshadowed by Griffey, and when Griffey is elected in a couple of years, he will in all likelihood have the Mariners' cap on his plaque--and it is very possible that Martinez will still not have been elected even then.
Chairman:
In previous years I would have had him on my ballot, I have to push him off of this one, again due to the logjam. Personally, I think he is a Hall of Famer, but since I can't vote for twelve, he receives an apologetic no from me.
D.K.:
Since the designated hitter has been part of the game in the
American League for over 40 years, I feel that sooner or later they'll have to start recognizing DHs who really distinguish themselves and separate themselves from the pack. My vote is for Sooner - and thus it's a YES vote for EDGAR. He made my top 10 at #9 so he gets my vote.
Darryl:
No. Not this year.