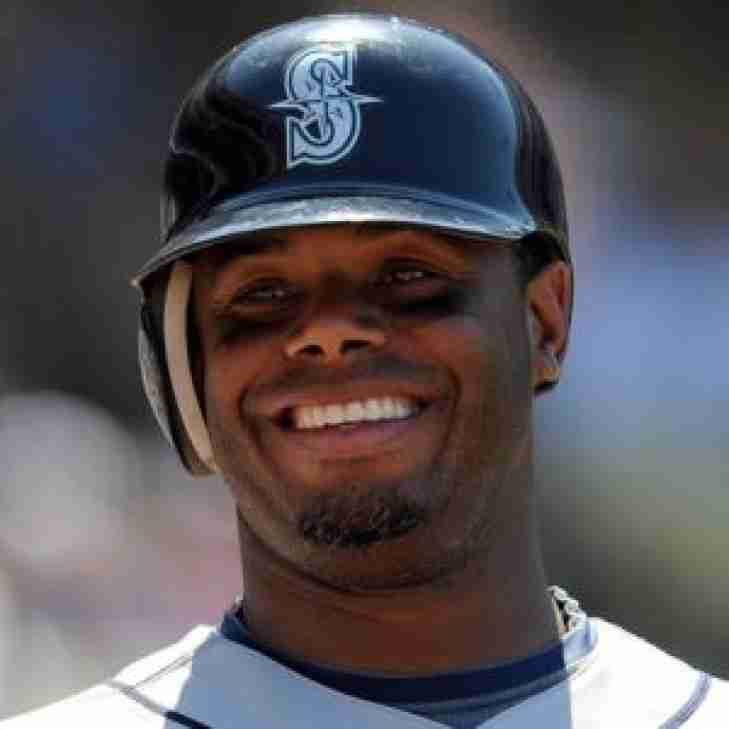 Last year, we did our first ever debate on Notinhalloffame.com where we tackled the Hall of Fame merit of twenty-four men who are on the Hall of Fame ballot, in what was in our opinion the most loaded ballot in our lifetime.
Since it was so much fun last time, we thought we would do it again!
One thing that has not changed is the number. We will again debate twenty-four men who are on the ballot.
What has changed are the ones debating. Last year I had the pleasure of having DDT, the curator of DDT's Pop Flies blog and D.K. of the Phillies Archivist blog. This year, Spheniscus, who has participated in past Rock and Roll discussions, will be joining me.
Chairman
: This should be a no-brainer, with stress on the word "should". I have yet to read a publication, a blog, or a smoke signal that says that
Ken Griffey Jr
. is not a Hall of Famer. Yet, there is going to be a handful of voters who won't check his name off and we know why don't we?
It will be a few of those self-righteous pricks who will say "well, I don't know who used PEDs or not from that era" and point to the enlarged head that he had when he played for Mr. Burns softball team as evidence that he used HGH.
It was Brain and Nerve tonic, goddamn it, and it was not on the banned substance list!
Bad Springfield jokes aside, Griffey is this year's lock, and should be. My only question is what the second digit is on the vote, because the first one is a nine!
Spheniscus:
That's the thing though, there is no way to know who did and didn't use at that time. Mike Piazza by practically any measure is the greatest hitting catcher of all time. He should have been a first ballot Hall of Famer. He's now on his 4th time through? Why? Because he was a big guy and played in the steroid era and is therefore part of the whisper campaign.

Why don't we think Griffey used? Because he was a phenom? Well, so was his teammate Alex Rodriguez, who was a user. Because he was skinny? Have you seen
Ryan Franklin
? He'd need to wear a dive belt to hit 150 pounds. He was a user. Because he's a nice guy?
Mike Cameron
may be the nicest person ever in baseball. He was a user.
To be fair, I don't believe that Griffey used. And obviously what my father would have called the Ivory Soap percentage of the voters don't either. He will most likely end up with 95% plus of the vote. But if people take the stand that no one from the era gets in because they don't know who used, the stand is stupid but it is at least consistent. I don't hold it against them. Those guys aren't the self-righteous pricks in my book. They are dumbasses, but not pricks.

Those who don't vote for him because it is the first time he is eligible and not even Babe Ruth got 100% of the vote are the self-righteous pricks. Those people can just turn in their ballot privileges.
Although I do wonder if there are a percentage that won't vote for Griffey knowing that he will skate in and that an extra vote for someone further down the ballot would help someone they think is a worthy candidate. If you truly believe that

Edgar Martinez

is a Hall of Famer, but he is 11th on your list, why not leave Griffey blank and vote for Martinez? That may also depress Griffey's vote percentage while the people who are doing it are actually on the side of the angels.
Chairman:
Griffey will go down in a long list of men who should have received 100 percent of the ballot because of the self-righteous pricks/dumbasses we both spoke of. Personally, I prefer the term "sanctimonious douchebag", but maybe that is because how I have been viewing Hawkeye in M*A*S*H reruns last night in a drunken bender watching that show on a marathon.
While you are right that we don't know whether Griffey Jr. juiced or not, and I am with you in that he probably didn't, based mostly on his post 30 numbers as opposed to prior to. It was a natural decline that made sense, not some Dorian Gray/Benjamin Button statistical increase like some had.
Slight tangent here; looking back it is impossible to believe that the Mariners with Griffey, Martinez, A-Rod and Randy Johnson never made the World Series. Maybe even more surprising is that Jay Buhner was the most popular of all of them for a time. If he had hair, half the people outside of Seattle would not know his name, and he wouldn't have been mentioned in a Seinfeld episode.
Actually that was a really big tangent.
Spheniscus:
Funny, I presume that Sanctimonious Douchebag is the name of the band that always opens for Train on every one of their tours.
And the real reason that people remember Buhner is that it is the last good trade the Mariners ever made. Not that they did historically badly in their trades of Griffey or Johnson, but the Mariners have built a reputation as the team you talk to when you want to rebuild your franchise. The 2004 and 2007 World Series never happen if the Mariners don't exchange
Derek Lowe
and
Jason Varitek
for Heathcliff Slocumb. Although to be fair they definitely got the better of us in 1996 when we traded an over-the-hill 34-year-old
Jamie Moyer
for the seven year younger Right Fielder of the future Darren Bragg. A man who would retire a FULL EIGHT YEARS BEFORE MOYER!
Anyway, where were we? Oh yes, Griffey. He's getting in. Easily.
Chairman:
Now you got me thinking…
"Sanctimonious Douchebag" would be a great name for either Coldplay or Nickelback. The fact that Coldplay is doing the Halftime show at this year's Super Bowl has made me consider starting a crowdfund to get the Wayans Brothers to bring back their halftime counter on Fox in a "In Living Color" comeback.
Wait, Moyer retired? Doesn't he seem like somebody who would be signed by the St. Paul Saints right now?
Anyways, Griffey has my pretend vote, and the real one of most of the voters. Since, there has never been (and never will be because there are too many writers who enjoy the fact that they have this power) a candidate entering at 100%, I will peg Junior's tally at 97.3%.
Although that 2.7% need to have their voting privileges revoked immediately as well as their access to any computer so that they can continue their writing career.
Spheniscus:
So with 550 voters, 97.3 means 15 people wouldn't vote for Griffey. That actually seems too low to me. I'm going to presume there are 25 or 30 people who don't for one reason or another. 25 means 95.5%. I'll stick there.