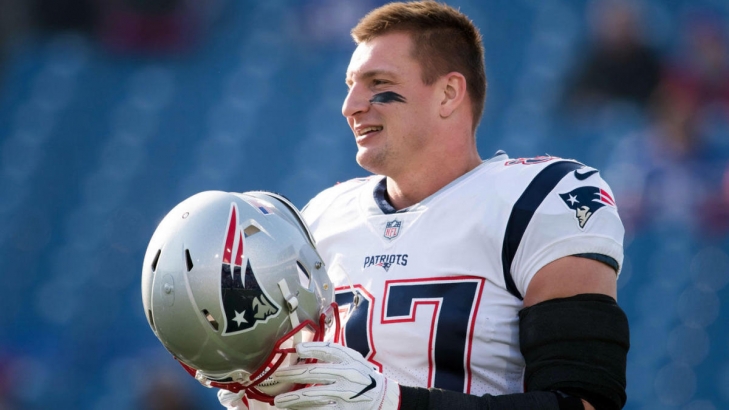 Hmmmm.
This is not the first word that we would normally use in an article in regards to an NFL retirement but we are not positive that this one will stick.
New England Patriots Tight End Rob Gronkowski has announced that he is walking away from football after a nine year career where he was one of the most popular players in the game.
Drafted in the 2ndround out of the University of Arizona in 2010, Gronkowski had a good rookie season highlighted by a three touchdown game against Pittsburgh. 2011 would see him named to the First Team All Pro roster where he led the NFL in Touchdown Receptions with a 1,327 Yard season. A Pro Bowl selection again in 2012 Gronk was injured for most of the 2013 campaign but returned with a vengeance in 2014 returning to the Pro Bowl, First Team All Pro roster and a 1,000 Yard plus season, which was punctuated by his first Super Bowl win. 2015 and 2107 would also see him named a First Team All Pro.
Gronkowski retires as a three time Super Bowl Champion, five time Pro Bowl and four time First Team All Pro Selection. He had 521 Receptions for 7,861 Yards and 79 Touchdowns. Notably in the post season he had 81 Receptions for 1,163 Yards and 12 TDs.
His stats tell a large part of the story but it does not reflect that he was also one of the best blocking Tight Ends, which made him invaluable to the Patriots offense.
Gronkowski will be eligible for the Pro Football Hall of Fame in 2024 and he is likely a Hall of Famer. The only question we raise is how long it will take.
We here at Notinhalloffame.com would like to thank "Gronk" for all of the football memories and we are confident that he will give us many off-field moments in the future.