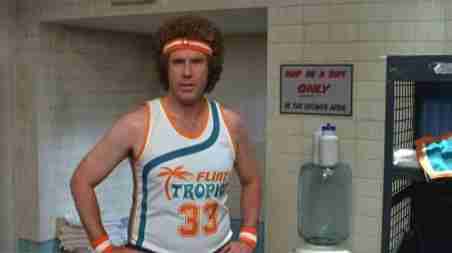 Will Farrell was at his comedic best as Jackie Moon in Semi-Pro as the Owner/Power Forward of the 1976 ABA Flint Tropics. Moon was a bungling owner who was able to purchase the team based on the royalties of his hit single, "Love Me Sexy", a song he stole from his mother three weeks before she died. Moon worked hard with various gimmicks (all with poor success) to draw crowds with the hope of bringing the team into 4th place, a position that was promised an NBA birth in the impending merge between the two American Professional Basketball Leagues.
On the court, Moon was not a great player, but in a dream he had while unconscious in halftime in the final game, he is given a play by his dead mother (Patti LaBelle), called the "Alley-Oop" which helps them win the game and finish fourth, (although the ABA would not grant small market Flint a merge into the NBA). The character would actually do beer commercials that year, and we wager that this film will remain a sports classic for years to come.
The Bullet Points:
Movie Appeared:
Semi-Pro (2005)
Actor:
Will Farrell
Position Portrayed:
Power Forward/Owner
Played for:
Flint Tropics
Why you

should

vote for him:
Hands down, this was one of the funniest roles in sports film history.
Why you

should not

vote for him:
He was not a star on the court.
{youtube}
M5nKcN8Vo8Q
{/youtube}
{youtube}
Ej9wCko6dR4{/youtube}
{youtube}
3jwjS3Ee_SM{/youtube}