Jamal Jeffries/Juwanna Mann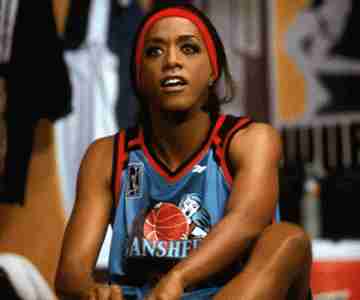 Sports movies (especially Basketball) often have the common theme of the superstar athlete who has no concept of teamwork, become humbled and learn that being part of a successful group is better than being a successful individual. You know the cliché how there is no "I" in team? Basically Juwanna Mann took this premise and merged it with Tootsie, where star (and selfish of course) player Jamal Jeffries is kicked out of the league, and with no other options (again echoing NBA stars, he squandered his money), he pretended to be a woman and joined the women's league. Let the hilarity ensue.
Sadly for Miguel A. Nunez, who is not a bad actor, this was his only shot as a leading man. Sure he got to play across from Vivica A. Fox, but most of his scenes were in drag; and with unfunny material throughout the picture, you have a cinematic sports turkey. It should be safe to say we have seen the last of transvestite basketball players in the films….we hope.
The Bullet Points:
Movie Appeared:
Juwanna Mann (2002)
Actor:
Miguel A. Nunez
Position Portrayed:
Shooting Guard (We Think)
Played for:
Charlotte Banshees
Why you

should

vote for him:
He managed to get the delicious Vivica A. Fox at the end.
Why you

should not

vote for him:
This movie stunk.
{youtube}
LfGnspMWpUY
{/youtube}