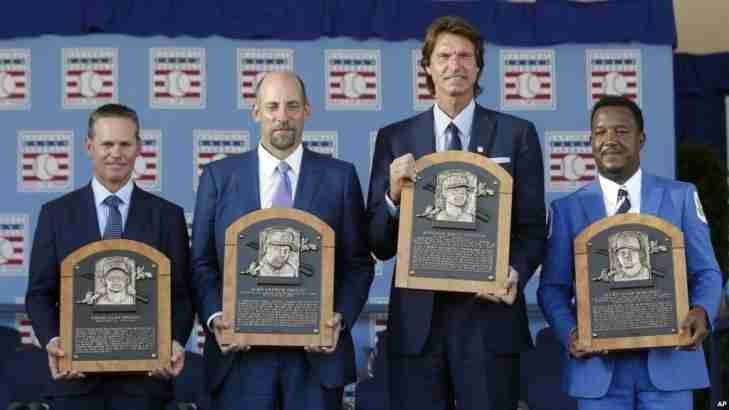 Even amidst the constant controversy that surrounds the Baseball Hall of Fame, there is always something magical about Cooperstown, and when they have a former player from the modern era elected it makes the ceremony that much more special.
This year they have four.
On what was a beautiful summer day in front of 40,000 fans and forty-nine Hall of Famers in upstate New York, four baseball legends are now enshrined with a bronze bust that will forever be on display.
Rather than recap the accomplishments of the four (regular visitors know that we have done that often), let's read the etchings on each of the four new inductees.
CRAIG ALLAN BIGGIO: HOUSTON, N.L. 1988-2007
GRITTY SPARK PLUG WHO IGNITED ASTROS OFFENSE FOR 20 MAJOR LEAGUE SEASONS, BECOMING FIRST PLAYER IN HISTORY WITH AT LEAST 3,000 HITS, 600 DOUBLES, 400 STOLEN BASES AND 250 HOME RUNS. TRANSITIONED FROM ALL-STAR CATCHER TO GOLD GLOVE SECOND BASEMAN TO EVERYDAY OUTFIELDER, AMASSING 3,060 HITS, INCLUDING 668 DOUBLES – MOST BY A RIGHT-HANDED BATTER – AND A MODERN-DAY RECORD 285 TIMES HIT BY A PITCH. A SEVEN-TIME ALL-STAR, WON FIVE SILVER SLUGGER AWARDS AND FOUR GOLD GLOVE AWARDS.
JOHN ANDREW SMOLTZ: ATLANTA N.L. 1988-99, 2001-08; BOSTON, A.L. 2009; ST.LOUIS, N.L. 2009
A WORKHOUSE POWER PITCHER, TRADED HIS STARTING DOMINANCE TO DEVELOP INTO PREMIER CLOSER BEFORE RETURNING TO ROTATION. BECAME THE FIRST PLAYER IN HISTORY WITH 200 WINS AND 150 SAVES. WITH A DYNAMIC FASTBALL, A DECEPTIVE SLIDER AND A DARTING SPLITTER, FANNED 3,084 BATTERS AND WAS NAMED TO EIGHT ALL-STAR TEAMS, THE 1996 N.L. CY YOUNG AWARD WINNER AND 1992 NLCS MVP. SET N.L. RECORD WITH 55 SAVES IN 2002. PITCHED BEST WHEN GAME WAS BIGGEST, RECORDING A 15-4 POST-SEASON RECORD, HELPING BRAVES TO 1995 WORLD SERIES TITLE.
PEDRO JAIME MARTINEZ: LOS ANGELES, N.L. 1992-93; MONTREAL. N.L. 1994-97; BOSTON, A.L. 1998-2004; NEW YORK, N.L. 2005-08; PHILADELPHIA, N.L. 2009
FEATURING AN ELECTRIC ARSENAL OF PITCHES THAT VANQUISHED BATTERS DURING AN ERA OF HIGH OCTANE OFFENSE, THE FIERY RIGHTY FROM THE DOMINICAN REPUBLIC OWNED THE INSIDE PART OF THE PLATE WITH AN EXPLODING FASTBALL AND CONFOUNDING CHANGE-UP. LED LEAGUE IN E.R.A. FIVE TIMES AND STRIKEOUTS THREE TIMES EN ROUTE TO THREE CY YOUNG AWARDS AND EIGHT ALL-STAR SELECTIONS. FIRST PITCHER TO RETIRE WITH 3,154 STRIKEOUTS IN FEWER THAN 3,000 INNINGS. WON 219 GAMES WITH AN ASTOUNDING .687 WINNING PERCENTAGE. POSTED 117-37 RECORD IN BOSTON HELPING TO LEAD RED SOX TO 2004 WORLD SERIES CHAMPIONSHIP.
RANDALL DAVID JOHNSON: "RANDY" "THE BIG UNIT": MONTREAL, N.L. 1988-89; SEATTLE, A.L. 1989-98; HOUSTON, N.L. 1998; ARIZONA, N.L. 1999-2004, 2007-08; NEW YORK, A.L. 2005-06; SAN FRANCISCO, N.L. 2009
AT 6'10', A TOWERING AND INTIMIDATING LEFTHANDER WHOSE CRACKLING FASTBALL AND DEVASTATING SLIDER PARALYZED HITTERS FOR MORE THAN TWO DECADES, FIVE-TIMES CY YOUNG AWARD WINNER, INCLUDING FOUR CONSECUTIVE, 1999-2002. LED LEAGUE IN STRIKEOUTS NINE TIMES AND POSTED SIX 300 STRIKEOUT SEASONS. TEN-TIME ALL-STAR AND THREE-TIME 20-GAME WINNER, RANKED SECONS ALL-TIME ON STRIKEOUT LIST (4,875) AND FIRST IN STRIKEOUTS PER NINE INNINGS (10.6) UPON RETIREMENT. WON 303 GAMES AND LED LEAGUE IN E.R.A. FOUR TIMES, WON THREE GAMES IN 2001 WORLD SERIES WITH CHAMPION DIAMONDBACKS EARNING CO-MVP HONORS.

Capital letters do make it more emphatic doesn't it?
Do you want to know what makes it even better?
The fact that Randy Johnson was inducted with his mullet is far greater to us than his hat (the first for Arizona) and the hat worn by Craig Biggio (Astros, also a first.
So what do we do now?
What we always do!
We look forward to the next class of Baseball Hall of Famers and debate their merits.
Hopefully, all of you will participate and lend us your opinions as to who you want to see in the next Baseball Hall of Fame class.