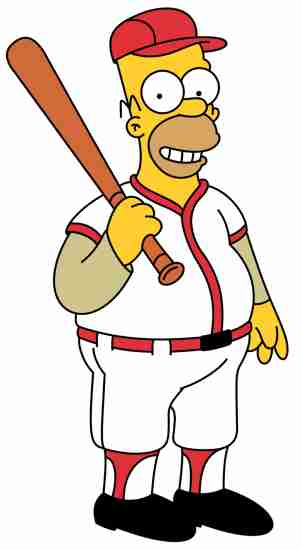 We don't think this is a stretch at all. Any follower of the Simpsons knows that the family patriarch is a big fan of sports. However, Homer has been quite the athletic participant himself. Consider the following sports related performances:
Competing (albeit briefly) with Venus Williams as his partner in a mixed doubles tennis tournament.
Was the Head Coach for Bart's Peewee Football team.
He boxed Drederick Tatum in his first boxing match after the former champ served jail time.
He represented the U.S.A. in mixed curling at the Winter Olympics.
He bowled a perfect game.
He pinch hit for Darryl Strawberry and drove (ok, was hit by a pitch) in the winning run over Shelbyville's nuclear team.
He also found his way to watch the Super Bowl in Rupert Murdoch's private box, went on a hunger strike to keep the Springfield Isotopes from moving to Albuquerque, became the mascot for Capital City, and we are only giving a handful of his sports related examples.
Yes, we know that this is a cartoon, but this is the Fictitious Athlete Hall of Fame after all, and Homer Simpson certainly qualifies. Now can you vote for a cartoon?
The Bullet Points:
TV Show Appeared:
The Simpsons (1989-)
Actor:
Dan Castallaneta
Played for:
Multiple
Why you

should

vote for him:
The greatest overall "body of work" for a fictitious athlete unquestionably lies with Homer Simpson
Why you

should not

vote for him:
Does a cartoon character qualify?
{youtube}
rOpqgoxLdxs
{/youtube}