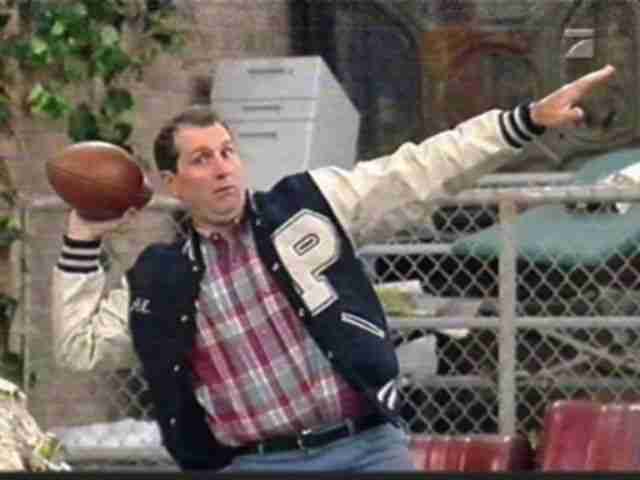 Al Bundy was one of the greatest (or sorriest) television characters of all time, and along with the Simpsons, helped to establish a new television network in Fox. The question here is did the show delve enough into the sports world for Al Bundy to legitimately qualify?
Whether or not Al Bundy could have ever gone on to a decent College Football career (or even a professional one) is up for interpretation, but in the mind of our working class hero, he was. In many episodes, Bundy nostalgically spoke of his High School dominance and of course the game in which the Polk High Fullback scored four touchdowns. He gave up his football dreams and his scholarship to go to work (temporarily) selling women's shoes to take care of the pregnant Peggy Wanker, and thus he became "Married, With Children", and not a star of the gridiron.
As more information about Bundy's past emerged we learned that he really was a High School Football star, and not just making up past glory. However, as his life became more pathetic, that 18th year of his life seemed to be the last good year he ever had. In fact, it became the only nugget of hope he head, was that somehow he could reclaim that former life. The show talked often about his football past, and a few episodes were certainly football-centric, but were there enough sports on the show for this to enter our Hall? We think there was for "Touchdown" Bundy.
The Bullet Points: TV Show Appeared:
Married With Children (1987-1997)
Actor:
Ed O'Neill
Position Portrayed:
Fullback
Played for:
Polk HS Panthers
Why you should vote for him:
Four Touchdowns in one game!
Why you should not vote for him:
Although there were constant references to Bundy's football past, this was not a sports themed show.