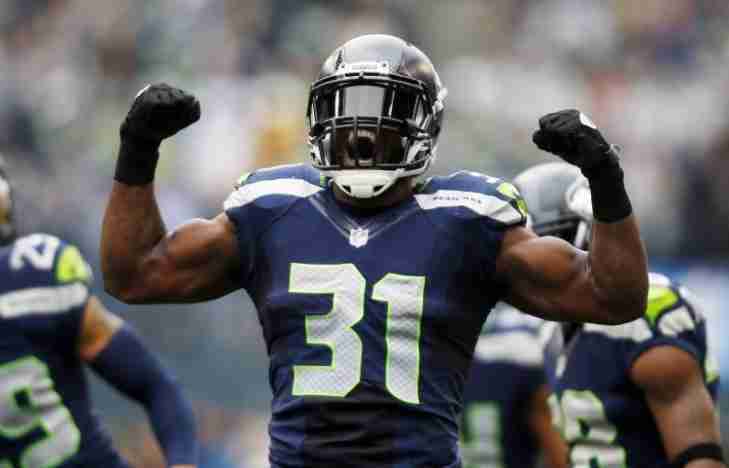 He didn't say the word retirement, but in a post on his Twitter account it sure seems like that is what Seattle Seahawk Safety Kam Chancellor announced. This is what he had to say:
"I always prayed to God and told myself that I would play this game of football until the wheels fall off. Well the wheels didn't fall off, but God has given me a sign that I just can't ignore. I've played through all types of bruises and injuries at a high level. But this one, I just can't ignore. When the doctors told me what was going on in Nov, I could feel my heart drop to my stomach. The stiffness in my neck and the images that I saw had me at one of my lowest points as a Man, because football is all I knew outside of serving the Lord. To walk away from the game by choice is one thing, to walk away from the game because of the risk of paralysis is another. My final test showed no healing. I put all my blood, sweat, and tears into this game. On the field, off the field, pouring into my teammates, coaches, opponents, friends, family, and so many more. God has blessed me with an amazing opportunity to show the world my gifts he has given me, and my heart to love everyone and everything. Not everyone and everything has loved me back, but through the grace of God I have been able to see the good in it all and forgive what needs to be forgiven and continue to love anyway. If it weren't for everybody God placed upon me on this journey I wouldn't be he Man (Ballplayer) I am today. I've learned so many valuable lessons that I can take with me on the next journey. How to use them? I don't know yet. But I will wait for his instructions. But I will wait for his instructions. Love is in the center of it all. LOB 4Lyfe. I love by the Golden rules (Galatians 5:14, and it has helped me touch a massive amount of people, and I pray that they touch a massive amount of people with the Love that was given to them. We are all brothers and sisters through Christ and we were called to work together. Let's not forget that. Forgive, forget, let go, and live on. Love your brothers and sisters. Thank you again for all of the support and Love from everyone all over. Good or Bad its all received with Love. Time for the Next chapter. Lord take the wheel…
P.S. Pray for your boy. I have no clue how these head injuries will go after the game. What I do know is that my God is stronger. Peace and Love.
Sure seems like a retirement to us.
In 2010, the Seahawks drafted chancellor in the 5th Round out of Virginia Tech, the only team he would ever play for professionally. In his rookie year, Chancellor played in all 16 Games in a reserve role and in 2011 he would win the starting Strong Safety job and formed a formidable backfield with Earl Thomas. Chancellor would be named to the Pro Bowl for the first time. 2012 would also be solid, but it would be the next three seasons where he would prove himself as one of the top Strong Safeties in the game.
Chancellor's 2013 season would not only see a return to the Pro Bowl, but he was also named a Second Team All-Pro, which would be the first of two straight years he would achieve such an accolade. More importantly, Chancellor and the rest of the potent Seattle defense anchored the team to a win at Super Bowl XLVIII. In a game where the Seahawks won 43-8, Chancellor made ten combined tackles and picked off Broncos' Quarterback Peyton Manning.
2014 would see anther Pro Bowl and another trip to the Super Bowl, though this time Seattle would go down to defeat against the New England Patriots. Chancellor was a Pro Bowl Selection for the fourth and final time in 2015.
In the 2017 season, Chancellor suffered a season ending neck injury in week 10 of the season. As it turned out, it was essentially a career ending injury.
While we don't think that Kam Chancellor will make the Pro Football Hall of Fame, we do think it is possible that the Seahawks will honor him in the future in some capacity.
We here at Notinhalloffame.com would like to wish Kam Chancellor the best in his post-playing career, and we are a little haunted by that last statement of his where he openly worried about head injuries.
The game of football is certainly changing.