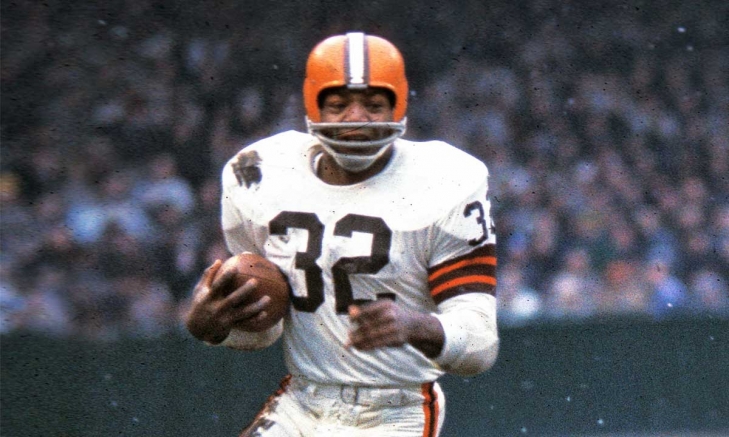 Jim Brown is a football god.
We could end it here, but out of deference to the man we think is not only the most outstanding rusher in the history of the game but the best offensive player ever, we will go through all the reasons why Brown is the best player in franchise history.
An absolute beast at Syracuse, Cleveland was fortunate that Brown was still available with their Sixth Overall Pick in the 1957 Draft. Brown was an instant star in the National Football League, winning the Rushing Title as a rookie and the Offensive Rookie of the Year and MVP. Brown had a signature moment, rushing for a then-record 237 Yards, which stood tall for 14 years.
As Brown's second year approached, expectations were high, and the Fullback not only met them, he shattered them. Brown rushed for 1,527 Yards, destroying the record, and remember this was done in a 12-game season. He also had a career-high 17 Touchdowns.
Brown played until 1965, and every single year was his gridiron world; everyone else was living in it. Playing nine seasons (all with Cleveland), Brown was a Pro Bowl in all of them and an eight-time First Team All-Pro and eight-time Rushing Title winner. Even in the season, he did not win the Rushing Title (1962); he had career-bests in Receiving Yards (517) and Receiving Touchdowns (5). It is not a miscalculation to say that Brown's ability and playing style changed the game of football forever.
In addition to his MVP as a rookie, Brown won two more (1958 & 1965) and arguably could have won more. While the Browns only had one NFL Championship when he was there (1964), Cleveland went to two more Title Games (1957 & 1965), and his mere presence made the Browns an annual contender.
Perhaps the most impressive stat is that Brown had a career Approximate Value of 121 in 118 Games. Only an elite player can average more than one AV/Game, but remember that Approximate Value was not calculable until 1960, meaning that his 121 AV is only through 82 of his Games!
Brown easily could have continued his career, as he was not yet 30 and was coming off another MVP, but he retired after the '65 campaign and sought a career in Hollywood. He had 12,313 career Rushing Yards, which at the time was easily the most ever. Several players have surpassed Brown since then, but they all needed many more games to do it.
Brown entered the Pro Football Hall of Fame in 1971, and he was named to the 1960s All-Decade Team and 50th, 75th, and 100th Anniversary Teams. Brown's number 32 was retired by the team, and he was named to their Ring of Honor as part of the first group in 2010.