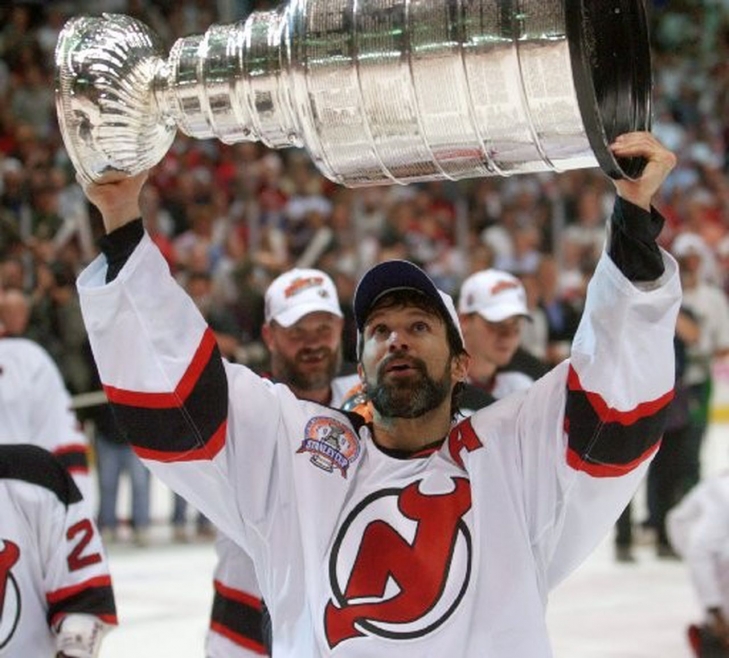 We just spoke of the importance of Scott Stevens to the Devils defense and overall success of the team.  Consider Scott Niedermayer at a similar level in both.
Niedermayer was drafted Third Overall in 1991, the same season where Stevens was allocated to New Jersey as compensation for the signing of Brendan Shanahan. Niedermayer played four Games in the year he was drafted but was a full-time member of the roster the year following, and he was quickly regarded as one of the best two-way blueliners in the game. 
After helping New Jersey win the Stanley Cup in 1995, he would have his first top-ten Norris season in 1997-98, where he scored 57 Points, his highest as a Devil, and securing a Second Team All-Star Selection.  Niedermayer won another Cup with the Devils in 2000, and in 2003, he anchored the Devils in another title, where he led all skaters in the post-season in Assists (16) and Points (18).  
Niedermayer would not win another Cup with New Jersey, but in his final year with the Devils (2003-04), he won the Norris Trophy and was ninth in Hart Trophy voting. He was also named a First Team All-Star, the first and only time he did so as a Devil.  Niedermayer left New Jersey afterward for Anaheim, where he joined his brother, Rob.
After joining Anaheim, Niedermayer won his fourth Stanley Cup in 2007.  The Devils retired his number 27 in 2011, and the Hockey Hall of Fame inducted him in 2013, his first year of eligibility.  With the Devils, Niedermayer scored 476 Points with a healthy Plus/Minus of +172.